The Best Gaming Monitors
Table of Contents
Believe it or not, there was a time when choosing the best gaming monitor largely came down to just the size of the monitor you wanted. But things have changed since then and now you have to mainly consider resolution, refresh rate, panel type and response time, in addition to size. There are also now numerous manufacturers offering gaming monitors, making it even more difficult to narrow down your choices to one, two or even three if you're considering a multi-monitor setup. To complicate things further, there are also different aspect ratios to choose from.
So if you're having a hard time deciding which gaming monitor to get, we don't blame you. As we just mentioned, there are now multiple factors to consider and some of the specifications might not even make sense to you. That's where we come in. This article will detail our picks for the best gaming monitors currently available, and explain why we believe they're great picks. We'll also explain all the different factors and why they matter, so you can decide which ones are important to you.
First we'll go over our top picks, so you can familiarize yourself with how we chose our recommendations, and the specifications you'll want to keep an eye out across any monitor. Then, we'll go over all the factors to consider so hopefully you can choose the best gaming monitor for you.
1. Editor's Pick: ASUS 27" TUF Gaming VG27AQ1A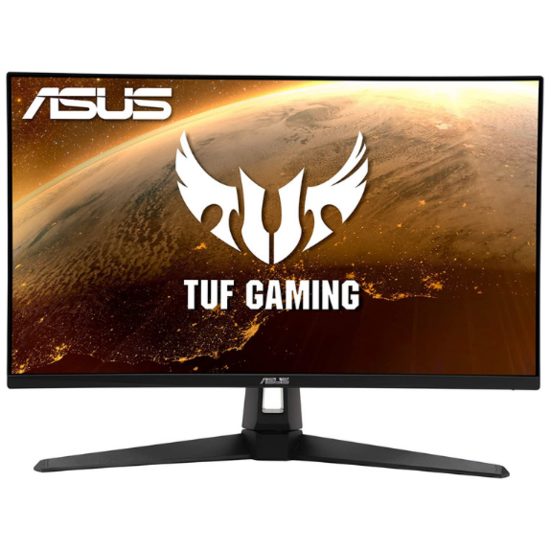 1440p resolution
FreeSync and G-SYNC compatible
Ultra-fast 170Hz refresh rate
Multiple technologies to help deliver every frame accurately
Switching for multiple devices isn't user friendly
Built-in color profiles should be avoided—calibrate for your surroundings
Key Specs
| | |
| --- | --- |
| Size: | 27 inches |
| Max Resolution: | 2560 x 1440 |
| Max Refresh Rate: | 170Hz |
| Panel Type: | IPS |
| Response Time: | 1ms |
It's admittedly difficult to recommend a single best monitor without knowing your specific gaming needs. But in terms of overall performance, quality and price, our top nod goes to the ASUS TUF Gaming VG27AQ1A. ASUS is a well-known brand in the gaming PC world and offers a strong lineup of monitors.
The ideal size of a monitor largely depends on your personal preferences, desk space and viewing distance, but we believe 27-inch is an ideal choice for most gamers. Personally, we think if you're opting for a 27-inch monitor then you'll want 1440p resolution for crisp, detailed images, but if your hardware can't handle it, we'll have a recommendation for a 1080p option further down the list. This monitor checks all the prerequisites we'd want in a proper gaming monitor, with a maximum refresh rate of 170Hz, low response time of 1ms and an IPS panel. It's compatible with both FreeSync and G-SYNC technologies and ASUS has baked in some features of its own as well.
The company's Extreme Low Motion Blur (ELMB) technology helps eliminate ghosting and tearing, while ASUS Eye Care features TÜV Rheinland-certified Flicker-free and Low Blue Light technologies for less eye fatigue. Further enhancing dark areas and brightening scenes is Shadow Boost. This monitor is equipped with a pair of HDMI 2.0 ports, a DisplayPort 1.2 port and a 3.5mm audio jack.
2. Best 4K: Acer Predator 27" XB273K
VESA Certified DisplayHDR 400
Plenty of ports to connect multiple devices
4K resolution with 144Hz refresh rate (G-SYNC compatible)
Multiple technologies to help deliver every frame accurately
Check for backlight bleeding
Requires quite a bit of desk space
Key Specs
| | |
| --- | --- |
| Size: | 27" |
| Max Resolution: | 3840 x 2160 |
| Max Refresh Rate: | 144Hz (via overclocking) |
| Panel Type: | IPS |
| Response Time: | 1ms |
Again, we chose a 27-inch monitor for our best 4K choice since we believe it's a good size for most gamers. It's a VESA Certified DisplayHDR 400 monitor so you can enjoy better contrast and color accuracy, and it also lets you experience all that 4K HDR media on your favorite streaming service. To help reduce eye strain and fatigue during long gaming sessions, the Predator XB273K has a blue light filter and glare reduction.
Although it is designed for gamers, this recommendation is equipped with eight preset display modes to optimize the visuals based on the content: Action, Racing, Sport, User, Standard, ECO, Graphic and Movie. Onboard ports include two DisplayPort 1.4, two HDMI 2.0 and four USB 3.0 ports.
3. Best Ultrawide: LG UltraGear 34" 34GN850-B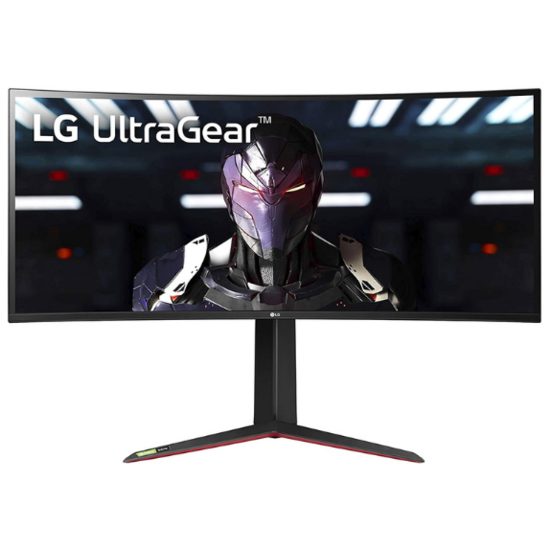 VESA Certified DisplayHDR 400
Intuitive, easy-to-use monitor controls
Accurate colors right out of the box, minimal calibration needed
No built-in speakers
Included stand is fairly basic and large
Key Specs
| | |
| --- | --- |
| Size: | 34" curved |
| Max Resolution: | 3440 x 1440 |
| Max Refresh Rate: | 160Hz (via overclocking) |
| Panel Type: | Nano IPS |
| Response Time: | 1ms |
Our next two monitor recommendations aren't for everyone, but ultrawides and super ultrawides have grown in popularity over the recent years, so they're worth mentioning. If you're in the market for an ultrawide, consider the LG UltraGear 34GN850-B. It's a 34-inch curved display with a 21:9 ratio and resolution of 3440 by 1440. It's designed for gamers with a maximum refresh rate of 160Hz (compatible with both FreeSync and G-SYNC) and a response time of 1ms.
Inside, it uses a Nano IPS display that is VESA DisplayHDR 400 Certified. We prefer this ultrawide over many others since it does have a 1440p resolution to support its larger screen size. If you're shopping for ultrawides, we recommend avoiding 1080p monitors that are 32 inches and larger, since the pixel density isn't as great and it'll result in images that aren't as crisp and some elements may even appear 'fuzzy' to the eyes.
This is an ideal ultrawide for gaming, since you get fantastic picture quality you'd expect from an LG product. For ports, you'll get two HDMI ports, a single DisplayPort 1.4, one USB upstream port, two USB downstream ports and a headphone jack.
4. Best Super Ultrawide: Samsung 49" LC49G95TSSNXZA (Odyssey G9)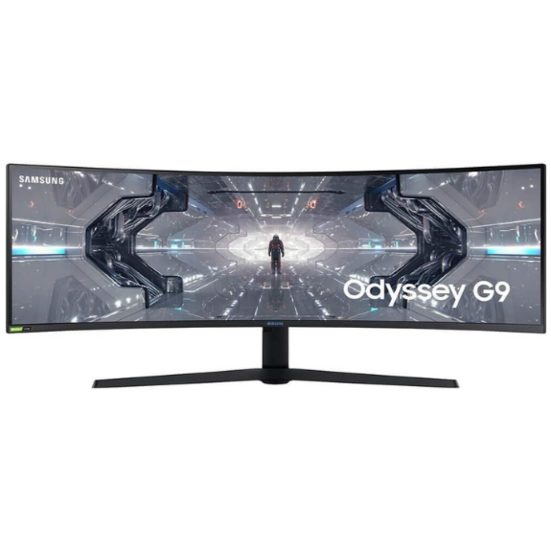 Extremely fast 240Hz refresh rate
Samsung QLED and HDR 1000 technologies
Massive display with plenty of real estate for multitasking
Some buyers may care that it's a VA panel
Not all games support ultrawide resolutions
Key Specs
| | |
| --- | --- |
| Size: | 49" curved |
| Max Resolution: | 5120 x 1440 |
| Max Refresh Rate: | 240Hz |
| Panel Type: | VA |
| Response Time: | 1ms |
If you want to maximize productivity or get a truly immersive experience while gaming, this Samsung 49-inch super ultrawide monitor might be made just for you. To help accommodate the massive 49-inch display area, Samsung has given this monitor a screen curvature of 100R to help match the contours of the human eye. Compatible with both G-SYNC and FreeSync Premium Pro, it's a lightning-fast display with a maximum refresh rate of 240Hz and 1ms response time.
This feature-rich monitor is equipped with Samsung's QLED technology to create more vibrant colors, while Samsung HDR 1000 ensures your dark and bright scenes appear as they were meant to be. And although we don't really mention this much for the other monitors on our list, it's worth noting the actual design of this monitor. It boasts a feature called 'Infinity Core Lighting Design' which pairs the glossy white exterior with core color customization so you can match the monitor to the rest of your gaming setup. Even though it's subtle and located in the back of the monitor, it's a nice touch.
Again, ultrawide displays aren't for everyone and it's worth mentioning that some games won't even support ultrawide resolutions. But for those who multitask, it's a great way to have Discord, Spotify and your game up all on one monitor.
5. Best Budget Pick: Dell Gaming 27" S2721HGF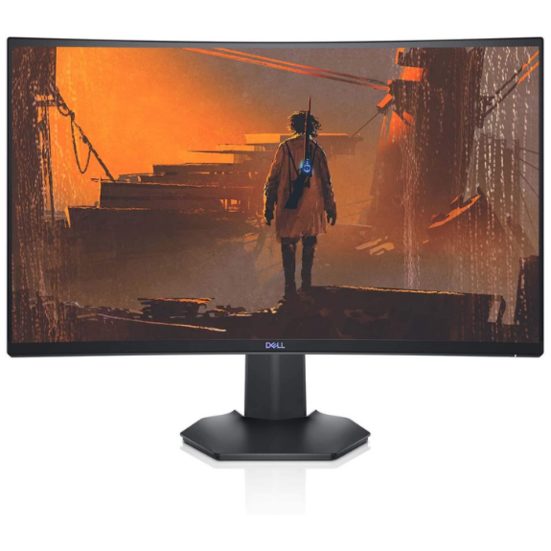 Curved screen
Competitive specs at a competitive price
VA panel instead of IPS
1080p resolution on 27-inch may be too pixelated for some
Key Specs
| | |
| --- | --- |
| Size: | 27" curved |
| Max Resolution: | 1920 x 1080 |
| Max Refresh Rate: | 144Hz |
| Panel Type: | VA |
| Response Time: | 1ms |
Not everyone is rocking an RTX 3080 video card or has the hardware to support 1440p resolution at 144Hz. If you spent most of your money building your PC but still want a good-performing monitor to take advantage of that hardware, take a look at this option from Dell. Although Dell is mainly known for its affordable PCs, the company actually has a robust lineup of monitors. This is a 27-inch display that meets our prerequisites for a competent gaming monitor: 144Hz refresh rate, 1ms response time and compatible with both FreeSync and G-SYNC technologies.
As we mentioned before, ideally you'd go with a 1440p resolution on a 27-inch monitor (or larger), but we understand not everyone wants 1440p. If you find the pixel density of a 1080p display on a 27-inch acceptable, there's a lot to love about this monitor besides its price. The 1500R curved screen gives you a more immersive experience and the ultrathin bezel gives it a modern design with minimal distractions. You can also take advantage of the ComfortView software to reduce blue light emissions to combat eye fatigue.
It does use a VA panel instead of the more popular IPS, but picture quality is still pretty good. Ports include two HDMI 1.4, one DisplayPort 1.2 and a headphone out.
6. Best 24": Viewsonic 24" VX2458-MHD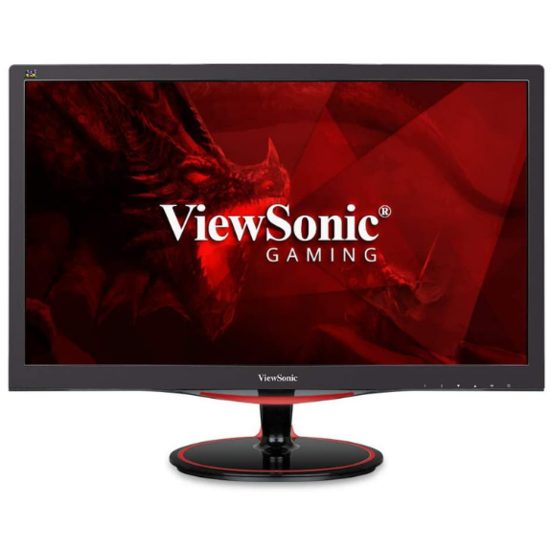 Built-in speakers
144Hz refresh rate at a budget price
Massive display with plenty of real estate for multitasking
TN panel
Only offers tilt adjustment
Key Specs
| | |
| --- | --- |
| Size: | 24" |
| Max Resolution: | 1920 x 1080 |
| Max Refresh Rate: | 144Hz |
| Panel Type: | TN |
| Response Time: | 1ms |
Our list is filled with gaming monitors sized 27 inches and larger, but we understand some shoppers may want something smaller. But when it comes to gaming, it'd be difficult to recommend a monitor smaller than 24 inches, so here's our top 24-inch monitor recommendation. It comes from Viewsonic, another manufacturer that has been supplying quality monitors for decades.
Sporting a resolution of 1920 by 1080, this monitor has a maximum refresh rate of 144Hz but it's only compatible with FreeSync. It uses a TN panel, since they're generally more affordable and deliver quick response times, which in this case is 1ms. Although it's a fairly basic monitor, it does use flicker-free technology and a blue light filter to help reduce eye strain and fatigue during long periods of gaming.
Most gamers will be using a headset, but if you're enjoying some media and don't have speakers hooked up, this monitor's dual integrated stereo speakers might suffice. If you're comparing this monitor to the rest of our other recommendations, it might look fairly basic, but it checks all the boxes gamers need. One thing worth mentioning, if you're not planning to wall mount the monitor, the included stand only lets you adjust the tilt angle.
7. Best 24" Curved: MSI OptixG24C Full HD 24" Gaming Monitor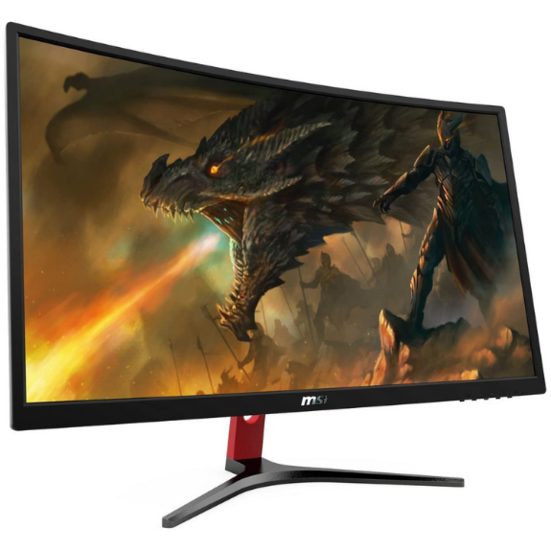 LED backlit
1920 x 1080 Full HD
Wide view Angle – 178-degree visible
Curved screen
Not G-Sync compatible
No built-in speakers
Key Specs
| | |
| --- | --- |
| Size: | 24" curved |
| Max Resolution: | 1920 x 1080 |
| Max Refresh Rate: | 144Hz |
| Panel Type: | VA |
| Response Time: | 1ms |
Although we've already listed a 24-inch monitor, we've included this one because of its curved display panel. So even if you're limited for space, the curved design of this monitor will make you feel more connected to the gaming experience and give you a real immersive experience. even though it's on a smaller scale.
You also get some pretty neat features with the MSI Optix G24C, including beautiful colour visuals. The makers of this monitor say the colour gamut has at least 20 percent more colour coverage compared to regular monitors. With a 144hz refresh rate and 1ms response time VA panel, you're in a good position if you love fast moving game genres such as first-person shooters, fighters, racing sims, real-time strategy, and sports. And since this monitor is equipped with AMD Freesync adaptive sync technology, it can match the display's refresh rate with your GPU for ultra-smooth gameplay.
8. Best Edgeless: Sceptre Curved 27" Gaming Monitor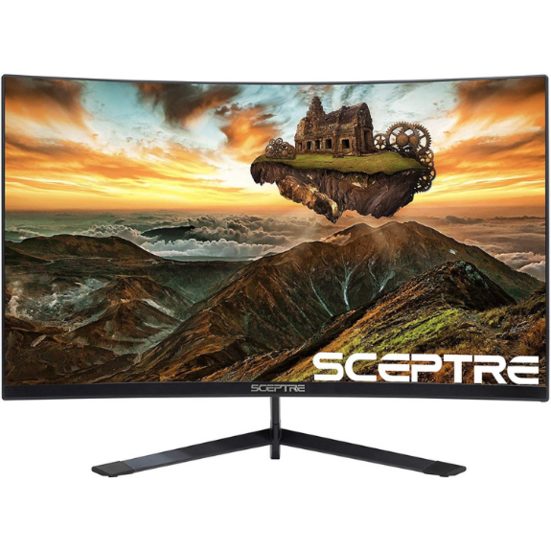 Thin curved 27-inch monitor
Edgeless
Two HDML port and a display port
Includes Vesa mount adapter
Not great sound quality with internal speakers
Key Specs
| | |
| --- | --- |
| Size: | 27" curved |
| Max Resolution: | 1920 x 1080 |
| Max Refresh Rate: | 165Hz |
| Panel Type: | VA |
| Response Time: | 3ms |
This 27-inch gaming monitor from Sceptre is slightly different from the other models with the same screen size because of its ultra slim 1800R curved display for a truly immersive experience. With its edgeless bezel design, it captures the best of its 1080P resolution and 144Hz across the entire panel.
The 165hz refresh rate, 3ms response time, a 95 percent sRGB colour gamut and 16.7 million colour depth will improve the clarity on your screen while the AMD FreeSync Premium compatibility will make your picture even smoother. This VA gaming monitor also has the ports you need to connect to a variety of devices, including two HDMI, one DP, and a 3.5mm audio in/out.
You'll also get internal speakers in this monitor but don't expect them to be of stellar quality. You can turn the volume all the way up to maximum but it still may not be loud enough for you and the sound that does come out is tinny with not much bass.
How to Choose the Best Gaming Monitor
If you've gone through our list of recommendations and still having a hard time deciding which monitor to purchase, the following information should help. Below, we'll go over the factors you should consider to help narrow down your choices.
Screen Size
You've probably noticed that we're fans of 27-inch monitors, since we believe that's the ideal size for most gamers. But you'll want to consider your viewing distance and desk space to determine the best size for you. Also, are you planning to use the monitor for anything other than gaming? If so, will a larger monitor help with productivity or help you enjoy streaming media better? Ultrawides are growing in popularity with multitaskers who don't want to use multiple monitors, so consider those options if you also need the monitor for work.
Resolution
Pixel density is important and we could get really technical in explaining why. But in the most basic sense, the larger the monitor, the more pixels you want to ensure a crisp and sharp image. For example, a 27-inch monitor with 1080p resolution might seem fine—especially considering some TVs are much larger with just 1080p resolution—but you're often sitting a lot closer to a monitor than you do a TV. It might not affect everyone, but for some people, 1080p on a 27 inch or larger monitor might seem pixelated or fuzzy.
You also want to keep in mind that the higher the resolution, the better hardware you need to maximize frame rates. Naturally, your computer needs to do more work to deliver 1440p resolution over 1080p resolution, and when you want blazing fast refresh rates, make sure you have the hardware to support that. Of course, the games you are playing have an impact as well. Some games are very well optimized, allowing you to hit high resolutions and frame rates (Doom Eternal, for example) without needing top-tier hardware.
Refresh Rates
If you're shopping for a gaming monitor, a major factor to consider is its refresh rate. For some gamers, frame rate is more important than resolution and that's more evident with current-gen consoles allowing players to choose between graphics or frame rates. Explaining how refresh rates work is even more technical than resolution, but we'll try to simplify it here.
Refresh rate, which is measured in frequency, essentially lets you know how many times per second your monitor can redraw the screen. For example, a refresh rate of 60Hz means the display will redraw the entire screen 60 times in one second. So naturally, a refresh rate of 144Hz means your monitor is refreshing at a much quicker pace than a 60Hz screen.
Frames per second, or FPS, is a little different. FPS is how many frames your computer's hardware is capable of delivering and that's not affected by how fast your monitor can refresh. Where it does matter is if your computer is capable of delivering more frames than your monitor's refresh rate, which means the refresh rate does set a cap on your frame rate. In other words, if your computer is pushing out 144 FPS but your monitor only has a 60Hz refresh rate, you're only getting 60 images per second.
Why does this all matter? Well, if your computer is delivering more frames than your monitor is refreshing, you may experience screen tearing. To help mitigate that, there's a technology called VSync, which forces your GPU to sync with your display. That means if you have a 60Hz monitor, your video card will tell your computer to cap the framerate to 60 FPS to avoid tearing.
This is where adaptive sync technologies, such as AMD's FreeSync and NVIDIA's G-SYNC come into play. Adaptive sync lets your monitor have essentially a variable refresh rate (up to the maximum refresh rate), so it can match the frame rate your computer is delivering. This means no tearing or shuttering for a smoother gameplay experience.
HDMI vs DisplayPort
If you want to take advantage of your monitor's maximum refresh rate, you'll likely need to use the DisplayPort ports to connect the monitor to your computer. Refer to the monitor's instructions to know what the refresh rate cap is over HDMI vs. DisplayPort, but generally you'll want to use DisplayPort to take full advantage of your monitor.
Different Types of Panels
When it comes to monitors, there are three major panel types: IPS, TN and VA. Again, without going into too much detail, here's a quick breakdown of each panel type so you know the major differences.
IPS: Short for in-plane switching and widely considered the best of the three for gaming. IPS panels typically have better viewing angles than TN panels and offer good color and black reproduction. Their only major shortcoming are contrast ratios when compared to VA panels.
TN: Short for twisted nematic, TN panels are the oldest of the three and offer limited viewing angles and average color reproduction. If you're comparing an IPS and TN panel side-by-side, you'll likely notice the TN appears more 'washed out'. So what are the advantages of TN panels? For starters, their price, but they also generally have low input lag and can support extremely high refresh rates.
VA: Short for vertical alignment, VA panels can b e seen as a compromise between IPS and TN panels. They generally offer the best contrast ratios, but won't have the same viewing angles as IPS panels. They also have slower response times than TNs and newer Nano IPS panels, but they can offer high refresh rates.
Leave a Comment
Do you own any of these gaming monitors or did we miss one of your favourites? Let us know in the comments!
RedFlagDeals.com is reader-supported. We are a participant in the Amazon Services LLC Associates Program and other similar affiliate advertising programs. These programs are designed to provide a way for sites to earn advertising fees by linking to them. This means that RedFlagDeals.com will sometimes get a small commission if you make a purchase through our links.