The Best Gaming Laptops
Table of Contents
A new generation of gaming was introduced in late 2020 when Sony and Microsoft respectively released the PlayStation 5 and Xbox Series S/X but console gaming isn't for everyone - especially for those who want something portable. There's the option of the Nintendo Switch, which can be used as a handheld device, but it's not even as powerful as last generation's PlayStation 4 and Xbox One S/X. While gaming consoles such as the PlayStation, Xbox, and Switch all have their benefits, especially with console exclusive titles, some gamers just prefer gaming on a PC.
If you're interested in PC gaming but want something portable your only viable option is a gaming laptop. If you haven't been paying attention to gaming laptops over the last few years, you might be surprised to hear some of the specs on certain models. And yes, high-end gaming laptops are capable of running modern games such as Cyberpunk 2077. As you can imagine, a powerful gaming laptop will cost noticeably more than a gaming console but you're also getting a built-in display (often with high refresh rates) and the added benefit that the laptop can also be used for many other things besides gaming.
How to Choose the Right Gaming Laptop
Choosing the right gaming laptop largely depends on the type of games you want to play. If you're aiming to enjoy AAA experiences (games produced and distributed by mid-sized or major publishers), and want to check out the latest and greatest games, you're like going to need a top-tier laptop. Prefer indie games that aren't so demanding when it comes to hardware? You can save a bit of money by getting a laptop with lower specs instead.
You'll also want to decide how big of a display you want since a larger display takes away from a laptop's portability. If you're planning to carry around the laptop on a regular basis, you may want to consider a smaller unit that's more portable. But if your plan is to mostly have your gaming laptop a larger display will give you a more immersive experience.
Below, you'll find our recommendations for the best gaming laptops starting with top-tier options with all the bells and whistles and ending with more portable, lower-spec choices if you're on a budget.
1. Editor's Pick: ASUS ROG Strix Scar 17 Gaming Laptop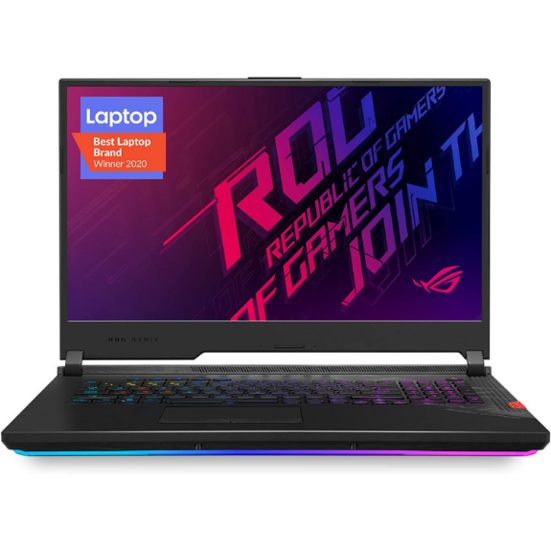 Fast display with ems response time
1920x1080 IPS display
17.3-inch display
No built-in webcam
Not the best keyboard and touchpad experience
Key Specs
| | |
| --- | --- |
| CPU: | Intel Core i7-10875H |
| GPU: | NVIDIA GeForce RTX 2070 SUPER |
| RAM: | 16 GB DDR4 |
| Hard Drive: | 1TB SSD |
| OS: | Windows 10 Pro |
ASUS is one of the most popular and well-known brands when it comes to the PC gaming world. In fact, ROG is short for 'Republic of Gamers' which is the brand's way of focusing on the best hardware for PC gaming. Sporting a large 17.3-inch display, this laptop is packed with high-end components including the 10th generation Intel Core i7-10875H processor, 16GB of DDR4-3200 RAM, and a NVIDIA GeForce RTX 2070 SUPER GPU.
If none of those specifications mean anything to you, don't worry as it simply means this laptop will comfortably play any game that's currently available and will even do the heavy lifting necessary to enjoy VR experiences. If you're into fast-action games, like first-person shooters or racing games, the 1920x1080 IPS display has an extremely fast 300Hz refresh rate and 3ms response time. You might not even get to take advantage of the 300Hz refresh rate but it's nice to know the panel is that quick.
You'll have your standard USB Type-A and Type-C ports included, as well as an HDMI output if you want to hook the laptop to an external display, then your choice between the built-in Ethernet port or Intel Wi-Fi 6 with Gig+ for online connections. We also recommend getting a proper gaming headset and mouse since the built-in speakers and touchpad will really take away from your gaming experience.
2. Runner Up: Razer Blade 15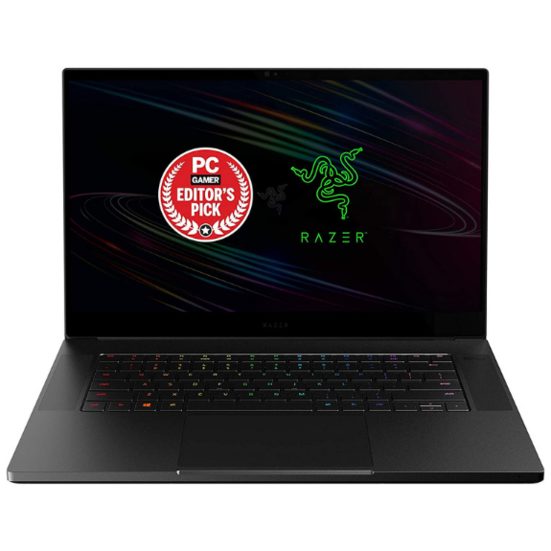 4K OLED HDR Display
Touchscreen
Extremely thin and lightweight for a gaming laptop
4K comes at a price premium
You'll probably want a cooling pad
Key Specs
| | |
| --- | --- |
| CPU: | Intel i7-10875H |
| GPU: | Up to NVIDIA GeForce RTX 2080 SUPER MQ |
| RAM: | 16GB DDR4-2933 |
| Hard Drive: | Up to 1TB NVMe |
| OS: | Windows 10 |
If you care more about resolution than insanely fast refresh rates you probably want a 4K gaming laptop. Razer, yet another popular brand in the PC gaming industry, offers this 15.6-inch 4K OLED laptop with a touchscreen. It's also available with a 300Hz FHD (1920x1080) display, but we'll be focusing on the 4K variant here.
Powered by an i7-10875H processor paired with 16GB of RAM, this setup may not have as much raw power as other recommendations but it'll meet the requirements of nearly every current game out there. The RTX 2080 Super makes 4K HDR gaming a possibility and you can choose up to a 1TB NVMe for storage.
What makes this laptop stand out is its construction with a precision-crafted aluminum chassis measuring just 0.7-inches thin. It weighs under 2.3 kg, though, which means carrying it around won't be a chore. The thin design also comes at a cost as this laptop is known to get pretty warm so get yourself a laptop cooling pad to keep temperatures under control during long gaming sessions.
This is our top choice if you want to enjoy 4K gaming, especially for gamers who prefer story-driven single player experiences over online, competitive multiplayer.
3. Solid Mid-Range Option: Lenovo Legion 5
144Hz screen
Built-in webcam with privacy cover
Decent speakers for a gaming laptop
Fans can get noisy
Average battery life
512GB storage isn't that much these days
Key Specs
| | |
| --- | --- |
| CPU: | AMD Ryzen 7 4800H |
| GPU: | NVIDIA GeForce GTX 1660Ti |
| RAM: | 16GB DDR4-3200 |
| Hard Drive: | 512GB M.2 NVMe |
| OS: | Windows 10 Home |
We understand that not everyone needs a premium gaming laptop, and if your goal is to enjoy most games and don't care about the best graphics settings from AAA titles then consider the Lenovo Legion 5. It has a fairly standard 15.6-inch display with 1920x1080 resolution and a 144Hz refresh rate, but it's powered by a GeForce GTX 1660Ti GPU. Obviously it's not as powerful as the 20-series GPUs, but it will deliver solid performance for most games.
Instead of an Intel processor, Lenovo opts for an AMD Ryzen 7 4800H and pairs it with 16GB of DDR-3200 RAM. Storage is handled with a 512MB M.2 NVMe, which will be plenty fast to cut away load times, but we do wish it had more storage considering some games are over 100GB so it's something to consider. If you have monthly bandwidth caps from your ISP it may be frustrating to have to uninstall games to make room for new ones only to re-download older games at a later time.
Since it is a mid-range option, the battery life is average for a gaming laptop; depending on what you're playing, it might even be considered poor. Fortunately, it is equipped with what Lenovo calls 'Rapid Charge Pro' that brings battery life from zero percent to 50 percent in under 30 minutes. You'll likely want to leave this one plugged in for serious gaming sessions, though.
4. Best Budget Pick: Acer Nitro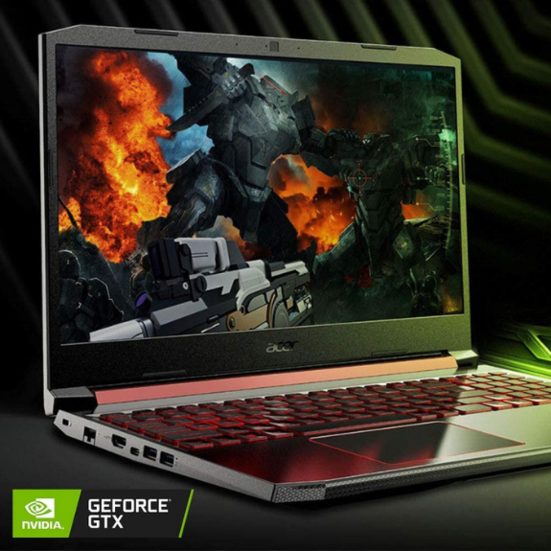 Good performance for the price
Expandable RAM and storage
Solid construction for its price
Low RAM and storage out of the box
Mediocre battery life
Speakers aren't very loud
Key Specs
| | |
| --- | --- |
| CPU: | Intel I5-9300H |
| GPU: | NVIDIA GeForce GTX 1650 |
| RAM: | 8GB DDR4-2666 |
| Hard Drive: | 256GB NVMe SSD |
| OS: | Windows 10 |
If you ask us, the idea of a 'budget gaming laptop' is a bit of an oxymoron. What you're willing to spend ultimately limits the games you are able to play, but we understand not everyone cares for AAA games on max settings. If you're a big fan of indie games, or really want to play indie darlings like the critically acclaimed Hades, here's an affordable option for you. It's an older model that is still being sold and it has plenty of limitations, especially when compared to our other recommendations, but you're spending considerably less.
For starters, it's powered by an Intel i5-9300H processor along with 8GB of DDR4-2666 RAM. The amount of RAM is one of its biggest limitations, especially considering some high-end smartphones and tablets come with 8GB. Then again, those devices likely cost more than this laptop. You are able to expand up to 32GB of RAM, but that'll cost extra. In addition, you're only getting 256GB of storage but an additional M.2 slot is available so you can easily and affordably expand that, too. It's likely that you'll be sticking to indie games with this type of setup, though, but the good news is that those games tend to be small in file size anyways.
This laptop has your standard 15.6-inch Full HD IPS display and built-in Wi-Fi 6 and Ethernet port. But, as you can imagine for its price, it doesn't have a high refresh rate even if that won't matter as much on the games you'll be able to play on this laptop. Keep in mind that you still will be able to experience some AAA titles, just double check the minimum system requirements for the games you're interested in before adding this to your cart.
5. Also Consider: Alienware m15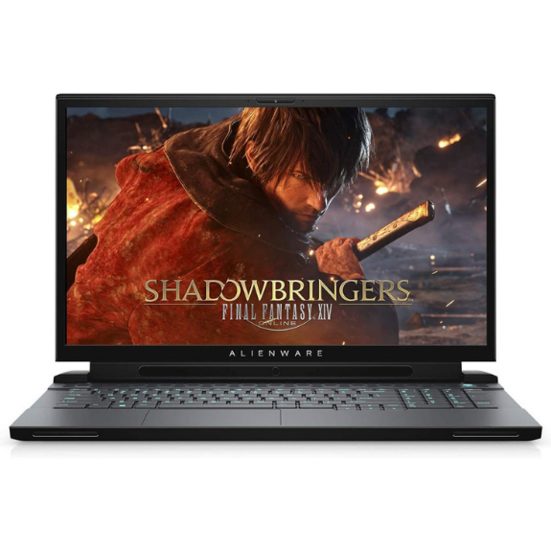 Alienware design and construction
Extremely fast display
Lightweight and thin for its specs
SSD instead of NVMe
Premium price
Doesn't even have a 2080
Key Specs
| | |
| --- | --- |
| CPU: | Intel i7-10750H |
| GPU: | NVIDIA GeForce GTX 2070 SUPER |
| RAM: | 16GB DDR4-2666 |
| Hard Drive: | 1TB SSD |
| OS: | Windows 10 Home |
We'd be amiss if we had a list of best gaming laptops without a recommendation from Alienware. Now owned by Dell, Alienware made its reputation for offering high-end gaming rigs at a premium price. When it comes to desktops you can likely build a comparable system for less than what Alienware charges, but you can't exactly build your own laptop. Think of it as the Apple of gaming laptops: you're paying a premium for a well-designed system that also uses high-end materials, such as magnesium alloy, copper, and steel.
Sporting a 15.6-inch 300Hz full HD display, this laptop is powered by an i7-10750H with 16GB of DDR4-2666 RAM. It's the thinnest laptop in the company's history, measuring under 20.5mm and weighing around 2.1 kg. This laptop will likely play anything you can throw at it and should do so for years to come.
6. Best Lightweight: XPG Xenia Intel i7-9750H RTX Gaming Laptop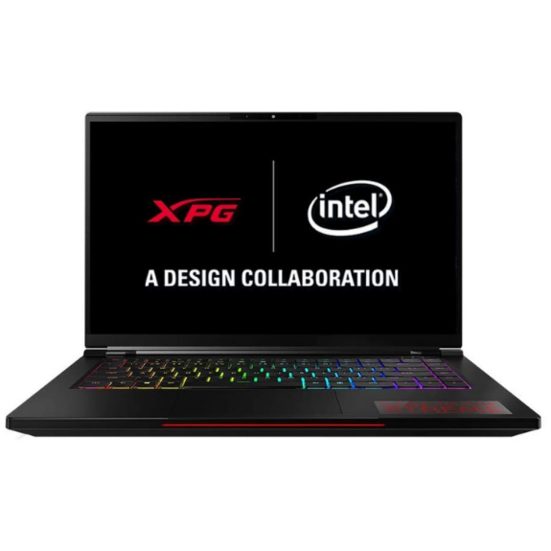 Thin and lightweight
Glass touchpad
Good battery life
Large charging block
Speakers are located on the bottom of the laptop, a headset would be a good idea
Key Specs
| | |
| --- | --- |
| CPU: | Intel Core i7-9750H |
| GPU: | GeForce RTX 2070 Max-Q 8GB DDR6 |
| RAM: | XPG 32GB |
| Hard Drive: | 1 TB Flash Memory Solid State |
| OS: | Windows 10 Home |
The XPG XENIA gaming laptop may just be the thinnest gaming notebook around but it's also built to give you a pretty satisfactory gaming performance. The ultra-light magnesium alloy chassis weighs only 4.08 lbs so if you're travelling around with your laptop this one won't wear you down. And while it might be light on the pounds, it's still heavy with a reasonable amount of cool features such as an Intel Core i7-9750H processor and a NVIDIA GeForce RTX 2070 Max-Q 8GB which gives it more than enough power to let you tackle everything from content creation to some pretty demanding games with ease.
For a high-middle range gaming laptop it's a pretty powerful computer with fast SSD, HD, and a good graphics card. It has a display refresh rate of 144Hz which ups the pleasure ante in your game playing and with three battery modes, you can choose the level that suits your usage. For example, you'll get 6 hours on battery save, 3 on standard, and 1.5 on performance. Games like Counter Strike Global Offensive need standard mode, but if you're into high-end games like Boneworks or Cod you'll need the performance mode.
Overall this laptop from XPG (which is a child company to ADATA) has plenty of storage and RAM and will take you through all of your gaming needs plus other regular laptop functions for school or work.
7. Sleeper Pick: Dell G5 15 Gaming Laptop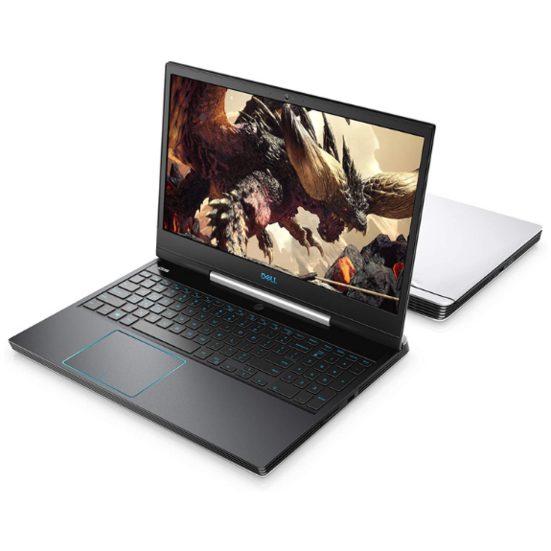 Dual-fan cooling system
Sleek design
Anti-glare LED backlit IPS display
Battery life isn't great
Some people have had issues with the sound quality
Key Specs
| | |
| --- | --- |
| CPU: | Intel Core i7-9750H |
| GPU: | NVIDIA GeForce GTX 1050 Ti |
| RAM: | 16GB |
| Hard Drive: | 1 TB 5400 rpm 2.5" SATA |
| OS: | Windows 10 Home |
This sleek-looking laptop from Dell has a 15.6-inch screen and offers up a pretty above average gaming experience for the price. Engineered with a 9th generation Intel Core i7-9750H processor and 16GB of memory, you're in for some powerful performances and uninterrupted gameplay. An interesting feature of this laptop is its innovative dual-fan cooling system. The advanced thermal design helps the system to stay cool during those moments when the play action heats up.
If you're a busy gamer you'll appreciate the NVIDIA GeForce 16 Series cards that feature a powerful core streaming multiprocessor. This will handle the complex graphics of modern games; Wildlands, Grand Theft Auto V, and Shadow of the Tomb Raider will all work well at the high/highest setting.
You'll also find a decent number of ports, including one USB Type-C (with Thunderbolt 3). While this is a decent laptop for gaming, it is bulky so if you have to lug it around campus or other places it might be a burden. As well, the battery life is not great but if you're using it to game then it will most probably be plugged in anyway.
8. Honourable Mention: HP Pavilion 15.6" FHD Gaming Laptop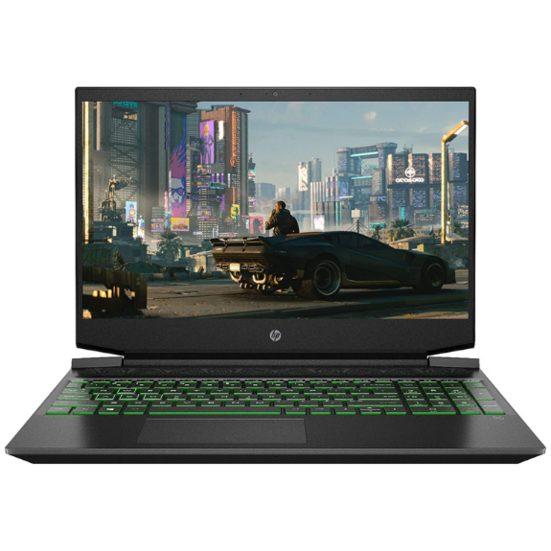 15.6-inch micro-edge display
Affordably priced
FHD (1920 x 1080)
Key Specs
| | |
| --- | --- |
| CPU: | 3 GHz ryzen_5_4600h |
| GPU: | NVIDIA GeForce GTX 1650 |
| RAM: | 256GB |
| Hard Drive: | 256 GB SSD |
| OS: | Windows 10 Home |
This is another gaming laptop in the budget category, now from HP, that is a great option if you're not able to spend the bucks needed for some other models. While you will be spending less, you won't be losing too much in gaming performance or the quality of your graphics.
Powered with an AMD Ryzen 5 4600H processor, which is comparable to Intel's Core i5-10300H, you get a bundle of features such as machine intelligence, multitasking capabilities, and efficient architecture with up to 6 cores, 12 threads, and a maximum frequency of 4.0GHz.
The 15.6-inch full HD micro-edge display on this gaming laptop offers FHD (1920 x 1080), an anti-glare screen, and two million pixels for crystal-clear visuals. You'll also get a pretty decent audio experience with the dual speakers, audio boost, and tuning by B&O that delivers a rich, authentic sound. In terms of games, you'll have no problem with running Microsoft Flight Simulator 2, xPlane11, or Minecraft. You really are set to get all the power you need for a fast, smooth, and power-efficient gaming experience.
How To Choose The Best Gaming Laptop?
By now you've probably noticed that gaming laptops have a lot of specifications to consider. We outline the main specs you need to pay attention to which include the processor, GPU, amount of RAM, storage, operating system, and display. In the most basic sense, choosing the best gaming laptop comes down to your budget and the games you wish to play. Take a look at the minimum and recommended requirements for those titles and make sure the laptop you're considering meets or exceeds those requirements.
What About Refresh Rates?
When it comes to explaining refresh rates on displays, we can get really technically and bore you half to death. Instead, we'll explain it in as few words as possible. Essentially, the refresh rate is the number of times a display updates with new images each second. Generally, the higher the refresh rate the smoother your viewing experience is. When it comes to gaming however, this is limited by the frames per second (FPS) your computer is able to churn out. For example, if you're running 60 FPS in a particular game and you have a 144Hz monitor you're fine because the monitor is capable of refreshing quicker than the frames that are occurring. But if your FPS exceeds your monitor's refresh rate that means the display isn't able to show all those frames. In other words, refresh rate effectively sets a cap on FPS. This typically results in screen tearing but there is technology that helps prevent that by forcing your GPU to synchronize with your display's refresh rate.
This is one of the reasons why we stress that just because a display has a refresh rate of 300Hz you won't fully benefit from it - especially when it comes to gaming. In fact, some games won't even support 300 FPS since it could cause issues with the game itself. It's something to keep in mind when shopping for a gaming laptop so don't completely buy into the hype unless you know you can take advantage of it. Generally, 144Hz is sufficient for gaming.
What Accessories Do I Need?
Gaming laptops have their limitations, especially when it comes to their touchpads. Simply put, most games won't have a very satisfying experience if you're stuck using the touchpad so we highly recommend purchasing a separate gaming mouse.
If you're planning to game online with friends, a gaming headset with a quality microphone is another accessory you'll want to pick up. This is particularly true since some gaming laptops don't have the best speakers. If you're playing first-person shooters, for example, you'll want to be able to distinguish exactly which direction the action is coming from and a gaming headset will offer you better surround sound audio than the built-in speakers on a laptop.
Leave a Comment
Do you own one of these gaming laptops, or is your favourite missing from our list? Comment below and let us know!
RedFlagDeals.com is reader-supported. We are a participant in the Amazon Services LLC Associates Program and other similar affiliate advertising programs. These programs are designed to provide a way for sites to earn advertising fees by linking to them. This means that RedFlagDeals.com will sometimes get a small commission if you make a purchase through our links.