The Best Gaming Keyboards
Table of Contents
When it comes to PC gaming, you have to imagine your keyboard is one half of a traditional console gaming controller, with your mouse being the other half. For most games, the keyboard is in charge of your movement, general inputs and skill use, which means you want it to react as quickly as possible. More importantly, keyboards with 'mushy' keys don't provide a lot of feedback, leaving you to question whether or not you pushed a certain key.
Once you start digging into keyboards designed specifically for gaming, you'll be introduced to a world full of interesting, technical jargon. Unless you've done prior research, there's a likely chance it's confusing and difficult to choose the right keyboard for your specific gaming needs. In this article, we'll do our best to help, explaining the major differences between certain gaming keyboards and why one might appeal to you more than another.
Before we introduce our top picks for the best gaming keyboards, there is one thing we need to get out of the way. Since we are using the word 'best' here, most of our recommendations will be mechanical keyboards. We understand not everyone likes the feel and noise that mechanical keyboards have to offer, but if you truly want the best for gaming, you'll want a mechanical.
After we go through our top recommendations, we'll explain some factors to consider when choosing the best keyboard for you. Do you want macro keys? Built-in media controls or USB ports? All of these things matter, especially when some of these keyboards cost quite a bit. We'll also give you a quick explanation on all the different switches you can find on mechanical keyboards and how they differ.
1. Editor's Pick: Corsair K100 RGB Optical
Per-key RGB customization
Six macro keys
Extremely responsive and customizable
Premium features come at a premium price
Must use additional software to program the macro keys
Key Specs
| | |
| --- | --- |
| Brand: | Corsair |
| Model: | K100 RGB Optical |
| Form Factor: | Full size with six macro keys |
| Backlighting: | Per-key RGB |
| Switch Type: | Corsair OPX |
Sporting a durable aluminum frame, this keyboard looks and feels like a premium option, as expected from a reputable manufacturer like Corsair. Our editor's pick for the best gaming keyboard is also a premium option, but if you want the best, you'll have to pay quite a bit. It's one of the most customizable keyboards out there, with per-key RGB backlighting that is further accented by a 44-zone, three-sided RGB LightEdge.
As Corsair's most advanced gaming keyboard (currently available), the K100 RGB Optical promises to deliver your inputs up to four times faster, thanks to native 4,000Hz hyper-polling and 4,000Hz key scanning. If that sounds like marketing jargon, part of it is. All you need to know is that this keyboard is extremely responsive, which is ideal for gaming. As for the switches, it uses exclusive Corsair OPX optical-mechanical keyswitches, which offer input with just 1.0mm actuation distance and will last for up to 150-million keystrokes.
On the far-left side of the keyboard you'll find six macro keys, which are great for those who play MMOs. You can also control your backlighting, media and more with the multi-function iCUE control wheel, which is fully programmable. A magnetic, detachable palm rest features a leatherette finish cushioned with plush memory foam. To round off this feature-rich keyboard is a USB pass-through port.
2. Best Overall: Razer Huntsman Elite
Multi-function digital dial
Extremely responsive switches
Razer Chroma backlighting for customization
No USB passthrough
Synapse software can be frustrating to use for some
Key Specs
| | |
| --- | --- |
| Brand: | Razer |
| Model: | Huntsman Elite |
| Form Factor: | Full size |
| Backlighting: | Razer Chroma backlighting with underglow |
| Switch Type: | Razer Linear Optical |
No list of gaming peripherals would be complete without an entry from Razer. One of the most popular and well-known brands in the industry, the Huntsman Elite gets our nod as the best overall gaming keyboard.
What's the difference between our editor's pick and best overall? Price, of course. The Razer might not have as many features as our top choice, but it's more affordable and probably a more realistic option for the average gamer. Powered by Razer's own optical switches, this keyboard is highly responsive with reset and actuation at the exact same point. Each switch has a built-in optical light sensor, and each time you push a key, a receiver is activated by the light to instantly actuate the switch command. Razer says these switches have a 100-million keystroke lifespan.
Although you can't customize each individual key, the Huntsman Elite does offer Razer Chroma backlighting with full four-side underglow and 38 customization zones. There's a multi-function digital dial so you can control your media content, from brightness to volume.
3. Best Budget Pick: SteelSeries Apex 3
Extremely quiet performance
Customizable RGB backlighting
Good amount of features at a budget price
No USB passthrough
Not a mechanical keyboard
Key Specs
| | |
| --- | --- |
| Brand: | SteelSeries |
| Model: | Apex 3 |
| Form Factor: | Full size |
| Backlighting: | 10-zone RGB illumination |
| Switch Type: | SteelSeries Whisper-Quiet (non-mechanical) |
When it comes to getting a gaming keyboard on a budget, you'll have to sacrifice quite a bit of premium features. But we understand not everyone is willing to spend hundreds on a keyboard, which is why the SteelSeries Apex 3 exists.
It's not a mechanical keyboard, but it does use whisper quiet gaming switches rated to last over 20-million keypresses. It's an ideal option for gamers who want a quiet keyboard. One standout feature is that the Apex 3 is IP32 resistant to protect against accidental spills. It also includes a premium magnetic wrist rest that provides full palm support. Despite its budget price, SteelSeries still included dedicated media controls.
Customization wasn't cut out either, with 10-zone RGB illumination, which will react to games and even Discord. If you're looking to save money so you can buy more games during Steam's next sale, this is our recommendation.
4. Best Wireless Gaming Keyboard: Logitech G613 Lightspeed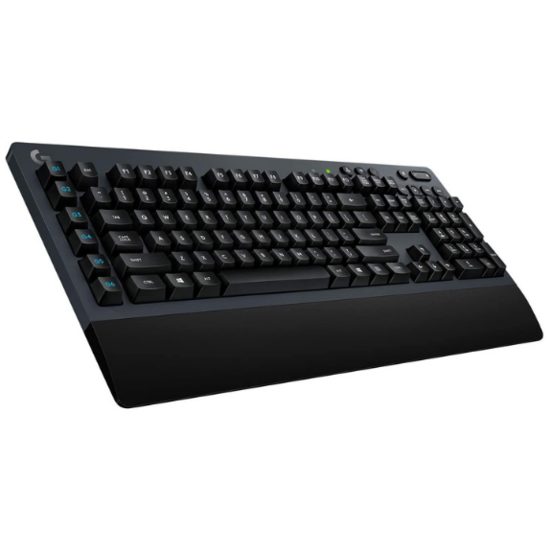 Six programmable macro keys
Mechanical performance without being attached
Lightspeed wireless technology is as good as it gets
No RGB customization (which might actually be a pro for some)
No USB charging—you'll always need to keep a spare pair of AA batteries close by
Key Specs
| | |
| --- | --- |
| Brand: | Logitech |
| Model: | G613 Lightspeed |
| Form Factor: | Full size with six macro keys |
| Backlighting: | No RGB |
| Switch Type: | Logitech Romer-G Tactile |
If you need a wireless keyboard for gaming, consider the Logitech G613, otherwise there's a reason why most of our recommendations are wired. The G613 is a mechanical keyboard using Logitech's own Romer-G Tactile switches, which balances performance with noise. The company says these switches are rated for up to 70-million clicks and have a short-throw actuation at 1.5mm.
Connecting through Lightspeed wireless technology, it's Logitech's solution to deal with latency, stability and connectivity. We could likely debate all day whether or not it's as good as a wired connection, but it is one of the best when it comes to wireless. You'll also get the benefit of six programmable G-keys, so you can setup custom macros.
Since it is a wireless keyboard, it requires a pair of AA batteries to operate. Those batteries can last up to 18 months, but that obviously varies on how much you're using the keyboard. The good news is, an LED light will illuminate when the battery is at 15 percent, so you know when it's time for replacements. There are also media controls on this keyboard, but no fancy wheel or dial will be found here.
5. Best Tenkeyless (TKL) Gaming Keyboard: HyperX Alloy Origins Core
Detachable USB-C cable
Customizable per-key backlighting
Compact size for those who limited desk space
No wrist rest
Software is tedious to use
Media controls are baked into the function keys
Key Specs
| | |
| --- | --- |
| Brand: | HyperX |
| Model: | Alloy Origins Core |
| Form Factor: | TKL |
| Backlighting: | Per-key RGB |
| Switch Type: | HyperX Red, HyperX Aqua |
Have limited desk space and not in the market for a full size keyboard? Check out this tenkeyless (TKL) option from HyperX.
The Alloy Origins Core is a fantastic, ultra-compact keyboard that uses custom HyperX mechanical switches (rated for 80-million keypresses) with exposed LEDs for lighting. It's all housed in a full aircraft-grade aluminum body and you can easily take it on the go thanks to its detachable USB-C cable. Choose from three different tilt levels with the adjustable keyboard feet.
This gaming keyboard is highly customizable with per-key lighting and effects through HyperX's NGENUITY software. You can also choose from five different brightness levels. Its onboard memory is capable of storing three different profiles. Since this is designed to be an ultra-compact keyboard, the media controls are baked into the function keys, so you won't be able to adjust the volume or switch to the next track as quickly as dedicated media controls.
6. Also Consider: Alienware Low Profile RGB
Key Specs
| | |
| --- | --- |
| Brand: | Alienware |
| Model: | Low Profile RGB |
| Form Factor: | Full size |
| Backlighting: | RGB |
| Switch Type: | Cherry MX Low Profile Red |
Mainly known for its full PC offerings, Alienware also sells peripherals targeted towards gamers. Its low-profile RGB gaming keyboard is a good example and is worth considering if you're a fan of the brand.
Instead of manufacturing its own switches, Alienware opts to use the popular Cherry MX low profile Red switches, which offer low actuation force and shorter travel. These switches are rated at a 50-million keystroke lifecycle. Sporting a slim form factor, this recommendation provides enhanced ergonomics and a more natural palm posture so you don't have to worry about pain after a long session of gaming.
Easy-to-access USB passthrough is a nice plus and dedicated media keys lets you control volume with a push of a button or flicking the volume roller. Customization comes in the form of AlienFX 16.8-million color per-key RGB lighting.
7. Best Budget Wireless: Havit Wireless 60% Mechanical Keyboard
Budget priced
12 different backlit modes
Double-shot keycaps
Adjustable brightness
No programmable macro keys
Key Specs
| | |
| --- | --- |
| Brand: | Havit |
| Model: | Wireless |
| Form Factor: | 61 keys TKL |
| Backlighting: | Rainbow backlit |
| Switch Type: | Red switch |
Although we've already included a wireless gaming keyboard on our list, not everyone can spend over $100 for a keyboard. This model from Havit doesn't have all the features of a more expensive model (for example, it's not programmable and only has a rainbow backlit), but for the price, it's a great wireless option for beginner gamers or anyone on a tight budget.
A nice feature of this keyboard is that it does offer dual modes to connect: Bluetooth 5.0 wireless and a wired option with the included detachable USB-C to USB-A cable. It also doesn't require any driver software, so if you use wired, just plug it in and type, and for wireless, the user manual has easy to follow instructions. The Bluetooth connection allows storing up to three different devices at the same time, and is easily switchable with FN + Q/W/E.
The 1900mAh battery will support up to 12 hours of play, but here's an energy saving feature you might like: under wireless mode, the TKL keyboard has a power-saving function that will enter the first level after three minutes of no action and after 30 minutes of no use, will go into sleep mode.
8. Best Ergonomic Design: Felicon Gaming Keyboard Mouse Sets K13 USB Wired
Ergonomic design
Storage brackets for phone and pens/pencils
16 effect rainbow backlit keyboard
Game style floating keycap
Phone will not fit in bracket with cover on
No programmable Macro keys
Key Specs
| | |
| --- | --- |
| Brand: | Felicon |
| Model: | Wired mouse set |
| Form Factor: | 104 keys, 26 conflict-free |
| Backlighting: | No RGB |
| Switch Type: | N/A |
This mechanical gaming keyboard has some interesting features, but we picked it for our list because of its ergonomic design that will reduce your hand fatigue if you spend hours using the keyboard for work and for gaming.
Basically, it has a large hand rest that is designed to reduce fatigue from long-term use, plus it is also equipped with a variety of multimedia key combinations suitable for games. The unique design also incorporates multiple storage brackets at the top where you can put your cellphone (without its cover) and some pens and pencils.
The keyboard also comes with a mouse made of skin-like material, five colour breathing lights, and six-button electroplated technology. The large soft gaming RGB mouse pad has 10 lighting modes, a waterproof fibre surface and a non-slip rubber base. Match it with the 16 effects of the rainbow backlit keyboard and customize your look and experience.
How to Choose the Best Gaming Keyboard
With so many different manufacturers producing gaming keyboards in the market today, it's understandable if you're overwhelmed by all the options. If you're still having a difficult time narrowing down to one of our choices, take a look at some of the things you should consider to choose the right keyboard for you.
Form Factor
Most keyboards are full sized with a number pad on the right, but some keyboards will be extended to the left with separate macro keys, while TKL keyboards get rid of the number pad to save space. If you have no use for a number pad and prefer a smaller keyboard, consider a TKL option.
Macros
Do you play a lot of MMOs? Think you can benefit from programmable macro keys? Although they aren't as popular as they were a decade ago, there are still some gaming keyboards that offer six separate macro keys that you can personalize as macros. That includes a combination of keypresses at once, or even setup a delay in between keypresses so you only have to hit one button to do multiple things in sequence.
RGB Customization
RGB has become massively popular over the past few years, letting gamers customize the appearance of their computer and other accessories. If you're a fan, make sure you get yourself a keyboard that has RGB customization to match the rest of your theme. If you really want to personalize your keyboard, choose an option that lets you setup RGB on a per-key basis.
Switch Types
Had we published this article a few years back, we would have spent the next few paragraphs detailing all the different types of mechanical keyboard switches you can choose from. That's because for a while, Cherry MX switches were used by the vast majority of mechanical keyboard manufacturers. These days however, companies have begun manufacturing their own mechanical keyboard switches, which means there are a lot more choices on the market.
So instead of listing out every single mechanical keyboard switch available, especially since new ones will likely be introduced all the time, we advise that you read up on the particular switch being used in the keyboard you're interested in to learn about its properties. Generally, the feel of a switch largely comes down to personal preference, since they affect noise and how much required force is needed for actuation.
What you should know is the difference between linear and tactile switches. Linear switches require you to push all the way down on the key before it activates, while tactile switches need to be pushed about halfway. It largely comes down to preference, but as you can imagine, tactile switches allow you to move quickly to the next keypress in your DPS rotation.
Why do gamers prefer mechanical keyboards?
Simply put, gamers prefer mechanical keyboards because they're generally more durable, faster and tactile, providing the feedback necessary to know when a certain key has activated. Even for working, many prefer mechanical keyboards because they're more responsive to typing so they're faster and easier to type on. Most users will agree that mechanical keyboards are more precise and feel more comfortable to work with than membrane keyboards, where each keypress can feel 'mushy'.
Some negatives to mechanical keyboards include their price and their sound. They're noticeably louder than membrane keyboards, since each keypress will result in an audible clicking noise. They can also easily get damaged if liquid spills on them. Consider all those factors before deciding whether a mechanical keyboard is ideal for you.
We're always looking for more feedback! If you own one of these keyboards and would like to share your experience, please comment below!
RedFlagDeals.com is reader-supported. We are a participant in the Amazon Services LLC Associates Program and other similar affiliate advertising programs. These programs are designed to provide a way for sites to earn advertising fees by linking to them. This means that RedFlagDeals.com will sometimes get a small commission if you make a purchase through our links.