The Best Gaming Desktops
Table of Contents
Many gaming enthusiasts prefer to build their own computer setups, but this isn't always an option if you don't know what you're doing or would rather have the convenience of a pre-built model. If you'd prefer to buy an already assembled gaming desktop, we've put together this list of some of the best options you can find on the market right now so you can get right into playing your favourite games. We tried to keep accessibility in mind, so we've prioritized mid-range desktops — using the most powerful components is much more cost effective when purchasing the parts individually, versus pre-built. Also keep in mind that pre-assembled PCs from some brands can go out of stock fairly quickly, so if you see one that's unavailable try to find one from the same brand with similar specs.
There are many different inner components of your new desktop that'll influence the performance you'll get, and they can get decently complicated for anyone who hasn't worked with computers before. We've put together a little guide at the end of this article that will help beginners understand the different computer components, and what you should be looking for in your new set up. While it won't be the most comprehensive guide around, you'll be well on your way to knowing which computer you should be considering. Without further ado, here's the list!
1. Editor's Pick: iBUYPOWER Gaming PC Computer Desktop Element 9260
High-end graphics card and processor chip
Will give you high frame rates in most games
Great value for the price
Both an HDD and an SSD for storage
Expensive, not accessible for all buyers
Not always available to purchase, you might need to find something similar
Key Specs
| | |
| --- | --- |
| CPU: | Intel Core i7-9700F 8-Core |
| Graphics Processor: | NVIDIA GeForce GTX 1660 Ti |
| RAM: | 16GB |
| Storage: | 1TB HDD, 240GB SSD |
| Product Dimensions: | 55.8 x 50.6 x 31.6 cm |
The iBUYPOWER Gaming PC Computer Desktop Element 9260 is truly a beast of a PC; it has a top-of-the-line CPU and GPU, and it will be able to run most modern games with high settings.
You'll feel like a real gamer with this model's glowing lights and tempered glass panels, and with these amazing specs you'll be able to play most modern games with high settings. If you're planning on streaming online while you play, the 8-core processor will definitely help you out. It's also great that this PC comes with both a HDD and an SSD, so you can store all your games and programs on the SSD for quick loading times, and the rest of your files on the HDD to save room for your games.
2. Runner Up: ROG Strix Gaming Desktop PC
Good quality CPU and GPU units
Can get high frame rates in many modern games on medium to high settings
Good amount of RAM available
Has both an HDD and an SSD
Hasn't been rated by many buyers
Key Specs
| | |
| --- | --- |
| CPU: | AMD Ryzen 5-3600X |
| Graphics Processor: | GeForce GTX 1660Ti |
| RAM: | 16GB |
| Storage: | 1TB HDD, 512GB SSD |
| Product Dimensions: | 49.78 x 18.54 x 42.16 cm |
The ROG Strix Gaming Desktop PC is another great option for you to consider because it's affordably priced but still has some serious computing power.
You'll get great frame rates and smooth gameplay on this computer while you're using medium to high settings on modern games, and just like our last pick, this one also comes with both kinds of storage, so you'll be able to have quick loading times in your games without worrying about running out of SSD storage because of your other files.
3. Best Budget Pick: Acer Aspire Desktop TC-895-UA92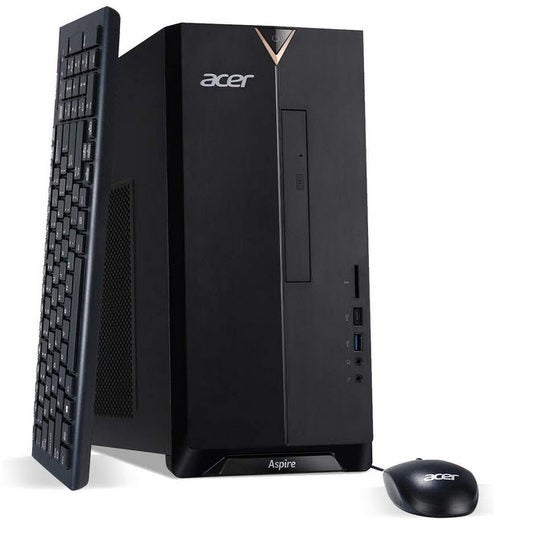 Affordably priced
Good amount of RAM
Decent processing chip
Built with SSD memory, which is faster than HDD
Integrated graphics card will hinder your gaming performance
Key Specs
| | |
| --- | --- |
| CPU: | Intel Core i5-10400 6-Core |
| Graphics Processor: | Intel UHD Graphics 630 |
| RAM: | 12GB |
| Storage: | 512GB SSD |
| Product Dimensions: | 35 x 16.31 x 34.01 cm |
If you're looking for an affordable entryway into the world of gaming PCs, we think that the Acer Aspire Desktop TC-895-UA92 is a good place to start. It still has a decent amount of processor cores, so you probably won't encounter many bottlenecks in performance.
Keep in mind that this PC has an integrated graphics card, which means that its performance won't be as good as higher end options — you'll probably need to lower your settings way down depending on what games you're playing, but for many new gamers it'll be just enough to play older games, or some newer games on low settings.
4. Best for Beginners: Acer Nitro Gaming Desktop, Ci5-10400F
Dedicated graphics card that delivers decent frame rates for most games
Decent amount of RAM available
SSD storage for faster loading times
Affordably priced, and great value
Won't be as good at running modern games on higher graphics settings
Fans can get a little loud
Key Specs
| | |
| --- | --- |
| CPU: I | ntel Core i5-10400F |
| Graphics Processor: | NVIDIA GeForce GTX 1650 |
| RAM: | 8GB |
| Storage: | 512GB SSD |
| Product Dimensions: | 17.5 x 38.61 x 39.19 cm |
While our last pick was more of a budget choice for beginners, the Acer Nitro Gaming Desktop, Ci5-10400F is a better choice if you have a little bit more money to spend because of its dedicated graphics card. You'll be able to play most of the games you want with this pre-built PC, and you should get decent frame rates depending on the graphics settings you want to play with; many buyers found they could reach 60 fps for their gaming, which is the max that some computer monitors can even display.
If you find that you're enjoying your computer and want to upgrade your components, that's totally possible! Just make sure that the graphics card you want to upgrade to is compatible with the motherboard.
5. Also Consider: HP Pavilion Gaming Desktop
Good quality graphics card
Decent number of processor cores
Good amount of RAM available
Will be able to play most games with normal to high settings
Some buyers reported problems occasionally after updating their operating systems
Key Specs
| | |
| --- | --- |
| CPU: | Intel Core i5-9400 |
| Graphics Processor: | NVIDIA GeForce GTX 1050 Ti |
| RAM: | 8GB |
| Storage: | 256GB SSD |
| Product Dimensions: | 30.71 x 15.54 x 33.73 cm |
Not to be outdone, the HP Pavilion Gaming Desktop is another great mid-range option you should consider purchasing, because it has great value for the price, and will be able to handle most of your average gaming needs.
This computer comes with a pretty decent graphics card for the price, and the processing unit has a good number of cores too, so bottlenecks in performance aren't likely when using multiple programs. You'll be able to enjoy good frame rates for most of your games — you might just need to turn your graphics settings down a bit for the more graphically intensive ones. Just like all the other options here, if you find that you want an improved graphics performance, it isn't too complicated to upgrade the graphics card down the line.
What to Consider in a Graphic Card
If you're looking for a computer for gaming, the graphics processor (GPU) is what will do most of the heavy lifting for you. Buying a gaming computer with one of the newest gaming cards on the market is the best way to ensure you'll be able to play new games in the future, as hardware needs for video games keep getting increasingly advanced. Higher-end cards are also more capable of playing games in 4k resolution, as well as in VR. Many pre-built options come with middle of the line cards, though, but a great thing about PCs is that you could purchase a new graphics card and install it yourself — just make sure it's compatible with the rest of your computer components.
Another thing to keep in mind is that generally, you'll want a dedicated GPU instead of an integrated GPU. Integrated graphics cards are built into the processor, and they share memory with the CPU instead of being dedicated to graphics. While you'll still be able to play some games with an integrated card, they're by no means top of the line, and you might need to play with your graphics settings on low in most games.
Picking Your CPU
The CPU is probably the next important factor in gaming performance next to the GPU. One of the ways performance is measured is by how many cores your processor has — each core means that it can receive instructions from one computing task. Having more cores means your computer can handle more tasks at once; some of the highest-level processors have 32 cores, but generally for gaming anywhere between four and eight will be enough. If it ever comes down to purchasing a more expensive CPU or GPU, you'll want to prioritize the GPU for gaming.
There are two main CPU brands competing for the top spot: AMD and Intel. Intel used to be the more preferred brand, but lately AMD has been improving their chips immensely, and now they can offer you better performance based on the cost. With that being said, both chips are completely viable and will be capable of playing your favourite games.
Features to Consider
RAM: Random access memory is basically like your computer's short-term memory, and it's where your computer stores temporary data that it's using and needs to access currently or soon. It'll be measured in gigabytes (GB), and essentially having a higher RAM means your computer has enough memory to use more programs at one time, so if you're switching between your game and internet browser you won't experience bottlenecks. Having 8GB available will be enough for entry level gaming, but you'll want at least 16GB for more intensive games.
Storage: There are two kinds of storage you'll find right now: a hard disk drive (HDD) or solid state drive (SSD). SSDs are the newer technology, and allow you to access your data much faster, which can reduce loading and download times immensely for any games you have stored on it. HDDs are slower, but they're cheaper so you can get much more storage for the same price compared to SSDs. Some computer options have both an HDD and SSD, so you can use your computer programs and games on the faster SSD while storing most of your photos, files etc. on your HDD.
Motherboard: This piece of tech is what houses the various cards and chips that your computer uses, and thus is the most important part of figuring out which components will be compatible. If you're planning on upgrading your video card after purchasing one of these pre-built options, make sure that you know which video cards will be compatible with the motherboard.
Leave a Comment
We're always looking for more feedback! If you already own one of these pre-built gaming PCs and would like to share your experience with it, or if we missed your favourite one, please share your story in the comments below.
RedFlagDeals.com is reader-supported. We are a participant in the Amazon Services LLC Associates Program and other similar affiliate advertising programs. These programs are designed to provide a way for sites to earn advertising fees by linking to them. This means that RedFlagDeals.com will sometimes get a small commission if you make a purchase through our links.