The Best Fitbits and Activity Trackers
By
Jordan Maxwell
January 25, 2021
We all need a bit of help sometimes. Taking control of your health can be hard and maintaining consistency in your daily fitness routine can be even more difficult. Keeping track of what you eat, how many steps you walk and how much sleep you're getting can also be time-consuming. Well, you're not alone. Fitbit smartwatches are an all-in-one option to help you stay on track. Fitbit tracks every part of your day — including activity, exercise, food, weight and sleep — to help stay motivated while you're working to get fit or find a life balance.
Designed and founded in 2007, Fitbit has unveiled a variety of products and apps for your smartphone. In this guide, we'll walk you through some handy smartwatches that do the job all the same. If you're considering a Fitbit to unlock your potential and stick to your new-found fitness routine, we've laid out some of the best Fitbits and best fitness tracks for you to consider.
1. Editor's Pick: Fitbit Versa 3 Smartwatch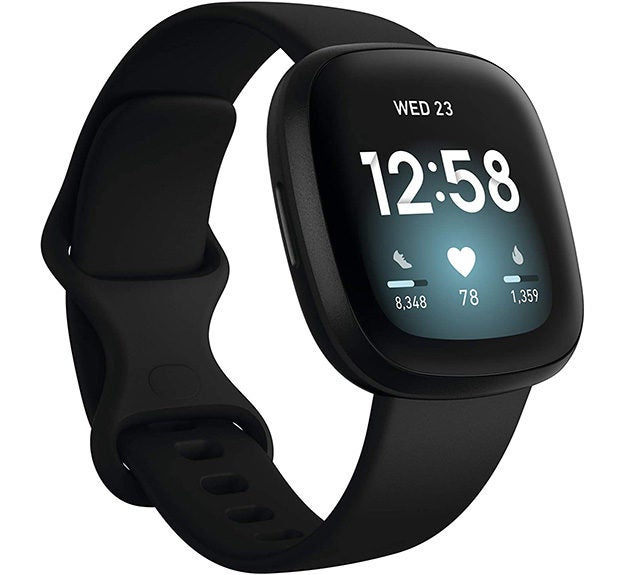 Internal GPS
15+ exercise modes
Accessory bands
Bluetooth, Wi-FI
SMS messaging (Android only)
See also: Fitbit Versa LITE Smartwatch
This all-day companion will get your started on the right track every morning by offering personalized guidance when it comes to your fitness routine and active lifestyle goals. The lightweight, water-resistant smartwatch provides actionable insights, notifications, quick replies, apps, music and more. With enough battery power to last for 4 days and the capacity to hold more than 300 songs, it's a solid option if you're looking for a wrist companion.
2. Fitbit Versa 2 Smartwatch
Voice control with Amazon Alexa
Sleep score
24/7 heart rate tracking
Spotify control
Fitbit Pay
Chances are if you tried the Fitbit Versa, you're ready to level up to version 2. If not, then this Fitbit smartwatch is probably a good place to start. With all the features of the original watch and the Amazon Alexa built-in system, it also comes equipped with a sleep scoring system, 24/7 heart rate tracking and Fitbit Pay, which lets you pay for products with your credit and debit cards. If you're a daily runner looking to track your steps or if you're looking to regulate your sleep patterns to learn more about your behaviour, you can track everything with the Fitbit Versa 2.
3. Fitbit Ionic
Built-in GPS
Dynamic personal coaching
Store and play music
PurePulse heart rate
Multi-Sport and Smarttrack
The Fitbit Ionic is a little more advanced. The watch sends you constant reminders to stay active through the day with onscreen reminders to move at least 250 steps per hour. It also offers a breathing session feature that asks you to breathe based on your heart rate. The Fitbit Ionic's clock face is customizable with unique designs and stylish accessory bands can be switched with sport, leather and other styles using its quick-release button.
4. Fitbit Charge 3
15+ exercise modes
Light, deep and REM sleep stage mode
Water resistance up to 50m
Female health tracking
See also: Fitbit Charge 4
Understanding of your body, your health and your progress has been made a lot easier with the Fitbit Charge 3. Voted as the 2018 Fitness Tracker of the Year by Wareable, the new model reveals insights about your body, fitness and everything in between. Connecting to your iPhone or Windows Phone, the smartwatch has up to seven days of battery life. If you swim, use an elliptical or play sports, the smartwatch can recognize your activity and tailor your workouts to your pace. It also has a female health tracking feature to track your menstrual cycle, record symptoms, estimate ovulation and chart fertility windows. Every day, you'll find valuable insights about your health that will empower you to take action, improve yourself and reach your goals.
5. Fitbit Aria 2
Syncs with Fitbit dashboard
Easy Bluetooth setup
Can recognize up to 8 users
In addition to its roster of smartwatches, the Fitbit Aria 2 smart scale is an additional tool that you can use to track your activity in tandem with a smartwatch. Not only does it measure your weight, body fat percentage, lean mass and your body mass index (BMI), but it also syncs to your Fitbit smartwatch to give you updates about your progress. What's great about this model is that you can have up to 8 users on one device. It privately tracks your progress and you can switch users at any time. If you're activity tracking with the whole family, this is a great device to keep track of your diet, heart rate and other information that will be beneficial to your overall health. If you're looking to lose weight with Fitbit Aria 2, the smartwatch/smart scale combo will help you on your journey.
Start Shopping for a Fitbit Today
A smartwatch is a good device to help you stay on track with your health and fitness routine, no matter which product you choose to buy. Whether you are just beginning on your fitness journey or if you've been tracking your progress for a while, there are a number of products that can help you understand your body better. Take advantage of the opportunity to transform yourself and find a smartwatch that works best for your overall goals.
RedFlagDeals.com is reader-supported. We are a participant in the Amazon Services LLC Associates Program and other similar affiliate advertising programs. These programs are designed to provide a way for sites to earn advertising fees by linking to them. This means that RedFlagDeals.com will sometimes get a small commission if you make a purchase through our links.