The Best Fitbits
Table of Contents
Whether you want a friendly reminder to get your butt up and moving, or want to track your heart rate and steps throughout the day, Fitbits are a great resource that everyone can benefit from regardless of their age.
At its core, Fitbits were created and designed to be used as activity trackers. The original product that launched late in September of 2009 was created to track your movements and calories and to monitor your sleep — all features that still exist in today's products. Over the last few years, smartwatches have gained a lot of popularity and have led to some pretty amazing technological advances. Watches no longer simply tell time, they can pay for your Timmie's drink, receive texts and calls, store and control your music, and so much more. But with all of these exciting advancements it also means that there's always a new Fitbit ready to hit the market which can make it difficult to figure out which product is right for you.
How To Choose The Best Fitbit For You
There's a lot to consider when it comes to choosing a Fitbit. Each new and improved version has slightly different features that can cause your head to spin while trying to remember which ones you like and which ones you didn't. Before you start shopping you can eliminate a handful of products right off the bat by setting a budget. Fitbits can range anywhere from $50 to over $200 depending on where you shop, and if you know you're not looking to spend more than $100, it's an easy and quick way to narrow down your search. Aside from price point, consider what features you really need and will actually use. Do you want a casual day-to-day Fitbit to keep track of your steps and heart rate? Or do you want a more intense Fitbit that has all of the gimmicks and then some?
Regardless of your preferences, we've put together a list of some of the best fitbits to help guide you to a product that's best for you.
1. Editor's Pick: Fitbit Charge 4
Active zone minutes
Sleep stages and score tracking
Menstrual health tracker
20+ exercise modes
Fitbit pay
Have to subscribe for premium features
No music control
Key Specs
| | |
| --- | --- |
| Heart Rate Monitor: | Yes |
| Waterproof: | Up to 5m |
| GPS: | Yes |
| Battery Life: | Up to seven days |
| Display Size: | 1" |
The Fitbit Charge 4 combines the best fitness tracking features with smartwatch elements to give you a sleek and simple watch that's always ready to go. Even though there isn't one product that will satisfy everyone, the Fitbit Charge 4 comes pretty close. It offers the perfect mix between fitness tracking elements and extra smartwatch features to satisfy (most) people, and if you've never used a fitness tracker before then this is a great place to start.
Each watch has a built-in GPS system so you can leave your phone at home and still keep track of your distance, speed, and heart rate during your runs. With new active zone minutes, your watch will notify you when you're in a target heart rate zone and can help you measure how many calories you've burned each day.
2. Runner Up: Fitbit Sense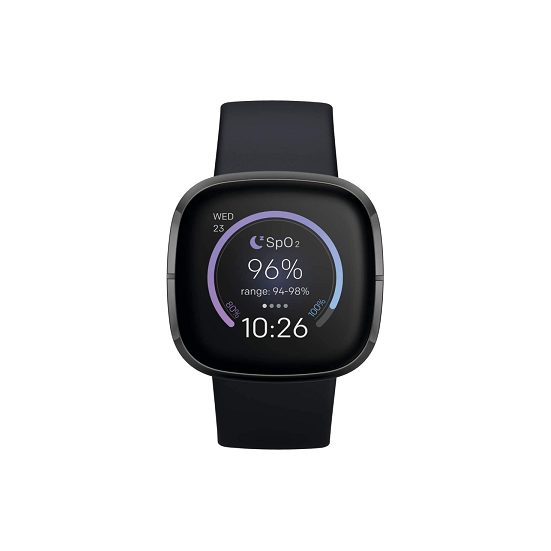 Store and play music
Hundreds of compatible apps and clock faces
Stress tracking
Alexa and google assistant compatible
High and low HR alerts
Expensive
EKG function not available in Canada
Have to subscribe for premium features
Key Specs
| | |
| --- | --- |
| Heart Rate Monitor: | Yes |
| Waterproof: | Up to 50m |
| GPS: | Yes |
| Battery Life: | 6+ days |
| Display Size: | 1.6" |
The Fitbit Sense is one of the newest and most advanced Fitbit watches to date. Although it has a higher price point, the features will make it worth your while. With a built-in Alexa you can check the weather, set reminders, and control your smart home appliances right from your wrist. Built-in GPS, 24/7 heart rate monitoring, and sleep tracking are all great features packed into this small machine but what really sets this watch apart is its ability to track and manage your stress levels as well as your skin temperature.
3. Best Smartwatch: Fitbit Versa 3
Built-in Alexa + FitFit Pay
Menstrual health tracking
Active Zone Minutes
Large display
Lightweight
Awkward side button
Expensive
Key Specs
| | |
| --- | --- |
| Heart Rate Monitor: | Yes |
| Waterproof: | Up to 50m |
| GPS: | Yes |
| Battery Life: | 6+ Days |
| Display Size: | 1.6" |
The Fitbit Versa 3 is similar to the Fitbit Sense, just a little less intense. If you're a fan of the size and style of the Sense smartwatch but don't need all the extra features, the Versa model is a nice step down. Its large, bright screen makes accessing and reading your data easy and comes loaded with useful apps to improve your day-to-day life and fitness tracking.
With built in GPS and active zone tracking you can monitor your heart rate, distance, speed, and time to help you get the most out of your workouts.
4. Best High-End: Fitbit Ionic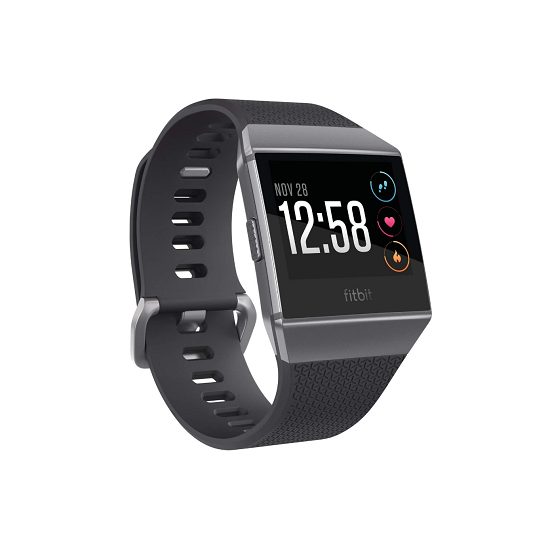 Control and store music
FitBit Pay
Large display screen
Durable
Expensive
Bulky design
Limited apps
Key Specs
| | |
| --- | --- |
| Heart Rate Monitor: | Yes |
| Waterproof: | Up to 50m |
| GPS: | Yes |
| Battery Life: | 4+ Days |
| Display Size: | 1.42" |
A unique design paired with personalized coaching and PurePulse heart rate monitoring makes the Fitbit Ionic a great choice for serious athletes. The Fitbit Ionic is another smartwatch based fitness tracker that is loaded with useful apps so you can leave the house on a run or an errand while leaving your phone at home.
With a built-in NFC chip you can pay on the go with a flick of your wrist while all of your texts, calls, and notifications are sent right to your watch. Its PurePulse heart rate monitor keeps track of your workouts to help you monitor your calories, max out your workouts, and measure your fitness levels over time while getting personalized coaching and workout videos right on your wrist.
5. Sleeper Pick: Fitbit Inspire 2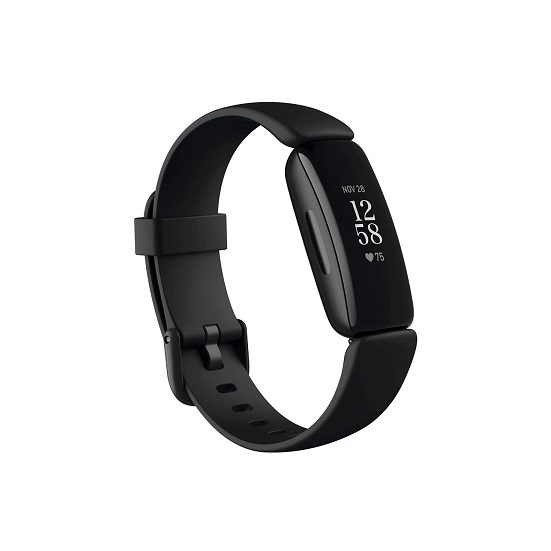 Slim
Inexpensive
Long battery life
Easy to use
Menstrual health tracking
Key Specs
| | |
| --- | --- |
| Heart Monitor: | Yes |
| Waterproof: | Up to 50m |
| GPS: | No |
| Battery Life: | 10 Days |
| Display Size: | 0.7" |
Simple yet effective, this small and sleek looking Fitbit Inspire 2 is a great choice for first time users. If you're on the hunt for your first fitness tracker, the Fitbit Inspire 2 comes equipped with all of the essential elements you'll ever need to get motivated and stay active without over-complicating things by including fancy apps and features you'll never use.
With a 24/7 heart rate monitor, friendly reminders to get moving, sleep tracking, text, call and app notifications on a slim, backlit LED screen, this small fitness tracker will inspire you to stay active.
6. Most Fashionable: Fitbit Luxe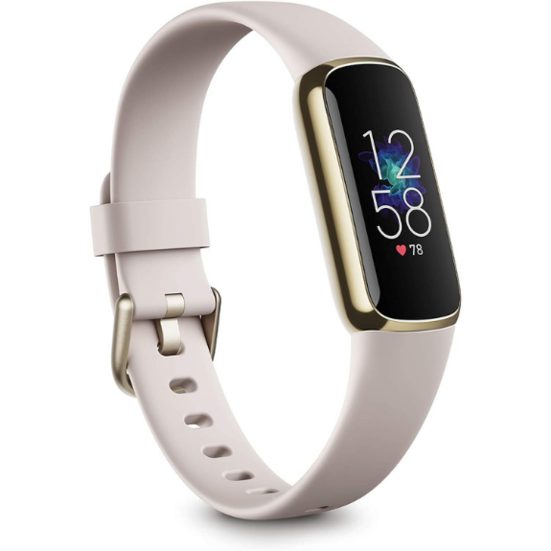 Looks more like jewelry than other Fitbits
Tracks your sleep and gives you a sleep score
Vibrant colour display
24/7 heart rate tracking
Onboard health metrics
Doesn't have an onboard GPS, but can connect to your phone's GPS
Key Specs
| | |
| --- | --- |
| Heartrate Monitor: | Yes |
| Waterproof: | Up to 50m |
| GPS: | No |
| Battery Life: | 5 Days |
| Display Size: | 0.76" |
This Fitbit takes style into consideration a bit more than the other offerings, and it isn't too pricey, either. It's designed to look more like jewellery, so it's less obvious that you're wearing a fitness tracker, and it has a vibrant colour display that looks beautiful.
It has most of the same features you come to expect in a Fitbit, like being able to track sleep and fitness, and you can even use it to track your stress levels using the measurements that it can take. It doesn't have a GPS of its own, which is kind of a drawback, but at least it can connect to and access your smartphone's GPS.
7. Best for Kids: Fitbit Ace 3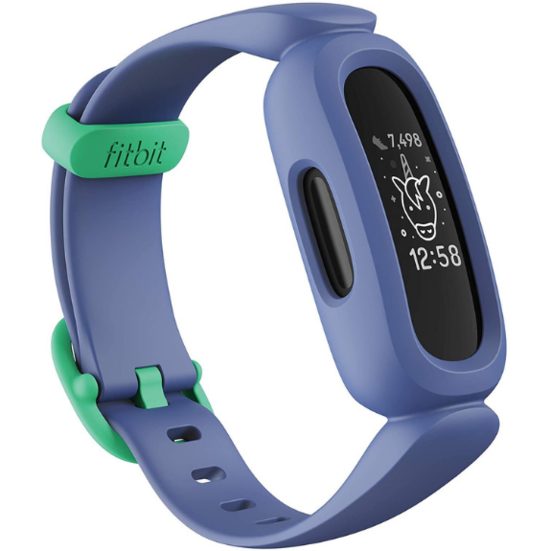 Tracks and motivates your kid's exercise
Can track your child's sleep
Silicone band is comfortable to wear
Good battery life
Waterproof
Key Specs
| | |
| --- | --- |
| Heartrate Monitor: | Yes |
| Waterproof: | Up to 50m |
| GPS: | No |
| Battery Life: | 8 Days |
| Display Size: | 1.47" |
It's never too early to start tracking your kids' fitness and establishing healthy habits. The Fitbit Ace 3 makes it easy, and it has an ultra-comfortable band that your kids won't mind wearing all the time.
It has a long battery life, so they won't need to worry about charging it too often, and it has a cute, animated clock that'll change as the day goes on. They won't need to take it off to go swimming — it's water resistant up to 50m.
8. Also Consider: Fitbit Versa 2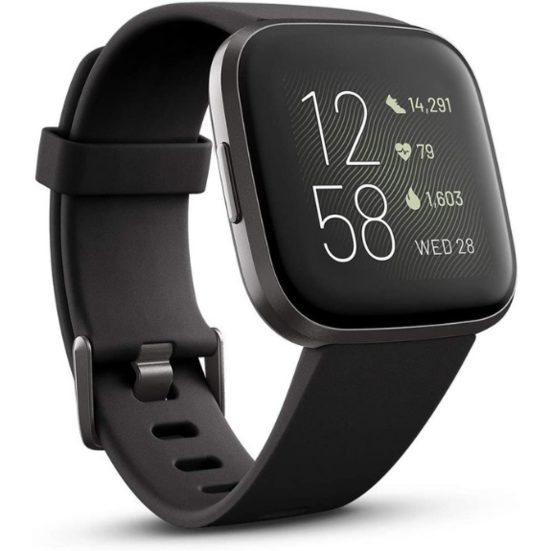 More affordably priced than newer Fitbits
Comfortable on your wrist
Large display
Easy to use
Doesn't have its own GPS, but can connect to a smartphone's
Key Specs
| | |
| --- | --- |
| Heartrate Monitor: | Yes |
| Waterproof: | Up to 50m |
| GPS: | No |
| Battery Life: | 6+ Days |
| Display Size: | 1.34" |
It may be an older version of the Versa 3, but this is still a completely viable — and more affordable — Fitbit option to consider, that has a myriad of useful features. It can track your heart rate, sleep cycles, and exercise, and it can be controlled through the sound of your voice with Amazon Alexa built in.
One of the main setbacks with this older model is that it doesn't have its own GPS, but if you carry around your smartphone all the time anyway, that won't be an issue since it can connect to it.
Frequently Asked Questions
Which Fitbit is the best?
Unfortunately, there is no right answer here — every model is unique in its own way.
The Fitbit Inspire, for example, uses a more minimalist design and functions by tracking your sleep and heart rate while receiving notifications from your phone, and includes around 15 different workout modes. While this version would be a great choice for people who want to track their steps or need a little more motivation to get moving, it wouldn't be the best option for a serious athlete.
If you're serious about working out, then the Charge series or Ionic Fitbit would be better suited for your needs. Both come equipped with features that monitor your health, 20 different exercises, and your heart rate on a larger screen so you can track your workouts with ease.
If a smartwatch is more your speed, then the Fitbit Versa 2 or the Fitbit Sense are the best options for you. They have large display screens that include many of the same activity tracker modes as the Charge series, but includes a wider range of compatible apps, clock faces, and other fun features like Fitbit pay and a built-in Alexa.
So, really, the question isn't what Fitbit is the best, but what Fitbit is the best for you.
Is It OK To Wear My Fitbit To Bed?
Absolutely. In fact, for some people, that's part of the appeal of using a Fitbit. If you experience a restless night's sleep, or are just plain curious about your sleeping patterns, your Fitbit can monitor how much you move around in the night and tracks your heart rate to tell you how long and peacefully you've slept.
Can I Wear My Fitbit In The Shower?
The majority of Fitbit products are water resistant and can withstand up to 50 meters of water which means they should be able to handle the water from your shower or even the sweatiest of workouts. Although your small machine is designed to withstand water, if you can avoid wearing them in the shower, hot tub, and saunas you'll help limit the exposure to soaps, shampoos, and conditioners which may cause damage to your device in the long run.
Leave a Comment
We're always looking for more feedback! If you own one of these items and would like to share your experience, please comment below!
RedFlagDeals.com is reader-supported. We are a participant in the Amazon Services LLC Associates Program and other similar affiliate advertising programs. These programs are designed to provide a way for sites to earn advertising fees by linking to them. This means that RedFlagDeals.com will sometimes get a small commission if you make a purchase through our links.