The Best Electric Toothbrushes
Table of Contents
More and more dentists are recommending people use an electric toothbrush for better results, resulting in healthier gums and less tooth decay. This is especially true for kids, who don't always get every nook and cranny with a manual toothbrush. Brushing two to three times a day is a part of what's considered to be good oral hygiene practice, according to most dentists, so if you want to make that process a little bit easier — and more efficient — an electric toothbrush might be better suited for the task.
Electric toothbrushes come in a variety of models, with features that make the tooth-brushing experience easy and worry-free. One of the most important features are the replacement brushes, which prevents you from having to get a new toothbrush as often. Thinking of making the switch? We've got you covered.
Below, we've highlighted some of the best electric toothbrushes to buy, including a handful of models that are specifically designed to get at those hard-to-reach areas, especially for your little ones.
1. Editor's Pick: Oral-B Genius Pro 8000 Electronic Power Rechargeable Battery Electric Toothbrush with Bluetooth Connectivity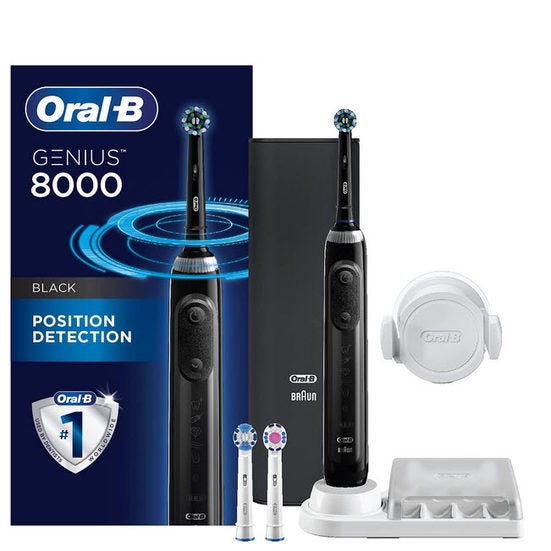 Six brushing modes
Built-in pressure sensor
Tongue cleaner mode
Lasts up to two weeks on a full charge
On the pricier side
Position detection may not always work perfectly
Key Specs
| | |
| --- | --- |
| Item dimensions L x W x H : | 10.2 x 23.5 x 25.3 cm |
| Item weight: | 13.1 Ounces |
| Number of settings: | 5 |
| Accessories included: | Charger, travel case, phone holder, two additional brush heads |
For those who have to take extra care with their teeth, the Oral-B Genius Pro 8000 not only has six different brushing modes but also Bluetooth connectivity to sync with your phone app to give more detailed analysis of your brushing and how to improve.
With both oscillating and pulsing action, it provides a deep clean with the round brush head surrounding each tooth and boasts to remove 500 percent more plaque than a manual brush. Built-in pressure sensors also tell you if you're brushing too hard and position detection gives you feedback on how well you're brushing each area.
In addition, it comes with a handy charging travel case, two extra brush heads (including a whitening one), and a phone holder that suction cups to your bathroom mirror so you can monitor your brushing on the app. Lasting up to two weeks on a single charge, the Oral-B Genius Pro 8000 is a solid all-around electric toothbrush.
2. Runner Up: Bahfir Sonic Toothbrush
Waterproof
Five different modes
Shuts off after two-minutes of use
Long battery life
Small toothbrush head
No charging dock
Key Specs
| | |
| --- | --- |
| Brand: | Bahfir |
| Power Source Type: | Corded Electric |
| Pump Type: | Manual |
This electric toothbrush features an IPX7 rating — meaning you don't have to worry about water ruining your machine — so you could even brush in the shower to speed up your morning or nighttime routine.
The Bahfir Sonic Toothbrush is packed with a handful of useful features and powerful cleaning benefits at half the price of other high end electric brushes. Similar to the Oral-B model, its Cross-Action brush head surrounds your teeth with bristles angled at 16 degrees. What's more, it's built with five modes that work to eliminate stains, polish your teeth and massage your gums among other things.
This durable toothbrush is powered by quick and easy USB charging that allows you to enjoy a long lasting battery while at home or on the go. Thanks to its oscillating, rotating and sonic vibration, you can enjoy up to 22,000 strokes per minute that removes 99.99 percent more plaque than a regular toothbrush.
3. Best for Kids: Philips Sonicare Rechargeable Electric Toothbrush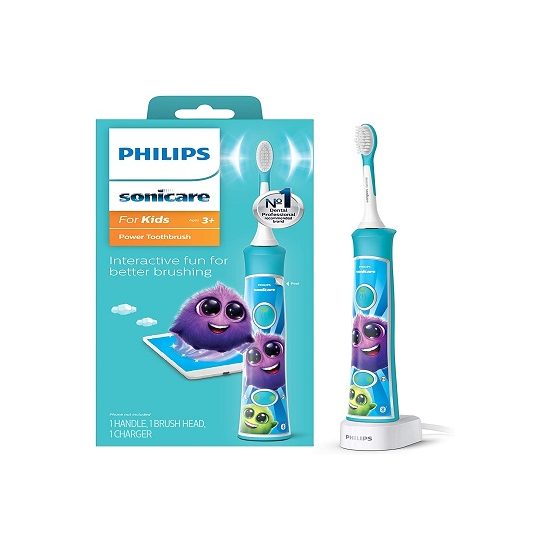 Specially designed with children in mind
Comes with an interactive app to educate, encourage and reward brushing
Sonic technology for 500 strokes per second
Two-minute timer and reminder to move from one quadrant to another
Comes with stickers to decorate toothbrush
More expensive than other models
Not designed to be used with braces
Key Specs
| | |
| --- | --- |
| Item dimensions L x W x H: | 6.4 x 11.1 x 24.4 cm |
| Item weight: | 0.75 lbs. |
| Number of settings: | 2 |
| Accessories included: | Charger, stickers |
It's not always easy to get kids to brush their teeth every day, and when they do, through no fault of their own, they don't always do the best job. Having them use an electric toothbrush is a great way to get your kids to love brushing their teeth without you worrying that they're doing it wrong.
This cute Sonicare rechargeable electric toothbrush from Philips really ticks off all the boxes to engage your child to regularly brush their teeth. Specifically designed for children, it comes with a free, interactive app that educates kids about how to brush their teeth properly, offering exciting rewards for each successful brushing session. There is also a parent section of the app that allows you to keep track of your child's brushing time and frequency. You can even add rewards for more motivation.
While the handy app offers many benefits, the toothbrush itself is the main attraction as it is equipped with a patented sonic technology to provide 500 strokes per second, making it 75 percent more effective than a manual toothbrush. A timer lets your child know that he or she has brushed for the required two minutes, and an alert reminds them to move from one quadrant of the mouth to another. This electric toothbrush is ideal for children ages three and up.
4. Best High End: AquaSonic DUO PRO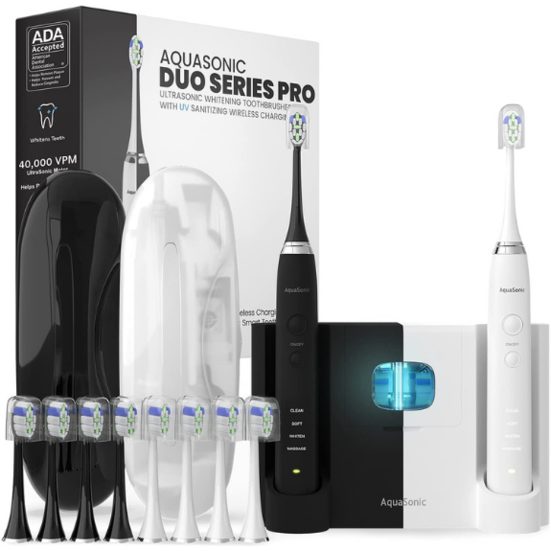 Waterproof
Wireless charging
Includes UV sanitizing dock
Comes with two travelling cases
Limited brush movements
Minimal vibrations
Key Specs
| | |
| --- | --- |
| Brand: | AquaSonic |
| Power Source Type: | Corded Electric |
| Pump Type: | Automatic |
Organized in a compact, portable system that looks as great as it cleans, this set of smart toothbrushes will help keep both your teeth and the brushes as clean as possible thanks to its UV sanitizing chamber. Although this set isn't the cheapest option on the market, it's cleaning benefits and dual brush kit makes it a worthy investment. The AquaSonic Duo Pro includes two waterproof smart toothbrushes equipped with 40,000 VPM ultrasonic motors as well as four modes with smart timers.
In addition to the two toothbrushes, each kit comes with 10 ProFlex brush heads, two custom travelling cases and a wireless charging dock. And to help make sure your brush heads stay as clean as possible, the charging dock features an auto-timed UV sanitizing chamber to kill off leftover oral germs.
5. Best for Travel: GUM Deep Clean Electric Toothbrush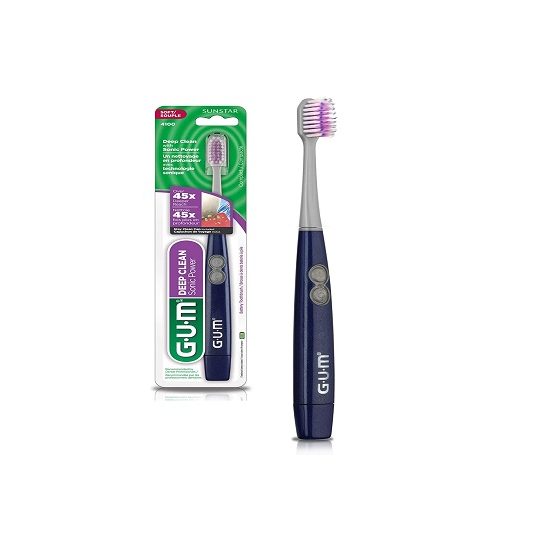 Affordable
Convenient to take on trips with an anti-bacterial travel cap
No need to charge; runs on one AAA battery (included)
Sonic vibrations for effective cleaning
Key Specs
| | |
| --- | --- |
| Item dimensions L x W x H: | 2.31 x 5.33 x 23.52 cm |
| Item weight: | 60g |
| Number of settings: | 1 |
| Accessories included: | One AAA battery |
While it is not the most powerful or feature packed electric toothbrush, the small size and low price point make it one of the best options to take on trips. This deep-cleaning electric toothbrush features soft, tapered bristles for an extensive clean between the teeth and below the gum line without causing irritation. The sonic vibrations break away stubborn plaque while stimulating your gums.
Ergonomically designed with comfort in mind, its slim shape offers precision and easy maneuverability for hard-to-reach areas in the back of your mouth. It's perfect for travelling; it comes with an antibacterial travel cap; and it's chord-free, running on just one AAA battery. Budget-priced, stick it in your luggage before going on a trip or use it every day in your home.
6. Best For Infants: bblüv Original 2 Stage Ultrasonic Toothbrush
Food grade silicone handle
Waterproof
LED light to help illuminate all corners of the mouth
Two different sized brushes
Vibration may be too strong for some users
Only includes two brush heads
Key Specs
| | |
| --- | --- |
| Brand: | bblüv |
| Power Source Type: | Battery Powered |
| Pump Type: | Automatic |
With two different sized interchangeable brushes and a handy LED light, these soft and lightweight electric brushes can help you make sure your newborns' teeth stay clean and healthy as soon as they start to show.
Designed to be used for little ones up to 36 months old, this bblüv toothbrush is a great way for your children to develop healthy brushing habits from a young age. These brushes pulse every 30 seconds to indicate it's time to move to the next section, and automatically shuts off after two minutes so there's no second guessing if they're done or not.
These waterproof brushes use an internal LED light to not only make brushing a fun experience for your kids, but also helps you see every nook and cranny to ensure a proper clean.
7. Sleeper Pick: Colgate 360 Floss-Tip Power Toothbrush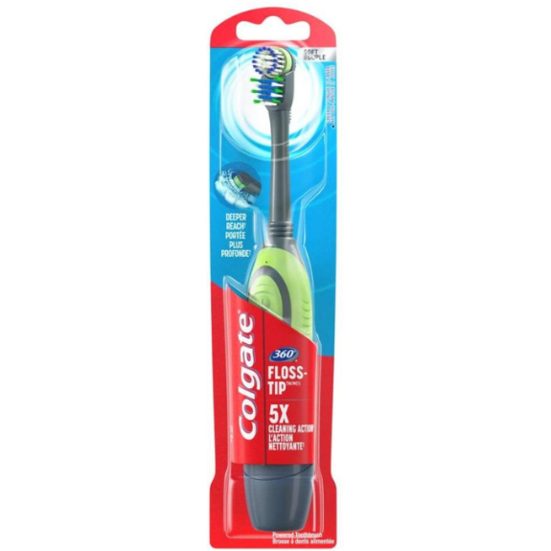 Affordable
No need to charge; runs on one AAA battery (included)
Doesn't include replacement heads
Short shelf life
Key Specs
| | |
| --- | --- |
| Brand: | Colgate |
| Power Source Type: | Battery Powered |
| Pump Type: | Automatic |
No matter your budget, a healthy deep clean is never out of reach. Made with a comfortable non-slip handle and replaceable batteries, this inexpensive electric toothbrush provides you with a powerful, 360-degree clean. Its 5x cleaning and dual action-head achieves a deeper reach to help brush away bacteria and plaque. Floss-tip bristles, oscillating bristles, regular bristles, angled bristles, and tongue and cheek cleaner work together to provide a healthier, whole-mouth clean.
8. Honourable Mention: Philips Sonicare ProtectiveClean 4100 Electric Rechargeable Toothbrush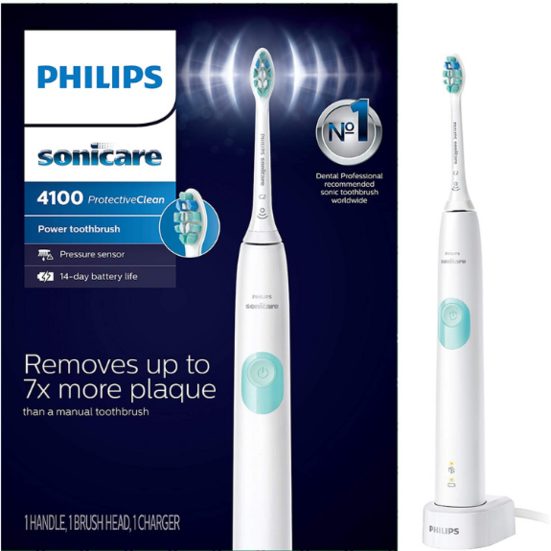 Two-minute timer and reminder to move from one quadrant to another
Long lasting battery
Brush head replacement reminder
Doesn't include other brush heads
Limited modes
Key Specs
| | |
| --- | --- |
| Brand: | Philips |
| Power Source Type: | Corded Electric |
| Pump Type: | Automatic |
Also a great pick: this Philips Sonicare ProtectiveClean 4100 Electric rechargeable toothbrush is a great option for fighting and preventing gingivitis. Although these brush heads don't rotate, they do provide a powerful oscillating motion and gentle pulses to help you care for your teeth and gums, while removing 7x more plaque than you might with a standard, manual toothbrush.
These electric toothbrushes incorporate a brush head replacement reminder to ensure you don't overuse each head. A two-minute timer and Quadpacer helps you keep track of how long you should be spending on each area, as well as making sure you clean for the recommended time allotment.
What to Look for When Choosing an Electric Toothbrush
There are many different models and brands of electric toothbrushes on the market and the one you choose for you and your family comes down to your personal preferences, comfort level and budget.
Type of Brush Movement
A rotating brush head spins all the way around, while an oscillating brush head moves from side to side. Some toothbrushes heads may pulsate to make the head move in and out against the teeth while spinning to help dislodge plaque. Choosing a brush that offers all three movements will do a better job of removing more plaque, but a brush that only oscillates or rotates will still do a better job than a manual model.
Features
Most electric toothbrushes are equipped with a number of features to make the process easy and efficient. For example, while dentists recommend brushing your teeth for two minutes, not everyone is watching the clock as they brush. Some electric toothbrushes have a built-in timer that either signals when two minutes have passed, or automatically stops after two minutes of brushing.
The best way to brush your teeth is to spend a certain amount of time on each segment of your mouth — upper right, lower right, upper left, lower left, on both sides. Many electric toothbrushes signal with a gentle pulse when it's time to move on to the next section, always working within the two-minute time limit.
While it's important to brush well, brushing too hard can eventually damage the enamel on your teeth and harm your gums. Many new models will have a sensor that buzzes to let you know you are applying too much pressure.
Finally, some electric toothbrushes offer different brushing modes to meet specific needs. These can include a basic clean, a gentle clean for people with sensitive gums, a polish mode, a massage mode and a flossing action to provide interdental cleaning, to name a few.
Ease of Use
When choosing an electric toothbrush, keep in mind that it should be easy to use. That means finding a model with a brush that is not too big or too small for your mouth. The handle should fit nicely in your hand and not be too big or awkward to allow you to manoeuvre the brush head to hard-to-reach places. It should be easy to find replacement brushes that are not too expensive and the toothbrush should stay charged long enough for a few weeks of service before having to be recharged.
Leave a Comment
Have you used one of these electric toothbrushes before? Let us know your thoughts in the comments below!
RedFlagDeals.com is reader-supported. We are a participant in the Amazon Services LLC Associates Program and other similar affiliate advertising programs. These programs are designed to provide a way for sites to earn advertising fees by linking to them. This means that RedFlagDeals.com will sometimes get a small commission if you make a purchase through our links.