The Best Electric Knife Sharpeners
Table of Contents
The easiest way to keep your knives in tip-top shape for better and safer handling is to use an electric knife sharpener. These handy devices plug into a socket and make quick work of grinding, honing and polishing all manner of knives, extending their life and keeping them functioning well. Electric knife sharpeners are usually designed to hone one type of blade over another, although there are others on the market that are more versatile. The e-sharpener you choose should depend solely on the material and the edge of the blade, as this will determine the sharpening method. And as you know, not all blades are shaped the same nor are they made from the same materials.
The most common blade material is stainless steel, or carbon stainless-steel. You can also buy blades that are high-carbon stainless steel and ceramic, which can be straight-edged, bevelled or serrated. Wide or thin, there are many different types of knives that you might need to sharpen quickly and easily while cooking.
Below, you will find a list of our recommendations for the best electric knife sharpeners, along with information on how they work and the tasks they perform.
1. Editor's Pick: Chef's Choice 15 Trizor XV Edge Select Electric Knife Sharpener
Sharpens straight-edged and serrated knives
More expensive than other electric knife sharpeners
Key Specs
| | |
| --- | --- |
| Type of Blade: | Straight-edge and serrated blades |
| Item Weight: | 1.9 kg |
This knife sharpener is an ideal way to convert a traditional 20-degree factory-edged knife into a higher performing Trizor XV 15-degree edged knife. The method enhances the durability of the blade and gives you a knife that is easier to control when cutting most foods.
It's no surprise that this sharpener is on the higher end of the price scale, as it offers up a host of enviable features. A simple on/off switch gets the motor going, and the sharpener's patented flexible spring guides automatically adjust to accurately control the sharpening angle. The advanced stropping/polishing discs are made from 100 per cent diamond abrasives for sharpening straightedge and serrated blades at a low noise level between 65 dB and 75 dB.
The three-stage EdgeSelect system makes this sharpener versatile to let you use the right edge for each cutting task. Stages 1 and 2 are plated with diamond abrasives to sharpen and hone the edge, while Stage 3 uses a patented flexible abrasive system to polish and help prolong the life of serrated knives.
Sharpening your knives will no longer be seen as a chore to avoid, as it becomes a task you will happily do regularly. That's because the process from start to finish is so quick. The first time you sharpen a knife it will take about a minute. Resharpening? It only takes approximately 10 seconds. You can hone all of your knives to sharp perfection in less time than it takes to make a cup of coffee.
2. Runner Up: Presto 08800 EverSharp Electric Knife Sharpener
Automatic, easy to use
Built to North American electrical standards
Needs electricity to work, not ideal for camping or fishing
Key Specs
| | |
| --- | --- |
| Power Source: | Electric |
| Type of Blade: | Non-serrated |
| Item Weight: | 1.34 kg |
This electric knife sharpener from Presto is a simple way to keep your knives properly honed. The 120-volt device has a two-stage sharpening system with precision blade guides to make sure you position your knife at the best sharpening angle for successful results. Ideal for most non-serrated blades, its Sapphirite sharpening wheels — the same ultra-hard material used by professional shops — will give your knives a razor-sharp edge in seconds.
The process is simple: First, draw your knife a few times through the first two slots of the sharpener. Your blade will glide smoothly in each slot for precision grinding, creating a precisely angled edge. Next, the fine honing. Run the blade through each slot a few times to polish it to a razor sharp edge.
With this quick method, sharpening your knives will no longer be a chore. It's best for the casual home cook who uses one or two knives consistently for their meals.
3. Best Budget Pick: EdgeKeeper Electric Knife Sharpener
Diamond-coated sharpening wheels
Affordable
Will not sharpen sporting knives, serrated knives, ceramic knives or scissors
Key Specs
| | |
| --- | --- |
| Power Source: | Electric |
| Type of Blade: | Carbon steel or stainless steel fine-edge American/ European style kitchen knives |
| Item Weight: | 1.32 kg |
This affordably priced two-stage electric knife sharpener will sharpen almost any fine edge blade you have in your home. A high-performance device, this sharpener uses an advanced two-stage process, while the blade guides position your knives at the ideal sharpening angle for perfect results every time.
Stage 1 removes old material and creates a new edge. In Stage 2, the sharpening tool hones and polishes the blade, giving your knife a sharp, precise edge. The angled slots automatically hold your knife at the ideal angle for sharpening and the non-slip feet keep it all steady and stable.
When you're done, you'll notice that the removable magnet located on the bottom of the sharpener has attracted all the metal shavings. You just have to open the cover panel to wipe the shavings away. To clean the exterior of the sharpener, wipe with a damp cloth; do not use any abrasive cleaners or immerse it in water.
4. Best Heavy-Duty: Drill Doctor WSKTS Knife and Tool Sharpener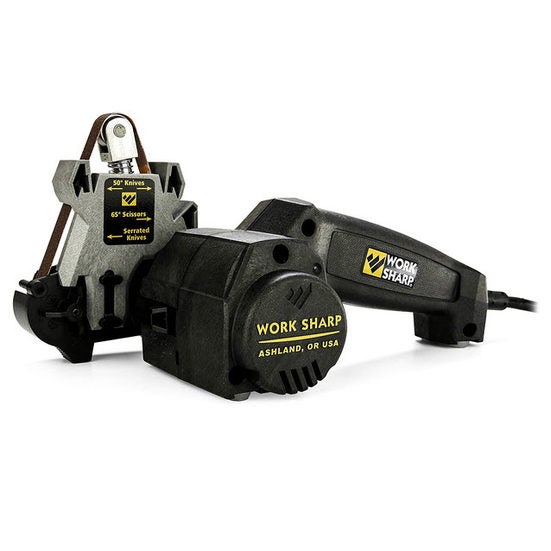 Versatile
Sharpens knives and tool
Not recommended for ceramic knives
Key Specs
| | |
| --- | --- |
| Power Source: | Electric |
| Type of Blade: | Flat edge, serrated, tools, scissors, shovels |
| Item Weight: | 862g |
Most people have an assortment of knives in their home, the majority of which are associated with the kitchen. If you are the type of person who also keeps a variety of objects with sharp edges that need regular sharpening — think lawn mower blades, the edge of an axe or hatchet, shovels and spades — this knife and tool sharpener is for you.
This electric knife sharpener from the Drill Doctor uses an innovative abrasive belt sharpening system that combines the flexible premium abrasive belts with precision sharpening guides to create incredibly sharp blades with speed, ease, and repeatability. The sharpening guides specifically for kitchen knives sharpen to a 40-degree angle, and outdoor knives (hunting knives, pocket knives, filet knives, etc.), have the knife guide sharpening to a 50-degree angle.
You can also use this electric knife sharpener to sharpen scissors and serrated knives and other bladed-objects such as garden pruners, lawn mower blades and shovels, and use it as hand detail grinder for light duty grinding or de-burring tasks.
The sharpener has premium, easy-to-replace abrasive grit belts to meet all needs, and won't burn or damage the blades during sharpening: coarse (P80), medium (P220) and fine (6000). Easy to plug in and use at home, it can also be used with a 12V power inverter so you can plug it into your car to be used at a tailgate party, hunting site or campsite.
5. Best for Ceramic: Kyocera Advanced Diamond Hone Electric Knife Sharpener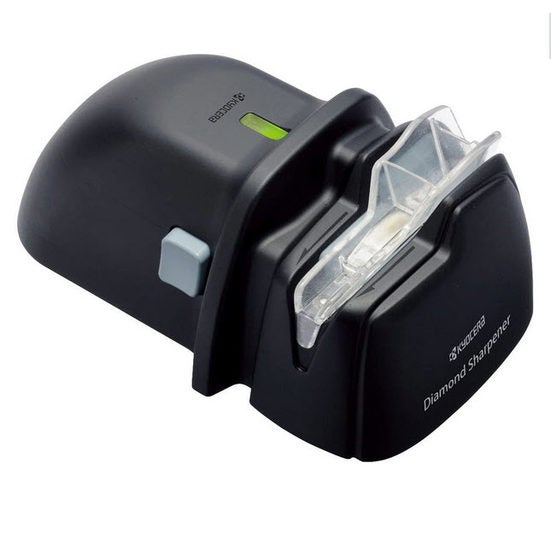 Powerful diamond #600 grit grinder
Made in Japan — synonymous with some of the best knives' makers in the world
For right-handed use only
Knife slots cannot accommodate thick blades like a paring knife
Key Specs
| | |
| --- | --- |
| Power Source: | Four AA batteries |
| Type of Blade: | Ceramic and steel blades |
| Item Weight: | 100g |
Some people prefer to have ceramic-bladed knives for their superior sharpness, resistance to rust and their ability to stay sharp longer. That being said, it is those very features that make them susceptible to chipping and breaking; sharpening them is not an easy task and many knife sharpeners are not designed to do the job well.
We included this battery operated model from Kyocera because even though it is not a plug-in, it is especially made to sharpen Kyocera ceramic knives as well as other ceramic and steel-bladed knives. Equipped with a powerful #600 grit diamond grinding wheel, the sharpener can remove ceramic chips up to 0.5mm deep, refreshing a dull ceramic blade back to a smooth medium/fine sharp edge.
The knife guide slot is easy to use in conjunction with the assistance of a system that provides precision controlled sharpening of the blade. Any grinding dust that results from the sharpening process is contained in the covered grinding compartment. The sharpener is powered by four AA batteries that are not included.
6. Best High End: Work Sharp WSKTS-KO Knife and Tool Sharpener
Versatile
Sharpens knives and tools
Expensive
Not recommended for ceramic knives
Key Specs
| | |
| --- | --- |
| Power Source: | Electric |
| Type of Blade: | Knives, Serrations, Edge Tools, Gut Hooks, Scissors |
| Item Weight: | 1.41 kg |
This high-end drill was created with renowned knife maker Ken Onion to provide you with a versatile device capable of sharpening every knife or tool you have with speed and precision. Similar to the Drill Doctor knife and tool sharpener, this Work Sharp model is a great option for people who need to keep a wide range of items sharp. Where they differ however, is that this high quality tool was designed by renowned knife maker Ken Onion.
Although it's more expensive than other models on this list, you won't find the same adjustable angle guide or flexible belts anywhere else. This durable tool can be adjusted anywhere between 15 and 30 degrees to quickly sharpen scissors, knives, serrated edges, edge tools and gut hooks with ease.
7. Best Basic: Smith's 50005 Edge Pro Compact Electric Knife Sharpener
Affordable
Manual and electric
Easy to use
Grinder may stop spinning if too much force is applied
Takes a while to sharpen
Key Specs
| | |
| --- | --- |
| Power Source: | Electric |
| Type of Blade: | Straight |
| Item Weight: | 1.25 lbs. |
Quickly and easily sharpen dull blades with this straightforward and inexpensive machine from Smith's. This electric knife sharpener created by Smith's Store uses a simple straightforward design to provide you with a quality sharpen right from the comfort of your home. The comfortable soft grip rubber handle and non-slip rubber feet combine to ensure you maintain a stable hold on the machine to avoid any mishaps.
Three different preset sharpening angles and a synthetic wheel provide a quick and easy way to sharpen all of your straight edged knives. If you prefer to manually sharpen your blades, you can do that too — this inexpensive model includes a manual sharpening slot as well as electric.
8. Honourable Mention: Chef'sChoice 290 AngleSelect Hybrid Diamond Hone Knife Sharpener
Sharpens straight-edged and serrated knives
Diamond coated sharpening wheels
Easy to use
Attractive design
More expensive than other electric knife sharpeners
Key Specs
| | |
| --- | --- |
| Power Source: | Electric |
| Type of Blade: | Straight and serrated America/European/Asian style knives |
| Item Weight: | 2.81 lbs. |
Sharpening knives will become something to look forward to with this high quality, three stage sharpener. Ideal for both straight and serrated edges, this sleek and durable machine delivers extremely sharp, arch-shaped edges.
Last but not least, is the Chef'sChoice 290 AngleSelect Hybrid Diamond Hone Knife Sharpener. Built with hybrid angle technology, this machine will create razor sharp blades on all of your straight, serrated, sport and pocket knives. To make sure that all of your knives are well taken care of, this machine uses not one, not two, but three different stages to properly sharpen the dullest of knives.
With both manual and electric sharpening stages, this knife sharpener is best suited for European and American 20 degree class knives, as well as Asian style and other 15 degree class knives.
What to Look for in an Electric Knife Sharpener
It's important to choose an electric knife sharpener that is designed to work on the kind of knives you have. If all of your knives are straight-edged, then look for a device that works best with that kind of blade. If you have a mix of straight, flat blades, bevelled and serrated edges, then you will have to find a model that is made to adjust to each knife. You can ruin the blade of your knife if you use the wrong device to sharpen it.
Stages: There are usually two stages when it comes to getting your knives in shape: sharpening and honing. The sharpening process grinds away the dull material on the edge of the blade, while the honing stage polishes and resharpens the edge.
Because everyone's knives are at different levels of dullness, you want to look for an electric knife sharpener that has multiple slots; some with coarse grit and others with a medium and fine grit.
Angle guides: The angle guide directs the blade into the sharpening wheel at the proper angle. This is really important because the wrong angle will result in you damaging the blade or not sharpening it correctly. The benefit of an electric knife sharpener over a manual one is that electric models include guide that make sure they are perfectly angled to hone the blade correctly.
Before choosing an electric knife sharpener, try to determine the sharpening angle of your knives to make sure it will enhance, and not harm, the blades.
Leave a Comment
We're always looking for more feedback! If you own any of these items and would like to share your experience, please comment below!
RedFlagDeals.com is reader-supported. We are a participant in the Amazon Services LLC Associates Program and other similar affiliate advertising programs. These programs are designed to provide a way for sites to earn advertising fees by linking to them. This means that RedFlagDeals.com will sometimes get a small commission if you make a purchase through our links.