The Best Drones
Table of Contents
Drones are mini aircrafts that don't need to be piloted by a human, and often have a camera attached; this makes them great for situations that might be dangerous for people, like searching for survivors after a catastrophe like a hurricane or earthquake.
Drones don't need to be used in situations this dire though; they've also been great for scientists looking to follow and track wildlife, for example, and now that they've been more modernized, there are accessible versions that can be used at home. Provided you follow all your local laws regarding drone use, they can be a fun way to take great photos and videos that you wouldn't normally be able to.
Whether you're already a drone enthusiast and looking to upgrade, or you've used one once or twice and you're looking to purchase your very own, we've put together this list of drones for you to consider buying. If you're completely new to the world of drone technology and don't know what you might use one for, have no fear! We've outlined some of the most useful and entertaining ways to use a drone at the end of this article, so that you'll know if you'd enjoy owning one. We'll also teach you some of the most useful qualities to be on the lookout for in a new drone, so you can shop without the fear of missing out on any amazing features.
1. Editor's Pick: DJI Mini 2 Foldable Drone
Fun and easy to control
Great image stabilization
Can withstand level five-wind speeds
High resolution camera and video capability
Option to purchase as a combo that comes with additional accessories
The app to control the drone isn't available for every smartphone
Key Specs
| | |
| --- | --- |
| Video Resolution: | 4k (3840 x 2160 pixels) |
| Max Speed: | 57.59 km/h |
| Max Flight Time: | 31 minutes |
| Transmission Range: | 10 km |
| Dimensions: | 18.9 x 13.2 x 25.2cm |
Because of its affordability while still being packed with high-quality features, this is our favourite drone on the market.
If you're looking for the best drone to take photos with, the DJI Mini 2 Foldable Drone is a great contender — it can film video in a very high resolution, which will give you crisp and detailed videos, and it comes equipped with an image stabilizer so that your videos will appear smooth no matter how vigorously you're flying it. This model can also zoom in on your subjects, so that you can take pictures and video without flying too close to the thing you're videotaping.
Another feature we love about this model is that you can purchase it as a combo where you get additional accessories, like a propellor holder and a shoulder bag, which can come in handy if you're travelling.
2. Runner Up: Parrot PF728000 ANAFI Foldable Quadcopter Drone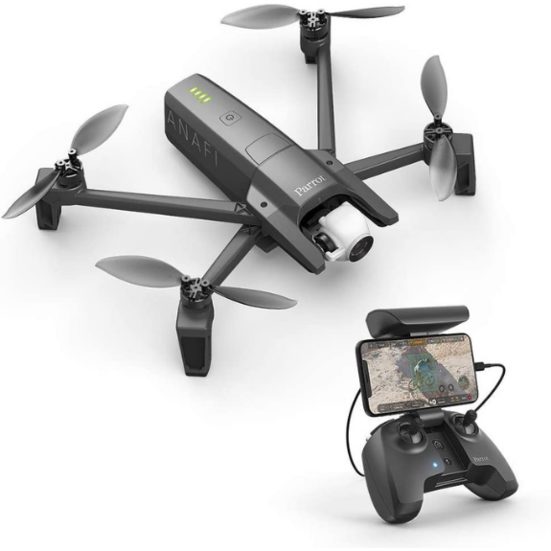 Compact and lightweight
Comes with a durable case
2.8x zoom, and 180-degree camera tilt
Zoom and video tracking capabilities
Charges quickly compared to other drones
Key Specs
| | |
| --- | --- |
| Video Resolution: | 4k (3840 x 2160 pixels) |
| Max Speed: | 55 km/h |
| Max Flight Time: | 25 minutes |
| Transmission Range: | 4 km |
| Dimensions: | 23.88 x 17.53 x 6.6cm |
While at a higher price point, this drone is sturdier than our top pick, and thus is great for more heavy-duty uses.
The Parrot PF728000 ANAFI Foldable Quadcopter Drone is another great choice to purchase because of its excellent video resolution and variety of camera features —a 2.8x zoom and 180-degree adjustable camera. This model comes with hyper lapse and slow-motion video capabilities — you can speed up your videos of sunsets and weather for a cool effect, or you can slow down your action shot videos to see every moment in clear detail.
You can also charge this model on the go using a USB Type-C charging cable connected to your computer or smartphone, which can come in handy in certain situations.
3. Best Budget Pick: Holy Stone HS110D FPV RC Drone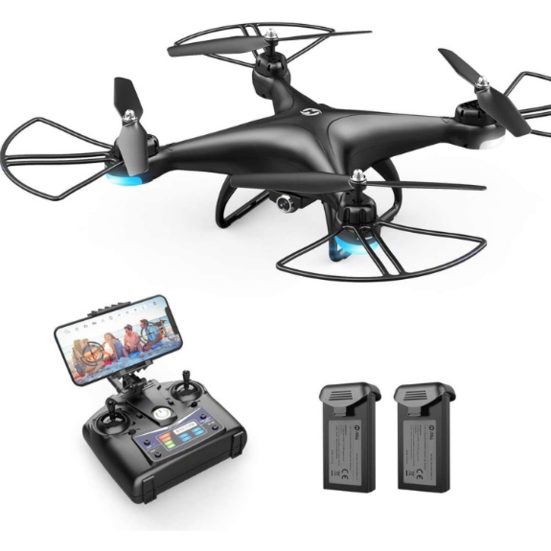 Low price point
Fully assembled and easy to learn
Can be controlled by remote or through an app
Can also be controlled by hand gestures and voice
Has a micro-SD card slot, so you can save footage right onto your card
Low max flight time
Low transmission range
Key Specs
| | |
| --- | --- |
| Video Resolution: | HD (1920 x 1080 pixels) |
| Max Speed: | Variable speed settings |
| Max Flight Time: | 10 minutes |
| Transmission Range: | 328 ft. |
| Dimensions: | 32 x 32 x 8.99cm |
Drones can be quite expensive, but they don't have to be — this one will give you a great experience without breaking the bank.
The Holy Stone HS110D FPV RC Drone is a wonderful entry way into the world of drones, because of its low price and ease of use. One of our favourite features is its trajectory flight control mode, where you can draw a route on the app that your drone can fly. You can coordinate so many fun videos this way!
A major setback with this model is the poor transmission range; you won't be able to fly this drone as far away from you as you can with other models.
4. Best for Families: DEERC D50 Drone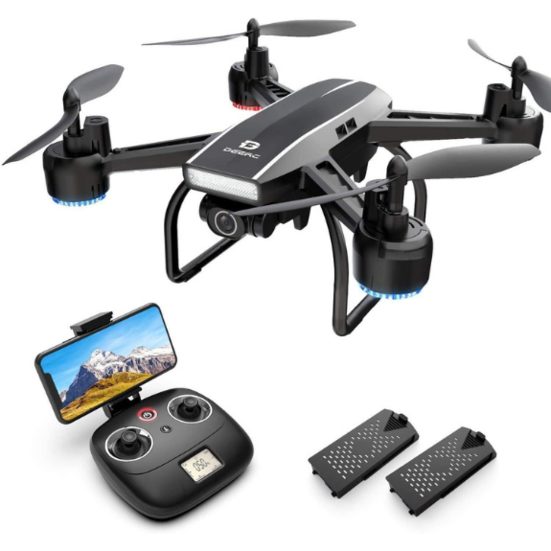 Voice and gesture controls
Great for beginners
Stunt features
Four speed settings
Battery drains fast
Low max flight time
Key Specs
| | |
| --- | --- |
| Video Resolution: | 2k (2048 x 1152 pixels) |
| Max Speed: | Variable speed settings |
| Max Flight Time: | 24 minutes |
| Transmission Range: | 100 m |
| Dimensions: | 12.4 x 12.4 x 4.2" |
If you're on the hunt for a drone that the whole family can enjoy, this DEERC D50 drone is a great budget friendly option that's easy to operate. Thanks to its extremely beginner friendly controls, this is a great model to dip your feet into the world of drones without having to spend hundreds, or even thousands of dollars.
Ready to fly right out of the box, you can enjoy quality 2K video resolution for up to 24 minutes. Simply tap the one key start button and watch as it soars flipping and rolling through the air. Although the quality may not be as great as other more expensive models, the value is a worthy trade off for its ease of use and beginner friendly features like the automatic landing and emergency stop functions.
5. Best for Travelling: Holy Stone HS720 Foldable GPS Drone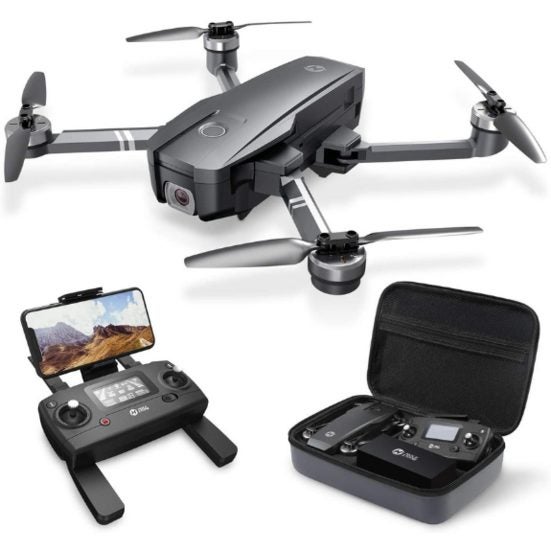 Light and portable
Easy to learn and use
High resolution video
Anti-shake camera design
Comes with a carrying bag
Takes a long time to fully charge
Key Specs
| | |
| --- | --- |
| Video Resolution: | 4k (3840 x 2160 pixels) |
| Max Speed: | 40 km/h |
| Max Flight Time: | 26 minutes |
| Transmission Range: | 0.9 km |
| Dimensions: | 36 x 33 x 6.1cm |
You'll want to take a light and compact drone with a high-quality video resolution like this one on your travels.
The Holy Stone HS720 Foldable GPS Drone is a wonderful choice to bring on your next adventure; not only can it film 4k resolution videos, but it's also built with a shock absorption holder that helps to stabilize your image and reduce any vibration from the camera. With many different control options, like orbiting a point of interest or following you while you move, you're sure to capture great videos on your next vacation.
Another one of our favourite features with this model is that whenever the battery is low, the signal is lost, or just with the click of a button, it'll return to your location.
6. Best for Kids: Holyton HS330 Hand Operated Mini Drone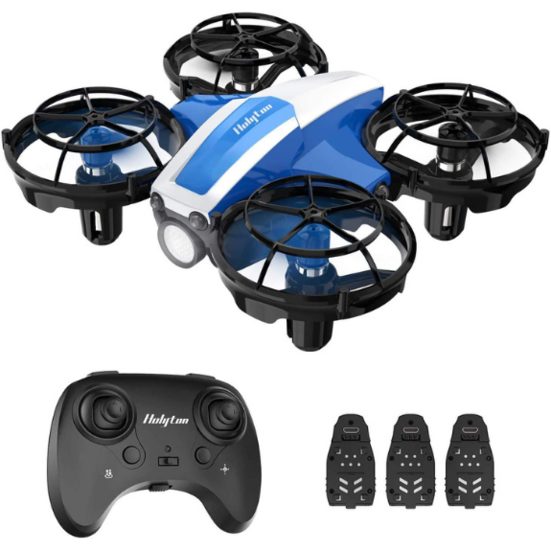 Propellers covered by guards
Remote or hand controlled
Easy to use
Short battery life
No camera
Key Specs
| | |
| --- | --- |
| Max Flight Time: | 21 minutes |
| Max Speed: | Variable speed settings |
| Dimensions: | 3.23 x 3.54 x 1.06" |
| Weight: | 33g |
Designed for children aged 14 months and up, you can introduce them to the world of drones with this compact and interactive hand operated mini drone. If you have a little one who loves technology, this Holyton hand operation drone is a great introduction to the world of drones that also provides them with a fun and interactive toy that will keep them busy for hours.
In addition to its remote controller, this compact drone features five sensors for specialized hand controls. No need to worry about their fingers getting hurt — each blade is covered with protection guards.
7. Sleeper Pick: EACHINE E520S GPS Drone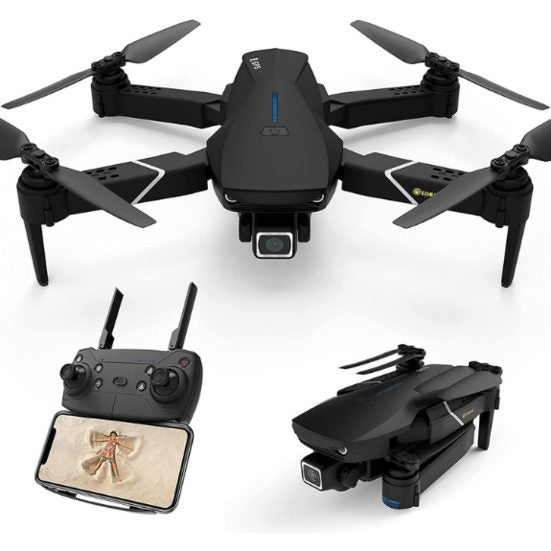 90° adjustable lens with 120° FOV
Great for beginners
5G live video transmission
Low max flight time
Low transition range
Key Specs
| | |
| --- | --- |
| Video Resolution: | 4k |
| Max Speed: | N/A |
| Max Flight Time: | 16 minutes |
| Transmission Range: | 250m |
| Dimensions: | 40 x 28 x 7.5 cm |
The EACHINE GPS drone is a great option for those of you who don't want to break the bank buying your first drone, but still want to enjoy high-quality images and video as well as fancy features.
Aside from filming 4K videos, this drone uses 5G Wi-Fi FPV to deliver real-time transmissions. With a handy GPS system, you never have to worry about losing track of your devices; thanks to an automatic return function, your machine will be able to find you from up to to 250 metres away.
Other great features include a one key takeoff and landing operation; a follow me mode that uses GPS positioning to track you on your journey; and the ability to draw a route on your phone and watch as it flies wherever you choose.
8. Honourable Mention: DJI Mavic Air 2 Fly More Combo
High resolution camera and video capability
Long max flight time
High transition range
Key Specs
| | |
| --- | --- |
| Video Resolution: | 4K, 2.7K, FHD |
| Max Speed: | 42.5 mph |
| Max Flight Time: | 34 minutes |
| Transmission Range: | 18.5 km |
| Dimensions: | 7.4 x 3.8 x 3.3 in |
If you consider yourself to be somewhat of an expert when it comes to drones, this DJI Mavic Air 2 Fly More drone is a great option if you're willing to spend a little — or a lot — more on your next machine.
This high quality drone is equipped with a 12MP/48MP camera sensor to snap high definition shots in addition to filming crystal clear videos with it's 4K ultra HD video resolution. Its long flight time of 34 minutes and max flight speed of nearly 43 mph allows you to capture stunning, fast paced videos. Similar to the other DJI drone on this list, you can purchase it as a combo kit that includes a handful of essential accessories you may need such as low-noise propellers and a battery charging hub.
What Can I Do with a Drone?
Drones are a relatively new invention, so their uses might be unknown or even daunting for anyone that's never used one before. They're perfect for capturing videos from special occasions, like birthday parties or weddings, or taking high-quality videos of you during your hikes or travels. You can also use them to fly and check places you couldn't normally access, like flying over your house to check the gutters.
Just remember that before you fly your drone, you should always check what your local laws are regarding drone use; some countries limit where you can fly your drone, and sometimes you'll need special permits to use them in certain areas. There are also just some basic etiquette things to keep in mind, like don't fly it right overhead of anyone, and definitely don't fly it near any emergency situations like a large fire or something healthcare related.
Important Features to Look for In a Drone
Video Resolution: How well your camera can capture video should be one of the top features you look for in a new drone, and its performance will be measured by how many pixels it can film. 4k resolution is one of the highest you can find, which means that your video will have 3840 horizontal pixels and 2160 vertical pixels, while HD is the next best resolution and is 1920 horizonal pixels by 1080 vertical pixels. Both of these options will give you crisp quality video, but videos filmed in 4k resolution will look better on modern screens that can also display that many pixels.
Flight Controls: Drones can come with many different controls that can change the way you use it. Generally, they'll all come with a remote control at least, but with many models you can download an app that give you specialized controls for a heightened used experience. For example, some applications allow you to control the drone by voice, so it'll move based on the directions that you give it. Some can even be controlled by gesture, so if it sees that you give it a certain hand motion, like a peace sign, it will snap a picture for you.
Max Speed: This number will tell you the fastest speeds that your drone can fly at, and it's usually measured in either miles or kilometers per hour. Many drones can operate at different flight speeds depending on what you're trying to film or accomplish. Try to look for a model with a higher max speed if you need a drone that can keep up with your fast paced adventure.
Max Flight Time: Unfortunately, most drones on the market can only be in the air for a limited amount of time before they need to be recharged again. The max flight time will tell you how long the drone can be operated — try to look for the longest flight time possible in the price range that you're looking at.
Transmission Range: This number will tell you how far away from you that your drone can fly, which is definitely something to consider if you're filming environments or places that you can't easily access. You'll find that the more expensive models will have a much better transmission range, while the more affordable models can generally only go a few hundred feet. Think about how you want to use your drone and base your decision based on the range you'll need.
Charging Time: Since most drones can't be flown for very long periods of time, this can be a real problem if you're using your drone on the go. If you're out travelling and don't want to miss filming any of your experiences, you'll want a drone that can be recharged quickly, so that you won't need to spend as much time out of the action. There are many models that can be charged by computer or smartphone, which can help you out in situations where there aren't any outlets.
Leave a Comment
We're always looking for more feedback! If you own any of these items and would like to share your experience, please comment below!
RedFlagDeals.com is reader-supported. We are a participant in the Amazon Services LLC Associates Program and other similar affiliate advertising programs. These programs are designed to provide a way for sites to earn advertising fees by linking to them. This means that RedFlagDeals.com will sometimes get a small commission if you make a purchase through our links.