The Best Drip Coffee Makers
Table of Contents
A drip coffee maker is one of the easiest ways to brew a good cup of coffee. These uncomplicated and user-friendly machines are a common sight on kitchen counters and in the office. Some drip coffee makers are basic in design and function, while others offer up a range of features like pre-programming and pause/brew options. A drip coffee maker is also convenient because it doesn't require special coffee or expertise to produce delicious results.
Below, you can check out a list of the best drip coffee makers to buy, as well as additional information on types and features at the bottom of the article.
1. Editor's Pick: Braun BrewSense Drip Coffee Maker
Easy-access control panel
24-hour programmable timer
Carafe is dishwasher safe
Condensation drip tray
Three-year warranty
More expensive than other drip coffee makers
Key Specs
| | |
| --- | --- |
| Model Number: | KF7150BK |
| Product Dimensions: | 20.07 x 20.07 x 36.07 cm |
| Weight: | 3.22 kg |
| Capacity: | 4 Cups |
| Special Features: | Programmable |
Most drip coffee makers are easy to use, and this model from Braun is no exception. However, we picked this as best overall because it goes the distance in offering up some convenient extra features and a truly delicious cup of coffee.
The PureFlavour technology of this drip coffee maker combines the right temperature and brewing time to bring out the complexity, flavour and aroma of ground coffee. The unique lid on the carafe seals in freshness by minimizing air exposure, ensuring a rich, delicious brew every time. There is a convenient 24-hour timer that can be programmed at night to begin brewing coffee first thing in the morning.
Other great features include: the option to make a full pot or one to four cups; a large, easy-to-read clock; a pause feature to pour a cup any time during the brewing cycle; and, a choice of regular or bold strength settings. It also has a water level indicator to brew an 11-ounce mug or up to 12 cups of coffee; a gold-tone filter that allows the coffee's essential oils through; a charcoal filter to purify brewing water; and, a cleaning feature.
2. Runner Up: Black + Decker 12-Cup Programmable Coffee Maker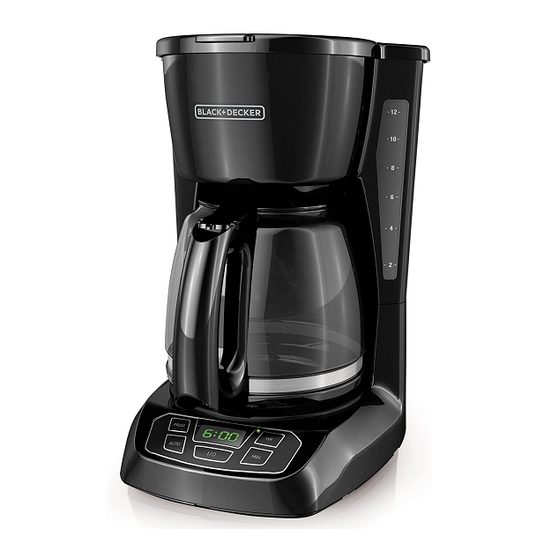 24-hour programmable auto feature
Filter basket and carafe are dishwasher safe
Sneak-a-cup feature
Two-hour auto-shutoff
12-cup capacity
Key Specs
| | |
| --- | --- |
| Model Number: | CM1105BC |
| Product Dimensions: | 22.1 x 27.18 x 32.77 cm |
| Weight: | 1.98 kg |
| Capacity: | 3 quarts |
| Special Features: | Manual, Programmable |
A drip coffee maker doesn't have to cost a lot to produce a good cup of coffee. This very machine from Black + Decker is super affordable and still offers up a number of convenient features found in some more expensive models.
This 12-cup drip coffee machine has a sleek, black design with a small footprint on the countertop. Delivering a great cup of coffee with ease, the machine has a Sneak-a-Cup feature that is great for caffeine enthusiast who cannot wait for the brewing cycle to finish. Just pour a cup during the cycle with no dripping, no problems.
The convenient QuickTouch programming auto feature lets you set the timer before bed and have a fresh pot of coffee ready and waiting when you wake up. The filtre basket is removable and can be cleaned in the dishwasher along with the Duralife glass carafe.
Other features include a water window with high visibility markings for easy filling and portion control, and a nonstick carafe plate to keep coffee warm for up to two hours after brewing is complete.
3. Best Basic: Mr. Coffee 12-Cup Coffee Maker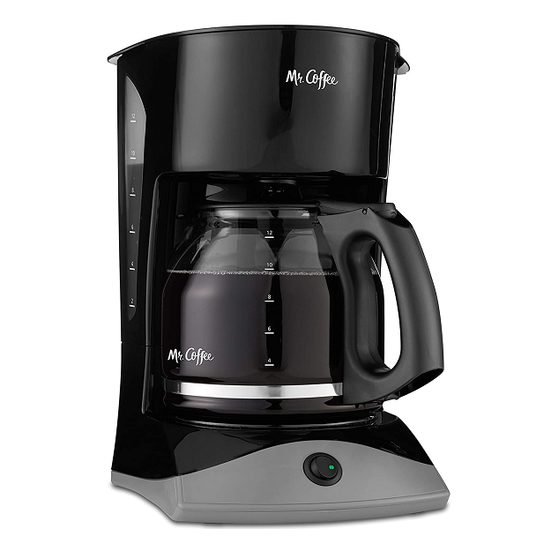 Dual water window
Lift and clean filter basket
Easy cord storage
Grab-a-cup auto pause
Affordable
No auto shutoff feature
No pre-programming functions
No clock
Key Specs
| | |
| --- | --- |
| Model Number: | SK13 |
| Product Dimensions: | 21.41 x 29.87 x 31.9 cm |
| Weight: | 1.63 kg |
| Capacity: | 12 cups |
For a drip coffee machine that delivers great tasting coffee with no fussy buttons, features, bells or whistles, we recommend this classic model from Mr. Coffee, a company that has been producing coffee machines and accessories for over 50 years.
This 12-cup capacity machine is simple to use — just put in a paper filter, fill with coffee, add the right amount of water and press the on button. That's it. A fresh-brewed pot every time. There is an auto-pause feature for anyone who wants to grab a cup before the brewing cycle is finished. A dual water window offers greater visibility to fill the right amount of water and the filter basket lifts out easily for cleaning.
A light indicates when the machine is on or off and when you're all done, the 26-inch cord tucks away nicely to reduce clutter on the counter. To brew a single cup or 12 cups, this affordable no-fuss automatic drip coffee maker will do the job well, every time.
4. Popular Option: Ninja Hot and Cold Brewed System Auto-iQ Tea and Coffee Maker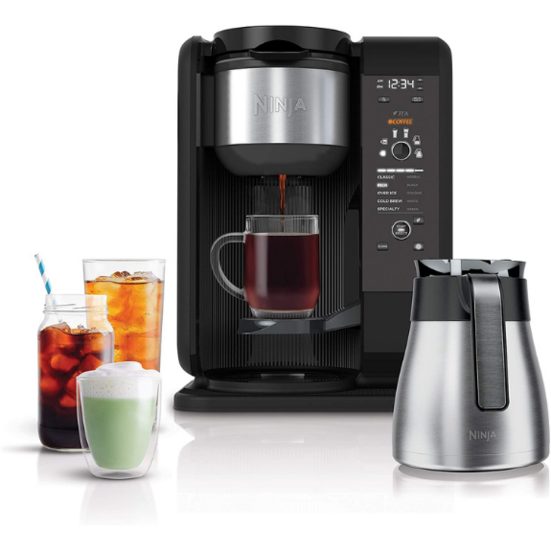 No pods required
Two individual brew baskets
Smart basket recognition
Key Specs
| | |
| --- | --- |
| Model Number: | CP307 |
| Product Dimensions: | 30 x 25.43 x 38.1 cm |
| Weight: | 453.59 Grams |
| Capacity: | 10 cups |
These days, a drip coffee maker is rarely just that. Companies are creating newer and more technologically advanced products that have the ability to produce all sorts of delicious drinks. This Ninja Hot and Cold brewed system is no exception.
With an Auto-iQ, one-touch recipe creation, this luxury coffee maker has a wide range of both hot and cold coffee and tea brewing options. With multiple drink styles in mind, this machine comes with two individual brew baskets to prevent coffee flavours from leaking into your tea and vice versa.
And if you really want to take your drink to the next level, this high quality machine features a built-in fold away frother to transform your cappuccinos, flat whites, or matcha teas to Starbucks level quality.
5. Best K-Pod: Keurig K-Mini Single Serve K-Cup Pod Coffee Maker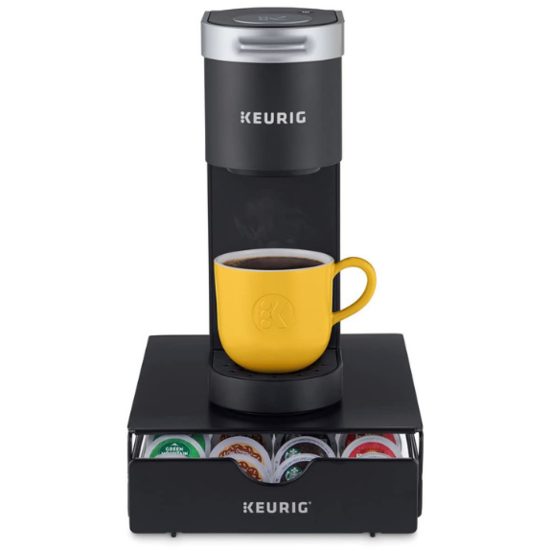 Easy cord storage
Affordable
Compact, portable design
Single serve only
No automatic on/off
Key Specs
| | |
| --- | --- |
| Model Name: | Keurig K-Mini |
| Product Dimensions: | 28.7 x 11.4 x 30.7 cm |
| Weight: | 2 kg |
| Capacity: | 6-12 oz. |
This compact little machine takes up minimal counter space and is super easy to use. Simply add fresh water, pop in your K-pod of choice, click the brew button, and your delicious drink will be ready in minutes.
Even with a large capacity drip coffee maker in the house, it can be a drag to use a filter and the carafe when brewing a cup of coffee for one person. This single serve coffee maker from Keurig is a truly convenient way to brew up one delicious mug of coffee without the fuss or mess of a large carafe and filter.
Other great features include a removable drip tray, a hidden cord design and the ability to brew hot chocolate, tea and other specialty beverages.
6. Also Consider: Krups Simply Brew Compact Filter Drip Coffee Maker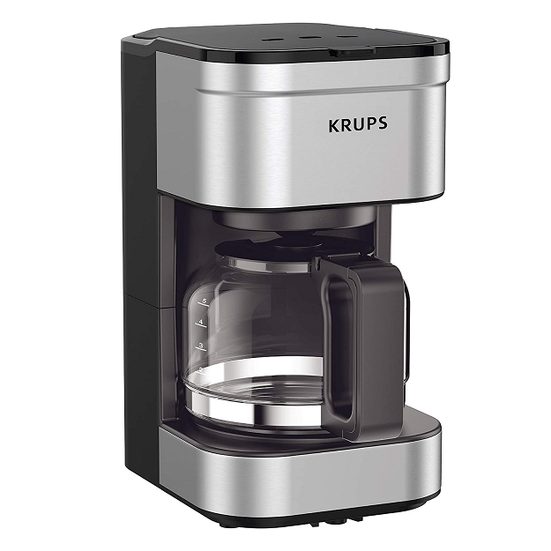 Suitable for one to five servings
Permanent filter
No-drip spout
Automatic keep warm function
Pause and serve brewing system
Small capacity
No clock
No pre-programmable features
Key Specs
| | |
| --- | --- |
| Model Name: | Simply Brew Compact |
| Product Dimensions: | 22.1 x 9.4 x 27.2 cm |
| Capacity: | 5 cups |
This coffee machine from Krups may be small, but it's not short on functionality and features that contribute to making delicious coffee with ease. It features an easy to fill water tank and a sturdy five-cup glass coffee pot with a no-drip spout for a no-mess pour. The Pause & Serve system means impatient drinkers can pour a hot cup of coffee mid-brew, without spills or compromising the taste.
Other features include: a convenient automatic Keep Warm function allows the coffee to stay warm after it's finished brewing; an easy-to-fill top water tank; a permanent coffee filter; and, a coffee spoon.
7. Best 2-in-1: Cuisinart CHW-12C 12 Cup Programmable Coffeemaker And Hot Water System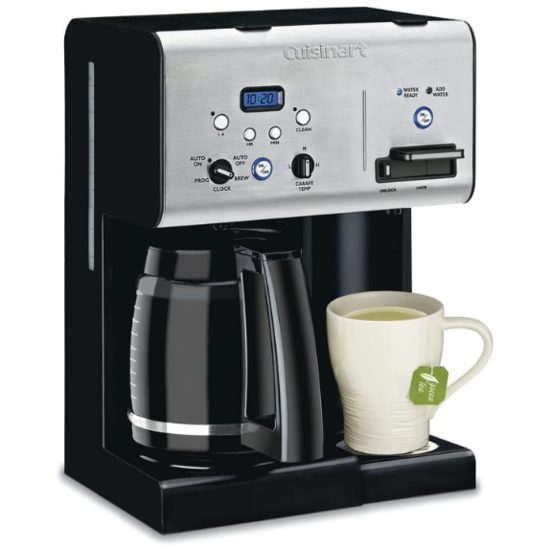 Suitable for one to twelve servings
Brew pause feature
Self-clean function
BPA free
Limited features
Difficult to fill reservoir
Key Specs
| | |
| --- | --- |
| Model Number: | CHW-12C |
| Product Dimensions: | 28.6 x 31.8 x 43.2 cm |
| Weight: | 4.54g |
| Capacity: | 12 cups |
Whether you're entertaining friends and family or enjoying a quiet night on your own, this Cuisinart coffee maker has the ability to brew a single cup, four cups, or 12. This 2-in-1 hot drip coffee maker is equipped with all of the essential features you'd expect from a coffee maker — and then some.
Roll out of bed and enjoy a fresh cup of coffee thanks to it's fully automatic, 24-hour programmable settings. Carafe temperature control offers three different heat settings — low, medium, and high — to keep your drink at your preferred temperature every time. Other features include; a self-clean function; an automatic-shutoff; a programmable backlit LCD screen equipped with a digital clock; and a brew pause feature so you can take a sip mid-brew.
8. Best Single-Serve: Hamilton Beach Single Serve Coffee Brewer and Full Pot Coffee Maker
Two ways to brew
12-cup capacity carafe
Regular or bold coffee strength selector
2-hour automatic shutoff
Single-serve option can take ground coffee or coffee pods
More expensive than other models
Not compatible with K-cup pods
Key Specs
| | |
| --- | --- |
| Model Number: | 49980A |
| Product Dimensions: | 27 x 31 x 34.8 cm |
| Weight: | 10.06 lbs. |
| Capacity: | 96 fl. oz. |
Choices — that's what it's really all about; the ability to make choices when using a drip coffee maker. With this model from Hamilton Beach, it's all about making personal choices every time you crave a good home-brewed cup of coffee.
The two-way feature in this coffee machine is brilliant — it offers up two sides to brew in two different ways. Use the glass carafe to make a single cup or up to 12 cups of coffee, or forgo the mess and cleaning of the carafe and use the single-serve side feature to fill a 14-ounce travel mug for on-the-go convenience.
When using the carafe, the water reservoir has an extra-large capacity and measurement markings, while the single-serve side brew basket comes with a mesh filter to hold ground coffee or pre-packaged soft pods (although not K-pod compatible). A convenient multi-level cup rest on the single serve side adjusts to fit all cup and mug sizes, so there's no compromising on how much coffee you can take with you on the road.
Other features include: a pod holder that snaps onto the single-serve brew basket to hold soft pods; a brew strength selector for brewing regular or bold coffee; an easy-to-use control panel and display with hour and minute buttons to program brewing for up to 24 hours ahead of time; and a two-hour automatic shutoff feature.
What to Look for When Choosing a Drip Coffee Maker
Most drip coffee makers come with a standard-sized, 12-cup capacity carafe. With these, you can make between one and 12 cups of coffee. This size coffee maker does take up more space on the counter, so if you don't drink a lot of coffee and don't entertain, then it may make more sense to look for a model with a five-cup capacity. These machines still brew delicious coffee, but there is less waste and the design is usually compact, which is great for small spaces. Finally, if you like just one cup of coffee every now and then, consider a single-serve model. These drip coffee machines are very convenient, easy to use, do not have a carafe and drip directly into a mug.
Ease of Use: Drip coffee makers all basically work the same way. There is a reservoir to hold the desired amount of water, a filter to hold ground coffee, and a button or switch to turn it on. When the water heats up, it drips through the coffee in the filter, sending the brew directly into the glass carafe. That being said, many drip coffee makers offer up a range of features that while convenient for some people, may be a nuisance or unappealing to others. Consider how easy it is to use before purchasing a drip coffee maker.
Features
Drip coffee makers come with a variety of features that make the whole process easier and at times, can produce more aromatic coffee. If you hate having to make coffee first thing in the morning, then choose a maker that has a 24-hour programmable feature. This lets you prepare the coffee the night before, set the time, and then go to sleep. The next morning, the coffee will be ready when you want it to be.

Another convenient feature is an automatic shut off. If you are forgetful and may walk away from an empty carafe that's still on the hot plate, purchasing a machine that will shut off after a specific amount of time is a great safety feature. Other options available are machines that allow you to choose the strength of the brew; a pause function so you can grab a cup before the brewing cycle ends; a clock; and a warming feature.

As a general rule of thumb, the more features a drip coffee maker has, the pricier it will be.
RedFlagDeals.com is reader-supported. We are a participant in the Amazon Services LLC Associates Program and other similar affiliate advertising programs. These programs are designed to provide a way for sites to earn advertising fees by linking to them. This means that RedFlagDeals.com will sometimes get a small commission if you make a purchase through our links.