The Best Dash Cams
By
Jordan Maxwell
February 19, 2021
While we all hope to never be involved in an automobile accident, it's still wise to gear up for unforeseen circumstances. As they say, accidents do happen, and investing into a dash cam can potentially help you prepare for possible legal action if you are ever involved in personal injury or disability-related accidents.
Without video footage from street cams or your own dash cam, you can face an uphill battle to determine who was at fault if an accident does occur. Dash cam footage can potentially save you from higher insurance premiums, and considering how affordable they are these days, it's a smart investment.
Here, we will cover everything you need to know about dash cams, including our picks for the best dash cams available in Canada. We'll also walk you through some of the important specs to pay attention to when shopping for a dash cam.
Dash Cams for Your Vehicles and Bikes
Dash cams are portable, video recording devices that can capture everything happening around your vehicle. They're often called "a motorist's independent witness" since it sees nearly every form of movement that occurs in close proximity of the vehicle. If you're ever involved in an accident, or someone breaks into your car, you can provide accurate footage of what actually happened.
It's a good investment for every road user and we are here to show you some of the best picks for dash cams. Whether you own a car or a motorcycle, we've got you covered.
1. Editor's Pick: Best Overall Dash Cam: BlackVue DR900S-2CH
Pros
Cons

4K ultra high definition that allows for high quality recording
GPS that allows you to zero in on the location of your car
Parking mode available with the camera

Expensive
You may not need all its features
Key Specs
| | |
| --- | --- |
| Video Resolution: | 4K @ 30 fps (front) / 1080P @ 30 fps (rear) |
| Viewing Angle: | 162 degrees (front) / 139 degrees (rear) |
| GPS: | Yes |
| Wi-Fi: | Yes |
As a premium option, the BlackVue DR900S-2CH offers everything you'd want in a dash cam and possibly more. Equipped with an 8-megapixel CMOS sensor in the main camera, this dash cam is capable of capturing 4K video at 30 FPS. The front camera has an ultra-wide, 162-degree angle ensuring nearly everything in front of you is being recorded. The rear camera utilizes a 2.1-megapixel Sony Starvis sensor, recording HD (1920x1080) video at 30 FPS. It has a 139-degree angle and excels at recording in low-light conditions. As you might know, 4K video footage can take up plenty of space on your memory card, but H.265 compression helps ensure those file sizes stay as small as possible, while maintaining quality.
Along with capturing clear and high-resolution video, this dash cam can also store speed and location data. With built-in GPS and dual-band Wi-Fi, it's capable of connecting to BlackVue Over the Cloud, which means you can check on your vehicle from anywhere in the world. To help identify important video footage, the dash cam will automatically detect impacts or sudden changes in speed while driving, or movements when your vehicle is parked. If any of those events occur, the video files are marked accordingly so you can easily review what happened. Conveniently check all of your footage from the BlackVue App for Android and iOS, or the BlackVue Viewer for Windows and Mac OS.
2. Best Runner Up Dash Cam: ThinkWARE U1000 Dual Dash Cam
Pros
Cons

4K video recording
Easy-to-use smartphone app
Super Night Vision for low-light recording

4K video recordings have large file sizes
Only includes a 32GB memory card
Key Specs
| | |
| --- | --- |
| Video Resolution: | 4K @ 30 fps or 1440P @ 60 fps (front) / 1440P @ 30 fps (rear) |
| Viewing Angle: | 150 degrees (front) / 156 degrees (rear) |
| GPS: | Yes |
| Wi-Fi: | Yes |
Capable of recording 4K video at 30 FPS or 2K QHD (2560x1440) at 60 FPS from its 8.42-megapixel Sony Starvis front camera, the Thinkware U1000 is a versatile dash cam packed with features to justify its price. The rear camera is a 5.14-megapixel Sony Starvis unit that can record up to 2K QHD video at 30 FPS. Viewing angle is impressive for both cameras: 150 degrees for the front and 156 degrees for the rear. One standout feature on this dash cam is Super Night Vision 2.0, a technology that reduces noise, enhancing image quality in low-light conditions.
As you would expect from a premium dash cam, the Thinkware U1000 has a parking surveillance mode to continually monitor your vehicle even when you're away from it. It has impact and motion detection, to capture and save video footage if something occurs near your vehicle. To conserve power, you can choose to use Energy Saving Mode 2.0, which means the camera will only record footage triggered by impacts only. This is great if you're parking your car for an extended period of time in a single location—like at the airport. The company also has its own cloud service, called Thinkware Cloud, which allows you to check your vehicle's location and receive notifications directly to your device.
3. Best Budget Pick Dash Cam: Apeman C450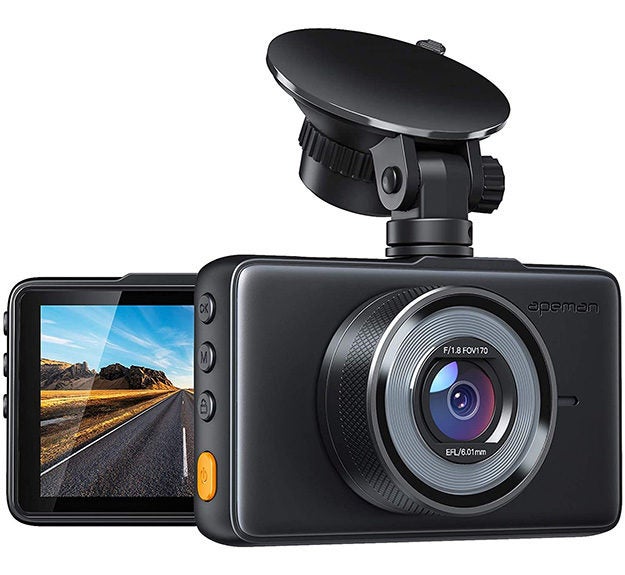 Pros
Cons

Super wide 170-degree viewing angle
Easy to setup and use
Suction cup rotates 360 degrees

Doesn't include a memory card
No 4K recording
No rear camera
Key Specs
| | |
| --- | --- |
| Video Resolution: | 1080P @ 30 fps |
| Viewing Angle: | 170 degrees |
| GPS: | No |
| Wi-Fi: | No |
We understand not everyone wants a premium dash cam, which is why we include this recommendation for those shopping on a budget. The Apeman C450 records full HD 1080P video at 30 FPS and features a large 3-inch LCD screen display. The front camera uses a 170-degree super wide-angle lens, capturing nearly every detail of the road in front of you. Just keep in mind that this option is a single camera, so it won't record anything that's happening at the rear of your vehicle.
Its affordable price doesn't mean you have to sacrifice quality and features. The camera features a large f/1.8 aperture, combined with WDR and HDR technologies to deliver clear images at night. The built-in G-sensor helps detect sudden shakes or collisions, instructing the camera to lock the video footage so it can't be overwritten. This ensures that you'll have video evidence if an accident does occur. The same goes for parking monitoring, capturing footage if something happens to your vehicle while it is parked for an extended period of time. Compared to more premium dash cams, this Apeman option doesn't have Wi-Fi and GPS capabilities—if you don't necessarily need them, this is a great option.
4. Best Dash Cam for Motorcycles: HaloCam M1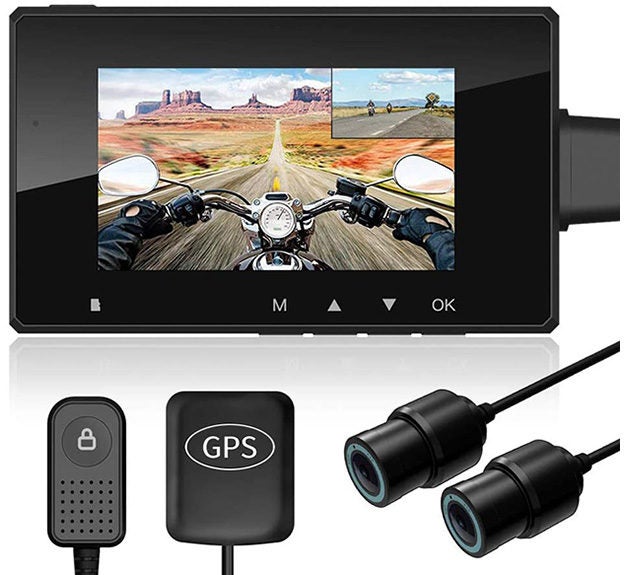 Pros
Cons

1080P front and rear cameras
Waterproof and dustproof lenses
Built-in Wi-Fi

No memory card included
Monitor is not waterproof
Key Specs
| | |
| --- | --- |
| Video Resolution: | 1080P @ 30 fps (front and rear) |
| Viewing Angle: | 155 degrees (front and rear) |
| GPS: | Yes |
| Wi-Fi: | Yes |
As you can imagine, a traditional dash cam made for a vehicle isn't particularly great for a motorcycle. If you're shopping for a motorcycle dash cam, we recommend this unit from HaloCam which includes dual cameras to cover the front and rear of your bike. Capable of recording full HD 1080P video (front and rear), it is equipped with Sony image sensors for great image quality. The lenses are both waterproof and dustproof, and each camera offers 155-degree coverage so you'll be able to record everything that's happening in front and behind you while riding. Unfortunately, the monitor is not waterproof, so you'll want to keep that out of harm's way if the weather gets bad.
For nighttime situations, the large f/1.8 aperture captures 30-percent more light to ensure quality doesn't fall when the sun sets. There are multiple ways to power this unit, including a 12V to 5V power cord that connects to your motorcycle's light or ignition switch, as well as via USB cable to a portable charger. The HaloCam Moto App will let you connect your phone to the camera via the camera's Wi-Fi, allowing you to download, edit and share videos directly from your phone. A GPS antenna is also included so you can track your whole riding route.
5. Best Dash Cam for Trucks/Ubers/Taxis: Vantrue N2 Pro
Pros
Cons

Inside dash cam records your cabin
Built-in microphone
Four infrared sensors

Included suction cup mount is frustrating to use
Needs to be hardwired to monitor your vehicle while it's parked
GPS sold separately
Key Specs
| | |
| --- | --- |
| Video Resolution: | 1440P @ 30 fps or 1080P @ 60 fps (front) / 1030P @ 30 fps (inside) |
| Viewing Angle: | 170 degrees (front) / 140 degrees (inside) |
| GPS: | Optional |
| Wi-Fi: | No |
If you're a rideshare driver, your dash cam needs are a bit different since you'll likely want to film what's going on inside your cabin. Vantrue's N2 Pro does just that, with two cameras built into the unit to capture what's ahead and what's inside. The front-facing camera has a wide 170-degree angle and uses an OV4689 sensor to capture video up to 1440P at 30 FPS or 1080P at 60 FPS. The inside camera, which is equipped with a Sony Exmor IMX323 sensor, has a 140-degree viewing angle and records at 1080P at 30 FPS. It's worth mentioning that if you're using the inside camera, then the front camera is limited to 1080P recording.
As a rideshare driver, there's a good chance you're often driving at night. To ensure you're getting clear footage, the interior camera features four infrared LED lights to enhance night vision, and a built-in microphone to capture audio. The front camera has a large f/1.8 aperture lens with HDR to balance the light and dark areas of the video. This dash cam also has a motion-activated parking mode, but you'll have to hardwire the unit to a power source. Like most quality dash cams, it'll automatically start recording if it detects motion or impacts. Seamless loop recording means you won't have to constantly maintain your memory card, automatically overwriting old footage once the card is filled to capacity. Of course, it will lock any footage if the camera's G-sensor detects sudden shakes and collisions, so important recordings won't be overwritten. If you want GPS however, you'll have to purchase the GPS mount separately.
6. Honourable Mention: ThinkWARE FA200
Pros
Cons

Good balance of price and performance
Easy to install and use
Great app support

GPS antenna sold separately
You'll want a better memory card than what is included
Key Specs
| | |
| --- | --- |
| Video Resolution: | 1080P @ 30 fps (front) / 720P @ 30 fps (rear) |
| Viewing Angle: | 140 degrees (front) / 135 degrees (rear) |
| GPS: | Optional |
| Wi-Fi: | Yes |
If you're looking for a good balance of price and performance, consider the Thinkware FA200 dash cam. This solid all-around performer offers a 2.12-megapixel front camera for full HD 1080P recording at 30 FPS with WDR and a 140-degree viewing angle, while the rear camera is a 1.0-megapixel unit that records 720P video at 30 FPS at a 135-degree viewing angle. Built-in Wi-Fi allows you to take advantage of the Thinkware mobile app to remotely access the camera and its video content.
For those who expect to leave their vehicles parked for an extended period of time, this dash cam has you covered. There's a time lapse feature that records footage at a lower frame rate and over a long period of time, up to 72 hours after the ignition is turned off. The camera will detect impacts and motion, automatically waking itself up to record video footage of what's happening. A GPS antenna is available and sold separately if you want to track the road and get alerts for safety cameras.
What to Look for When Shopping for a New Dash Cam
GPS: GPS helps pinpoint your vehicle's location and can be used to record where an accident occurred. This comes in handy if you're ever having to file a suit or claim insurance following an accident. GPS can also be used to remotely track the location of your vehicle, as well as record its speed.
Loop recording: This technology ensures your camera is already recording video footage, automatically overwriting old content when your memory card is out of space. Just keep in mind you'll also want to make sure there's a feature that automatically locks and prevents important video footage from being deleted—such as clips where the dash cam detected impacts or collisions.
Impact detection: The importance of impact detection, as we just mentioned, is to make sure your dash cam knows when to lock and preserve video footage from being deleted. Typically, dash cams will also mark any video recordings where the unit detected an impact, so you can easily find it.
Night vision: If you often drive at night, you'll want a dash cam with technology to enhance night vision. This could be in the form of a large aperture lens, or other technology that reduces noise in low-light situations. This way, you'll get as clear video footage as you can if something occurs once the sun has set.
Best Dash Cam FAQs
What Is a Dash Cam?
A dash cam is basically a video camera that can be installed in your car (usually to the windshield) and constantly records video (and sometimes audio) as you drive.
Are There Different Types of Dash Cams?
Yes, there are. There are the single-lens dash cams (also known as one-channel dash cams) and dual-lens dash cams (also known as 2-channel dash cams).
How Do You Install Dash Cams?
Most dash cams come with their own set of instructions that will guide you through the product's installation process. Generally, it will require hooking up a power source to the dash cam and mounting it to your windshield with a suction cup. Rear cameras typically take a bit more effort to install.
Where Does the Dash Cam Get Its Power From?
A dash cam usually comes with its own power cord that can be plugged into your car. Some dash cam cameras come with in-built batteries, while others will need to be hardwired to a power source like your car's battery.
RedFlagDeals.com is reader-supported. We are a participant in the Amazon Services LLC Associates Program and other similar affiliate advertising programs. These programs are designed to provide a way for sites to earn advertising fees by linking to them. This means that RedFlagDeals.com will sometimes get a small commission if you make a purchase through our links.