The Best Computer Monitors
Table of Contents
Your monitor is the crown jewel of your desktop setup. Depending on your needs and usage, the right monitor can last you through the life of your current desktop computer, and maybe even the next one. We're sure you have questions, specifically: Which computer monitor is best for me? Luckily for you, we've put together a list of all your need-to-knows' for the best computer monitors this year.
The search for your next top monitor will need to take a lot into consideration. While some of our favourite computer monitors are great general purpose displays that multitaskers will love, others cater to a more niche crowd. We've looked at basic requirements like size and screen resolution as well as more tech-specific considerations like response time and refresh rate. Whether you're working from home, creating an epic gaming space, or looking for portability, there's a monitor on this list for you. Check out some of the best ones below:
1. Editor's Pick: LG 27ML600M-B 27-inch FHD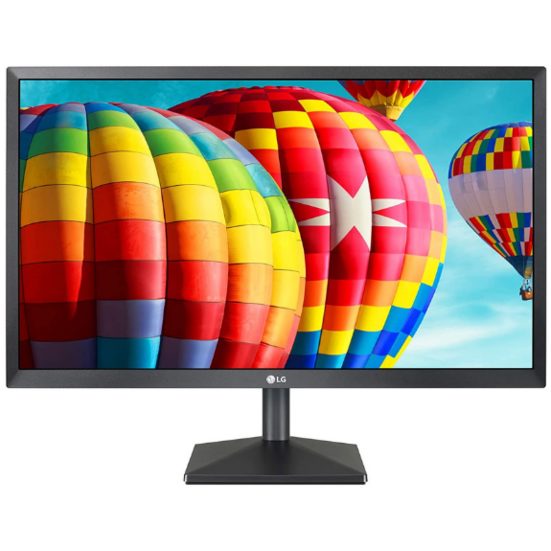 Great response time
Excellent colour accuracy
Great max brightness level
Key Specs
| | |
| --- | --- |
| Dimensions: | 62.48 x 20.32 x 46.99cm |
| Display size: | 27" |
| Display type: | LED |
| Screen resolution: | FHD 1920 x 1080 |
| Response time: | 5ms |
This computer monitor has a wide 27" display, great maximum brightness level, and colour accuracy. It's a great mixed-use monitor option for home office and moderate gaming.
Looking to set up your home office for family use or need a decent gaming monitor? The LG 27ML600M-B 27-inch FHD is a robust general-purpose display that takes our pick for best computer monitor overall. The full HD display gives you a generous 27 inches for work, gaming, or streaming your favourite movies and shows. You'll also enjoy the convenient headphone out port that will save you having to connect your headphones to your computer.
This monitor has a great peak brightness level; however, it doesn't display a particularly wide colour gamut. So, while it does support HDR (high dynamic range), you're not likely to get the full experience. Additionally, the black uniformity is below average, making for subpar video display in nighttime or dark room settings.
2. Runner Up: Asus EyeCare VZ249HE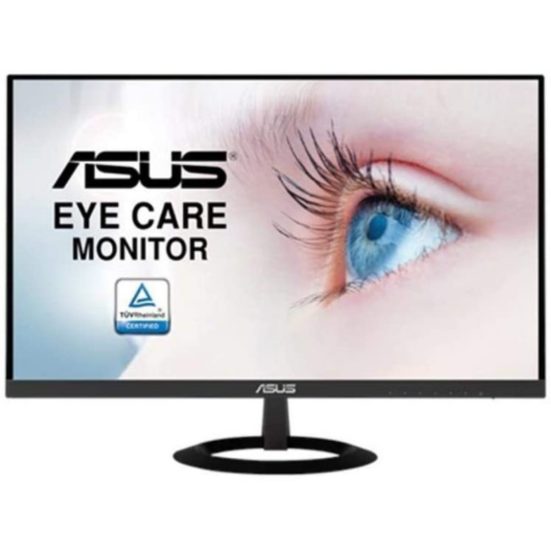 Narrow bezels
Budget-friendly
Blue light filtering
Not full HD
Subpar max brightness
Key Specs
| | |
| --- | --- |
| Dimensions: | 61.98 x 21.08 x 43.94 cm |
| Display size: | 27" |
| Display type: | LCD |
| Screen resolution: | FHD 1920 x 1080 |
| Response time: | 5ms |
The Asus EyeCare VZ249HE features four levels of blue light filtering to reduce eye fatigue. It has an ultra-slim display with thin bezels and a narrow 7mm profile that will shine for business or home computing.
Boasting ultra-slim bezels and a narrow 7mm profile, it is a great-looking display. Whether you're setting this monitor up at home or the office, it's a reliable machine with decent enough specs to help you get your work done. The Asus EyeCare VZ249HE a great option for laptop users looking for a larger display that won't break the bank.
Four levels of blue light filtering make this monitor easier on the eyes than other models. The max brightness level isn't the highest, and the 1080p resolution doesn't deliver the crisp lifelike picture quality of other full HD monitors. However, if you're looking for a solid budget-friendly monitor, you can't go wrong with this one.
3. Best Curved: BenQ EX3501R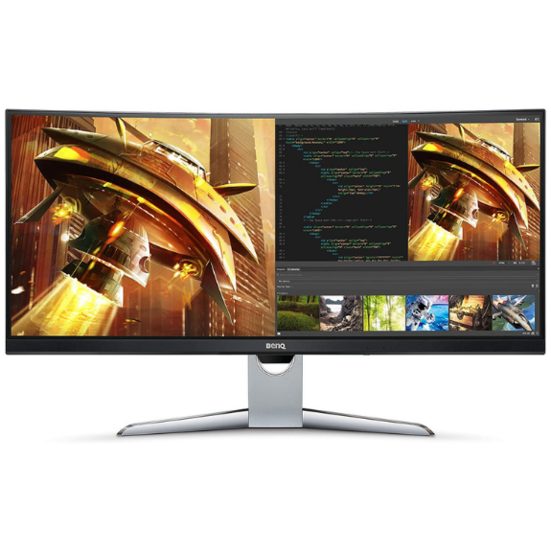 HDR support
High refresh rate
Anti-glare coating
Panoramic curve
Great port offerings
Expensive
No swivel
Hidden ports
No speakers
Key Specs
| | |
| --- | --- |
| Dimensions: | 44.4 x 22.4 x 83.4 cm |
| Display size: | 35" |
| Display type: | LCD |
| Screen resolution: | 3440 x 1440 |
| Response time: | 4ms |
If you're a serious multitasker or gamer, you'll love our pick for best curved computer monitor. It features 35 inches of panoramic curve, eye care technology, and full HDR support for work, gaming, and streaming content.
Need a wide display? You could get two monitors and put them side-by-side. Or you could get our pick for best curved monitor, the BenQ EX3501R. This ultra-wide monitor features a panoramic curve with an anti-glare coating and integrated eye care technology that media professionals and gamers will appreciate. You can also switch between four levels of HDR modes to tailor your display to your content.
While a range of port options are available, they are located behind the monitor and can be difficult to reach. Additionally, there are no built-in speakers on this monitor, so you'll have to account for external speakers potentially taking up valuable desktop real estate. All-in-all, while it's an expensive option, the BenQ EX3501R is a dream monitor for you multitaskers out there, allowing you to stream, work, and game.
4. Best Gaming: MSI Optix MPG341CQR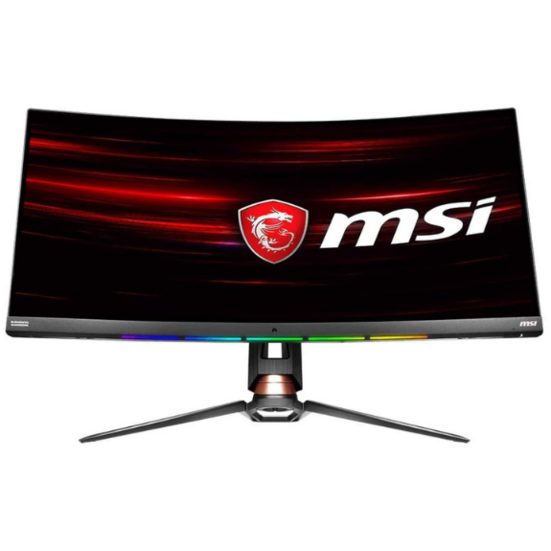 Attractive design
High refresh rate
Gamer-specific specs
Good colour performance
Expensive
Average HDR
Built-in webcam not the best
Key Specs
| | |
| --- | --- |
| Dimensions: | 81.28 x 45.72 x 26.04 cm |
| Display size: | 34" |
| Display type: | LED |
| Screen resolution: | 3440 x 1440 |
| Response time: | 1ms |
This computer monitor is a top-of-class gaming monitor with a range of port options, high refresh rate, great response time, and a number of gamer-friendly features. It will look and perform well in any gaming space.
The MSI Optix MPG341CQR has a range of exclusive, gamer-focused features as well as an ultra-wide display. Offering an impressive 144Hz refresh rate, good colour performance, and an attractive design, this computer monitor will fit right in with a well kitted-out gaming space. One interesting stand-out feature is the rainbow LED strip, designed to work with the GameSense software from SteelSeries. The LED strip can sync with your games to deliver visual cues for things like remaining health or ammo.
There is a built-in webcam, but its use is relegated to facial recognition. There is a dedicated cradle your webcam of choice on top of the monitor. While the HDR clocks in at just average, that won't be a deal breaker if this is the gaming monitor you have your heart set on.
5. Best for MacBook Users: ViewSonic VP2785-4K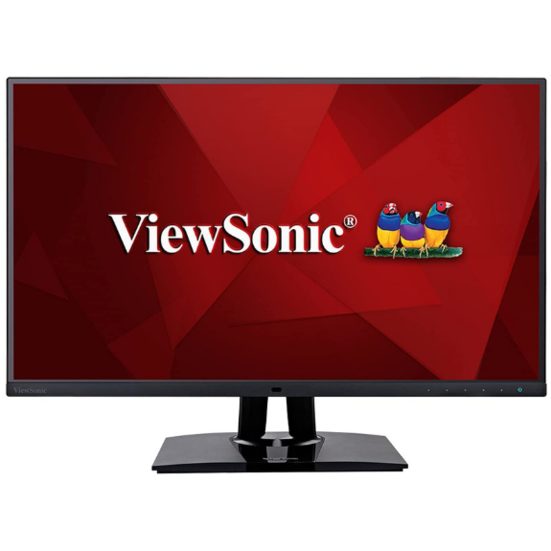 Good port selection
Resolution in 4K UHD
Excellent colour performance
Expensive
No speakers
Subpar refresh rate
Key Specs
| | |
| --- | --- |
| Dimensions: | N/A |
| Display size: | 27" |
| Display type: | LED |
| Screen resolution: | 3840 x 2160 |
| Response time: | 7ms |
This computer monitor offers great port selection, 4K ultra-HD, and covers 99 percent of the Adobe colour palette. It's a great option for design professionals and photographers.
Designed with photography and graphic design professionals in mind, the ViewSonic VP2785-4K is our favourite for best monitor for MacBook users. This powerful monitor boasts excellent colour performance, covering 99 percent of the Adobe RGB colour palette. It supports HDR content and renders video and photos beautifully. The thin bezels make it easy to integrate this monitor into a dual (or more) set-up, should you need to.
Leaning on the expensive side, we do have to note the ViewSonic VP2785-4K does not have built-in speakers. That will be another peripheral to consider if this is your monitor of choice. The refresh rate is on the lower end, which makes this less of an option for gaming, but certainly doesn't take it out of the running for design and photography creatives.
6. Best Portable: ZenScreen MB16AMT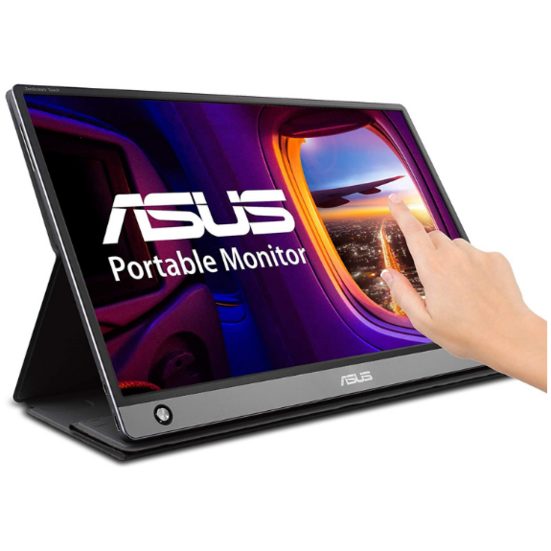 Built-in battery
Built-in speakers
User-friendly menus
Five-way OSD navigation joystick
Touch screen with stylus-pen input
Muted colours
No speakers
Subpar refresh rate
Key Specs
| | |
| --- | --- |
| Dimensions: | 48.5 x 30.5 x 7.6 cm |
| Display size: | 15.6" |
| Display type: | LED |
| Screen resolution: | 1920 x 1080 |
| Response time: | 5ms |
The ZenScreen MB16AMT is a great portable monitor offering 10-point capacitive multi-touch input, built-in speakers, and a rechargeable built-in battery. A capable mobile companion to your laptop or smartphone, the ZenScreen MB16AMT is our top pick for best portable monitor. The included stylus is also a functional pen for writing quick notes on actual paper in actual ink.
If you're a Mac and/or iPhone user, you'll find your ability to use the touch features ranges from limited to non-existent. This mobile monitor works best for PC and Android users, and with those operating systems you should see few to no compatibility issues. The colour performance is not exceptional, but for a portable monitor the ZenScreen MB16AMT is easily a category winner.
7. Best Compact: Dell SE2419Hx 23.8"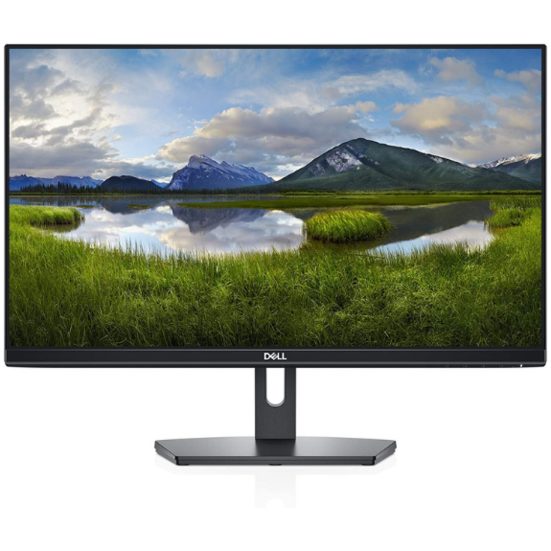 Smaller, 23.8-inch screen
Smaller, compact stand
Tilt Angles: -5° to 21°
Reasonably priced
No speakers
Height is not adjustable
Key Specs
| | |
| --- | --- |
| Dimensions: | 53.95 x 15.29 x 41.35 cm |
| Display size: | 23.8" |
| Display type: | LCD |
| Screen resolution: | 1920 x 1080 |
| Response time: | N/A |
This computer monitor from Dell is a good pick for anyone with limited desktop space who wants a thin-bezel experience and a fully tiltable screen to suit various needs and lighting. Sometimes we don't have all the space we need to work, especially when we're in our home office. And while a smaller desktop will require a smaller computer monitor, it doesn't have to mean sacrificing what you need or want.
This 23.8-inch computer monitor with a compact base may be smaller in size than larger models on this list, its thin bezel edges maximize your screen real estate while taking up less space on your desk. The wide 178°/178° viewing angle coupled with in-plane switching technology gives you accurate and consistent colour performance no matter where you sit. The flicker-free, low haze screen minimizes distractions so you can concentrate on what you are doing, be it work, watching or playing.
8. Best Bezel-Free Option: Samsung 24-inch Screen LED-Lit Monitor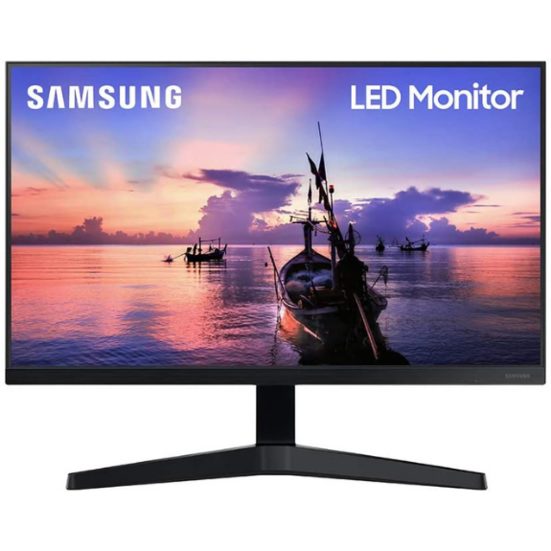 Three bezel-less sides
Good refresh rate
Clarity from any angle
No camera on monitor
Non-adjustable stand
Key Specs
| | |
| --- | --- |
| Dimensions: | 53.9 x 23.2 x 42.5cm |
| Display size: | 24" |
| Display type: | LCD, LED-lit |
| Screen resolution: | 1920 x 1080 |
| Response time: | 5ms |
This Samsung 24-inch LED-lit computer monitor has three borderless sides to give you optimum screen space without distraction, ideal if you want to put two monitors together for seamless movements from one to the other.
If you need to work on two screens or are a serious gamer and can't afford a large, curved model, then consider this bezel-free monitor that gives you a wide view expanse to move easily from one screen to the other for a great work or gaming experience. With three sides with no bezels, this is also a good option if you are a serious after-the-work-gets-done gamer. Just switch the monitor to Game Mode and the colour and image contrast are optimized for superior clarity. You'll also get an impressive refresh rate of 75Hz for fluid action with no lag or ghosting effect.
And when it comes to eye strain, the monitor's combination of eye comfort and flicker-free technology plus less emitted blue light, means you can play or work for hours in comfort.
How to Choose a Computer Monitor
The best way to determine which computer monitor is right for you is to look at your usage requirements and your computer. For instance, if you've set up an exceptional gaming rig, you're going to want a monitor that can keep up. So low refresh rates and response times will be dealbreakers for you. On the other hand, if you're a design professional or a photographer, colour performance and HDR will be key. Last but not least importantly, consider how much you're willing to spend.
If you're sticking to a small budget, be prepared to sacrifice in areas of maximum brightness, resolution, and refresh rates. If money is no object, you're free to splurge for every bell and whistle, but keep in mind some of those elite features may not be useful to you.
We've laid out some key specs for all the monitors featured in this review. So if you're feeling a little lost in the tech sauce, the spec chart for your monitor will give you a good overview of the level of performance you can expect. Remember that in terms of refresh rate and resolution, the higher the better. With response time, the opposite is true; 1ms is great response time, anything below 7ms would be considered slow. The selection of ports will determine which of your peripherals will work with your monitor, but you may also want to consider how accessible they are for day-to-day convenience. To recap, be on the lookout for these specs:
Dimensions
Display size
Display type
Screen resolution
Response time
Refresh rate
Ports
The Difference Between LED and LCD
Your new monitor will either be of the LED or LCD display type. Both of these terms simply refer to how your monitor is backlit. LCD or liquid crystal display monitors are characterized by two panes of polarized glass with liquid between them, backlit by fluorescent lamps. They tend to be slightly heavier than LED monitors. Interestingly, light emitting diode or LED monitors also have a liquid crystal display, however they are backlit by LEDs instead of fluorescent lamps.
Leave a Comment
Do you own any of these monitors? Do you agree with our review? Please comment below and let us know your thoughts!
RedFlagDeals.com is reader-supported. We are a participant in the Amazon Services LLC Associates Program and other similar affiliate advertising programs. These programs are designed to provide a way for sites to earn advertising fees by linking to them. This means that RedFlagDeals.com will sometimes get a small commission if you make a purchase through our links.