The Best Computer Chairs
By
Janelle Burke
February 1, 2021
A uniquely challenging year has seen a lot of us transition to working and learning from home. Though convenient choices for when we just need to send that one email or look something up really quick, the kitchen counter or living room sofa are not long-term remote work solutions. Comfort is a major key to being able to sit down and focus on important tasks. So whether you're finally getting serious about setting up your workspace, or looking to upgrade your existing one, you'll need to find the centrepiece of your work area.
Enter the best computer chairs of 2021. We've considered budget, ergonomics, adjustability, and a few other important variables to come up with this shortlist of winners in a range of categories. From remote workers to gamers, kids, and people of diverse body types, you'll find a computer chair that will be a great fit for your life/work style.
1. Editor's Pick: Hbada Office Task Desk Chair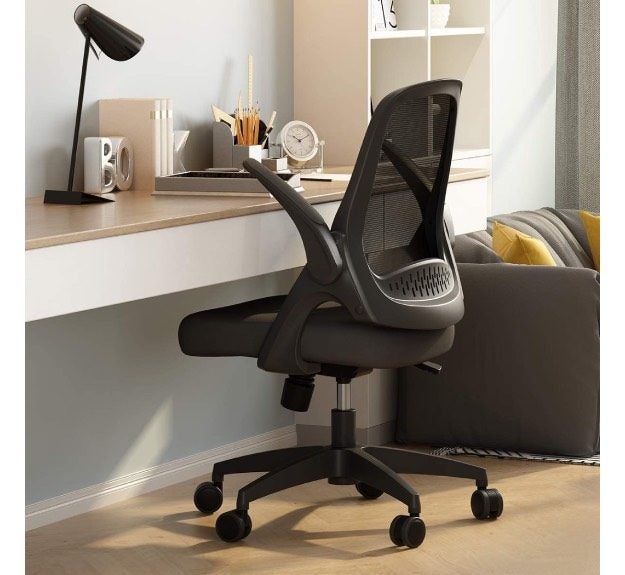 Pros
Cons

Easy assembly
Silent rolling casters
Space-saving flip-up arms
Key Specs
| | |
| --- | --- |
| Material: | Mesh, fabric |
| Max weight: | 250 lbs. |
| Height adjustable: | Yes |
| Seat tilt adjustable: | No |
As an affordable space-saver with modern design, this is a great one-size-fits-most computer chair. Silent rolling casters and simple assembly make it our top choice for home or office.
With its space-saving design and modern aesthetic, the Hbada Office Task Desk Chair is our pick for the overall best computer chair for 2021. You will be able to assemble this affordable office chair in no time and enjoy nice, smooth rolling on silenced casters. Its minimalist design leans a bit conventional but is still very appealing, and the white or black colour options should complement any space.
If you're looking for full recline you won't find it with this chair, but it does offer up to 120-degree rocking for when you need a good stretch. The arm rests fall below standard desk height; however the seat height is adjustable so you may be able to compensate for the arm rest height by raising the seat. For the petite to average-sized user, this is a comfortable, ergonomically appropriate chair at a reasonable price.
2. Best Ergonomic Support: Gabrylly Ergonomic Mesh Office Chair
Pros
Cons

Deep backrest tilt
Space-saving flip-up arms
Comprehensive ergonomic design

Not suitable for tall users
Key Specs
| | |
| --- | --- |
| Material: | Mesh, fabric |
| Max weight: | 280 lbs. |
| Height adjustable: | Yes |
| Seat tilt adjustable: | No |
This chair ticks all the boxes for comfort and complete ergonomic support. You can easily customize this computer chair to suit your unique needs for head, back, and hips.
The Gabrylly Ergonomic Mesh Office Chair gets our hat tip for best ergonomic computer chair. Its aesthetic is far from innovative, but in this category visual appeal is far outweighed by practicality. You can tailor your Gabrylly chair's ergonomic features from top to toe. Adjust the various components to better support your head, hands, hips, and back while you work, and enjoy the 120-degree backrest tilt during breaks.
The seat pad is on the larger side, and while this does accommodate more diverse body types, this chair may not be suitable for you if you're taller than 5'8". With that in mind, it's a good ergonomically designed chair for the price. If your work space is small, you'll also appreciate the flip-up arms that enable you to get the chair out of the way when not in use.
3. Best for Gamers: Noblechairs Epic Gaming Chair
Pros
Cons

Sturdy, solid build
Generous recline
Multiple colour options
Key Specs
| | |
| --- | --- |
| Material: | Polyurethane leather |
| Max weight: | 264 lbs. |
| Height adjustable: | Yes |
| Seat tilt adjustable: | No |
This chair is designed to last. Available in a range of colourways, it features high quality materials that come together in a solid build. It's great for gamers and diverse body types.
Epic gaming sessions need a chair of the same calibre. Our pick for best computer chair for gamers is the Noblechairs Epic Gaming Chair. It's available in no fewer than seven colourways in a sleek racing seat design. Made with quality materials like polyurethane leather and metal, it's built to last through hours of gameplay.
With a maximum weight capacity of 264lbs., this chair is suitable for a range of body types. You will also appreciate the generous recline of up to 135 degrees. Building this computer chair is fairly uncomplicated but be prepared for it to take about 30 minutes. Clear instructions will walk you through the process easily enough. While definitely in the premium price bracket, consider this gaming chair an investment premium ergonomic support and comfort.
4. Best for Kids: Giantex Low-Back Computer Desk Chair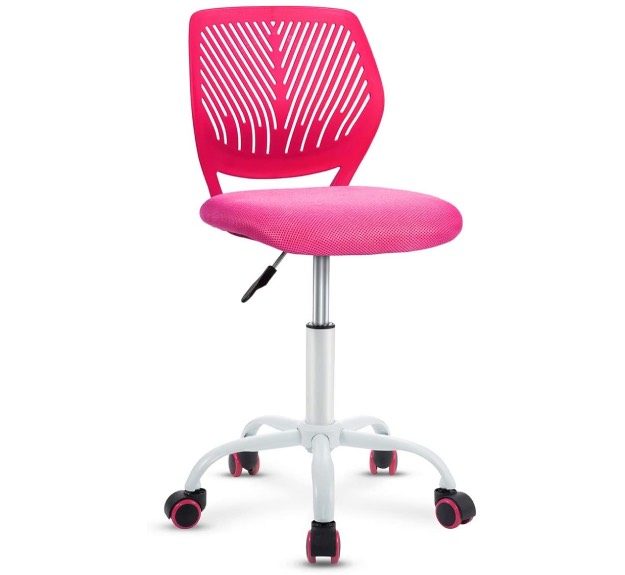 Pros
Cons

Metal gas lift
Sturdy, solid base
Multiple colour options
Key Specs
| | |
| --- | --- |
| Material: | Iron, mesh, sponge |
| Max weight: | 250 lbs. |
| Height adjustable: | Yes |
| Seat tilt adjustable: | No |
This chair wins our pick for best computer chair for kids. Featuring quality materials, sturdy design, and four fun colour options, it's a great chair for young learners.
The extended time your kids spend learning online or doing homework will be comfortable with the Giantex Low-Back Computer Desk Chair. With a soft foam cushion and lumbar support, it's designed to keep little learners ergonomically supported. Available in multiple colour options, it's a fun addition to your child's room or dedicated workspace.
This computer chair is made of quality materials, particularly the iron base, metal gas lift, and colourized polyurethane wheels. Lumbar support and pneumatic height adjustment will ensure you get top marks for ergonomics. As this is a computer chair designed with kids in mind, the seat is small. If you have a fast-growing tween, consider sizing up to an adult chair.
5. Best on a Budget: Amazon Basics Mid-Back Desk Office Chair
Pros
Cons

Affordable
Comfortable
Easy assembly

Static arms
Firm armrests
Key Specs
| | |
| --- | --- |
| Material: | Plastic, fabric, mesh |
| Max weight: | 225 lbs. |
| Height adjustable: | Yes |
| Seat tilt adjustable: | Yes |
This chair is the best budget computer chair for your money. It's comfortable, well-made, easy to assemble, and offers ergonomic support for petite to average-sized users.
If you're just looking for an affordable task chair that you can get your hands on quickly, we've found a winner for you. The Amazon Basics Mid-Back Desk Office Chair takes the prize for best budget computer chair. It features a comfortable seat with adjustable tilt, something that can be rare even in more premium models. At this chair's price point, being able to customize the seat tilt is a definite bonus.
This chair offers just enough ergonomic support and features a solid plastic build that makes it budget-friendly and lightweight. You'll also appreciate the simple assembly that should have you ready to get working in short order. The arms are static so if you're someone who likes to adjust your armrests, that's something to keep in mind. All in all, it's a durable, serviceable chair at a great price.
6. Best for Big & Tall People: Reficcer High Back Big & Tall Office Chair
Pros
Cons

Tall backrest
Luxurious feel
Generous foam padding
Key Specs
| | |
| --- | --- |
| Material: | Leather, metal, high-density foam |
| Max weight: | 400 lbs. |
| Height adjustable: | Yes |
| Seat tilt adjustable: | Yes |
Best-in-category goes to this chair. Bonded leather and a double-padded seat give it a luxurious feel, while a heavy metal base and purposeful design make it perfect for larger users.
The Reficcer High Back Big & Tall Office Chair gets our vote for best big and tall computer chair. If you're looking for a chair that caters to your body type that is beyond functional and actually comfortable, this is the chair for you. Featuring high-quality bonded leather, a double-padded seat cushion, and smooth rolling casters, this chair will feel like a luxury while still coming in at a pretty decent price.
You'll enjoy the solid build of this chair once you assemble it, which should only take a single person about 20 minutes. This Reficcer chair also offers a recline of up to 120 degrees, however there is no recline lock. You may not be able to nap in this chair, but the working hours you spend in this chair will feel relaxing enough.
How to Choose the Best Computer Chair
You and your computer chair will be spending a lot of time together, so there are a few things to look for to ensure you'll be happy with your choice. It's a good idea to narrow down your price range first. Working within your budget, you can then see how many of the following boxes your chair of choice will tick:
Ergonomics
Adjustability
Materials
Ergonomics: Regardless of your age, lumbar support is an important feature for any computer chair, simply because of how much time you'll be spending in it. If you have specific joint or muscle issues that are impacted by long periods of sitting, choosing an office chair with good lumbar support will be critical for you. The Gabrylly Ergonomic Mesh Office Chair is a good example of comprehensive ergonomic support that you'll be able to customize to your needs.
Adjustability: Love twisting and tweaking the knobs of your computer chair to get things just right? While height and armrest adjustment features are common, some chairs offer additional options like seat tilt, back rest height, and more. If you're spending a little more for a top-quality office chair, look out for these nice-to-have extras.
Materials: You'll see a lot of computer chairs offering mesh-covered backrests, and that's due to the fact that mesh is designed to provide added lumbar support while also keeping you cool. Real and synthetic leather varieties will add a level of comfort and luxury that polyester fabric won't provide, and prices generally reflect that.
You'll also want to be mindful of the seat cushion. Look for a chair with a cushion that won't sink or flatten after a short period of time. Not all computer chairs have the generous padding of the Reficcer High Back Big & Tall Office Chair, but even in smaller chairs, high-density foam is everyone's friend.
Lastly, the base of your chair should be sturdy. It is common for more affordable office chairs to have plastic bases, while high-end chairs tend to have metal bases. Pneumatic height adjustment is preferable, along with smooth-rolling or silent casters to help you glide easily and quietly on any flooring.
RedFlagDeals.com is reader-supported. We are a participant in the Amazon Services LLC Associates Program and other similar affiliate advertising programs. These programs are designed to provide a way for sites to earn advertising fees by linking to them. This means that RedFlagDeals.com will sometimes get a small commission if you make a purchase through our links.