The Best Coffee Makers to Buy
Table of Contents
If you're a coffee drinker, there's nothing like that first cup of coffee in the morning. After a restful night's sleep, there's not much that gets the blood flowing and adrenaline pumping like a nice hot cup of java. Whether it's pour-over, cold brew, a French press, or an Aeropress, there are many machines that will make sure you get your morning started off on the right foot. There are a lot of ways to make coffee, but normally the drip coffee maker is still preferred among coffee drinkers due to its speed and convenience.
Today's coffee makers can grind beans, froth milk, and even brew iced coffee. If you're in the market for a coffee maker this year, we've got you covered. No matter if you're looking to buy one for yourself, purchase one for a friend, or get one for your partner, we've picked out products for everyone. Here's a short list of the best ones to buy:
1. Editor's Pick: Moccamaster 79112 10-Cup Coffee Brewer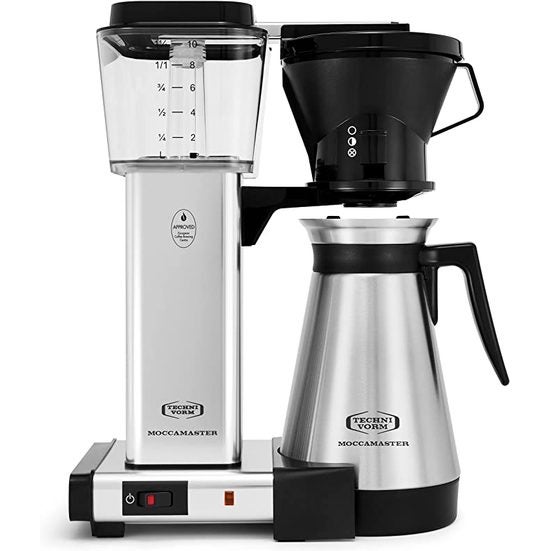 Makes coffee quickly
Glass heating tube
Manual adjust brew basket
Plastics are on the cheaper side
Key Specs
| | |
| --- | --- |
| Material: | Aluminum, glass, plastic |
| Interface: | Manual |
| Capacity: | 10 Cups |
| Dimensions: | 15.25"H X 11.50"W X 6.75"D |
If you're looking for a quality coffee maker, this is it. The Moccamaster KBT model features a thermal carafe, and a manual and adjustable drip-stop brew-basket which provides adjustability in how fast coffee flows into the carafe. The KBT brews a full 40 oz. pot of coffee in six minutes and will keep your coffee hot up to an hour after brewing. What's great about this model is that it comes with a travel lid, in case you want to get take a cup with you on the road.
2. Runner Up: Bonavita BV1900TS 8-Cup Carafe Coffee Brewer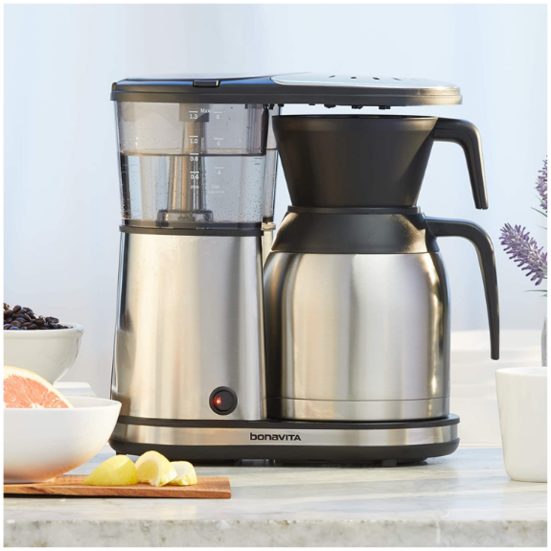 One-touch brew operation
Optional pre-infusion mode
Auto-off function
Dishwasher safe plastic parts
Basic
Heating plate is weak
Sealed poorly
Has plastic parts
Key Specs
| | |
| --- | --- |
| Material: | Stainless Steel, Plastic |
| Power: | 1500 watts |
| Interface: | Touchscreen |
| Capacity: | 8 Cups |
The Connoisseur from Bonavita is one of the best coffee markers that you can buy for a fair and reasonable price. This eight-cup coffee brewer has features to ensure that you have a hot cup of coffee ready for you every morning. The heater is capable of reaching an ideal coffee brewing temperature in about six minutes and it can brew an eight-cup carafe.
Expect a full-bodied cup of coffee with every pour. While it's not fully programmable, it works fast, has a variety of features, and is stainless steel. It also has a dishwasher-safe filter basket and a carafe lid. Mimic artisan pour-over brewing methods with the pre-infusion mode which gives the coffee time to brew with the pause in water flow or just enjoy your coffee with its one-touch mode. Hit optimal flavour with optimal results for less than the average model all without compromising on quality.
3. Popular Choice: Calphalon Special Brew 10-Cup Coffee Maker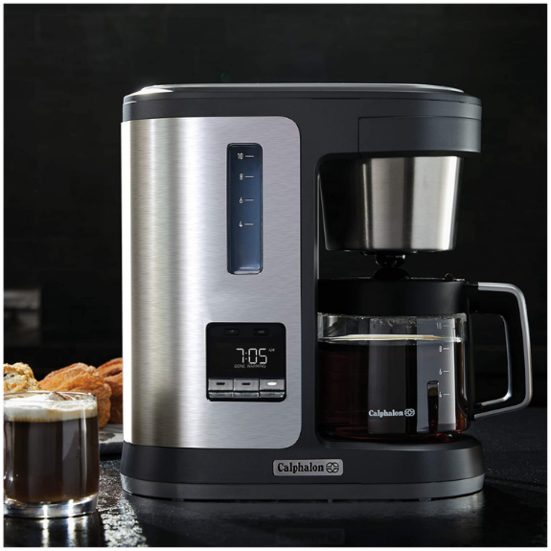 Fresh brew timer
Delay brew function for easy brewing
Premium boiling system extracts 20% more flavour
Warming plate keeps coffee hot
Carafe lid is not detachable
Spills easily
Short cord
Key Specs
| | |
| --- | --- |
| Material: | Stainless steel |
| Interface: | Manual |
| Capacity: | 10 Cups |
Known for its cookware line, the Calphalon Special Brew 10-Cup Coffee Maker is making a name for itself in its own category. This model offers brew-strength control, programming, an LED display, and a 10-cup glass carafe.
Featuring a premium boiling system, it boasts a strong temperature to extract 20% more flavour from your grounds. It also has an adjustable flavour setting and a fresh-brew timer that tracks how long ago your coffee was made. Its non-stick warming plate will also keep your coffee piping hot for up to four hours and prevents scorching.
4. Also Consider: Breville BDC650BSS The Grind Control Drip Coffee Maker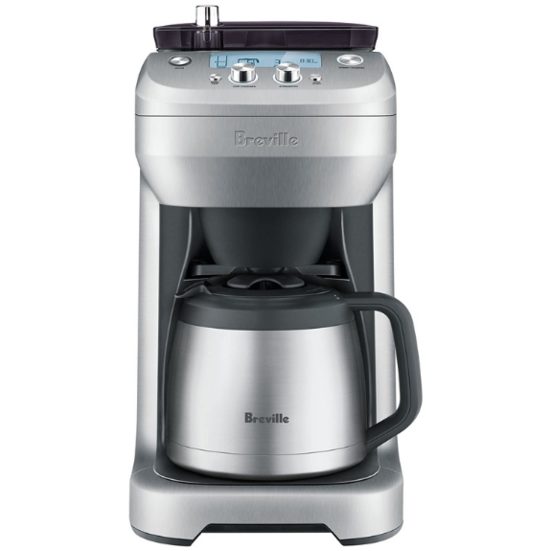 Adjustable grinder and calibration function
Programmable auto-start
1/2 lb coffee bean capacity
Loud, messy grinder
Hard to fully empty carafe
High maintenance
Key Specs
| | |
| --- | --- |
| Material: | Steel |
| Interface: | Manual |
| Capacity: | 12 Cups |
| Power: | 1100 watts |
We're not going to lie — this one of the bigger coffee makers on the market but what it has in size also equates to versatility and consistency. It can prepare cold-brew coffee and brew coffee that will be ready for you whenever you need it. It's one of the few designs that can customize options like flow rate and bloom time. Whether you're roasting Brazilian, Columbian or dark coffees, this model can handle it all.
It has an adjustable grinder and calibration function that allows you to grind before you brew. What's more, it has eight strength settings so you can customize every cup and it provides real-time feedback on water level, grind size, grinding time and brewing time.
5. Sleeper Pick: Cuisinart Fully Automatic Grind & Brew 12-Cup Coffeemaker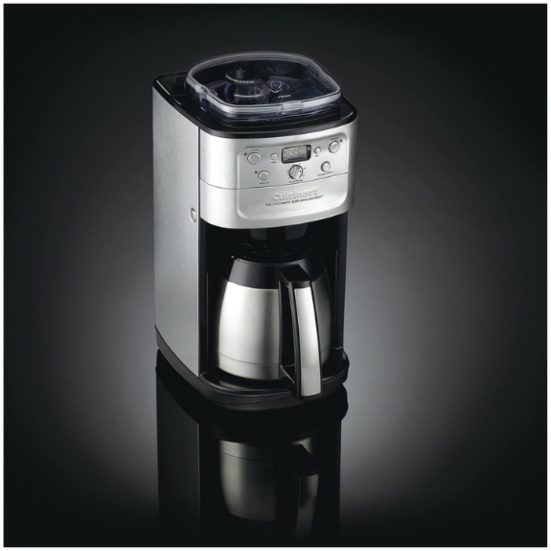 24-hour programmability
1-4 cup setting
Brew Pause feature – pour a cup before brew cycle ends
Too tall to fit under cabinets
High maintenance
Hard to fully empty carafe
Loud grinder
Key Specs
| | |
| --- | --- |
| Material: | Stainless Steel |
| Interface: | Manual |
| Capacity: | 12 Cups |
With a built-in grinder to produce strong coffee for you every time, it's just a good and simple coffee maker — there's no other way to describe this model.
Its large control panel can make it easy to program your coffee maker to pour you a solid cup of coffee when you need it. The sleek design and brushed metal finish will look great on any kitchen counter top and its dimensions allows it to fit in your space with ease. It features auto-programming, auto-shutoff, a cleaning indicator, a permanent filter, a water filter, brew-strength control, and a small-batch setting. For the price, it's hard to go wrong with this one.
6. Best K-Cup: Keurig K-Select Coffee Maker, Matte Black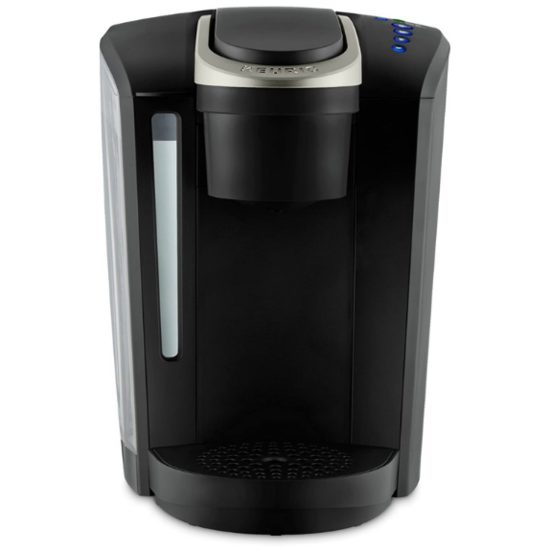 Programmable auto-off
Comes in an array of colours
Comes with built-in drainage
Easy to use
Slow to heat
Drips and spurts during brew
Annoying to clean
Key Specs
| | |
| --- | --- |
| Material: | Plastic |
| Interface: | Manual |
| Capacity: | 5 |
| Brew Amounts: | 6, 8, 10, and 12 oz |
| Reservoir Size: | 50 oz |
If you don't need an 8-cup or 12-cup coffee maker, a single-serve model might just do the trick. The Keurig K-Select Coffee Maker can brew 6, 8, 10, or up to 12 oz of your favourite coffee, tea, hot cocoa, or iced beverage in under a minute. It brews a stronger brew than most, and with hundreds of K-Cup pods available there's an almost unlimited choice of flavours to choose from.
It can brew up to five cups of coffee and has a 1.5L water reservoir. You can even buy the My-K-Cup Universal Reusable Coffee Filter (sold separately) to brew your own ground coffee. For the price this model gives you the best of both worlds in almost record time.
7. Best Versatility: Hamilton Beach Flexbrew 2-Way Coffee Maker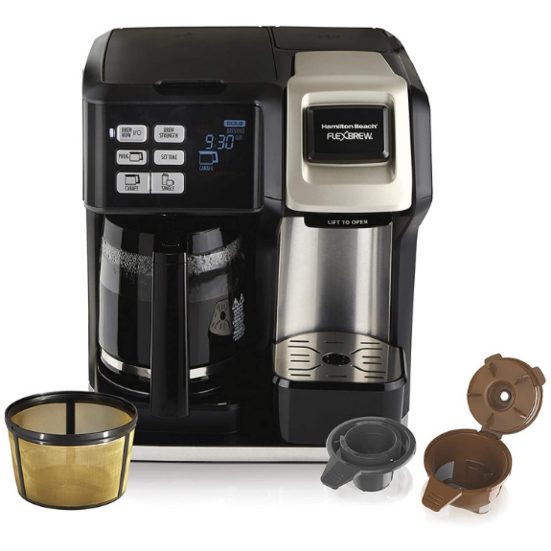 Brews up to 10 oz. with K-Cup pack or 14 oz. with ground coffee
Two-hour auto shut-off
Programmable
Comes with reusable pods
Easy to clean
High pitched sound when brewing
Slow brew
Messy pour
Small tank
Not durable
Key Specs
| | |
| --- | --- |
| Material: | Plastic |
| Interface: | Manual |
| Capacity: | 12 Cups |
| Power: | 1050 watts |
| Warranty: | 5 year limited warranty |
There's nothing better than having options and with the Hamilton Beach Flexbrew 2-Way Coffee Maker you get just that. The versatile, two-way model allows you to start your day with a single-serve K-Cup option which brews up to 14 oz. of coffee. You also have the choice of using your favourite ground coffee on mornings where you want to enjoy cup after cup.
Offering so much in so little space, the two-way coffee maker can also make a 12-cup pot. It's the ultimate exercise in flexibility, all for a fairly cheap price compared to other models.
8. Best High End: Ninja Hot and Cold Brewed System, Auto-iQ Tea and Coffee Maker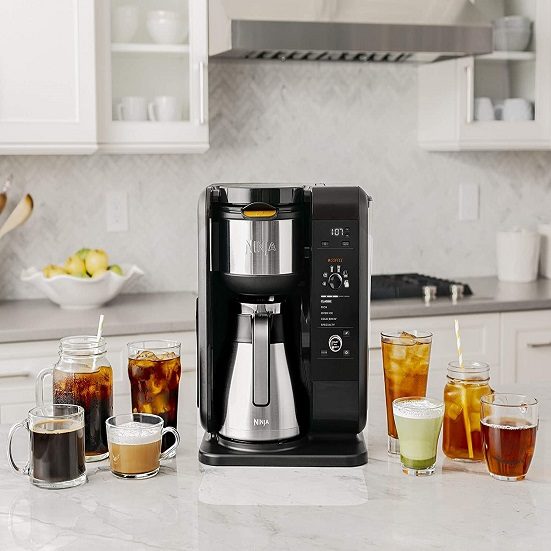 6 brew sizes
Separate compartments for coffee and tea
Comes with milk frother
No pods required
Water reservoir is removable
No grinder
Heating plate on available on glass model
Frother doesn't heat milk
Water reservoir poorly sealed
Rich brew option is slow
Key Specs
| | |
| --- | --- |
| Material: | Plastic |
| Interface: | Manual |
| Capacity: | 10 Cups |
| Dimensions: | 30 x 25.4 x 38.1 cm |
With the Ninja Hot and Cold Brewed System you can go beyond the coffeehouse. The brewing system gives you the ability to brew hot or cold flavourful cups of coffee, tea, or other beverages. Simply choose your size and style on the intuitive display, from a single or travel size up to a full carafe, and from there you're just a push of a button away from your next delicious drink.
Ground coffee and loose or bagged tea, this Ninja machine has separate compartments for both types of drinks to keep flavours separate - no pods required. You can even brew over ice at a lower temperature for a smooth flavour in 10 - 15m. A fold-away hot and cold frother is included, too, so you can pair and brew with hot or cold micro foam to make your own cappuccinos, matcha tea lattes, flat whites, and more.
This machine slightly more expensive than other models, but its capabilities could far outweigh that factor if you're looking for versatility.
9. Honourable Mention: Braun BrewSense Drip Coffee Maker - 12 Cup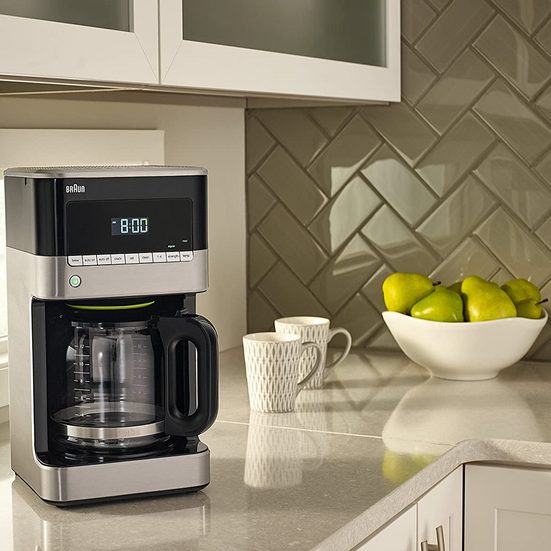 Easy-access control panel
Option to make 12 cups or between one and four cups
24-hour programmable timer
Comes with gold tone filter
No water level indicator
LCD display doesn't light up making it hard to see
Not BPA free
Button indicators come off quickly
Key Specs
| | |
| --- | --- |
| Material: | Aluminum, glass, and plastic |
| Interface: | Manual |
| Capacity: | 12 Cups |
| Dimensions: | 20.1 x 20.1 x 36.1 centimeters |
This drip coffee maker from Braun is easy to use and goes the distance in offering up some convenient extra features while consistently brewing up a truly delicious cup of coffee.
The PureFlavour technology of this drip coffee maker combines the right temperature and brewing time to bring out the complexity, flavour, and aroma of ground coffee. The unique lid on the carafe seals in freshness and minimizes the amount of air that gets in to ensure a rich, delicious brew every time. And since there's nothing better than waking up to a fresh pot of coffee already hot and ready to pour, programming the 24-hour timer before you go to bed every night will become your new favourite bedtime routine.
The list of great features on this coffee maker is pretty long. Similar to other models, you can choose your brew strength and the number of cups to make at a time. However, this machine will also purify your water through a charcoal filter and then clean it according to different levels of water hardness so that the only flavour that goes into your cup is the blend of the bean that you're brewing.
Coffee Makers: Factors to Consider
There are a ton of ways to brew coffee nowadays. From expresso to cold brew, most coffee drinkers rely on automatic drip-coffee makers to brew the perfect cup. There are a number of factors go into buying the right machine so here are some things to consider when shopping this holiday season:
Speed: Not everyone has time to wait for a convenient batch of brewed java. Be careful, though. With certain models, coffee brewed any quicker than four minutes will be under-extracted (weak) and over eight minutes will be over-extracted (bitter).
Temperature: Consistency and efficiency go a long way in making a coffee maker stand out from the crowd. A higher water temperature can extract and dissolve coffee solids and oils from coffee grounds. A coffee maker's brewing temperature is one of the best indications that a machine can make a decent cup of coffee. Coffee should be brewed between 195°F to 205°F.
Maintenance: One of the things you can never underestimate with coffee makers is the cleanup. Some models can be subject to leakage so it's important to read up on models that have a tendency to do so. Also, you want to look for models that are dishwasher-safe if you don't have the time to clean it by hand. Because coffee makers are working with hot water, some can accumulate mould (chalky off-white crust that can lurk in your kettle or boilers) and limescale (a deposit of calcium carbonate and a residue left behind by hard water).
Price: Not everyone is willing to spend thousands of dollars on a coffee maker or espresso machine. At the same time, finding a quality machine doesn't mean that you need to. The most important thing is to consider you needs and realize that $30 is not going to make a huge difference. With coffee makers, sometimes it's better to splurge than to reserve as the cheapest machine can cost you the dearest; leaky brew baskets, worn-out buttons, inconsistent temperature, and poor extraction isn't something you'll be happy with in the long run. Do your homework.
Coffee Maker FAQs
How Long Do Most Coffee Makers Last?
On average, you can probably get a maximum of three years of good performance out of your coffee makers. How you maintain it will be key. After a while, mould and limescale can build up in your devices and if you don't take care of it and wash it regularly you'll have even less use out of it over time.
How Many Kinds of Coffee Makers Are There?
There are typically three: drip coffee machines, pump espresso machines, and coffee capsule machine. It's important to choose a coffee machine with features you find useful such as an automatic timer, digital controls, built-in grinders, water filters, and brew-strength control.
I've Run Out of Coffee Filters. What Should I Do?
If for some reason you cannot go out and buy more filters, don't use paper towels. They can have harmful chemicals and do detrimental harm to your machines. Instead, try to use light socks, tea bags, or a metal mesh reusable filter.
Can You Use Milk Instead of Water in a Coffee Marker?
No. Milk can turn into chunks when boiled and it will get mouldy inside your machine.
How Do I Stop My Coffee Maker from Leaking?
First, make sure the filter is properly in position and that the brew basket is always closed. Second, make sure that your machine's water reservoir is properly installed and don't overfill it as too much water will flow out of the slot and collect near the base of the unit. If all of this happens anyway, you've probably bought the wrong one.
What is an Aeropress?
An aeropress is basically made up of two plastic cylinders. The large cylinder serves as the brewing chamber while the smaller cylinder fits into the brewing chamber and is pressed down. You can place a filter in the Aeropress, cap it, and then put the ground coffee in the chamber. Just add water between 195°F to 205°F as that works best for them and voila.
What is a French Press?
The French Press is a tall carafe and a metal mesh filter that is connected to a long stem. The coffee grounds are steeped in hot water for several minutes then pressed to the bottom of the carafe by the metal mesh filter to make the coffee. It's best to use coarse grind coffee so it doesn't pass through the metal mesh filter into your cup.
Start Shopping Today!
Consider this: making your coffee at home can lead to a ton of savings in the long run. No matter the coffee maker you choose, if you do it right it can be better than what you're paying for on the road. You can use the coffee beans you like, add flavourings, or leave it plain, then add your preferred amounts of milk, cream, or sweetener. And it can be in your favourite mug to boot! No matter what method you use, the savings will always be there.
Simplify your life and keep some money in your pocket at the same time. Even if you don't like coffee, you can do the same thing for someone you love. Check out our forums on RedFlagDeals.com to learn more about the different types of coffee makers.
Leave a Comment
Do you own any of these coffee makers? Comment below and let us know your thoughts!
RedFlagDeals.com is reader-supported. We are a participant in the Amazon Services LLC Associates Program and other similar affiliate advertising programs. These programs are designed to provide a way for sites to earn advertising fees by linking to them. This means that RedFlagDeals.com will sometimes get a small commission if you make a purchase through our links.