The Best Coffee Grinders
Table of Contents
Coffee aficionados know the perfect cup of coffee begins with a quality roast and freshly ground beans. A good coffee bean grinder takes that fine roast and gently turns it into the perfect consistency to match a specific brewing method. Espresso, French press, pour-over, Moka pot — all of these coffee makers require different grinds to produce optimum results. But it's not all about the grind; how the beans are ground, whether it's fast or slow, or what kind of blades it uses — burr or regular — are all factors in the perfect cup of coffee equation.
To learn more about the best coffee grinders to buy, scroll down below and check out the different types and models so you can make an informed decision.
1. Editor's Pick: Bodum Bistro Electric Burr Coffee Grinder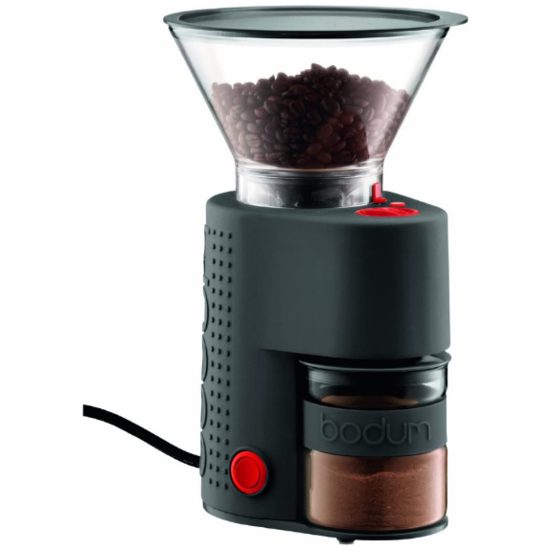 Electric conical burr coffee grinder
Available in seven colours
More than 14 grind settings
Glass grounds catcher
Key Specs
| | |
| --- | --- |
| Product Dimensions: | 19.3 x 18.03 x 31.75cm |
| Item Weight: | 1.82 kg |
| Material: | Glass, plastic |
This electric burr coffee grinder from Bodum has a glass grounds catcher that reduces annoying static that causes coffee grounds to jump around.
We chose this coffee bean grinder from Bodum as our top pick because it comes in at a reasonable price point and has a catch container made of borosilicate glass instead of plastic. Why does this excite us? Well, plastic is known to statically charge coffee grounds, making them jump around and creating a mess inside and outside of the container. That doesn't happen with glass, plus because it's transparent, you can see how much you're grinding.
Of course, there are other features that we love about this electric conical burr coffee grinder. For example, there are over 14 different grind settings to choose from for pretty much any type of brewing method. And the grind is continuously adjustable; you just have to twist the upper bean container to figure out how fine you want the grinds to be. As well, the glass container has a silicone band around it, making it slip free if your hands are wet.
2. Runner Up: Mueller Ultra-Grind Conical Burr Grinder Professional Series
Produces up to 30 cups
10 grind settings
One-button touch operation
Needs assembly
Grinds can fall outside the collection cup
Key Specs
| | |
| --- | --- |
| Product Dimensions: | 45.72 x 27.43 x 14.99 cm |
| Item Weight: | 3.38 kg |
| Material: | Stainless Steel, Plastic |
For anyone who values variety, this burr coffee grinder would make an excellent choice for its wide range of precision grinding choices. It has an easy-to-use coarseness adjustment knob that has 10 different grind options.
The Mueller has an efficient system that produces a precision grind for all manner of brewers — Turkish coffee, espresso, drip, French press, pour-over brewers and percolators. The 240-gram bean hopper has the capacity to produce 30-32 cups of coffee, leaving no ground residue behind in the chute after pouring it in the jar. There is also a portafilter bracket for espresso lovers; no need for scooping, just grind the right amount directly into a portafilter.
Other convenient features include a cup volume indicator; a function button; 130-gram coffee jar to catch the grinds; low-noise operation; stainless steel construction; 10 different grind settings from fine to coarse; auto-stop at the end of a grinding session; and, a cleaning brush.
3. Best Durable Coffee Grinder: Capresso Infinity Burr Grinder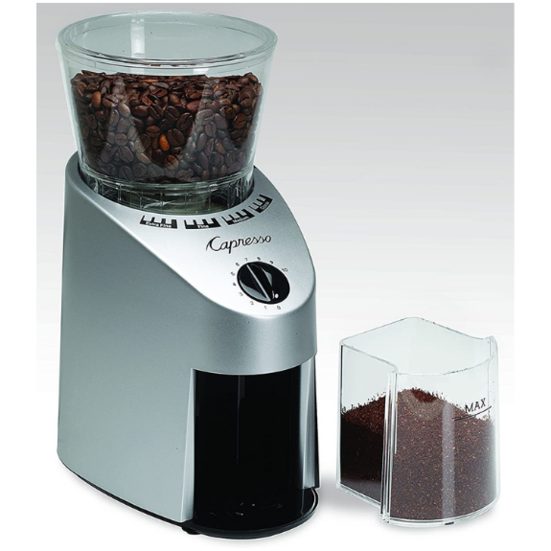 Carries a one-year guarantee
Reduced noise and little static build-up
16 precision grinding choices, including fine for Turkish coffee
More expensive than other models
Can leave ground coffee in the burr area and chute
Key Specs
| | |
| --- | --- |
| Product Dimensions: | 12.7 x 19.69 x 26.67 cm |
| Item Weight: | 1.36 kg |
| Material: | ABS and stainless steel |
This coffee been grinder is equipped with advanced technology and commercial-grade conical steel burrs that have an advanced cutting design.
The Capresso features 16 grind settings — four in each of the four categories of extra fine, fine, regular, and coarse — that precisely adjust the grind to the specific blend of coffee and method of brewing. Packed with useful features, this machine does not disappoint. The bean container can hold 8.5oz. of beans at a time while the coffee container holds up to 4oz. of fresh grounds. A built-in timer sets the grind for anywhere between five and 60 seconds, so you can walk away without having to constantly press a button to continue the grinding process.
For safety, the bean container can be locked into place in order for the machine to operate and when it comes to cleanup, the bean container and upper burr lift off, so you can clean the grinding chamber with the included brush and wipe down the exterior housing. It's also great because it will not take up too much real estate on your kitchen counter.
4. Best Budget Pick: Krups Coffee Grinder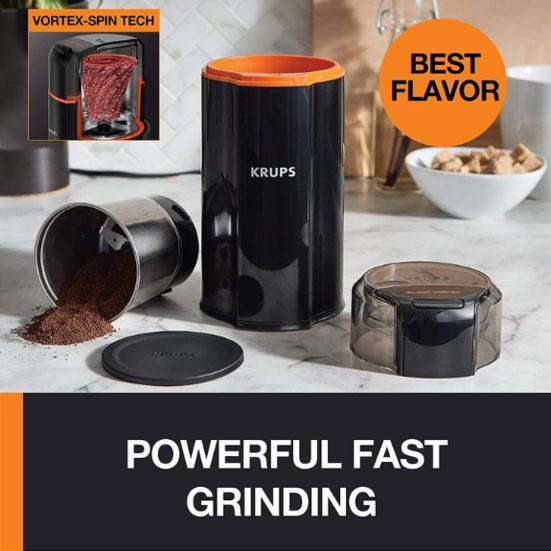 Easy to use
Stainless steel blade
Grinds coffee beans and nuts, seeds and spices
Small cord
Lid can get stuck if not cleaned
No customization options
Key Specs
| | |
| --- | --- |
| Product Dimensions: | 10.16 x 10.16 x 23.19 cm |
| Item Weight: | 798g |
| Material: | Plastic |
This affordable grinder has a simple design with a low profile, and is a go-to option for anyone who wants a basic grinder for coffee beans and spices. The stainless-steel power blade provides fast, even grinding and is also ideal for grinding nuts, seeds and dry spices such as cinnamon, pepper, coriander and more.
Krups' large-capacity grinder holds three ounces of beans, which is enough for up to 12 cups of coffee. There are no settings on this easy-to-use machine to adjust for different grinds; it's all done with a twist of the lid. Simply add whole beans into the top, secure the lid, and press the button on the side of the lid to start. Grind for a few seconds, or for a few seconds more, depending on the desired consistency, so you can control the grind from coarse to fine. When it comes to safety features, the grinder will not start unless the lid is securely in place.
5. Best Low-Noise Coffee Grinder: OXO Brew Conical Burr Coffee Grinder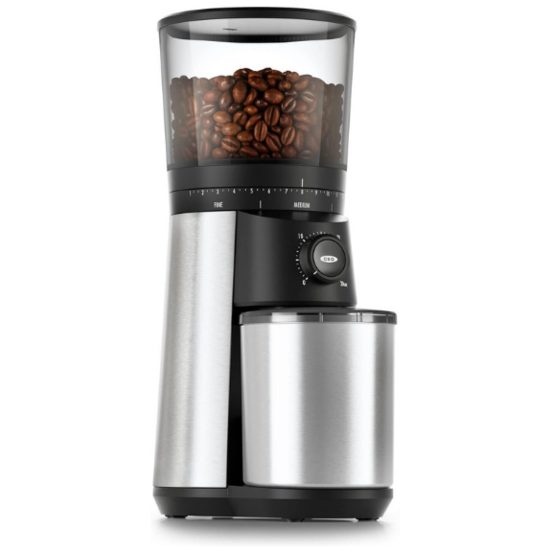 15 grind settings and micro-settings
Low noise, low-static operation
Durable 40-millimetre stainless steel conical burrs
More expensive than other models
Key Specs
| | |
| --- | --- |
| Product Dimensions: | 18.8 x 30.48 x 40.64 cm |
| Item Weight: | 2.04 kg |
| Material: | Stainless steel |
Consistency is key when it comes to the perfect grind. A uniform grind — meaning the beans are reduced to exactly the same size — is necessary for optimal flavour extraction. We included this pricey model from OXO for its simple, intuitive design that delivers consistent grinds, no matter what grinding session you choose.
The success of this model rests primarily on the shoulders of the durable 40-millimetre stainless steel conical burrs and the 15 precise settings, (plus micro-settings) that allow the user to adjust the grind. The one-touch start timer keeps the last setting, eliminating the need to fiddle with the grinder before each use to find the setting or time that works best.
Other features include a hopper that holds ¾-of a pound of beans; a grounds container that accommodates up to 110g, enough to brew 12 cups; and a low static, low noise operation.
6. Best Manual Option: Vucchini Hand Coffee Mill with Conical Ceramic Burrs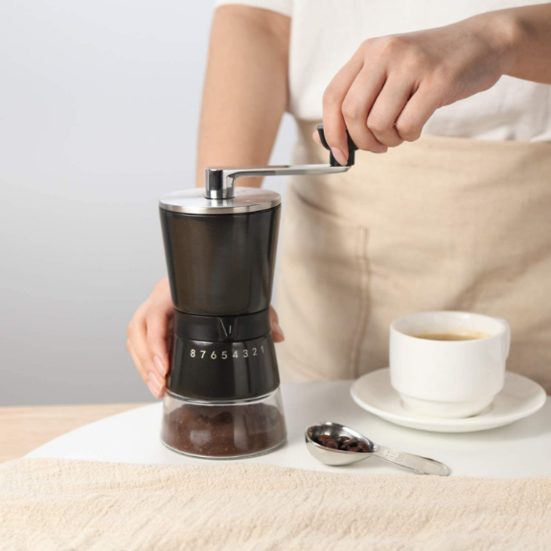 No need for batteries or electricity to work
15 grind settings
Quiet operation
Ideal for camping, travel
Requires a certain amount of strength to turn crank
Takes longer to grind beans than an electric model
Small quantity
Key Specs
| | |
| --- | --- |
| Product Dimensions: | 22.86 x 9.4 x 9.4 cm |
| Item Weight: | 720g |
| Material: | Stainless steel, plastic, glass |
For those times you're out camping and want a cup of brewed coffee made with freshly ground beans but there isn't a power source nearby, you'll want a manual coffee grinder to give you the kind of coffee you woke up craving.
This coffee grinder uses a hand crank and offers a lot of the features you'd find in an electric model, but without the noise. It's a pretty silent operation. What you do get is a choice of 15 grind settings for whatever method of brewing that you're doing, such as French press, Moka pot, pour-over, Chemax or cold brew.
The hopper holds 60g of coffee beans — just remove the handle, pop off the lid and pour in the beans. The ergonomically designed handle makes the grinding easier, helped by a set of smooth-running gears, which work with the ceramic burrs to produce a consistent grind. The grinds drop into a removable glass base that you can cover with the included lid to store your ground coffee. What's more, it's perfect for travel, camping and hiking.
7. Best High End: Breville BCG400SIL the Dose Control Coffee-Grinder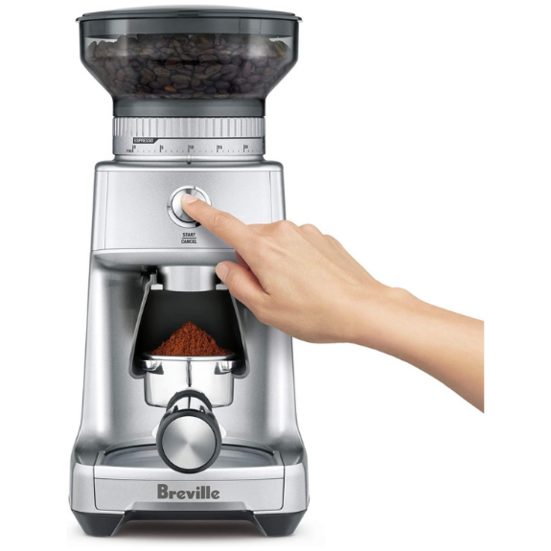 A choice of 60 precision grind options
Pre-set and manual grinding options
Two portafilter holders
Removable grind tray
Pricey
No receptacle to catch grinds
Key Specs
| | |
| --- | --- |
| Product Dimensions: | 25.91 x 20.57 x 40.13 cm |
| Item Weight: | 3.23 kg |
| Material: | Aluminum |
You'll spend a pretty penny for this coffee bean grinder but if you brew different kinds of coffee (think espresso, pour over and a drip) and need precision grinds for each method, you'll get what you're looking for and more.
The Breville Dose Control grinder gives you a huge range of grind sizes so when it comes to precision, you can't get closer than that. The machine doesn't have a bin to collect the grinds once the steel conical burrs get through with them, but you have the option to grind directly into a portafilter (the machine has two portafilter holders, one for size 50-54 and one for size 58s), a reusable filter basket, paper filtre or other container for storage.
The grinding is controlled by time and is set with a dial from 0 to 50 seconds. You can pause the grind, and press the button again to resume. With grind precision, a 340-gram hopper capacity and 12-ounce coffee bean capacity, you're pretty much covered for any kind of brewing system and quantity you need.
What to Look for When Choosing a Coffee Grinder
Looking for the right coffee grinder can be tough, especially if it's your first time buying one. Here are some of the features you should look for:

Grind Settings

The best road to a perfect cup of coffee is to use a quality roast and freshly ground beans. But all coffee makers and brewers are not alike, and require specifically sized grounds for optimal results. The most basic coffee bean grinders are equipped with stainless steel blades and usually work with a manual twist of the lid to crush the beans. There are no grind settings; you basically create the desired grind by grinding for more, or less, time.

For more consistent and accurate grinds, a coffee grinder with different settings will provide grounds that work best in your chosen brewer — for example, a fine grind for a pour-over, another consistency for espresso, and a coarse grind for a French press. For better results, choose a coffee machine with different grinds so that if you change your coffee machine, you won't have to change the grinder.

Generally, the more expensive the model, the more grinding settings there are to choose from.

Types

There are four types of coffee grinders:
Manual coffee grinders
Blade grinders
Conical burr grinders
Flat burr grinders
Most manual models don't require any electricity but you need a certain amount of muscle power to operate. Meanwhile, blade grinders have a stainless steel blade located in the centre of the grinder. While some models are more powerful than others, please note than bladed coffee grinders can produce an uneven grind at times, with some bits and pieces or whole bean pieces left in the mix.
Conical burr grinders have a cone-shaped centre burr with an outer serrated burr to produce consistently well-ground coffee. They often have an energy-efficient and heat-resistant design. Lastly, flat burr grinders have two facing sharp-edged, donut-shaped burrs, and this design keeps the beans between the burrs for a more symmetrical grind.
Each type of grinder has its advantages and disadvantages and the one you decide to choose will depend upon a number of factors such as your budget, how you intend to use the grinder and how uniform you want a grind to be.
Capacity
Each grinder has a different capacity for the amount of beans it holds as well as for the amount of grinds it holds. You will get better flavour from your coffee if you grind only the amount of beans you need for the number of cups you intend to brew. In other words, you may not need a large capacity grinder if you regularly make only one or two cups of fresh coffee at a time. For times when you are entertaining friends and there will be lots of coffee flowing, it pays to have a large capacity hopper and grounds-collection bin.
Leave a Comment
Do you own one of these? Do you agree with the review? Did we miss your favourite coffee grinder? Comment below and let us know!
RedFlagDeals.com is reader-supported. We are a participant in the Amazon Services LLC Associates Program and other similar affiliate advertising programs. These programs are designed to provide a way for sites to earn advertising fees by linking to them. This means that RedFlagDeals.com will sometimes get a small commission if you make a purchase through our links.