The Best Chef Knives
By
Marlene Eisner
February 17, 2021
Cooking is a lot of fun, but a good meal takes time to prepare. Experienced chefs know using the right tool helps get the job done faster, and that means having a good chef's knife, one of the most important utensils in your food prep arsenal. A good chef's knife will become your new best friend, but with so many different types to choose from, it can be hard to tell the good from the bad.
Some of the things to consider when choosing a good chef's knife include: how the blade is made and what it is made of; how easy it is to use; the comfort and design of the handle and how well it fits in your hand; the length of the blade and its sharpness; whether the blade is full tang or not; its durability and of course, the price.
Below, you'll find our recommendations for the best chef's knives, along with information on all the factors mentioned above to make it easier for you to choose the one that fits your lifestyle and needs.
1. Editor's Pick: Victorinox Fibrox Straight Edge 8-Inch Chef's Knife
Pros
Cons

Ideal for all kinds of meat, including roasts
Weighted and balanced for easy handling
Ergonomic handle with a comfortable grip

Not ideal in dishwashers
Not full tang
Key Specs
| | |
| --- | --- |
| Blade Material: | High carbon stainless steel |
| Handle Material: | Thermoplastic elastomers (TPE) |
| Blade Length: | 8" |
If you're looking for that one, all-around great chef's knife to begin your cooking journey, we recommend this 8-inch knife from Victorinox. Expertly crafted with a tapered stainless-steel edge that cuts with ease and efficiency, it is designed to handle any big or small kitchen task you need to get done.
This Swiss-made carving knife has an extra wide, straight-edge blade made from high-quality, carbon steel that is hand finished at Victorinox in Switzerland by skilled craftsmen. It is conical ground lengthwise and crosswise for minimal resistance while cutting, and laser tested to ensure optimum cutting power.
While many knives start out sharp, they can dull easily with repeated use. The razor-sharp edge of this chef's knife rarely needs to be sharpened, so all you get is long-lasting ease and efficiency before it needs to be sharpened. A good chef knife also needs to feel good in your hand while you work through your food prep, and this model doesn't disappoint. The ergonomic handle reduces hand and wrist fatigue and is textured and slip resistant.
2. Longest Life: Dalstrong Chef Knife
Pros
Cons

Tall blade height for knuckle clearance
Forged steel blade

Handle can feel thin
Need additional sharpening out of box
Key Specs
| | |
| --- | --- |
| Blade Material: | High-carbon steel |
| Handle Material: | Pakkawood |
| Blade Length: | 7" |
If you're looking for the ultimate kitchen tool that will last a lifetime, we recommend this 7-inch chef's knife from Dalstrong's Gladiator series. Incredibly razor sharp and full-tang, this chef's knife has an ultra-sharp edge with excellent wear and stain resistance. The blade is precision forged from a single piece of imported premium quality, high-carbon ThyssenKrupp German steel, with a hand-polished edge at 14-16 degrees per side, precisely tempered and stain resistant. It will feel good in your hand as you slice, dice and chop with ease.
Engineered to perfection at 56+ Rockwell hardness and hand polished to a satin finish, the blade is carefully tapered for improved hardness, flexibility, and minimal slicing resistance. The award-winning design offers up a satisfying heft, with a triple-riveted black military-grade pakkawood handle that provides you with a comfortable grip to ensure manoeuvrability.
It comes with a protective sheath to store in when not in use, keeping fingers safe from accidental cuts. This kitchen workhorse will help you slice and dice with minimal effort, maintenance or cleanup, making it your favorite go-to utensil to get the job done right.
3. Most Dependable: TUO Chef Knife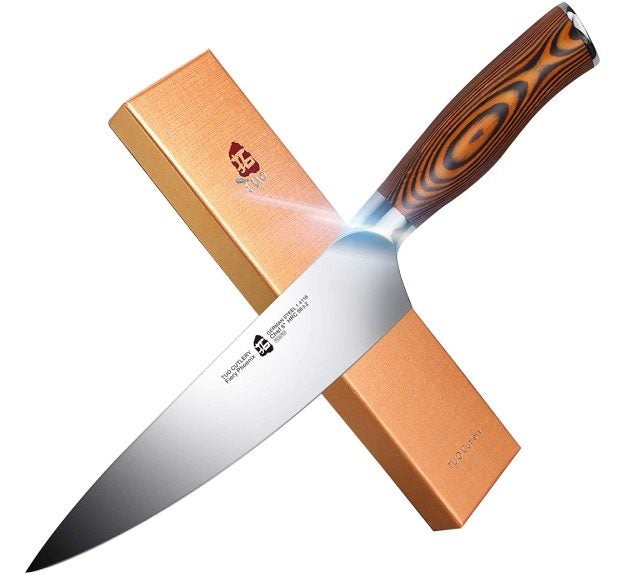 Pros
Cons

Full tang
Comes with knife box

Blade can chip after some use
Key Specs
| | |
| --- | --- |
| Blade Material: | Steel, stainless steel, carbon |
| Handle Material: | Pakkawood |
| Blade Length: | 8" |
The Tuo's Fiery Phoenix Series in 2016 was selected by wiki.ezvid.com as one of the world's best kitchen knives, and this chef's knife was included in part of that accolade. If you're looking for an overall, highly dependable and versatile chef's knife, you may want to seriously consider the Tuo.
The blade is made from adopted German high-carbon, stainless-steel. It's precisely processed with a high-tech, vacuum-heat treatment that gives the blade a hardness rating of HRC56±2. With a comparatively flat-edged blade, the knife tends to be a bit narrower to the tip, which makes it perfect for slicing and push cutting.
The edge on this blade has been hand sharpened by highly skilled craftsmen, using the traditional three-step Honbazuke method, with each side of the blade honed at 18 degrees. The full-tang handle is ergonomically designed for a comfortable hole and great balance, and is made of Pakkawood to showcase the beauty of the natural material. The bolster of the handle is carefully polished for a perfect pinch grip. For superior performance and sharp, clean cuts, you can't go wrong with this knife.
4. Most Versatile: Keemake 6.5" Japanese Chef Knife
Pros
Cons

33 high-carbon steel layers on each side
Triple-riveted handle
Japanese hammered finish design
Key Specs
| | |
| --- | --- |
| Blade Material: | AUS-10 76-layer Damascus steel |
| Handle Material: | G-10 woven fibreglass |
| Blade Length: | 6.5" |
Many home cooks have a collection of chef's knives, each with different blade widths and lengths to handle a variety of tasks. If you're looking for an easy to manoeuvre 6.5-inch blade for your kitchen toolbox, this one from Keemake might do the trick. You may fall in love with the unique hammered pattern on the blade or the small mosaic pin on the handle, but it's the high quality, full-tang Japanese Damascus steel blade and superior cutting performance that make for a long-lasting love affair.
Forged from 67 layers of steel, the knife undergoes a high-tech heat treatment, cooling and hand-honing at a 12 to 15-degree angle, reaching a strength and hardness rating of 60±2 HRC, so it will remain sharp for a long time before it needs to be sharpened. The handle is constructed from military-grade G10 woven fibreglass and is resistant to heat, cold and moisture. With the ideal weight and design, this knife will give you good handle control, a comfortable hold, and agility in cutting and slicing.
5. Honorable Mention: Mercer Culinary 8-Inch Chef's Knife
Pros
Cons

Made from Japanese steel
Ergonomically designed handle

Not full tang
Cheap and requires maintenance
Key Specs
| | |
| --- | --- |
| Blade Material: | High-quality Japanese steel |
| Handle Material: | Santoprene and polypropylene |
| Blade Length: | 8" |
If you're looking for that one great knife to begin your culinary journey but you're on a pretty tight budget, this eight-inch chef's knife by Mercer really makes the cut — literally. With a high-quality Japanese steel blade that will not stain, resists rust and corrosion, this chef's knife will be a dependable kitchen tool if properly cared for. The ergonomic handle is made from a combination of Santoprene for comfort and polypropylene for durability, with textured finger points for a safe, slip-resistance grip.
To maintain the performance of this chef's knife, don't soak or submerge it in water for a long time, or use bleach to clean it, as it can pit and discolour the blade. As well, store the knife in a cutlery block, or cover with a sheath to protect the cutting edge.
What to Look for When Choosing a Chef's Knife — Forged vs. Stamped
Forged: A forged blade involves using a mould and creating the knife from scratch in its liquid metal form. Usually, this kind of blade will run the entire length of the knife from the handle, making it substantial and durable. A forged knife often performs better than a stamped knife, is made of premium materials and is easier to use. A good forged knife will last a lifetime, but they tend to be pricey.
Stamped: Stamped knives are typically machine made and cut from an existing sheet of metal. These knives are generally cheaper, less durable and are often inferior to forged blades. That being said, you can find excellent stamped blades that boast high quality materials, full tangs, and well-designed blades that hold a great edge.
Types of Material Used for Chef's Knives
Material: The blade of a chef's knife can be made from a variety of materials, each of which has its benefits and drawbacks.
Stainless steel: This is a relatively inexpensive metal and is rust-resistant, though the blade dulls easily and can be difficult to sharpen.
High-carbon steel: Pricier than standard stainless steel, high-carbon steel blades are robust and maintain their edge and sheen.
Titanium: These blades can be effectively sharp, relatively light and comfortable to use. However, their flexibility means they're not ideal for cutting dense or hard materials.
Ceramic: A knife with a ceramic blade will maintain its sharpness for a long time and one that is well made is extremely precise. On the downside, they lack the weight and thick heel of other knives and are more fragile than high-end metals.
Japanese steel: Knives made from Japanese steel are very hard, sharp and will hold an edge better. However, they can be less durable and prone to chipping.
German steel: This kind of blade is a bit softer and very durable, but won't maintain an edge for as longer as harder steel, and will need to be sharpened more often.
Other Factors to Consider for Chef Knives
Budget: Like most kitchen items, a chef's knife is available in a range of prices, which is determined by the specific features of a particular knife. Almost every type out there is available in both forged and stamped versions, full tang and not full tang, so it's possible to be selective if you're on a budget. But be aware that a full tang, forged chef's knife made from quality steel will cost more than one that is not.
Use: How you intend to use your chef's knife is important in determining which one is right for you. For example, do you mostly chop food or will you only use the knife for slicing? Are you considering having only one knife to do it all, or do you prefer to own a few that can handle different tasks? A chef's knife with a narrower blade is more suited to slicing, while a broader blade is better for chopping. Curved blades can be "rocked" to cut softer foods rapidly, but they tend to be thinner and less suited to heavy cutting.
If you will be using your chef's knife a lot, then it might be worth investing in one of the highest quality that you can afford so it will last a long time. If you only intend to use the knife occasionally, then you can be a bit more flexible. Some knives come in a box or a sheath. This is done to protect the blade and fingers from getting cut when not in use. If you don't have a box or a sheath, consider storing it in a knife block, so it won't end up damaged in the cutlery drawer.
Maintenance: It almost goes without saying that you should clean and dry your knives after every use. If you've invested in a good one, you shouldn't need to sharpen it too often, however, for proper maintenance and safety, knives that become dull should be sharpened using the appropriate sharpening stone.
RedFlagDeals.com is reader-supported. We are a participant in the Amazon Services LLC Associates Program and other similar affiliate advertising programs. These programs are designed to provide a way for sites to earn advertising fees by linking to them. This means that RedFlagDeals.com will sometimes get a small commission if you make a purchase through our links.