The Best Car Fridges
Table of Contents
During a long road trip, there are few things more satisfying than an ice-cold soda or water. In the old days that meant a cooler filled most of the way with ice and a few cans or bottles in there too. It was hard to store food inside, and even with plastic bags of ice you were likely to end up with a soggy wet mess by the end of the day. But things have changed — entire the car fridge. These portable 12v coolers help keep food and drinks chilly when you're on a long road trip, or if you're taking the kids to their activities — you know how hard it is to stop sometimes. Some even offer freezing capabilities, so you can bite into your favourite ice-cream once you've set up camp.
There are two main types of car cooler: thermoelectric and compressor. There are also absorption-style portable fridges but these only work when totally level — they're really only good for RVs or travel trailers, so we'll ignore them here. Thermoelectric coolers are cheaper, lighter, and often smaller, but they can't be temperature controlled. Compressor fridges can freeze or cool, and you can set the desired temperature. On the downside they're heavier, more expensive, and bulky.
Finding your match will depend on your car and how you think you'll utilize it when you're on the road. Do you frequently drive with a lot of passengers or are you making deliveries from dusk til dawn? Easy access, capacity and depth are key factors to keep in mind. Check out some of the best car fridges to buy this year:
1. Editor's Pick: F40C4TMP Portable Refrigerator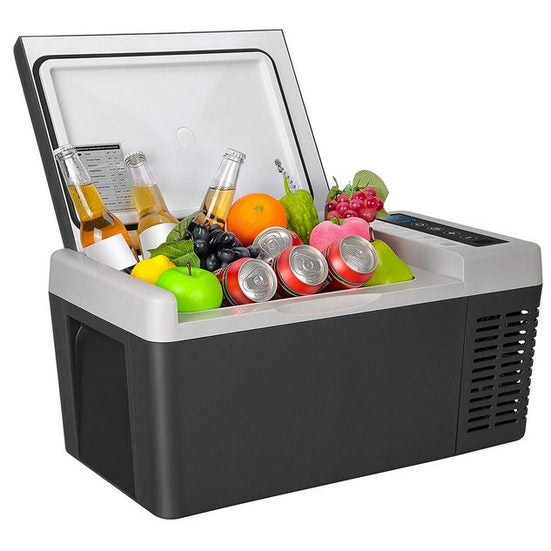 Incredible value
Effective cooling/freezing
Inaccurate temperature display
Unknown brand
Key Specs
| | |
| --- | --- |
| Capacity: | 22L |
| Interior dimensions: | 35 x 25 x 25cm |
| External dimensions: | 57.5 x 31 x 33cm |
| Temperature range: | -22℃ to +10℃ |
This is the most cost-effective compressor style fridge on the market and it's the best option for long-term road trips or weekend camping. This fridge has a range of cooling products available, but you probably have never heard of them. That's probably one reason this unit is so affordable. With a temperature range of -22℃ to 10℃ this unit can easily freeze anything. You can set the temperature to your desired number for consistent cooling, but you should use a thermometer to set it. Many users complain that the readout on the thermostat display is off by a few degrees.
That said, this fridge is capable of maintaining steady and constant pressure in two modes, max, or eco. Max mode is very loud. There's an input for 110/240v household power as well as the 12v input, which can accept 24v from dual-battery or 24v vehicle circuits like those in some RVs. The control panel features a low-voltage shut off so it doesn't drain your vehicle battery. There's also a USB port for charging devices. Uses report that port is a dust trap and would rather forgo it though. The fridge has a memory function so it will reset automatically to the previously set temperature even after it's been turned off and restarted.
You can fit as many as 30 330mL soda cans in the 22L compartment but you have to lay taller bottles on their side. The interior dimensions are 13.78 x 9.76 x 9.8", or 35 x 25 x 25cm (HxWxD). The fridge itself is 22.68" (57.5cm) long, 12.6" (31 cm) wide and 12.99 (33cm) tall. We love this unit because it's one of the most effective fridge/freezers you can buy for your car and easily the best-value compressor type unit going.
2. Runner Up: Chefman Mini Personal Fridge
Too small for more than one person
Door opens sideways
Key Specs
| | |
| --- | --- |
| Capacity: | 4L |
| Interior dimensions: | 12.7 x 12.7 x 19cm |
| External dimensions: | 18 x 23 x 25cm |
| Temperature range: | 0℃ to 60℃ |
Got a six-pack of Coke you want to enjoy cold? Or a great home-made lunch you need to keep warm out on the road? Chefman has you covered. This adorable mini fridge is perfect for delivery drivers or postal workers who need to keep their lunch cool during a long day out on the road. It's a thermoelectric cooler, which means it can be used as a cooler or a warmer.
It will drop the interior temperature by 32℉ or around 16℃ below the ambient temperature. It will be ineffective once the temperature climbs above around 80℉, (27℃) though. At that temperature the interior will be about 11℃. The warmer can keep temperatures up to 140℉ (60℃).
At 4L total interior volume, this is a diminutive rig, measuring 5 x 5 x 7.5" (12.7 x 12.7 x 19cm) inside. It does have a removable shelf to make it easy to separate your lunch items or anything else you need kept cool — including beauty supplies or sunscreen.
This fridge will fit easily between the seats of most cars, or in the footwell, and the door opens outwards — not from the top which makes it tricky to get to when you're on the go. On the plus side, there's a handy carrying handle on top to make it easier to manage on the road. Additionally, it comes with two power cables, one for household power and one for the 12v DC outlet in your car. This is a super handy little lunch box for those of us who pack a meal when it's time to hit the road.
3. Best Thermoelectric: Coleman 40 qt PowerChill
Affordable
Robust build quality
Key Specs
| | |
| --- | --- |
| Capacity: | 38L |
| External dimensions: | 60 x 39 x 43cm |
| Temperature range: | 5℃ to 55℃ |
Coleman is a leading supplier of affordable, high-quality outdoor equipment for camping and road trips. Its 40qt. thermoelectric cooler is no exception. This robust unit features a locking door you can use in upright or top-loading configuration. This will cool your drinks to as much as 40℉ below ambient, or 15 to 20℃ below ambient down to a minimum of 5℃. It can also be used as a warmer in a similar range above ambient temperature.
There's a 12v DC outlet cord included and it's 8 ft. long so you can put the cooler anywhere you like in your car, truck, or SUV with ease. There is an AC adaptor available but you have to buy it separately. I have personally owned one of these for a few years now and had to replace the cable once as the pins wear over time.
At only 8kg this is a lightweight and manageable unit, despite having a large interior capacity. The physical dimensions are not specified for the interior compartment, but exterior dimensions are 23.5 x 15.3 x 17" (60 x 39 x 43cm). The walls are heavily insulated and thick, about two inches (5cm) wide at either side. This is a great option for the occasional camper/road tripper who takes short trips and wants consistent cooling and longevity.
4. Best for Tailgating: Dometic CFX95DZW Fridge/Freezer
Huge capacity
Cool and freeze simultaneously
Key Specs
| | |
| --- | --- |
| Capacity: | 85L |
| Interior dimensions: | 41.6 x 36.6 x 35.5cm (each) |
| External dimensions: | 47 x 96 x 53cm |
| Temperature range: | -10℃ to +20℃ |
When I win lotto I'm going to put a Dometic fridge/freezer in my truck. The company has been around since 1968 building all manner of HVAC and refrigeration devices. It's CF95 is a dual-chamber freezer and fridge with a whopping 85 litres of internal volume. There are two compartments (hence "dual"), one of which wraps around the compressor and control unit in an inverted "L" shape. Both chambers are 14.41 x 13.98" (36.6 x 35.5cm) at the opening. They are both 16.38" (41.6cm) deep at the deepest. You can set the temperature for each independently. Exterior dimensions for this 32kg unit are 18.5"H x 37.6"W x 20.8" D (47 x 96 x 53cm). It's big. Really big. It will hold a total of 133 drink cans. You'd be a tailgating god.
The walls are heavily insulated and built from sturdy ABS plastic, with mock checker plating on the lids. We like the metal-hinged handles that will allow you to lug this thing around for years to come. The CF95 will take AC or DC power and is surprisingly efficient at 1.3aH. Long story short — this Dometic compressor fridge freezer is the ultimate rig for keeping your food and drink cold anytime you're out on the road.
5. Best Affordable Large Capacity: COSTWAY Car Travel Refrigerator
Large capacity
Cools and freezes
Three different levels of battery protection
Energy saving features
Adjustable temperature control
No humidity control so not great for fresh greens and veggies
Heavy
Key Specs
| | |
| --- | --- |
| Capacity: | 60L |
| External dimensions: | 62.23 x 55.88 x 50.8cm |
| Temperature range: | 0.4℉ ---50℉ |
This compressor-style car fridge from COSTWAY may not have as much interior capacity as the ultra-luxurious Dometic model described above, but it has a large 60-litre capacity at a price that you won't have you taking out a second mortgage on your house to afford.
The compressor cooling technology in this fridge gives it the ability to be used as a refrigerator and as a freezer. Fill it up with drinks and food or use it as a freezer to keep your favourite tubs of ice-cream close at hand during your travels, if you are so inclined. The fridge has a temperature range of between -0.4-degrees Fahrenheit to 50 degrees Fahrenheit with easy-to-understand and read digitized temperature controls.
At this size, the fridge is heavy, even when it's empty, so even with the two metal handles on each side, you will need help getting it into your car. And, speaking of your car, unless you travel light, this fridge will take up too much space in a compact vehicle, so it's more suited to an SUV, van or truck. But once you are set up, it will work with a 12-volt car charger and when you get to your destination, you can plug it into a standard 110-volt outlet.
6. Best Budget Pick: VEVOR Car Fridge
Control temperature manually or through an app
Has a USB port to charge your phone
Two handles on both ends for easy carrying
Battery and volt protection
Only has one-zone setting
Key Specs
| | |
| --- | --- |
| Capacity: | 20L |
| Interior dimensions: | 35 × 24.6 × 25.1cm |
| External dimensions: | 59.69 x 32 x 32cm |
| Temperature range: | -4°F to 68°F |
While many of the thermoelectric car fridges are affordable – especially the small-sized ones – they don't offer up the same level of temperature options as compressor-style ones. However, many compressor-style car fridges are quite expensive and out of reach for some people. That's why we have included this compressor-style model from VEVOR that is a decent size and offers up some great features for a reasonable price.
Perhaps the one stand-out feature not found in any of the other models on our list is the ability to control the temperature manually or through an app on your Android smartphone. Download the App ''Car Fridge Freezer'' and you can operate the freezer remotely, plus as a bonus, you can also charge your phone using the USB port located on the digital panel. Genius.
The temperature range is -20℃ to 20 ℃ (-4 ℉ to 68 ℉) but it only has a one-zone design, meaning you can either set it as a cold storage fridge for drinks and food, or as a freezer if you're travelling with ice cream or frozen food. With its powerful compressor, you won't have to wait long for the temperature to dip below freezing.
7. Also Consider: Euhomy Mini 20L Portable fridge & Electric Cooler Car fridge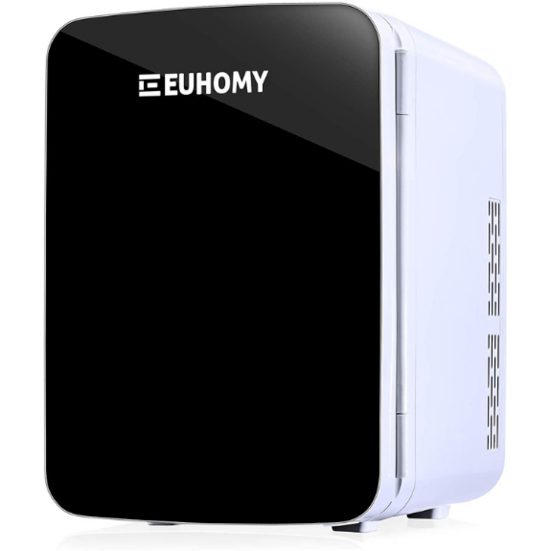 Quiet operation
Cools and warms
Interior, removable shelves
Key Specs
| | |
| --- | --- |
| Capacity: | 20L |
| Interior dimensions: | 13.8'' × 19.2'' × 16.3'' |
| External dimensions: | 19" x 16.5" x 9.84" |
| Temperature range: | 16°F to 149°F |
This is another compact thermoelectric car fridge from a relatively unknown brand that has been getting some pretty positive reviews on its portability and functionality, making it a good contender to consider if you are looking for a decent-capacity mini-fridge for your car.
While it's not small enough to fit snugly behind your front seat, it will fit onto the passenger seat or behind it and plug into your car for cooling and for heating, whichever you may need on your daily travels. With a 20-litre capacity and two removable wire shelves, you've got room to keep a few drinks and snacks cold.
You can adjust the temperature to between 16 degrees and 149 degrees Fahrenheit, and while it's not a completely silent operation, it has been tested at between 28 and 48 db, about the level of a cooling fan on your computer. With two power modes, you can plug it into your car or bring it inside and plug it into a wall outlet. However, this car fridge takes a while to cool, so if you're in a rush, you might be disappointed.
8. Honourable Mention: AWOPEE 11 Can AC/DC Portable Cooler and Warmer Mini Refrigerator
Equipped with a dual-core semiconductor
Operates at 40db
Temperature display is only in Celsius
Key Specs
| | |
| --- | --- |
| Capacity: | 10L |
| Interior dimensions: | 11''× 7.5'' × 6'' |
| External dimensions: | 13.5" x 9.5" x 9.5" |
| Temperature range: | 9°C to 65°C |
This car fridge from AWOPEE uses dual-core semi-conductor technology to provide more effective cooling, and you can also adjust it to provide heat. It's not from a well-known brand, but we think it deserves mentioning since it is reasonably priced, and although it's not a true budget pick, it has a 10-litre capacity and is a good option for day travel when you want to keep drinks, a sandwich and some snacks cold while you're driving around.
The car fridge is easy to use, with no fancy bells or whistles. Set the temperature by plugging it in and turning it on. Press the settings icon on the front door to display the lowest temperature, then use the up and down buttons to find the temperature you want. It's as simple as that.
You can set it to between 9 degrees 65 degrees Celsius but with this car fridge, keep in mind that the ambient temperature of your car will affect the interior temperature of the fridge by 15 to 25 degrees higher or lower than the ambient temperature. This is not a big deal, just something to keep in mind.
Thermoelectric Car Fridges
We've touched briefly on the fact there are two types of car fridges, thermoelectric and compressor. Here's a more detailed breakdown of the differences:
Thermoelectric coolers work by pushing a current through a special type of junction. Heat is pulled from one side and builds on the other. The cooling fan you see in these units pulls the hot air off the junction and helps vent it to the air — but it doesn't actually cool the air inside the unit. You'll notice that this style runs constantly and draws a steady rate of power from your battery, generator, or AC outlet. They can only work within a certain range of the ambient temperature. On the plus side, they're lightweight, affordable, and can be used as both a cooler and warmer, though not at the same time. Thermoelectric coolers are slower than their compressor counterparts. You can use ice in a thermoelectric cooler to help bring it down to a lower temp more quickly.
A compressor manages the flow and pressure of the refrigerant solution inside the unit to cause it to distribute heat. As the fluid is compressed it heats, and that heat is trapped by the condenser, transferring it from inside the system to the outside. These units can be louder than thermoelectric systems when running, but they don't run as often. You can also set these systems to maintain a precise temperature, because they can open and close the flow of refrigerant according to the changes in temperature inside. These units are more expensive because they're more complex and have more moving parts. On the plus side they can freeze to extreme levels, as well as managing precise climate for your foodstuff. They can't be used as a warmer, only a refrigerator.
These will also keep your items cooler for longer when shut off. That's because they're traditionally better insulated and more efficient at maintaining temperature than thermoelectric coolers. For the same reason they draw less power than their non-compressor cousins.
Leave a Comment
We're always looking for more feedback! If you own any of these items and would like to share your experience, please comment below!
RedFlagDeals.com is reader-supported. We are a participant in the Amazon Services LLC Associates Program and other similar affiliate advertising programs. These programs are designed to provide a way for sites to earn advertising fees by linking to them. This means that RedFlagDeals.com will sometimes get a small commission if you make a purchase through our links.