The Best Canister Vacuums
Table of Contents
Cleaning your home is probably something you don't look forward to doing on a daily basis. Scooping up the dirt, the dust, and human and animal hair that can accumulate on your floors, carpets, curtains, and mats is a necessary evil though, and a good canister vacuum is probably one of the easiest ways to make quick work of a chore few people enjoy.
The one you choose will become one of the most important tools in your cleaning arsenal. What should you look for in a canister vacuum? Well, it should be powerful enough to suck up the kind of dirt that is specific to your home, without stalling or overheating. If you have a large home, the size of your vacuum will matter greatly, so pay close attention to the capacity it holds. Other factors to consider are: the weight of the vacuum for easy handling; the length of the cord and hose, the surfaces it cleans; and, the attachments it comes with to handle various upholsteries and curtains.
Below, you'll find our recommendations for the best canister vacuums, along with information on how they work and how to determine which one will work the best for you.
1. Editor's Pick: Eureka Whirlwind Bagless Canister Vacuum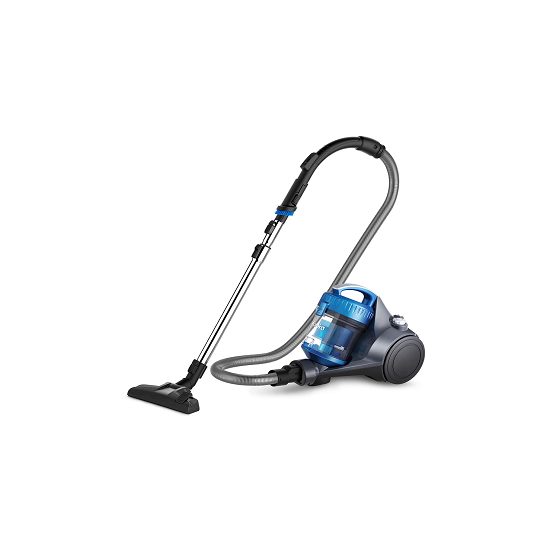 Lightweight
Large dirt cup
Cyclone filtration system
Key Specs
| | |
| --- | --- |
| Item Weight: | 8.29 lbs. |
| Dirt Capacity: | 3L |
| Cord Length: | 16 ft. |
| Rectractable: | Yes |
This bagless canister vacuum from Eureka is a step up from the Bissell Zing in price and functionality, and is still lightweight and affordable for anyone looking for an easy-to-use cleaning solution for their floors, carpet and upholstery.
Weighing just over 8 lbs., it's easy to manoeuvre this machine under and around furniture and stairs due to its swivel steering and telescoping metal wand. At the same time, an integrated airflow control on the handle lets you flip a switch to choose how much suction you need for specific tasks using one of three settings: carpet, upholstery, or hard floors.
A two-in-one crevice tool is integrated into the hose handle so it's at your fingertips whenever you need it. Disconnect the handle from the hose to switch between a crevice tool and the dusting brush. Each part securely locks into place with a snap; the hose, tube, and brush include a locking fit so that everything can be easily attached and detached.
The large three-litre dust container means more cleaning before it has to be emptied and the filter is washable so you don't have to spend extra on dirt bags or filters. The 16-foot cord lets you travel farther within a room without changing outlets, and when you're done there's no fussing about winding the cord around the machine's body as it will automatically retract back into the machine. This canister vacuum is also ideal for cleaning baseboards, sofas, hard-to-reach areas, carpets, upholstery, and floors.
2. Runner Up: Bissell 1547 Hard Floor Expert Multi-Cyclonic Bagless Canister Vacuum
Suitable for hard floors and carpets
Touch free, no-mess disposal
Compact and lightweight
Automatic cord rewind
Low quality plastic hose connection
Key Specs
| | |
| --- | --- |
| Item Weight: | 8.3 lbs |
| Dirt Capacity: | 2L |
| Cord Length: | N/A |
| Retractable: | Yes |
No one wants to have to lug around a big vacuum up and down stairs, and with this Bissell 1547 Multi-Cyclonic Bagless Vacuum, you don't have to. Thanks to its large wheels and compact design, you can move easily from room to room. It also weighs around 8 lbs. and features a large handle that makes it easy to carry when necessary.
What's more, it has a telescopic extension wand, a dual-motorized carpet and floor nozzle, so you can experience powerful dirt and hair suction in hard to reach places while still protecting your floors, no matter the material.
3. Best High End: Miele Compact C1 Pure Suction Powerline Canister Vacuum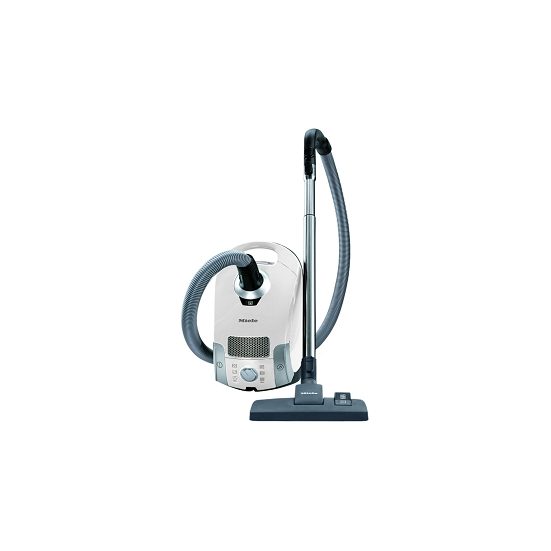 Wide cleaning radius
Ideal for cleaning pet hair
Has an air filtering system
Powerful motor and suction
More expensive than other models
Uses dust bags that need to be replaced
Key Specs
| | |
| --- | --- |
| Item Weight: | 14.8 lbs. |
| Dirt Capacity: | 3.8L |
| Cord Length: | 18 ft. |
| Retractable Cord: | Yes |
For a canister vacuum that offers up more power, functionality, and the ability to filter the air as you clean, we recommend this model from Miele. It's equipped with a rug and floor combination nozzle that is designed to clean all low-pile carpeting and hard floors.
Using a 1,200-watt vortex motor, this machine works to increase power efficiency to the level you select for each task. You can easily adjust the suction power to accommodate the surface being clean using the six settings on the rotary dial located on the vacuum. Not only will this machine clean your floors, but it also has an air filter system, motor protection filter, and AirClean exhaust filter that work together to ensure maximum filtration.
Accessories that come with the vacuum include: a dusting brush, an upholstery tool, and a crevice tool — all of which are suited to clean those hard-to-reach places.
4. Best Commercial: Hoover CH30000 PortaPower Canister Vacuum
Lightweight
Extra wide cleaning path to cover more area with fewer passes
Stretch hose to clean ceilings and hard to reach places
Comes with a shoulder strap for easy portability
Attachments are difficult to remove
Key Specs
| | |
| --- | --- |
| Item Weight: | 8.3 lbs. |
| Cord Length: | 33 ft. |
| Retractable Cord: | N/A |
If you own a large property, a few rental units, a small motel, or a cleaning company, you understand the importance of owning a reliable canister vacuum that can be handled by anyone regardless of their strength. This commercial model from Hoover, a reliable name in vacuum cleaners, is lightweight option that's easy to carry around when cleaning multiple rooms.
This canister vacuum can clean tight and large spaces and can be used for close cleaning and detailing as well as for travelling long distances like hallways with its 33-foot-long power cord. Now you can vacuum stairways, down halls, and around sharp corners with ease.
With its built-in blower, you can power away loose debris and then use the vacuum to clean hard-to-reach places such as draperies, upholstery, and inside vehicles. This versatile machine can use both a reusable commercial cloth bag and a paper dust bag, allowing you to switch and alternate between cleaning jobs. For example, use a cloth bag with sharper objects and a paper bag for dust, hair and dirt.
5. Best Deep Clean: Ovente ST2620B Bagless Canister Cyclonic Vacuum
Suitable for cleaning hard floors, carpets and mats, furniture, pet beds, and curtains
Bendable, adjustable telescopic stainless steel wand
Crush-proof hose with airflow control on the handle
Dustbin requires frequent cleaning
Key Specs
| | |
| --- | --- |
| Item Weight: | 13.2 lbs. |
| Cord Length: | 16.4 ft. |
| Retractable Cord: | Yes |
There are canister vacuums that pick up dirt and hair, and there are models that go the distance for a deeper cleaning. This model from Ovente offers up 1,400 watts of power in a vacuum that is equipped with a HEPA filter that will effectively suck up and trap 99.7 percent of the dust mites and allergens on your floors and carpets that are up to 0.3 micrometres in size.
The unit comes with different attachments — a floor nozzle with two settings, a crevice and bristle brush, a furniture nozzle, a pet/sofa brush, and a multi-angle brush. The variety of the attachments helps you more effectively clean almost every part of your house, from hardwood floors and tiles, furniture and curtains, to hard-to-reach ceilings and the top of furniture.
You are also able to choose the level of suction and regulate how much power you use; minimum suction for collecting dust without disturbing the environment and the maximum suction setting for heavier cleaning work. And with a transparent dust compartment, you can see when the dust container and filter are full. Just empty the container and clean the filter, and the vacuum is ready to use again.
6. Best Multi-Surface: Kenmore 81214 Multi-Surface Bagged Canister Vacuum
Ideal for those with allergies or pets
Automatic cord rewind
Quick nozzle transitions
Key Specs
| | |
| --- | --- |
| Item Weight: | 22.6 lbs |
| Dirt Capacity: | N/A |
| Cord Length: | 24 ft |
| Retractable: | Yes |
Thanks to its powerful HEPA filtration system, two-motor system and multiple head attachments — this Kenmore canister vacuum can remove dust bunnies, pet hair, and much more on multiple surfaces to help you keep your house in tip-top shape.
This Kenmore 81214 Multi-Surface Bagged Canister Vacuum comes equipped with two different nozzles and 3 extra on board attachments — a dusting brush, crevice tool, and a bare floor tool — to give you a powerful clean on all of your carpets, hard floors and upholsteries. It's 24 ft. long cord allows for great maneuverability, while it's four height adjustments allow you to get into every nook and cranny for an exceptional clean.
Moreover, this lightweight canister vacuum features a triple HEPA filtration system, making this a great option if you suffer from seasonal allergies or have a few fluffy friends running around.
7. Best Durable: Dyson Big Ball Canister Vacuum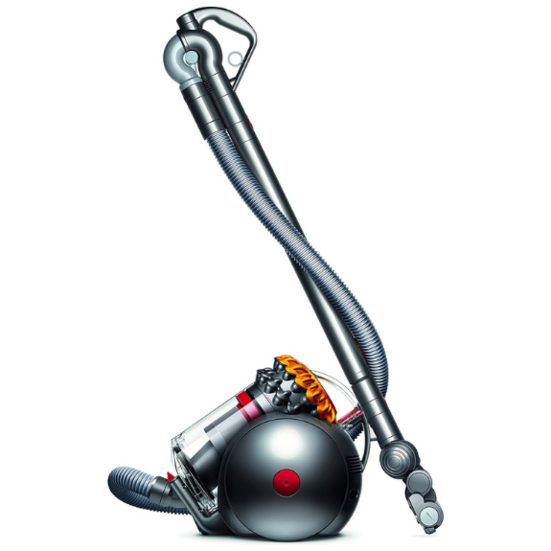 Hygienic bin emptying system
Certified asthma and allergy friendly
Powerful motor and suction
More expensive than other models
Dustbin requires extra cleaning
Key Specs
| | |
| --- | --- |
| Item Weight: | 17.64 lbs. |
| Dirt Capacity: | N/A |
| Cord Length: | 19 ft |
| Retractable: | Yes |
Dyson products are well loved, and for good reason. With new and improved designs constantly hitting the market, their technology is always pushing forward the industry standards. The same can be said about this handy little ball canister vacuum.
Odds are you've had to deal with a toppling vacuum one or twice before; you try to reach a difficult corner and the whole vacuum topples over. Unlike other clunky models, this Dyson Big Ball vacuum picks itself up. Thanks to its internal ball technology, this vacuum can easily move and turn on the spot and right itself so you can effortlessly clean your carpets and hardwood floors with minimal effort.
8. Best Portable: Atrix AHC-1 Turbo Red Canister Vacuum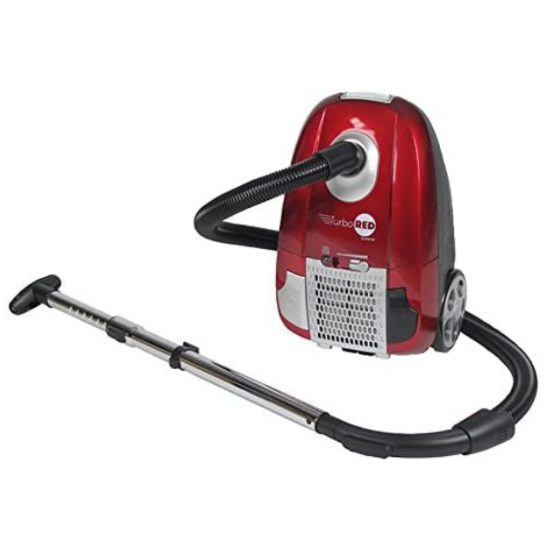 Lightweight and portable
Suitable for hard floors and upholstery
Adjustable telescopic metal wand
Three adjustable speeds
Tips over easily
Short power cord
Key Specs
| | |
| --- | --- |
| Item Weight: | 10.9 lbs. |
| Dirt Capacity: | 6 qt |
| Cord Length: | 36" |
| Retractable: | No |
When large, heavy-duty models aren't what you're looking for, this portable and lightweight canister vacuum from Atrix is a great alternative. Packed with six HEPA bags and a handful of interchangeable heads, this small canister vacuum will get the job done.
This 6 qt. Atrix AHC-1 Turbo Red Canister Vacuum is the perfect portable vacuum to easily clean your home or office space. Its HEPA bag filtration system ensures pollen, dander and dust are safely trapped inside. You don't have to guess when the bag is filled, an indicator light flashes red to let you know when it's time to make the change.
Thanks to its three speed variable function, you can switch from cleaning your carpets to hardwood floors with ease. And although this machine may be small, its hose features 17 different height adjustments so you can access those hard to reach corners with ease.
What to Look for When Choosing a Canister Vacuum
Size and Weight: There's no use purchasing even the best canister vacuum on the market if it's too heavy for you to move around your house. Check how much it weighs before considering it for purchase. That way, you'll be able to wheel it easily around from room to room and up the stairs without injuring yourself.
Use: Once you've determined the size and weight, think about what you will use it for. If your house is carpeted and you have pets, then you'll want something strong enough to suck up the hair without it getting clogged or the brushes becoming twisted. If you have a home with hard floors, wall-to-wall carpets and area rugs, then you'll need a model that can handle all of these surfaces. Look for one that has a system that is easy to switch from one mode to another.
If you also want to be able to vacuum hard to reach places, whether that is under furniture or ceilings, the top of shelves, the blades of a ceiling fan, or curtains and upholstered furniture, make sure the vacuum you choose has all the right attachments to get each job done. This would include a long enough hose, a swivel head to reach around corners and the legs of tables, as well as specialized brushes.
Bags or No Bags: Some canister vacuums require you to use bags that you attach while vacuuming and detach and empty when they are full. Often you have to use only the name-brand bags that fit your specific machine. These have a larger dirt capacity than a bagless cup or container model, so they have to be changed less frequently, but purchasing the bags is an added expense.
A bagless model is convenient, though, because you never have to postpone your cleaning if you've run out of bags. However, most bagless canister vacuums have smaller dirt capacities which means they have to be emptied more often. Still, you do save on having to purchase separate bags.
Leave a Comment
We're always looking for more feedback! If you've purchased one of the items on this list and would like to share your experience, please comment below and let us know what you think about our picks.
RedFlagDeals.com is reader-supported. We are a participant in the Amazon Services LLC Associates Program and other similar affiliate advertising programs. These programs are designed to provide a way for sites to earn advertising fees by linking to them. This means that RedFlagDeals.com will sometimes get a small commission if you make a purchase through our links.