The Best Can Openers
Table of Contents
Whether you are starting out or have just discovered your trusty can opener will no longer do its job, it's hard to imagine not having one in your kitchen. Canned food has long been a staple in many pantries, especially now during the global pandemic. If you haven't purchased a can opener in a few years or still have the one you 'borrowed' from your parents' house, you may be pleasantly surprised to learn this indispensable little contraption has come into its own.
Gone are the days when a hand-crank model needed a measure of strength to just pierce the can; never mind turn the handle for a slow plunge around the lip of the tin lid. These days, can openers come in a range of models and styles. From basic to designer-look to manual to electric: there's a plethora of models to choose from. You can find one that fits into your backpack, the kitchen drawer, on the counter or even attached to the wall.
Picking the right one comes down to how much you want to spend and how you intend to use it. Below you will find a list of our recommendations for the best can openers, along with information on how they work, what they are made of, and the tasks they perform.
1. Editor's Pick: Hamilton Beach Touch Can Opener
Easy to use
Cuts lids off from the side
Needs electricity to work
Takes up space on the counter
Key Specs
| | |
| --- | --- |
| Item Dimensions (LxWxH): | 11.9 x 12.7 x 25.9 cm |
| Item Weight: | 1.42 kg |
| Power Source: | Electric |
For a top-brand can opener, we start our list with a stylish electric can opener. The attractive chrome and black slim design will look nice on your kitchen counter and add a touch of panache to the space.
Ease and safety are the name of the game with this electric can opener. Opening the top of a can often results in sharp, jagged edges that can cut into fingers and hands. With the Hamilton Beach Touch Can Opener, the blade cuts on the side of the can to remove the top, leaving a smooth edge behind. Cutting from the side also minimizes the blades coming into contact with the food and also prevents the contents from splashing or seeping out from the top. This is an easy, mess-free method to open cans.
This opener works on cans of any size, including pop-tops. The large, ergonomic lever makes it easy to operate and it takes little grip strength or effort to make it work. First, you place the can against the front of the can opener until the rim is under the cutting mechanism. Then, hold down the lever until the blade makes only.
2. Runner Up: Zyliss Lock N' Lift Can Opener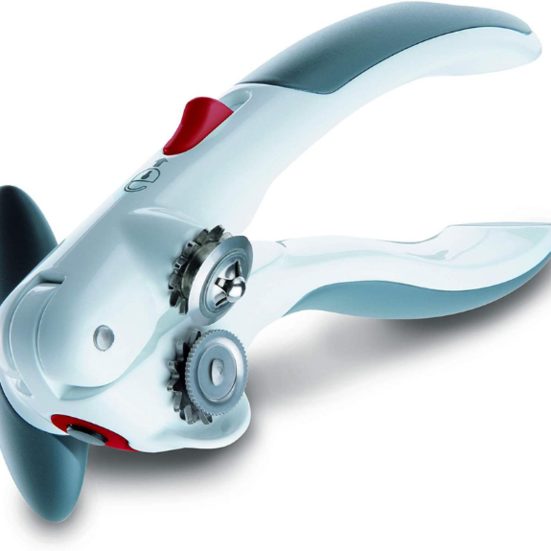 Comfortable grip
Does not need electricity to work
Compact size to fit in a drawer or backpack
Manual mechanism may be difficult for anyone with hand injury or arthritis
Key Specs
| | |
| --- | --- |
| Item Dimensions (LxWxH): | 5.1 x 8.9 x 19.1cm |
| Item Weight: | .23g |
| Power Source: | Manual |
Electric can openers are great and easy to use, but sometimes it's good to also have a manual one for those times when the power goes out and we still need to eat, or we're out camping and hey, no power outlet. This model is a manual can opener that will take the lid off cans of all sizes and is so intuitive; it seems as if the makers have really thought of everything to make it safe to use.
Your hands will feel naturally comfortable holding the can opener by the soft touch grippers. They will not bite into your skin or tire your hands from maintaining a grip. You can lock into cans of any size; just adjust the lever to 'lock' in the can and it holds on tightly. You don't have to maintain a firm grip the whole time.
The large handle turns smoothly and when you're done, at the touch of a button, you can release the locked opener from the can. The attached magnet lifts the lid off the can, and at the touch of another lever, the lid is released so you can dispose of it when you are ready. You don't even have to touch the lid. The blade material is made of stainless steel, and to prolong the life of the can opener, it's best to hand wipe only; do not submerge it in water.
3. Best Electric Can Opener: Kitchen Mama One Touch Electric Can Opener
Battery operated
One-touch operation
Battery cover hard to open, which may be difficult for anyone with arthritic hands
Key Specs
| | |
| --- | --- |
| Item Dimensions (LxWxH): | 12 x 7 x 5 cm |
| Item Weight: | 200g |
| Power source: | Battery operated, four AA batteries not included |
An electric can opener is so easy to use, right? But for many people with arthritis or other issues with their grip, fingers or hands, even the simplest electric model may be too difficult to use. That's why we included this battery-operated model that takes absolutely no strength at all to operate.
Powered by four AA batteries and Assistive One-Touch technology, anyone can easily open any size can with the touch of a button. This can opener cuts along the side of a can 360 degrees around the lid and shuts off automatically when it's done. It leaves no sharp edges and does not touch the food inside the can.
4. Best Easy-to-Clean Can Opener: Cuisinart Deluxe Can Opener
Power cut blade
Opens any size can
Single touch operation
Key Specs
| | |
| --- | --- |
| Item Dimensions (LxWxH): | 11.43 x 11.68 x 24.13 cm |
| Item Weight: | 1.02 kg |
| Power source: | Electric |
This electric can opener has everything you have come to expect, including its stylish chrome accents and elegant contours that will fit well into your modern kitchen décor.
The Cuisinart Deluxe Can Opener has a single-touch operation that makes fast work of any size can. The power-cut blade safely and cleanly slices through the metal, and the magnetic lid holder is attached to the removable arm to make clean up easy. And when it's done cutting through the lid, it automatically shuts off.
The Cuisinart quality engineered motor system ensures a quick operation every time. Equipped with a sturdy base, you don't have to worry about the can opener tipping or sliding when you are using it. And when it comes to keeping it clean, the activation lever can be removed so you can wash out any food or gunk that gets stuck to the blade.
5. Best Multi-Functional Can Opener: Kuhn Rikon Auto Safety Master Can Opener
Lightweight
Multi-functional
Stainless steel cutting mechanism
More expensive than other manual models, the extra functions may not be worth the price for some people
Key Specs
| | |
| --- | --- |
| Item Dimensions (LxWxH): | 20.65 x 6.68 x 6.68 cm |
| Item Weight: | 113g |
| Power source: | Manual |
Sometimes you want a can opener to do just that — open cans. Other times, you're looking for an item that is multi-functional. It will open cans and perform other handy functions as well. This Swiss-designed manual can opener is sturdy and easy to use.
To this model as a can opener, you position the front-facing turning knob so that it points at both 11 o'clock and 5 o'clock. Note that the two gears underneath will be apart in the open position. Place the can opener on top of the can with two half-circles lined up with the rim of the can. Twist the knob clockwise. The opener will automatically grip the lid and begin the opening process. After a complete circle, you will feel less resistance and you can stop turning, as the can will be open. To release the can opener, turn the knob counter-clockwise.
Here's where it gets interesting. The lid will not look open, but it is. You need to use the mini-pliers or pincers on the side of the opener. Push the button on the opposite side, grip the rim of the lid between the mini-pliers and lift the lid away from the can cleanly and easily. This handy little tool also opens jars, crown-cap cola and beer bottles; has a 'beak' that slides into the loop of ring-pull cans to easily open this style of can; and has a knack for opening water bottles.
6. Best Wall-Mount Can Opener: Swing-A-Way Magnetic Wall Can Opener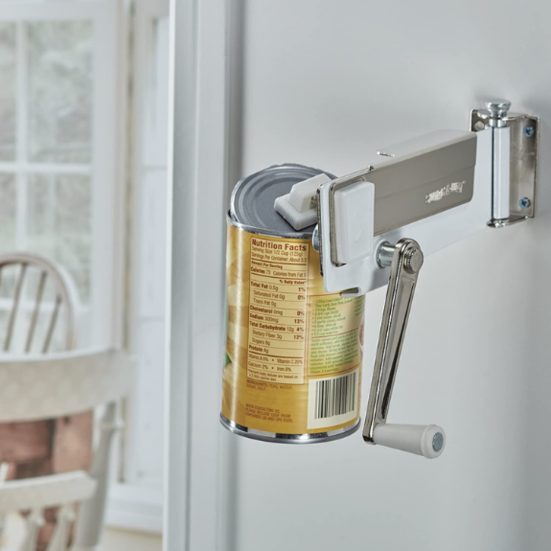 Space saving
Wall mounted and swings either left or right
Key Specs
| | |
| --- | --- |
| Item Dimensions (LxWxH): | 17.5 x 7.5 x 7 cm |
| Item Weight: | 431g |
| Power source: | Manual |
Living in a small space is no joke; it takes care and thought to equip your home with the necessities and with luxuries. If you have a tiny kitchen, or you spend lots of time in an RV or at the cabin, there may not be enough room for a can opener on the counter, or even in a drawer. That's where this great wall-mount model comes in handy.
This Swing-A-Way can opener easy mounts to a wall, saving valuable drawer and counter space. It locks into three positions and swings left or right when not in use to hug the wall, conveniently out of the way.
It is constructed from durable metal, with a high-carbon, gear-driven cutting wheel and skip-proof feed for smooth and easy usage. An integrated magnet safely lifts the lid off the can. The handle is easy to use, even for people suffering from arthritis or hand or grip issues. The opener can accommodate most can sizes and comes with mounting bracket and screws. A great can opener for the cottage, there's no need to worry about a power failure. This one will work every time.
7. Best for Beer: The Draft Top Original Beer Can Opener
Portable
No batteries or electricity needed
Designed for beverage cans
Not suited for cans of food
Key Specs
| | |
| --- | --- |
| Item Dimensions (LxWxH): | 17.4 x 10.1 x 2 cm |
| Item Weight: | 88g |
| Power source: | Manual |
Remember all those times you wanted to remove the whole top of that beer (or soda) can to open it up wide to add some ice but instead had to settle for a warm beer sipped through the tab opening? This can opener is specifically designed to save the day for beer drinkers as it will quickly and easily remove the top of a beer can.
The Draft Top opens cans quick and clean, leaving a smooth edge so you can enjoy your beverage without worrying about sharp edges or aluminum slivers. The can opener will fit most eight to 16-ounce beverage cans from beer and canned wine to iced coffee, soda, seltzer and energy drinks.
Small and portable, simply snap the handle closed and pop it in your pocket or purse to take anywhere you want to go.
8. Best for Arthritic Hands: BangRui Smooth Soft Edge Electric Can Opener
Suitable for left and right-handed use
Battery operated
One touch, hands-free operation
Battery cover can be difficult to remove
Batteries not included
Key Specs
| | |
| --- | --- |
| Item Dimensions (LxHxW): | 17.9 x 6.9 x 6.25 cm |
| Item Weight: | 238 grams |
| Power source: | Battery operated |
If your hands are stiff and painful from arthritis, you know how difficult it can be to open a bottle or use a traditional manual or electric can opener. This hands-free model from BangRui allows anyone with grip issues or painful hands to easily open cans with the push of a button.
Powered by four AA batteries, the can opener is made of durable, safe and solid ABS and alloy steel. Designed with safety grooves, a recessed blade and sliding gears, your fingers will be protected from any accidents. As well, the can opener cuts only the inner side of the lid, leaving the edges smooth and sealed.
The can opener is easy to operate, too. You press the button to move the cutter around the top of the can so it can slice through the metal, and then turn off the switch when the lid is fully detached. When you lift the can opener, the lid will automatically attach itself to the magnet on the can opener for an easy release. The can opener is suitable for cans of various sizes, except for cans that have no edges or are a special or unusual shape.
What to Look for In a Can Opener
There are three kinds of can openers available to purchase online: manual, electric and battery operated. In terms of functionality, these three different power modes of operation do the same thing; they cut open the lid from cans. That being said, each one does it differently, with you expending a lot, or a little energy in the process.
Electric can openers are very popular. They plug in and are easy to use, with the internal motor of the opener moving the can around under a blade to cut through and remove the lid. Generally speaking, an electric can opener is the largest of the three modes and sits on the counter. If you are short of space, then this might not be what you're looking for. As well, the machine will not work in a power failure.
Manual can openers are the original ones that hit the market over a century ago and have changed in design and functionality since they were first invented in the U.S. around 1858. From basic metal ones to enhanced designs with easy-grip, ergonomic handles, they work on most can sizes and do the job well. They do require a certain amount of physical strength to operate, and can be difficult to use for anyone with arthritis, issues with grip, their fingers or hands, or an injury. They are, however, portable, easy to fit into a drawer or backpack, and do not need electricity to work.
Battery operated can openers are the best option for anyone with painful hands. These little contraptions hook onto the side of a can and with a push of a button, move around the top on their own until the lid is cut 360 degrees. And because they run on batteries, you can use them anywhere.
Leave a Comment
We're always looking for more feedback! If you own one of these items and would like to share your experience, please comment below!
RedFlagDeals.com is reader-supported. We are a participant in the Amazon Services LLC Associates Program and other similar affiliate advertising programs. These programs are designed to provide a way for sites to earn advertising fees by linking to them. This means that RedFlagDeals.com will sometimes get a small commission if you make a purchase through our links.