The Best Camping Chairs
Table of Contents
Why sit down on the hard ground or a stump or a rock when you can plop yourself into a comfortable chair? Camping chairs have become an essential piece of equipment that can transform your outdoor activities.
Heading to an outdoor concert and don't feel like sitting on wet or muddy grass? Low-seated camping chairs can keep you comfortable without blocking the view of the people behind you. If you love backpacking and want a reliable seat to take a rest or enjoy your lunch, some small, lightweight camping chairs can fit in your backpack so you don't have to lug around a big chair all day. No matter what plans you have in store, camping chairs come in all sorts of shapes, sizes, weights and designs so you can find the best camping chair for you and your needs.
To narrow down your search, think about where you plan to use your chair. Are you sitting around a fire in your backyard or at a campground? Are you hiking through the backcountry? Knowing where you're going to use your chair will help give you a better idea of the design, size, and features you need from your camping chair. For a breakdown of some key factors to consider when looking for a camping chair, head down to the bottom of the article:
1. Editor's Pick: Coleman Camping Chair with Built-in 4 Can Cooler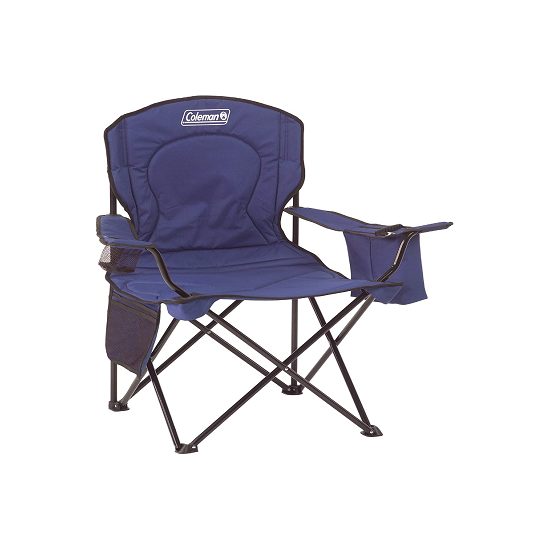 Extra mesh pocket
Insulated cooler
Includes carrying bag
Comfortable
Wide seat
Key Specs
| | |
| --- | --- |
| Frame Material: | Steel |
| Seat Height: | 18.1" |
| Weight: | 7.75 lbs. |
| Max. Weight: | 325 lbs. |
Perfect for casual or avid campers, this basic camping chair is made from high-quality steel and cushioned seats to give you a comfortable chair made to last.
This Coleman oversized quad chair is the perfect balance between functionality and comfort. Its fully cushioned seat and backrest gives your body a soft place to relax while its sturdy steel frame keeps you supported season after season. You can keep all of your belongings safe and within arms reach — thanks to its handy side mesh pocket, which perfect for storing your phone, wallet, keys, or a snack. With a cup holder built into the armrest and an additional insulated pouch, it's the perfect chair for campgrounds and parks.
2. Runner Up: AmazonBasics Portable Camping Chair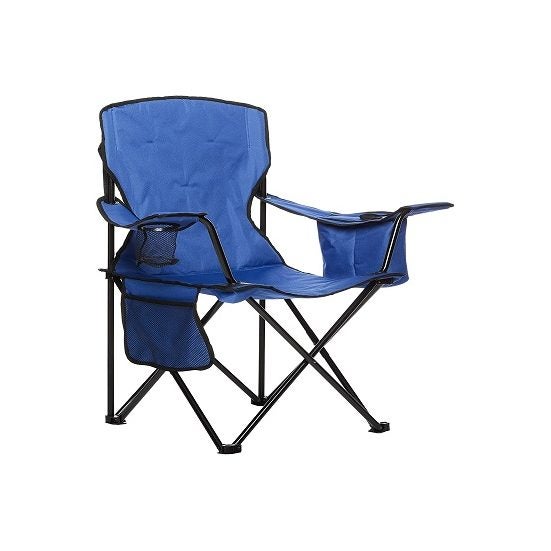 Includes mesh side pocket
Insulated cooler
Includes carrying bag
Portable
Short shelf life
Low quality hinges
Shallow cup holder
Key Specs
| | |
| --- | --- |
| Frame Material: | Alloy steel |
| Seat Height: | 19" |
| Weight: | 6.7 lbs. |
| Max. Weight: | 200 lbs. |
Similar in design to the Coleman chair, this AmazonBasics portable camping chair provides you with the same extra features at half the price. This is a great option if you just plan on using it a couple times a year. Despite its weight, it has a cup holder in the arm rest, a side mesh pocket and a beverage cooler pouch, making it great for casual campers, backyard events, or tailgating. Buy this padded camping chair if you're looking for one with a built-in cooler. It's a solid option that will give you the most bang for your buck.
3. Best Portable: Trekology YIZI GO Portable Camping Chair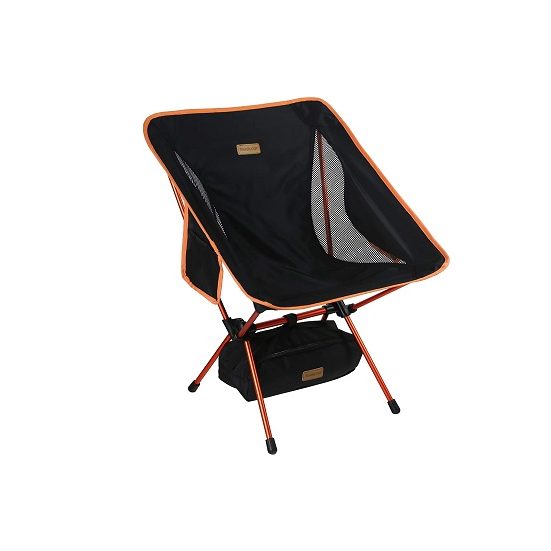 Lower back support
Three adjustable seat heights
Easy to set up
Side mesh pocket
Portable
Sand pad sold separately
May be difficult to get in/out
Key Specs
| | |
| --- | --- |
| Frame Material: | Aluminium |
| Seat Height: | 15" |
| Weight: | 2.4 lbs. |
| Max Weight: | 300 lbs. |
Relax anywhere and everywhere with this lightweight and portable camping chair while enjoying three different seat heights and extra low back support.
If you like to travel off the beaten path and need a camping chair to accompany you on your hiking trips, this Trekology YIZI GO portable camping chair will do the trick. This super lightweight chair can be set up in seconds and collapse down into a small carrying pouch that you can stash away into your backpack.
Sit close to the ground and enjoy a relaxing rest with a new deeper seat fabric that provides you with extra lower back support! Equipped with side mesh panels to help keep you cool and a side pouch to store your drinks, this lightweight and portable chair is a great versatile option.
4. Best Beach Chair: Coleman Utopia Breeze Beach Sling Chair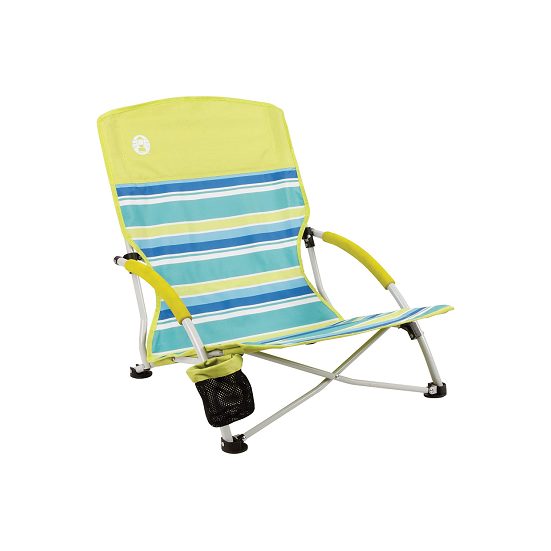 Mesh cup holder
Storage pouch
Includes carrying case
Compact
Key Specs
| | |
| --- | --- |
| Frame Material: | Powder coated steel |
| Seat Height: | 10" |
| Weight: | 6.17 lbs. |
| Max. Weight: | 250 lbs. |
Kick back and relax with this low sitting Utopia Breeze chair from Coleman at the next family beach day, soccer game or picnic.
This Coleman Utopia Breeze Beach Sling Chair is perfect for stretching your feet out at the beach or an outdoor concert. Its built with a low to the ground design and a relaxed backrest that offers full seat support, and its compact folding design and carrying bag make this lightweight chair easy to transport and store when not in use.
5. Also Consider: ALPS Mountaineering Escape Camp Chair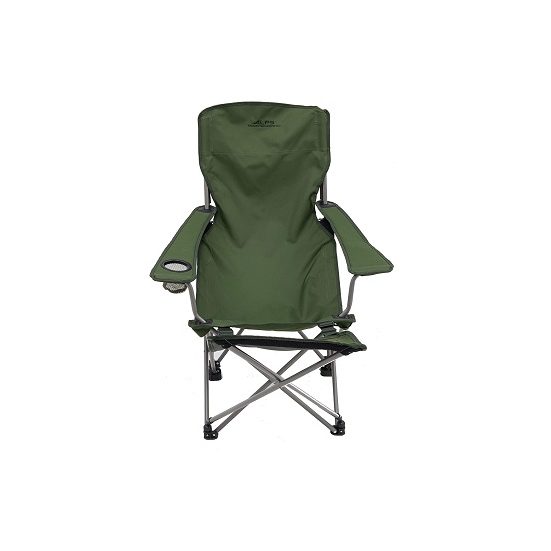 Comfortable
Adjustable and removable footrest
Includes carrying case
Durable
May be difficult to get in/out
Heavy
Key Specs
| | |
| --- | --- |
| Frame Material: | Alloy steel |
| Weight: | 10 lbs. |
| Max. Weight: | 225 lbs. |
Bring the comforts of home to your next camping trip with this ALPS Mountaineering Escape Camp Chair that includes its very own removable footrest!
Just because you're enjoying the outdoors doesn't mean you have to sacrifice your comfort. With this ALPS Mountaineering Escape Camp chair, you can sit back and relax in style and make all of your site neighbours jealous. This foldable camping chair uses a strong 600D polyester fabric and a powder coated steel frame to give you a chair that's both durable and comfortable.
The best part? Aside from a convenient cup holder, this ALPS chair comes with a removable and adjustable footrest, so you can feel like you're sitting in your favourite recliner while staring at the stars.
What to Look For In a Camping Chair
Portability
Portability is a huge factor to consider when shopping for a camping chair. For example, if you're going backpacking, the type of chair that works best for you would look a lot different than someone looking to go car camping. Regardless of where you go, your camping chair should be able to fold up and be easily stored away in some sort of sleeve that has handles or a carrying strap so you can move your chair from place to place with little to no struggle.
Another element to keep in mind when shopping for camping chairs is convenience vs. comfort. If you need to stash your chair away in a backpack, lightweight and foldable chairs are the way to go. If your chair will only be sitting at camp, you can get the biggest and most decked out chairs on the market since all you need to worry about is making sure it can fit in your car.
Comfort
Comfort can mean something different to everyone. For some people it may be reclining in a chair with a nice headrest and a cup holder, while others just need a sturdy frame that supports their back and keeps their butt off the ground. No matter what activities you have in store, most camping chairs, even the low budget ones, prioritize the comfort of their chairs. The key is determining where you plan to use your chair to help you find the right level of comfort for you.
Weight
If you plan on backpacking with your chair, choosing a lightweight model is vital. If you're only bringing it to the car and then out to the campsite, the weight of your chair doesn't have to be a big selling point. Keep in mind, the lighter the chair, the smaller the size and thickness of the legs.
Weight Capacity
Always check the weight capacity of your chair before you enter your credit card info. Generally, the size of the chair coincides with a chair's stability as well as its weight capacity, so taking a look at this spec can be a good indication of how durable it's going to be.
Materials: Quality and Durability
It's not unusual for the price of a chair to give you an idea of the quality of the materials used in the frame and fabrics. Some models use aluminum frames which can hold a decent amount of weight and are corrosion resistant, whereas steel frames aren't as durable and are a bit cheaper. The fabric of your chair needs to be strong enough to withstand the demands of the sun, rain, sparks, dirt and you. Nylon is seen in many chairs thanks to its water resistant abilities, and foam fabrics are also beneficial if you're on the hunt for a durable yet comfortable chair. What you pay for is usually what you get regarding quality, so if you pick up a $15 chair don't be too surprised when the fabric or legs only make it through a few trips.
Leave a Comment
We're always looking for more feedback! If you own one of these camping chairs and would like to share your experience with us and other readers, please leave a comment down below!
RedFlagDeals.com is reader-supported. We are a participant in the Amazon Services LLC Associates Program and other similar affiliate advertising programs. These programs are designed to provide a way for sites to earn advertising fees by linking to them. This means that RedFlagDeals.com will sometimes get a small commission if you make a purchase through our links.