The Best Bookshelf Speakers
Table of Contents
Everyone in the modern world needs some way to play sound in their home; bookshelf speakers are a great tool to use for you to liven up your space with music, or you could use them for your television sets or computers. This speaker type is also great for musicians looking for the most accurate and powerful sound possible while mixing your audio.
With so many different bookshelf speaker options on the market, it can be hard to know where to start your search. In case you're feeling lost, we've put together this list of some of the best speakers you can find on the market right now.
We'll also go over the difference between active and passive speaker amplification at the end of this article, and then teach you all about some of the main features you should be looking for while shopping.
1. Editor's Pick: Audioengine A2+ Plus Wireless Speaker
Multiple colour options
Clear and full sounding audio
Easily connects to any of your devices
Light and compact, while still packing powerful sound
Simple to set up in your space, no network set up required
Doesn't sound as good at lower volumes
Key Specs
| | |
| --- | --- |
| Amplification Type: | Active |
| Connector Type: | RCA, Bluetooth, USB, Aux |
| Dimensions: | 13.34 x 10.16 x 15.24 cm |
| Weight: | 3 kg |
These candy apple-coloured gems have a beautiful sound quality for a lower price point, and are the perfect choice for your listening needs as well as decorating your home.
The Audioengine A2+ Plus Wireless Speakers are not only gorgeous, but they also deliver a powerful and well-rounded audio quality that you won't get from other speakers at this price. They're light and compact and can fit essentially anywhere you want, which makes them a great way to brighten up your home with both colour and sound.
These speakers also have one of the most connectivity options out of the other alternatives on this list, so you're sure to find a way to connect them to all your devices. Another feature that we love is that they're simple to set up, and don't require any network set up or passwords to connect wirelessly.
2. Runner Up: Edifier R2000DB Bluetooth Bookshelf Speakers
Comes with a remote control
Excellent audio quality for the price
Back panel with bass and treble control
Many connective options, like Bluetooth and Coaxial
Bulkier than some options
You'll likely need an external subwoofer if you love bass
Key Specs
| | |
| --- | --- |
| Amplification Type: | Active |
| Connector Type: | RCA, Bluetooth, Optical, Coaxial |
| Dimensions: | 117.53 x 28.96 x 25.4 cm |
| Weight: | 9.72 kg |
While these speakers aren't as visually stunning as our top pick, they're another great option to purchase because they produce powerful sound and have various control options.
At a slightly lower price point, the Edifier R2000DB Powered Bluetooth Bookshelf Speakers are our second choice for bookshelf speakers because they deliver high-quality audio that's balanced and clear. You'll also find that there are knobs on the back panel that control the treble and bass of your sound, which can come in super handy.
This set of speakers also has a variety of connectivity options, so that you won't need to worry about any of your devices not being compatible — including gaming consoles like an Xbox or PlayStation.
3. Best Budget Pick: Edifier R980T Active Bookshelf Speakers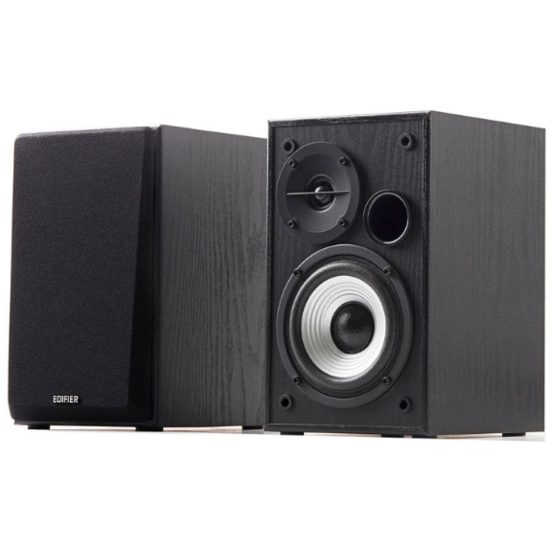 Compatible with Mac
Adjustable bass
Well-rounded and affordable
Compact and easy to place in your home
No Bluetooth connection option
Audio isn't as good as pricier options
Key Specs
| | |
| --- | --- |
| Amplification Type: | Active |
| Connector Type: | RCA, Aux |
| Dimensions: | 43.94 x 20.07 x 25.4 cm |
| Weight: | 3.53 kg |
Take a look at these speakers if you're on a budget and looking for good quality audio without spending all your money.
Don't expect the best sounding audio in town with the Edifier R980T Active Bookshelf Speakers, but they offer a perfectly acceptable and well-rounded audio experience for causal music listening, playing video games, or watching movies, and they also come with a pretty wood finish that will look great anywhere you put them. These beauties pack a powerful enhanced bass for being such an affordable model; you'll likely be able to listen to your music without wishing for more thump, but in the off chance you do find that you do want more bass you can always connect a self-powered subwoofer to the unit with an RCA cable.
One of the only negatives you'll find with this model is that it won't be able to connect to your devices wirelessly, and they will require either an RCA or Aux connection; if your devices aren't compatible with these options, you should move on to a different speaker on this list.
4. Sleeper Pick: Sony SSCS5 3-Way Bookshelf Speakers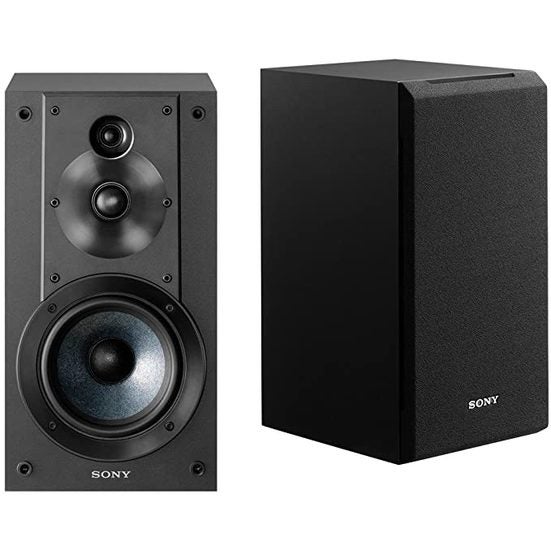 Compact and easy to place in your home
Well-rounded and affordable
No Bluetooth connection option
Key Specs
| | |
| --- | --- |
| Amplification Type: | Passive |
| Connector Type: | Wired |
| Dimensions: | 45.47 x 27.18 x 41.15 cm |
| Weight: | 9.03 kg |
If your bookshelves are already filled to the brim, try some versatile speakers like these that won't take up precious room on your bookshelf.
These bookshelf speakers come in a set of two and are designed as main speakers for a compact living space or surround sound to support your home entertainment system. Since they're passive speakers, you don't need to worry about plugging them into a wall plug — you just need to wire them to an amplifier with speaker wire, which is easy to hide.
>p> With their slim design, it's still easy to mount these on most bookshelves.
5. Best for Home Theatres: Klipsch R-41M Home Speakers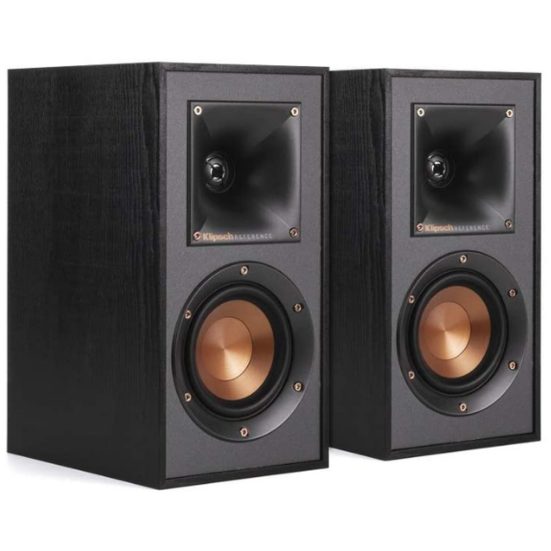 Excellent sound for the price
Removable magnetic grille
Compact and elegant without sacrificing performance
Great bass, you might not need a subwoofer for lighter uses
No wireless connection
Some users reported a very high treble, you might need to equalize your audio
Key Specs
| | |
| --- | --- |
| Amplification Type: | Passive |
| Connector Type: | Wired |
| Dimensions: | 19.99 x 14.61 x 28.7cm |
| Weight: | 3.18 kg |
These are another pair of passive speakers that are designed with your home in mind; consider these if you're putting together a home theatre.
The Klipsch R-41M Powerful Detailed Bookshelf Home Speakers have a variety of design features that work to give you the best sound that it can; the speaker itself is shaped using special technology that directs the sound to the listener, while also reducing reverb and sound bouncing off walls, and it's equipped with a unique tweeter and woofer that both work to minimize distortion.
Not only do they sound good, but they look sophisticated and have a sleek design — since they're a passive speaker, they're also easy to place anywhere you want without worrying about the unit being near a plug.
6. Best for Musicians: PreSonus Eris E4.5 2-Way Powered Studio Monitor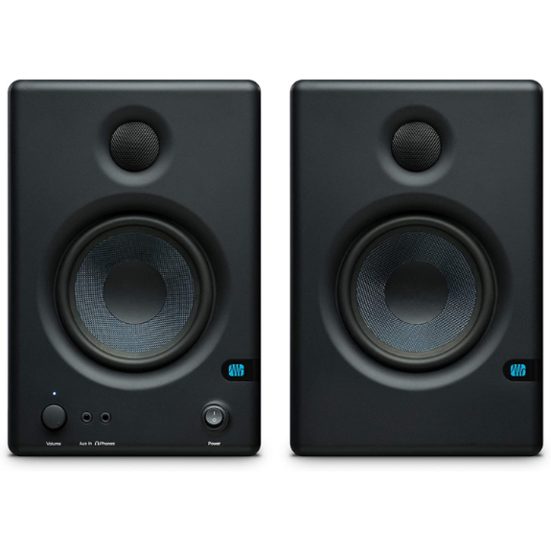 Great for musicians balancing audio
Large optimal listening area
Adjustable tuning controls
Smooth and accurate frequency response
Less connective options, no wireless
Some users heard an audible hum from the speaker
Key Specs
| | |
| --- | --- |
| Amplification Type: | Active |
| Connector Type: | RCA |
| Dimensions: | 42 x 23 x 30 cm |
| Weight: | 907g |
If you're a musician looking to create and mix the best music you can, you'll need a pair of speakers that have an accurate frequency response like these.
Any musician who mixes their audio digitally will know the importance of having accurate audio while producing their work; the PreSonus Eris E4.5 speakers don't disappoint, and they have a smooth frequency response that will help reveal hidden sounds and mistakes in your music tracks.
You can also quickly plug in your headphones right to the speaker without unplugging anything else, so you can check how your music is sounding on both devices. One thing you'll need to know is that you'll need to connect these speakers through an RCA cable, and according to other customers none are supplied in the box.
7. Best Compact: Micca MB42X Bookshelf Speakers
Well-rounded and affordable
Compact and easy to place in your home
Removable magnetic grill
No Bluetooth connection option
Poor bottom end
Key Specs
| | |
| --- | --- |
| Amplification Type: | Passive |
| Connector Type: | Wired |
| Dimensions: | 16.51 x 14.73 x 24.13 cm |
| Weight: | 3.63 kg |
If space is an issue in your home or you're simply not a fan of your speakers taking up a large portion of residence on your shelves, these Micca MB42X speakers are a great compact option.
Not everyone has the space to find a home for two large speakers on their bookshelves or in their living rooms. With the Micca MB42X Bookshelf Speakers, you can enjoy quality sound while taking up minimal space on a budget; these sleek and stylish speakers can be placed anywhere in your house and disappear into its surroundings.
Made from a balanced woven carbon-fibre woofer and a high-performance silk dome tweeter, these powerful speakers deliver smooth treble and impactful bass with low distortion. To get the most out of these budget friendly speakers, throw them in a corner or along the wall, and enjoy an open, balanced and dynamic sound signature.
8. Also Consider: ELAC Debut 2.0 B6.2 Bookshelf Speakers
Rhythmic and dynamic
Good value
Crisp, clear sound
Poor low end
Better suited for TV/movies, not music
Key Specs
| | |
| --- | --- |
| Amplification Type: | Passive |
| Connector Type: | Wired |
| Dimensions: | 26.9 x 19.6 x 37.6 cm |
| Weight: | 7.4 kg |
Last but certainly not least — these beautiful ELAC Debut 2.0 B6.2 bookshelf speakers. Although they aren't the cheapest speakers on our list, they're one of the best midrange speakers on the market.
These bad boys have a handful of accolades to their name by some highly respected sound industry publications, so you can be confident your money is going towards quality sounding speakers.
A few key features that sets these speakers apart are: its internal bracing that helps to reduce cabinet shaking; a tighter weave pattern on its woofer that delivers smooth high frequency levels; and, a clean, tight bass, a newly developed soft dome tweeter that extends frequency response.
Active vs Passive Speakers: What's the Difference?
All speakers need some sort of amplification to function; active speakers have an amplifier built into the body, so they just need to be connected to a wall plug to have power, while a passive speaker needs to be wired to an amplifier unit first to work. Active speakers can be much easier for those who don't know much about audio because you won't have to worry about finding an amplifier that will work with your speaker, and the process is more streamlined.
Many speakers these days come with active amplification, but there are some advantages to purchasing a passive model. They're usually lighter and more compact, since they don't have an amplifier unit built into the body, and they're easier to place around your home because you don't have to plug it in using a wall plug — you just need to connect it to an amplifier (which will be plugged into your wall) using a speaker wire, which can be purchased in very long lengths. The main disadvantage to owning a passive speaker is that they generally can't be truly wireless like an active speaker can because you'll always need to have it connected to an amplifier.
Features to Look for in Bookshelf Speakers
Connector Type: Before you purchase your new bookshelf speakers, make sure that they have the connectivity options that you're looking for; if you want to have less wires around your home and all your devices have Bluetooth, for example, you'll need a speaker that can support a wireless connection. If you're a musician or building a home theatre and you're looking for the most smooth and powerful audio possible, you'll likely want a more classic wired connection. There are many kinds of wired connections as well, such as those that use RCA or Aux cables, so be sure to do your research and determine which ones you'll need based on the devices you already have.
Subwoofer: Feeling a booming bass can be a big part of enjoying movies and music; most speakers will come with some way of producing bass, but if you want it to be extra powerful you can connect an external subwoofer, which is a speaker that's specifically designed to accurately recreate the lower frequencies in your sound. If purchasing an additional subwoofer is something you know you'll be interested in, double check the speaker's specifications and make sure that it'd be compatible with a subwoofer.
Size: The size of your new speaker can be an important factor to think about, especially if you're tight on space or wanting to place them actually on your bookshelf; make sure the model you purchase can fit between your shelves, or that it can fit on your desk without overcrowding it.
Placement: Just because they're called bookshelf speakers doesn't mean that you need to put them on your bookshelf — some models of these speakers now come with other mounting options, so you can place them in more opportune and space-saving places around your home, like on your walls or ceiling. If you purchase a passive speaker, this process is also much easier because you won't need to worry about placing it close to a plug.
Leave a Comment
We're always looking for more feedback! If you've purchased one of the items on this list and would like to share your experience, please comment below and let us know what you think about our picks.
About the Author
Michael Pilon is a writer based in Toronto, who loves everything tech, gaming, and digital art. With two years of professional writing experience and a lifetime of learning about new gadgets, he aims to provide helpful, accurate stories. He received his Bachelor of Arts in English and media studies from the University of Toronto, and a Master of Arts in fashion from Ryerson University, exploring digital and technological applications throughout. When he isn't writing, you can find him playing the newest fantasy and horror games, or out discovering new coffee shops in the city.
RedFlagDeals.com is reader-supported. We are a participant in the Amazon Services LLC Associates Program and other similar affiliate advertising programs. These programs are designed to provide a way for sites to earn advertising fees by linking to them. This means that RedFlagDeals.com will sometimes get a small commission if you make a purchase through our links.