The Best Bidets to Buy for Your Home
Table of Contents
Perhaps the hardest supply to get during the pandemic was toilet paper. So, what can you do? Sure, you could use newspaper, a rag, or just simply take a shower; you could just order it online as well, but if you don't trust the delivery times or price, or if you're looking to make a change for health reasons, a bidet not only saves you money on toilet paper but it's also great in preventing chronic itching due to dryness. And if you have hemorrhoids, you know what we mean.
Using little to no toilet paper at all, a bidet is a bathroom fixture that bathes the genital and perineal areas of your body. It can be installed as a separate unit in your bathroom or fixated by your shower, sink, or toilet. The most common bidet designs have a nozzle that squirts a jet of water to help you clean your areas after a bowel movement, but you can also straddle over the device and lower yourself in position to either dip your buttocks into the large basin. It may seem like a funny tool to use — maybe uncomfortable — but the product is anything but and is a good alternative to toilet paper - especially during a pandemic. In this guide, we'll highlight a number of products to show you some of the best models you can buy in Canada.
Choosing the Right Bidet for Your Home
Installing a bidet is a lot easier than you may think. Not only do they create less waste, save you money and clean you better, but some of the models are also reasonably priced. As you invest more money, you can get self-cleaning, soft-closing smart bidets. The mechanical option uses the water pressure and temperature of your home plumbing, while electric ones have little motors inside to enhance these functions. Electric bidets are more expensive but finding the right one comes down to your needs, your plumbing set-up and the size of your bathroom.
1. Editor's Pick: Luxe Bidet Neo 120 - Self Cleaning Nozzle - Fresh Water Non-Electric Mechanical Bidet Toilet Attachment
Affordable
Easy to operate for children and the elderly
Self-cleaning nozzle
No batteries needed
Quick install
The bidet adapter can cause the toilet seat to not sit flat, which may affect the hinge bolts
Cold water only
Not always compatible with North American plumbing
Key Specs
| | |
| --- | --- |
| Material: | Plastic |
| Weight: | 816g |
| Warranty: | 1.5 years |
This is a cold-water bidet you attach to your current toilet seat. It is made with high quality, durable parts that are built to last and withstand the kind of water pressure that will flow through it which is a valuable feature if you don't want to be replacing your bidet every few years. The high-pressure faucet valves are made with a metal-ceramic core and braided steel hoses (instead of traditional plastic), and it also comes with a metal cold-water T-adapter.
The bidet has a single wash nozzle and dual chrome-plated control knobs that lets you select a mode and activate the spray then adjust the water pressure accordingly. Clearly defined settings on the control panel means it can be easily operated by children and the elderly, and as an added hygienic feature there is a guard gate that shields the nozzle and a self-cleaning sanitary nozzle that rinses that nozzle with fresh water.
2. Runner Up: Bio Bidet Slim ONE Bidet Smart Toilet Seat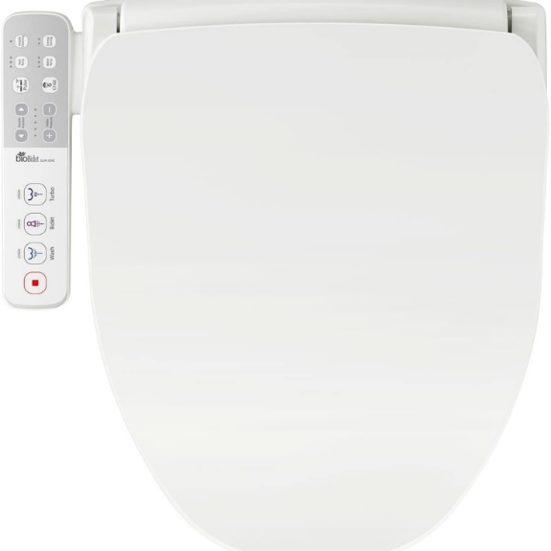 Warm water flow
Can adjust nozzle position
Heated seat option
A variety of cleaning features
Has a self-cleaning nozzle
For elongated toilet seats only
More expensive than a bidet attachment
Needs an electrical outlet; batteries required
Key Specs
| | |
| --- | --- |
| Material: | Plastic |
| Weight: | 63.08kg |
This bidet toilet seat has features such as cold and warm water washing and a lighted seat for middle-of-the-night bathroom needs. Of course, if you prefer darkness you can turn off the night light with the touch of a button. Meanwhile, the durable stainless steel, self-cleaning nozzle provides soothing warm-water cleaning while requiring less maintenance.
You can adjust the water temperature with a side control panel and on cold days, you can heat the toilet seat. And so you don't get any surprises, you can also easily increase or decrease the water pressure settings. There is also a smart sensor on the seat so the bidet will not function unless the seat is occupied.
When using the bidet, you get a choice of cleaning features with the three-in-one nozzle, including oscillating, wide cleaning, pulsating, massage, posterior and anterior cleaning, turbo wash, and child wash. It's important to note that to use this toilet seat bidet, you will need an electrical outlet to be located in proximity to the sink in order for it to be hooked up properly.
3. Most Popular Brand: TUSHY Classic Bidet Toilet Attachment
10m installation time
No electricity or batteries required
Easy to operate
Has a self-cleaning mode
Cold water only
Sprays at weird angle
Included bolts are often too short
Water pressure is too high even with pressure reducing valve
No seat risers included
Key Specs
| | |
| --- | --- |
| Material: | Ceramic |
| Item Weight: | 1.01kg |
| Warranty: | 1 year |
If you want a stylish attachment without all the hassles of hookups and complicated installations, this TUSHY model may be right for you.
Compatible with most standard two-piece toilets, you can set up this bidet without any additional electrical hookup or plumbing in less than 10 minutes. Built with a nozzle adjuster and pressure control knob that controls the angle of the spray and water pressure intensity, you can be clean and save money all at the same time.
4. Best Handheld Bidet: Hibbent Dual Function Two Sprayer (Stream/Jet)
Versatile use
Do not have to replace or attach to toilet seat
Attaches to the wall beside the toilet
Quick installation
Cold water only
High water pressure can be uncomfortable
Handle mount fit is finnicky
Key Specs
| | |
| --- | --- |
| Material: | Stainless Steel |
| Item Weight: | 790g |
This hand-held sprayer attaches to the wall beside your toilet, or onto the toilet itself, and has a dual function spray; with a twist you can have a soft stream or a strong jet spray. So multi-functional, it can be used to clean yourself after you use the toilet, and also to clean soiled cloth diapers, wash the dog and even clean the inside of the toilet.
It comes with everything you need for an easy 10-minute installation: a non-leaking brass T-valve; a sprayer; a stainless steel hose that has a coil design for maximum flexibility and an inner hose made from high grade EPDM reinforced with a high-density nylon braiding hose; a hook and a hanger (for wall or toilet side mounting) and Teflon plumbers' tape.
5. Best 360-Degree Spray: RinseWorks - Aquaus 360 Premium Hand-Held Bidet
Adjustable spray for all body types
Can clean front and back
Easy and quick to install
Cold water only
Attaches to side of the toilet only, no wall attachment
Holder can go off easily if valve accidentally hit
Wand isn't curved which makes aiming harder
Key Specs
| | |
| --- | --- |
| Material: | ABS Brass |
| Weight: | 1kg |
| Warranty: | 3 years |
Perhaps one of the drawbacks of many hand-held bidets is that you have to put your hand into the toilet to reach the areas you wish to clean which often means your hand also gets wet from the stream of water. This hand-held sprayer, the patented Aquaus 360° sprayer, is designed to allow you to rinse under your front and back bottom areas while comfortably sitting on the toilet without getting your hand wet and messy.
The bidet is flexible and versatile. You can easily rinse up and down by simply flipping the sprayer over. The three interchangeable spray heads and 5-inch extension gives you a 3- to 11-inch spray reach for all body sizes, with an option of half-inch and one-inch spray increments. It attaches easily to a toilet without tools or a plumber and includes all parts for installation.
6. Best for Elongated Toilet Seats: American Standard 5900A05G.020 Aqua Wash Non-Electric Bidet Seat for Elongated Toilets
No electric outlet needed
Detachable nozzles
Adjustable spray
No batteries required
Cold water only
Only suitable for elongated toilet seats
Key Specs
| | |
| --- | --- |
| Material: | Polypropylene plastic |
| Item Weight: | 2.54 kg |
This bidet has a top-mount installation with a slim 60 mm telescoping seat that is designed to fit an elongated toilet. The water pressured bidet seat has an adjustable spray pattern and detachable nozzles, a one-button push lift-off for easier cleaning, and slow-close hinges to prevent the seat from slamming down.
The dual, self-cleansing nozzles allow for front and back cleaning and since the bidet is operated with water pressure, you don't need an electrical power outlet installed nearby. Included is mounting hardware, water supply, and adapter for cold-water spray only.
7. Best Smart Bidet for Round Seat: VOVO VB-3100SR Electronic Bidet
East to use side touch control panel
Heated seat
Three self-cleaning nozzles
Five levels of water pressure
No batteries required
More expensive than other models
For round toilet seats only
Needs an electrical outlet
Key Specs
| | |
| --- | --- |
| Material: | Plastic, stainless steel nozzle |
| Item Weight: | 3.76kg |
This model from Vovo is ideal for anyone who is looking for a feature-packed bidet that gives them pretty much every option available in a home bidet and doesn't mind spending extra to get those added features.
The bidet has a heated seat that has been designed to be compatible with human body temperature but you are also able to adjust the heat to three different temperatures which is great for cold days!
Using the side touch panel, you can control every function easily. This includes getting the right water temperature for your needs and choosing from three nozzle positions – posterior, feminine, and turbo wash – for a more direct approach and efficient result. You can also adjust the water pressure on all three stainless steel nozzles to one of five levels, although the turbo wash function always starts at the lowest pressure to prevent injuries. Just adjust it to your comfort level while it's operating. When you're done, the nozzle automatically cleans itself and you can press the nozzle-cleaning button so the nozzle retracts itself. Then when you're all clean you can activate the warm air dryer and save even more on toilet paper.
8. Best Basic Model: Upgrade Bidet Attachment, Atalawa Fresh Water Spray
Thin design
Dual nozzle system
Easy and quick to install
No electricity or batteries required
Cold water only
Not always compatible with North American plumbing
Spray area can be too large
Key Specs
| | |
| --- | --- |
| Material: | Plastic |
| Item Weight: | 1.08kg |
This is a basic cold-water bidet that attaches to your toilet seat and will fit most standard sized toilets. We like it because it's easy to install, easy to use, and requires no electricity or batteries to function. It's a great budget choice and simple to use for everyone, including children and seniors. It comes with everything you need for a DIY installation, with solid metal parts and a brass adapter nut to reduce leaking.
The bidet itself is nice and thin, and once installed the toilet seat will lie flat and not lift up and leave a gap like some other models do. It's made from high impact ABS resin for durability and there are also two non-skid mats that you can install under the round plate for greater stability. It also has a load weight of 330 pounds.
The water flow controls are intuitive and simple to use. You have a choice of two spray angles with the dual nozzle system for front and rear cleaning options. There is also a self-cleaning nozzle feature that retracts the nozzle when not in use.
9. Best Budget Pick: Haolide Toilet Bidet, Retractable Double Nozzle Sprayer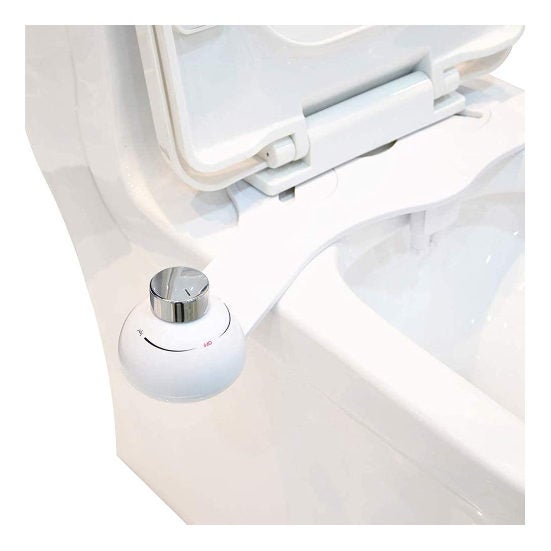 Budget friendly
Easy to install
Hot and cold water options
Dual nozzle system
No batteries required
Must be sitting to use
Need to adjust pressure manually
Not compatible with all toilets
Key Specs
| | |
| --- | --- |
| Material: | Plastic |
| Item Weight: | 763g |
Perhaps you've heard about how hygienic a bidet is when it comes to cleaning up after going to the bathroom and how it also saves on toilet paper. Maybe you'd like to try a bidet in your home but you're on a budget and don't want to purchase something you won't like. We understand that every dollar matters and that's why we've added this manual-style budget-friendly model.
This slim bidet is only 6 mm thick and attaches to your current toilet seat. It has many of the functions of a more expensive model, but instead of it being electronic this model is manual meaning that you adjust the different functions yourself. There are two nozzles to choose from, one for the front and one for the rear, and what's neat about this bidet is that it attaches to your cold and hot water inlets so you can adjust the temperature manually to suit your comfort level. And if you want to save water on hot water costs, you can just hook it up to the cold water pipe and it will work, too.
Reasons to Get a Bidet for Your Bathroom
Bidets are widely available in Canada and have been increasing in popularity over the last few years. In Japan, more than 60% of homes have a bidet and in South America that number is closer to 90%. At first you might think of a bidet as a funny fixture but there are actually a lot of benefits that come with getting one. Like trying anything new, it takes a bit of an adjustment at first but consider some of these benefits when buying:
Better Hygiene and Personal Cleaning: Even after you have a bowel movement and use toilet paper, you don't always leave the bathroom feeling the cleanest. A bidet removes any residue left on your skin after you use the bathroom. Using water helps to soothe the area before you apply toilet paper or a wipe, too.
Environmentally Friendly: Obviously, as a toilet paper alternative, you don't have to use much toilet paper with a bidet. The bleaching process used to manufacture toilet paper is very damaging to the earth and to people. So, why not save the trees and yourself?
Save Money: You'll use a lot less TP, plain and simple. You might need a couple sheets to dry off but other than that you're using a fraction of the amount you regularly use.
Better Skin Care: If you have hemorrhoids and any other anal irritations toilet paper might not be the best possible choice. You can soothe and clean the area with warm water, which is a huge benefit in getting a bidet. Anal itching can be an issue for people and that's caused, at times, by toilet paper residue.
Avoid Plumbing Issues: Plumbers are expensive and when something goes wrong in your apartment or home the costs are virtually unavoidable. Bidets reduce plumbing issues and prevents clogs in your sewer pipes.
Different Between an Electronic Bidet and a Bidet Attachment
When buying it's important to understand the difference between an electronic bidet and a non-electronic bidet seat attachment. Electronic bidets are typically more expensive and get their power from a standard electrical outlet. With an electronic bidet seat, you need to remove your original toilet seat. But in exchange, you're getting a whole range of features that's not possible with a non-electronic bidet attachment. The most notable feature often associated with electronic bidet seats is warm water. Most models also have an oscillating cleanse as well as adjustable water pressure and temperature based on the user's preferences. There are some that have a warm air-dry feature and heated seats as well.
On the flip side, non-electronic bidet options are a little bit different. The most common form is the hand shower spray, which is similar to a handheld shower head found in some showers. The device is usually connected to the cold-water supply and you can keep it in reach of the toilet. Some of the more advanced models can be attached to the toilet between the bowl and seat. To install this correctly, you have to remove the toilet seat and make sure the bidet attachment is secured directly to the toilet. Once that is complete, you can re-install the toilet seat over the bidet.
While non-electronic bidet attachments clean more effectively and hygienically than toilet paper, the major drawback is that they use cold water whereas most people prefer warm water. Think carefully about your needs before buying and check out some of the varieties of models we have below to make your decision.
Bidet FAQs
It's natural to have questions; we're here to help. Check out some of the best questions some of our readers had about bidets.
How Often Should I Clean My Bidet?
You need to clean it at least once a week. You can use household detergent or a vinegar and water solution. Make sure you clean all the surfaces, including the underbelly of the seat. You can use a cloth or a toothbrush — whatever works.
Can You Use a Bidet Too Much?
It depends on the water pressure. Overuse can lead to irritation of the anus or vaginal areas. Some bidet models have strong settings so it's important to test all of them out before getting comfortable with one particular setting. Understanding your skin's sensitivity to prolonged water use will determine the outcome.
Is There a Proper Technique to Using a Bidet?
Use the toilet and dry wipe once with toilet paper to remove any remaining solid waste before using the bidet. Position yourself to use the bidet by straddling the bowl. It's acceptable to sit on the rim of the bowl, but many users will squat or "hover" over the bidet.
Leave a Comment
We're always looking for more feedback! If you've purchased one of the bidets on this list and would like to share your experience, please comment below and let us know what you think about our picks. If you're still not sold, consider some of the discussions taking place on our forums at RedFlagDeals.com.
RedFlagDeals.com is reader-supported. We are a participant in the Amazon Services LLC Associates Program and other similar affiliate advertising programs. These programs are designed to provide a way for sites to earn advertising fees by linking to them. This means that RedFlagDeals.com will sometimes get a small commission if you make a purchase through our links.