The Best Barbecues
Table of Contents
Backyard barbecues are synonymous with summer fun, easy living, and delicious food. But serious grillers don't just wait for the summer — firing up the 'Q' is a year-round activity and it all starts with a good machine. Barbecues come in all shapes and sizes, from large multi-functional models to compact portable designs, and which one you choose to use will depend on a number of factors — most specifically, the power source. Sure the size of the barbecue matters — you need to have the space for it — and it needs to fit into your budget, but first you should decide if it will run on charcoal, propane, gas, or electricity.
Picking the right one for your needs comes down to how much space you have, your budget, what kind of fuel you prefer to use, and your cooking style and skill. Below, you'll find our recommendations for the best barbecues, along with information on how they work.
1. Editor's Pick: Weber GENESIS II S-335 Propane Gas Grill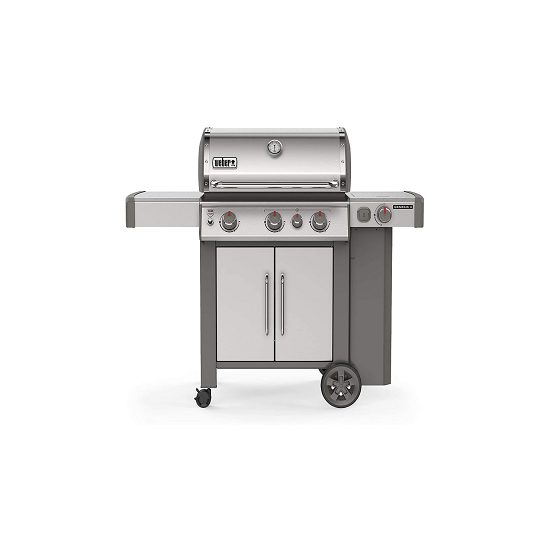 Equipped with a powerful GS4 High Performance grilling system
Porcelain-enameled, cast-iron cooking grates provide superior heat retention
Sear station, side burner, and side tables
Temperature gauge
10-year warranty
More expensive than other gas barbecues
Requires propane tank
Key Specs
| | |
| --- | --- |
| Brand: | Weber Stephen Company |
| Model Name: | Genesis II E-410 LP |
| Item Dimensions: | 165.1 x 73.7 x 119.4 cm |
| Item Weight: | 153 lbs. |
| Materials: | Porcelain and cast iron |
When only the best will do, this high-end propane gas grill from Weber hits the high notes for barbecue-loving foodies who are serious about perfecting their cooking techniques. Grilling is made easy on the 530-square-inch surface that's made of durable, solid stainless-steel porcelain enamel rod cooking grates that provide even heat distribution across the entire grilling surface.
Equipped with lots of bells and whistles, this propane barbecue comes equipped with a convenient side burner. While the steaks and burgers are sizzling away, you can use the side burner to sauté vegetables or simmer sauces and marinades. To get that special BBQ sear, the sear station function creates an intense heat zone — slap your steak into the zone and the sizzle and sear begins.
There is a grill cabinet to store essential barbecue tools and accessories, as well as a removable catch pan, drip tray, and side tables. While this model is quite expensive, it does carry a 10-year warranty.
2. Runner Up: Char-Broil Classic 280 2-Burner Liquid Propane Gas Grill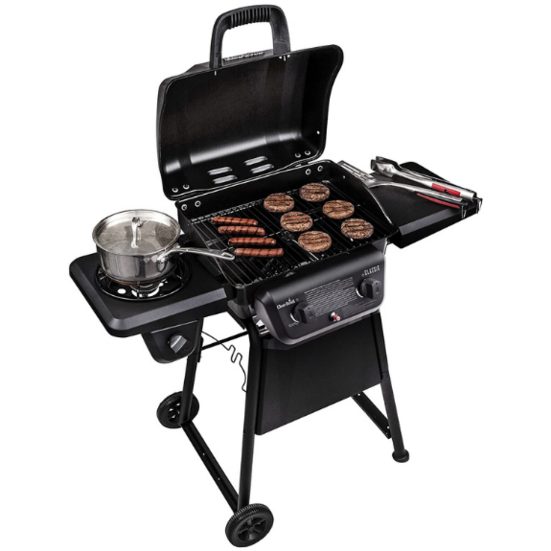 Compact size for patio
280 sq. in. of cooking surface space
Porcelain covered grates, two stainless steel inline burners, and two metal side shelves
Piezo ignition system
Porcelain-coated steel lid and firebox that stand up to weather
Needs propane tank to work
May be too small for some needs
Some issues with assembling
Key Specs
| | |
| --- | --- |
| Brand: | Char-Broil |
| Model Name: | 463672717 |
| Item Dimensions: | 42.9 x 66 x 45 cm |
| Item Weight: | 43 lbs. |
| Assembly Required: | Yes |
This two-burner propane gas grill is a good choice for anyone with a small outdoor space such as a balcony or patio. It won't take up much real estate on even a small patch of green or tile, and can still provide hours of grilling time.
With 280 sq. in. of cooking space, the Char-Broil Classic two-burner gas grill delivers 20,000 BTU's of heat. Measuring 20-inches wide by 14-inches deep, there is enough surface space to cook up to 11 burgers at once, perfect for a family get together or a small group of friends. The inner mechanics of this barbecue are the determining factors that make it durable, long lasting and a good choice for anyone who does a lot of grilling. Equipped with porcelain-coated cast iron grates and stainless steel inline burners, it provides consistent performance, and the level of high to low heat control that is necessary for great results.
An 8,000 BTU side burner is great for warming up sauces or your favourite dishes, while the other convenient side shelf measuring 12-inches wide by 13.5-inches deep is the perfect place for food prep or resting your cooking utensils. This barbecue is also a good choice if it will be outside, uncovered. The porcelain-coated steel lid and firebox that can withstand the elements, from rain and scorching sun to snow and sleet. But if you have to store it into the shed, no worries — the two large six-inch molded plastic wheels make moving the grill around a breeze.
3. Best Charcoal: Weber Original Kettle™ 22" Charcoal Grill
One Touch cleaning system
Durable
Easy to clean grate
Porcelain enameled lid and bowl retain heat
Angled lid hook
No internal thermometer
May be difficult to assemble
Key Specs
| | |
| --- | --- |
| Brand: | Weber |
| Item Dimensions: | 63.5 x 57.15 x 100.33 cm |
| Item Weight: | 15.01 kg |
| Material: | Aluminum, Glass Filled Nylon, Porcelain |
| Assemly Required: | Yes |
Charcoal grills aren't for the faint of heart. They require a bit more care and skill than your standard electric or propane grills, but that extra bit of effort is worth it for those mouth-watering meals you can only get from a charcoal grill.
Built with all of the essential elements you need and want from a charcoal grill, this Weber Original Kettle grill features a spacious 363 sq. in. of cooking space along with an easy to clean, 22-inch diameter rust-resistant, steel-plated cooking grates. Other convenient features include durable wheels that allow you to transport or store your grill with ease, adjustable dampers that provide precision heat control, a heat shield to stop the handle from overheating, and much more!
4. Best Portable: Charcoal Grill Barbecue Portable BBQ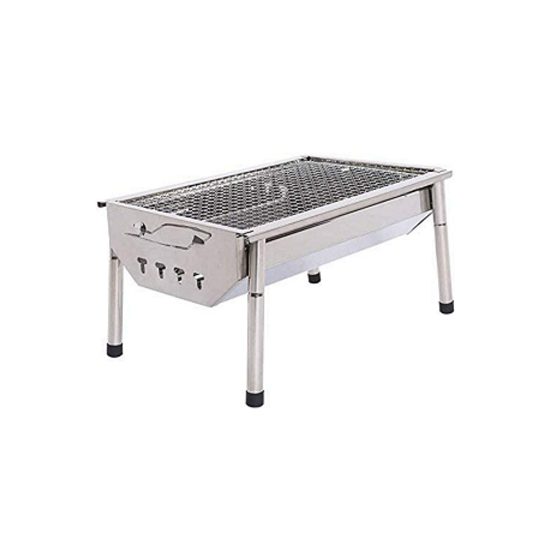 Portable and Lightweight
Easy to take apart and reassemble
Has handles, adjustable vents, and four detachable legs
Non-stick grill
Affordable
Key Specs
| | |
| --- | --- |
| Brand: | ISUMER |
| Model Name: | ISM-CPG-01 |
| Material: | Stainless Steel |
| Item Dimensions: | 40.4 x 27.9 x 22.4 cm |
| Installation Method: | Countertop |
Whether you have a home barbecue or not, it's nice to be able to have grilled food when you're out camping or on a picnic. But finding wood to build a fire isn't always possible, nor is carting around a large barbecue from place to place. We included this charcoal grill on the list because it's a great portable option if you want to barbecue away from home.
This best thing about this barbecue is that it is so easy to transport. Lightweight at 3.7 lbs., this grill has four legs that are specifically designed to come apart for easy transport and storage. With or without the legs, you can set it up on a table on your balcony or patio. You can also bring it to the park, to a campground, or pull it out from the back of your car for a tailgate party. Just don't forget to bring a bag of charcoal.
Made from thick stainless steel that is rust resistant and durable, this barbecue measures approximately 15.9 inches by 11 inches by 8.8 inches when assembled, and the surface can fit enough food to feed between two and five people. Also, on the bottom of the legs, there is a floor mat which is a great little feature that can be adjusted to change the height of the grill and to keep it balanced.
When not in use, the barbecue folds down to 15 inches by 12 inches by four inches. Cooking with charcoal can be tricky, so the double air vents on both ends of the barbecue are a great feature to help control the heat of the flame. When it's time to put it all away, the built-in grid charcoal frame ash catcher and the non-stick grill pan take some of the hard work out of cleanup.
5. Popular Choice: George Foreman GGR50B Indoor/Outdoor Grill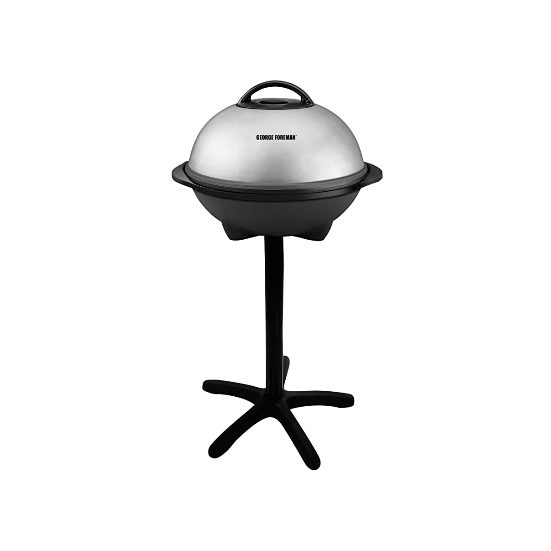 No flare-ups or flame
Indoor and outdoor use
Electric
Non-stick coated grills
240-square-inch cooking surface
Does not give smoky flavour
Lack of flame means no sear marks
Key Specs
| | |
| --- | --- |
| Brand: | George Foreman |
| Item Weight: | 21 lbs. |
| Item Dimensions: | 56.4 x 52.1 x 33 cm |
| Material: | Metal |
| Assembly Required: | Yes |
Condo owners and apartment dwellers may have access to a balcony or patio, but sometimes, the condo board or landlord prohibits the use of a charcoal, gas or propane barbecue. And if you are a renter, you might not even have access to an outdoor space. This barbecue from George Foreman is ideal for grill masters who cannot use gas, propane or charcoal, or who want the barbecue taste while cooking indoors.
Powered by electricity, this grill is great for outdoor or indoor use. The nice-sized 240 sq. in. cooking surface can accommodate up to 15 servings for a large group, or just a few servings for two or three people. Use the grill on the stand when outside, and when it's cold or raining out, remove the legs and use it inside on the countertop.
A temperature probe offers five heat settings to get the best results on any kind of food. For anyone watching their calories, the sloping grate base draws fat away from the food and into a center channel to collect in an easy-to-empty tray. Double non-stick coated plates make cleanup easy, the domed, round lid has an adjustable steam vent, and cool touch handles make this electric barbecue easy to carry around.
6. Best Tabletop: Cuisinart CGG-306 Chef's Style Stainless Tabletop Grill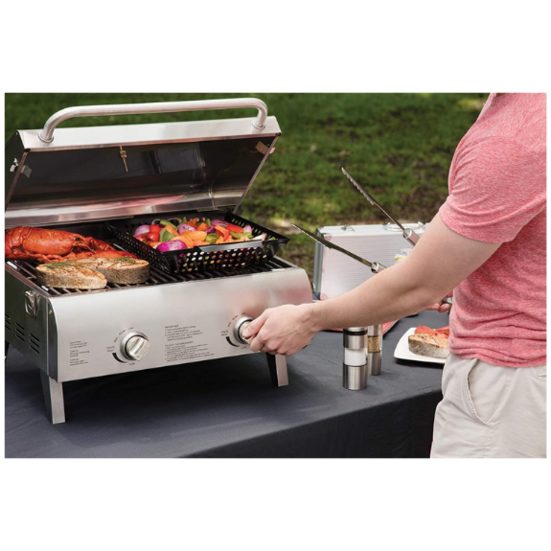 Integrated thermometer
Adjustable burner knobs
Portable and lightweight
Quick and easy to use
Difficult to clean
Thin steel
Key Specs
| | |
| --- | --- |
| Brand: | Cuisinart |
| Item Dimensions: | 54.6 x 48.3 x 38.1 cm |
| Item Weight: | 22 lbs. |
| Material: | Stainless steel |
| Assembly Required: | No |
Tabletop barbecues, like this Cuisinart CGG-306 Chef's Style grill, are a great versatile and portable piece of equipment to have on deck for all of your family picnics, tailgating parties or cottage getaways.
Thanks to its quick and easy set up, you can have this Cuisinart Chef's Style Stainless Tabletop Grill going in less than 10 minutes. With two stainless-steel grates giving you 276.75-inches of cooking space and dual burners totalling up to 20,000 BTUs, this powerful barbecue is perfect for grilling up large slabs of meat.
Its simple TwistStart ignition system is fuelled by a 20-pound propane tank so you can forget about matches or a lighter. When the day is done and you're ready to pack everything away, this 22-pound grill can be easily loaded up into your car.
7. Also Consider: Weber Q 1000 Portable BBQ Grill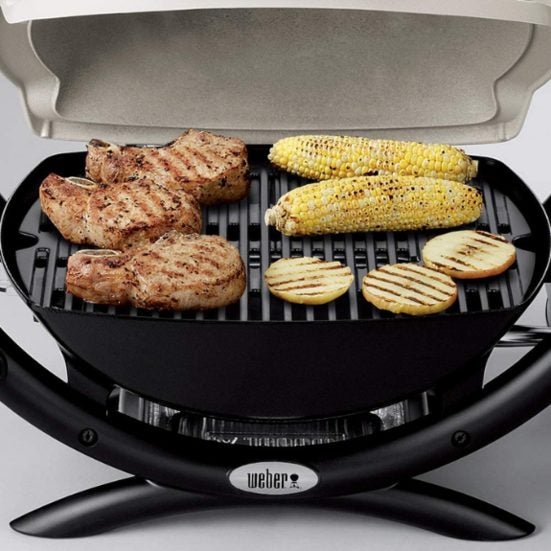 Lightweight and portable
Easy to clean
Reliable, push button ignition
Small lid thermometer
No side plates
Limited heat
Key Specs
| | |
| --- | --- |
| Brand: | Weber |
| Item Dimensions: | 52.1 x 68.6 x 59.7 cm |
| Item Weight: | 27.5 lbs. |
| Material: | Porcelain-enameled cast-iron, Stainless steel |
| Assembly Required: | No |
The Weber Q 1000 BBQ Grill is small enough to accompany you on all of your outdoor adventures while providing you with ample grilling space. With a convenient grease tray, push button ignition and rust resistant materials, this handy grill is ready to go whenever you are.
Whether you're planning a backyard barbecue, picnic, or packing up to head to the cottage, this Weber Q 1000 Portable BBQ Grill is a great versatile grill that delivers powerful heat over a respectable 189 sq. in. cooking area. It's made from porcelain-enamelled cast-iron cooking grates as well as a cast-iron lid and body, and it comes ready to go right out of the box.
8. Best for Camping: Coleman Roadtrip 225 Portable Stand-Up Propane Grill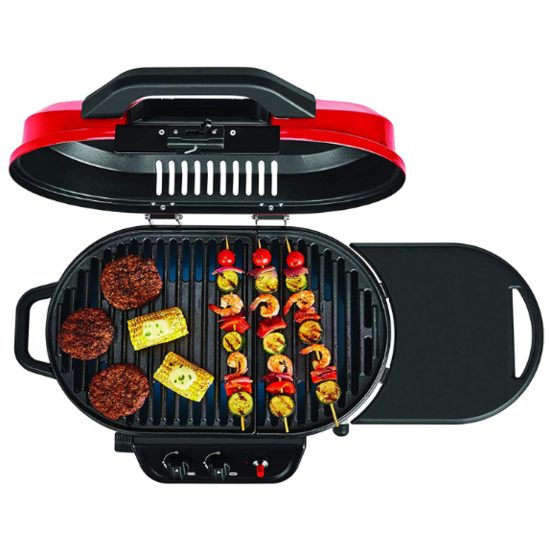 Features two durable wheels
Foldable legs
Interchangeable cooktop
Removable water pan for easy cleaning
Convenient side table
No thermometer
Not very sturdy
Key Specs
| | |
| --- | --- |
| Brand: | Coleman |
| Item Dimensions: | 29.528" x 18.661" x 14.961" |
| Item Weight: | 17.9 lbs |
| Material: | Cast Iron |
| Assembly Required: | Yes |
The Coleman Roadtrip Portable Stand-Up grill features fold up legs and two durable wheels that combine to give you a portable grill perfect for quick and easy setup, teardown and storage during all of your camping adventures or road trips. If you love to camp, this Coleman Roadtrip 255 Portable Stand-Up propane grill will become your new best friend.
Two adjustable burners reach up to 11,000 BTUs that heat a generous 225 sq. in. of cooking space so you can effortlessly prepare a delicious meal for the whole family. A handy side table gives you a convenient place to rest your plate or cooking utensils, while its Insta-start push-button ignition provides you with a match free lighting system.
What to Look for When Choosing a Barbecue
Type: Barbecues come in a variety of shapes, sizes, and power levels, but they are fired up by one of four different energy sources: charcoal, gas, propane or electricity. Each one has its own advantages and disadvantages, and the one you choose depends on a number of factors such as how you prefer to cook and the availability of the power source, such as through a gas line or with propane tanks.
Charcoal: Charcoal comes in neatly formed briquettes, lumps, or hardwood pieces. You will need a method of lighting the charcoal; this could include lighter fluid, although this chemical has an odour that could attach to the food; an electric coil fire starter that you plug in and place underneath a pile of charcoal and remove once a certain amount of charcoal is lit; or a chimney that you fill with charcoal and some paper, light the paper and the enclosed chimney ignites the charcoal; the chimney is removed once the charcoal is uniformly lit. Whichever method you choose to light the charcoal, it does take between 15 and 20 minutes to get the charcoal to the ideal heat to begin barbecuing.
Using charcoal takes a certain level of skill and practice to be able to grill without burning, under cooking or over cooking, since the temperature is controlled by the height of the grill from the fire, air circulation and the skill of the cook. A charcoal grill does give a great sear to meat and chicken and adds a nice smoky flavour to food. Charcoal barbecues do produce a lot of flames, though, which can be a fire hazard if not properly controlled. Finally, a large bag of charcoal is only good for a certain number of meals so it can become expensive if you grill often and need to purchase many bags.
Propane: Some people love propane for its ease of use. The power comes from one or two propane tanks that sit on a shelf on the bottom of the barbecue and have hoses attached to the burners located in the cavity of the grill. Once the propane is turned on, a spark is created through an igniter switch - or a match can be used. The heat is easy to control through knobs, and the cover can be closed to create more of an oven-like environment. Propane barbecues are often more expensive than charcoal models, and the propane tanks need to be replaced when emptied. Try to find a model that has an indicator to show how much propane is left so you don't run out in the middle of a meal.
Gas: A gas barbecue works similar to a propane barbecue, but it needs a dedicated gas line to make it work. Often these are an extension of a gas line used for the gas stove in the kitchen. If you don't have that it will be costly to install a separate gas line for the barbecue - but it can be done. The advantage here is that it is a continuous supply to be used as needed.
Electric: An electric barbecue is convenient when gas, propane, or charcoal grills are prohibited where you live. They are easy to use; just plug them in for outdoor or indoor use. However, they don't offer the same smoky flavour or searing taste as the other kinds of barbecues. With no flame, though, they are safer to use.
Leave a Comment
We're always looking for more feedback! If you own any of these items and would like to share your experience, please comment below!
RedFlagDeals.com is reader-supported. We are a participant in the Amazon Services LLC Associates Program and other similar affiliate advertising programs. These programs are designed to provide a way for sites to earn advertising fees by linking to them. This means that RedFlagDeals.com will sometimes get a small commission if you make a purchase through our links.