The Best Badminton Rackets
Table of Contents
If you love the sport of badminton, you know that having a quality badminton racket makes a world of difference when you're competing in a serious match. Even if you're playing with a significant other, a family member, or a child, a quality racket can mean the difference between an exciting, long-lasting rally or a boring game of shot-for-shot.
There are a lot of small details that go into making a quality badminton racket, but three of the most important factors to take into consideration when shopping is: weight, balance, and experience. To help you find the best badminton racket for you, I'll breakdown what you should look for in a racket, depending on your specific needs as a player, and also highlight a few of the most popular rackets on the market to give you an idea of the different styles of badminton rackets and price points available.
Aside from determining your budget, one of the first things to think about when shopping for a badminton racket is your experience level. Beginners and experienced athletes will need two very different types of rackets, so it's important to understand where you're at to help you find a racket that can improve your game. For example, an experienced player would benefit from a heavier racket with a stiffer string tension; a novice player would get more control and power out of a lighter racket with a flexible shaft.
For a more in-depth breakdown of what to look for in a badminton racket, head down to the bottom of the article.
1. Editor's Pick: Dunlop Sports Carlton Aeroblade 2000 Badminton Racquet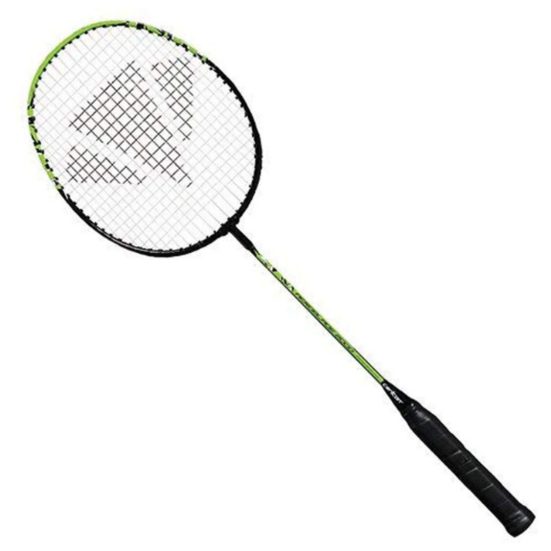 Lightweight
Large sweet spot
Ideal for beginners and intermediate players
Not durable
Not for advanced players
Key Specs
| | |
| --- | --- |
| Material: | Alloy Steel |
| Weight: | 75g |
Whether your backyard games are getting more intense or you want to start playing in a recreational league, this badminton racket is perfect if you are a novice and intermediate player.
For those of you who are ready to make the switch from your casual racket to a higher quality one, this Dunlop Sports Carlton Aeroblade 2000 Badminton Racquet is great for beginners or intermediate players looking to learn the amazing game of badminton. It's made from an alloy steel shaft and a tempered-steel frame that retains its shape through game after game. The racket's sturdy grip allows novice players to get a secure handle on the racquet to master basic swing techniques and the isometric head shape has a larger sweet spot to help players make contact with the birdie during training sessions. The 120-gram string weight adds to its lightweight easy-to-handle racquet design, ideal for recreational badminton games in gym class or at a rec centre.
2. Runner Up: Franklin Sports 2 Player Badminton Set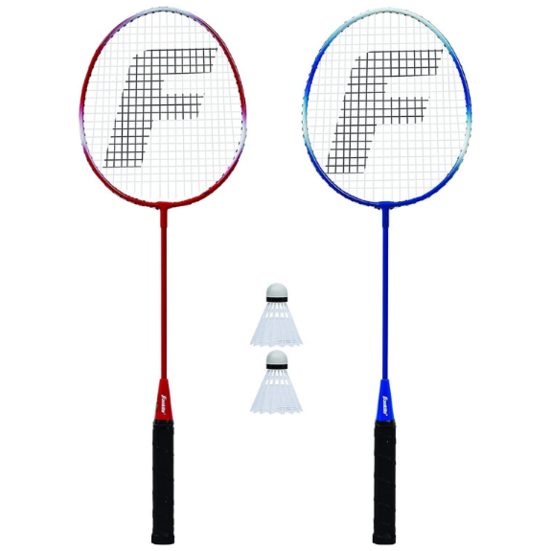 Budget priced
Weighted base design
Comes with 2 rackets and 2 birdies
Not durable
Best for beginners or for practising
Birdies are low quality and crack easily
Key Specs
| | |
| --- | --- |
| Material: | Aluminum |
| Weight: | 259g |
If you already have a set of recreational badminton rackets and need to replace one or two, or if you're looking for a budget-friendly pair of rackets to get started on your game, then consider this set.
This Franklin Sports 2 Player Badminton Set is a good replacement for the worn or broken brackets that you may have lying around the house and they are also a good choice if you want to add more rackets to the set so more people can play. The two "tight string" rackets have 40" by 24" lightweight tempered steel frames with a weighted base design and padded grips, so even beginner players will feel secure in their return shots. The set also includes six birdies, three red and three blue. These rackets are also ideal for beginners and for practising, but at this price they won't be able to withstand hours of hard play.
3. Sleeper Pick: YONEX Nanoray Light 18i Graphite Badminton Racquet
Lightweight
Built in T-joint
Isometric head
Includes full cover
Paint may chip
Not ideal for doubles
Key Specs
| | |
| --- | --- |
| Material: | Graphite |
| Weight: | 77g |
If you're an experienced player who's on the hunt for a high-quality badminton racket that can keep up with the fast paced nature of your game, this racket will do the trick.
The stiff carbon graphite shaft and head-light balance of this YONEX Nanoray Light 18i Graphite Badminton Racquet make this a great racket for players who love making quick shots at the front of the court while giving you added power and control.
4. Best High End: Li-Ning G-Force Superlite 3600 Carbon-Fiber Strung Badminton Racquet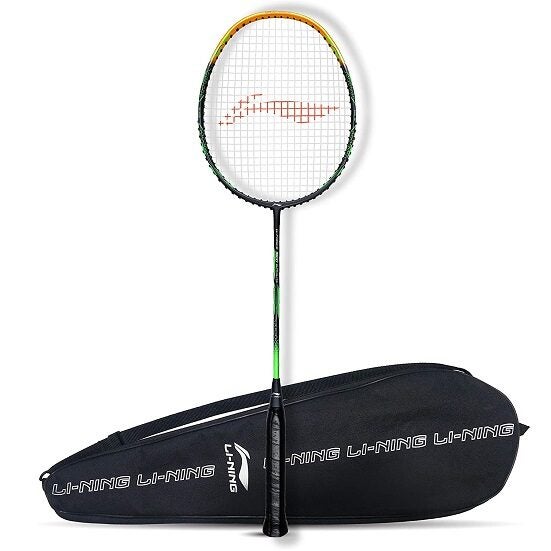 Durable
Lightweight
Comes in 6 colours
Includes full length cover
Poor packaging
Low quality cover
Key Specs
| | |
| --- | --- |
| Material: | Carbon Fibre |
| Weight: | 78g |
Weighing only 78g, this super-lightweight badminton racket was created to give intermediate and expert players a durable and reliable product.
Built with a high-tensile slim shaft to transmit power, an aerotec beam system, and a dynamic frame made from high-carbon graphite to help reduce air resistance, this Li-Ning G-Force Superlite 3600 Carbon-Fiber Strung Badminton Racquet will give you stability through your swing so you can attack with confidence.
5. Best Set: Senston Badminton Racket Set
Durable
Extra over grip to protect hands
Includes birdies and carrying case
Low quality strings
Cap on handle may pop off
Key Specs
| | |
| --- | --- |
| Material: | Aluminum, Graphite |
| Weight: | 86g |
This badminton set is a great way to get your family outside and enjoy the beautiful spring weather!
With two quality rackets and birdies, the fun can begin as soon as your delivery of this Senston Badminton Racket Set arrives. It also includes two birdies, two handle-over grips, and a full length carrying bag!
6. Best Kids Set: HIRALIY Badminton Rackets (Set of 4)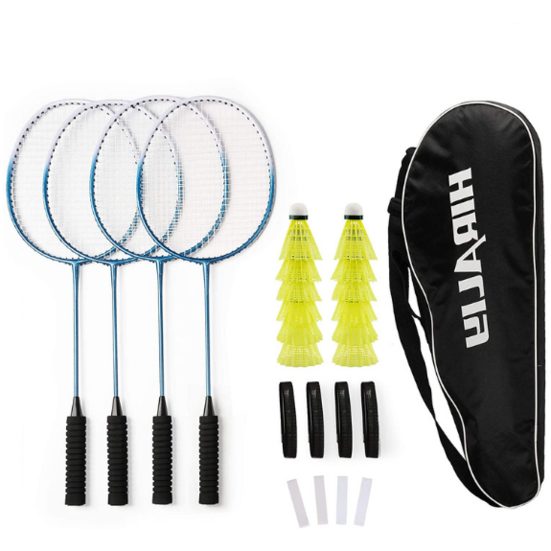 Large sweet spot for easy hitting
Suitable for beginner and intermediate players
Includes four rackets, 12 birdies and carrying case
Key Specs
| | |
| --- | --- |
| Material: | Alloy Steel |
| Weight: | 1.5kg |
This badminton racket set is ideal for beginner and intermediate players and includes enough pieces to keep everyone busy whether they are playing a game over a net or just lobbing the birdie back and forth with some practise shots.
These HIRALIY Badminton Rackets come with four rackets, 12 nylon shuttlecocks, four replacement grip tapes, four racket protection tapes, and a carrying bag to fit it all in so you can take it to the park or to a friend's house. These rackets are pre-strung, lightweight, easy to swing, and have a large sweet spot that is easy to hit. The racket frames are constructed of one piece of tempered steel with a built-in T-joint for a nice balance between lightness and sturdiness, performance, and cost. Practical, long-lasting, and economical, the four replacement grip tapes attached are made of PU material and offer a good cushion and sweat absorption, while the four protection tapes reduce the wear and tear on the racket frame.
7. Best Value Pack: Sport Supply Group Badminton Racquets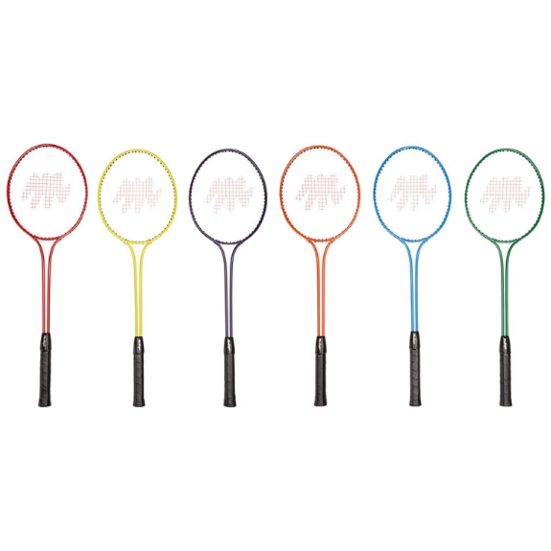 Sturdy, lightweight frame
Tightly strung nylon string
Rackets come in 6 different colours
Key Specs
| | |
| --- | --- |
| Material: | Alloy Steel |
| Weight: | 998g |
When it comes to badminton, everyone needs their own racket and that's what makes this next pick so practical.
These Sport Supply Group Badminton Racquets come in a set of six different colours so each player gets to choose from yellow, blue, orange, green, purple, or red. This is especially important in groups where everyone wants their own racket – no chance of mix ups. Geared for children as well as adults, these rackets are right-sized for everyone, with a frame that is constructed of sturdy, lightweight steel that can take strong volleys from kids and from grown-ups. The vinyl PU grips will not slip, however you might want to get some grip tape as it wears off and loses its stickiness.This colourful set is also suitable for organized club or league play.
How to Find the Best Badminton Racket
Racket Weight
Racket weight is usually displayed with a number followed by a "U". Most rackets weigh somewhere between 80-100g, but the weight of your racket depends on your personal preference and skill level. Beginners may prefer lightweight rackets (typically around 3U, or 85-89g) to allow their arm time to adjust to the weight and movements of a racket which can help reduce the chance of injury when learning how to play. Lightweight rackets are also great for quick serves and recoveries and can help give you more control over the birdie. Heavy rackets, on the other hand, can help you produce more power behind your swing and although it can provide you with a little more stability than a lightweight racket, it won't give you the same amount of control.
Balance Point
The balance point refers to where the majority of the weight lies in your racket. There are three types of balance points: head-heavy, head-light and even-balance.
Head-Heavy
As the name suggests, most of the weight is located towards the head of the racket. This type of balance point is super useful for generating lots of power and is an ideal choice for athletes who play at the back of the court who need to make long, full court clears and smashes.
Head-Light
On the other end, this type of racket is ideal for players who like to play a fast-paced attacking style of game from the front of the court. Because most of the weight is placed away from the head, these rackets are easier to control and swing.
Even-Balanced
This racket gives you the best of both worlds. If you're unsure what your playing style is or are new to the game, starting out with an even-balanced racket will give you the power, control and speed you need until you learn if head-heavy or head-light rackets are more your style.
Shaft Flexibility
The amount of stiffness you need in your racket depends on how fast your swing is. A stiff racket is great for someone with a fast swing speed since it will give you more power and control but would result in a loss of power if someone with a slow swing speed used the same racket. Those with slower swings are better matched with flexible shafts to give them that extra bit of power without exerting too much energy. People with fast swings should avoid flexible shafts to avoid losing power and control. If you're new to the game, flexible shafts are a great place to start whereas experienced players will benefit from stiffer shafts.
String Tension
The more power you generate in your strokes, the higher the tension you'll need. For beginner and intermediate players, a tension ranging from 18 to 23 lbs. is a good starting point. If you play frequently your strings will have to be replaced when they get worn out or too soft so you shouldn't worry too much about buying the wrong string tension — you can just swap it out and experiment with different levels each time you change the strings.
Grip Size
The grip of your racket depends on your personal preference and is measured by a "G" followed by a number. Bigger grips (G1) are ideal for generating lots of power through the arm, where small grips (G5) allow more finger and wrist maneuverability. When in doubt, start small and work your way up until you find a grip size that fits your style of play.
Leave a Comment
We're always looking for more feedback! If you own one of these badminton rackets and would like to share your experience with us and other athletes, please leave a comment down below!
About the Author: Carlen Oliveira
Carlen Oliveira is a graduate from Ryerson University's RTA Sport Media program and is currently working as a writer based out of Toronto. She has an avid interest in all things sports and finding engaging new ways to workout. With limited access to gyms and friends during the pandemic, she discovered her love of individual activities like yoga and skipping, which push her both mentally and physically. When she's not writing or working out, you can find her exploring the outdoors and travelling, come rain or shine… and especially snow!
RedFlagDeals.com is reader-supported. We are a participant in the Amazon Services LLC Associates Program and other similar affiliate advertising programs. These programs are designed to provide a way for sites to earn advertising fees by linking to them. This means that RedFlagDeals.com will sometimes get a small commission if you make a purchase through our links.