The Best Backpacks For Everyday Use, Travelling & Hiking
Table of Contents
There's no denying backpacks are one of the most handy and versatile products anyone can own. From a day at school to a trip to the beach, a quality backpack will you carry your belongings when you're hiking a trail, running down the street, walking through the park, or travelling across the city. If you're ready to invest in a backpack for work, or you need a moisture-wicking, heavy-duty bag to accompany you on your hiking trips, we've highlighted a ton of options below. Do you need a backpack for an upcoming trip? We've listed some of those models as well.
No matter what you need a backpack for, you should always keep in mind a bag's price, durability, and comfort. No one wants to buy a bag that can't handle the demands of your activity. If you take the time to research the different bags on the market, your bag won't just look good — it'll store all of your belongings, keep you comfortable, and last you for years to come.
Do you need a casual bag that you'll bring to work or throw on for a day wandering around town? Maybe you need a larger bag to store all of your hiking gear? For more info on what to look for in a backpack, head down to the bottom of the article for a quick outline. But first, check out some of the best backpacks to buy for hiking, walking and more.
1: Editor's Pick: KROSER Travel Laptop Backpack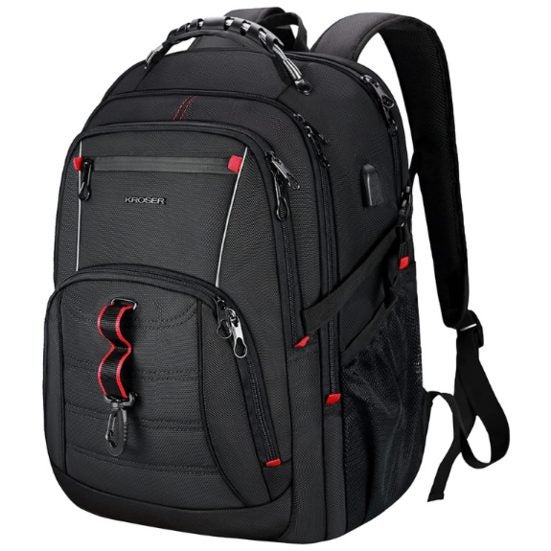 Large size
Can fit a 17-inch laptop
RFID pocket
Two outer zipped pouches
Only available in one colour
Main section does not have many separate pockets
Key Specs
| | |
| --- | --- |
| Material: | Water-repellent fabric |
| Dimensions: | 18.6"x13.5"x10.8" |
| Weight: | 3.08lbs |
For some people, when it comes to their everyday backpack, they'd rather go big, or not go out at all. If your needs fall somewhere in that vicinity of bigger being better (but not too big to handle), then our top pick is for you.
This sturdy backpack is a good choice for anyone who needs to carry a lot of stuff every day to get to and from where they need to go, whether that's from school or work or for a weekend away. The first thing to consider is space – with this backpack, you get a lot of it. Enough to fit up to a 17-inch laptop, plus books, A4 files, charger, iPad, and more.
It has two zippered front pockets, two side mesh pockets for your water bottle, a built-in USB port (although you will have to supply your own power bank) and an RFID pocket. And when it comes to durability – because as large as a backpack needs to it, it also has to last – this one is made of durable water-resistant fabric. It also has a sturdy handle on the top for carrying, side compression straps and an adjustable chest strap.
2. Runner Up: TETON Sports Explorer 4000 Internal Frame Backpack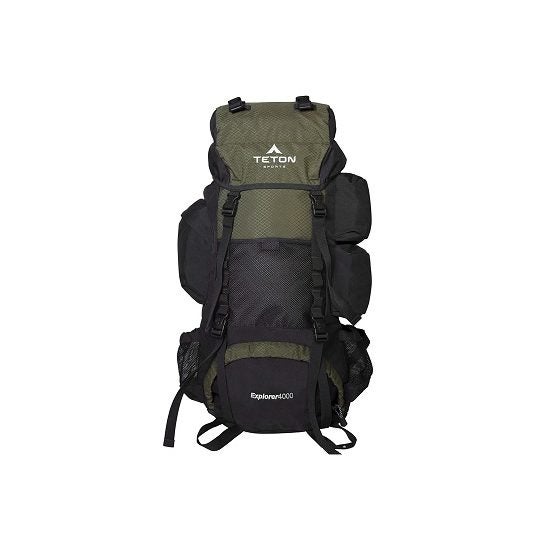 Uses an internal frame
Includes rainfly & sleeping bag compartment
Fully adjustable torso, shoulder, waist and chest straps
Pass through side pockets
Not ideal for long trips
Heavy
May not be ideal for small frames
Key Specs
| | |
| --- | --- |
| Material: | Ripstop |
| Dimensions: | 32" x 18" x 12" |
| Weight: | 5 lbs. |
With customizable padded straps, a rainfly, and a sleeping bag compartment, this TETON Sports Explorer backpack was made to help you enjoy the outdoors.
It's perfect for people wanting to get out and explore this big rock we call home, and it weighs 5 lbs. and has a 65-litre capacity. Its spacious compartments mean you can store all the equipment and clothes you need for those daily, or week-long trips. What's more, Its multi-position torso adjustments allow you to alter the bag to a wide range of body types, and includes ergonomic, adjustable padded shoulder straps and waist belts to make sure you're comfortable and supported while you're carrying it.
4. Best for Laptops: KROSER Laptop Backpack
Large, roomy compartments
Built-in USB port
Includes luggage belt and glasses hook
Great value
Loose threading
May be too large for some users
Key Specs
| | |
| --- | --- |
| Material: | Polyester, PU leather |
| Dimensions: | 17.7" x 12.2" x 7.5" |
| Weight: | 970g |
If you need a more professional bag to haul your laptop to and from university, an internship, or work, this KROSER laptop backpack uses a classic design and multiple large zippered compartments to help you safely store and organize all of your belongings. It's available in either 15.6"- or 17.3"-sized bags and six different shades, and each backpack is made from a high-quality, environmentally-friendly poly fabric that's both durable and water repellent.
3. Popular Choice: JanSport Classic Superbreak Backpack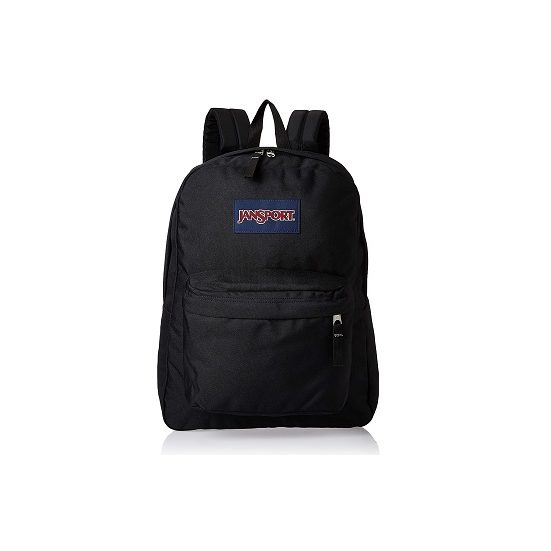 Comfortable
Good value
Padded straps and back panel
Lightweight
Bag runs small
Thin material
Key Specs
| | |
| --- | --- |
| Material: | 600 denier fabric |
| Dimensions: | 16.7" x 13" x 8.5" |
| Weight: | 12 oz. |
If you're already thinking about heading back to school, this JanSport Classic Superbreak backpack is made from durable materials to provide you or your kids with a comfortable and sleek bag.
Simple yet effective, this JanSport Classic Superbreak backpack is, well, a classic. Built with a web handle, padded shoulder straps, and a back panel, JanSport makes some of the most comfortable backpacks that are great for everyday use. Its spacious main compartment leaves lots of room for books, binders, or a lunch bag, while its smaller front utility pocket includes an organizer to help keep your pens, pencils and other items in order.
5. Best Carry-On: SWISSGEAR Carry-On Backpack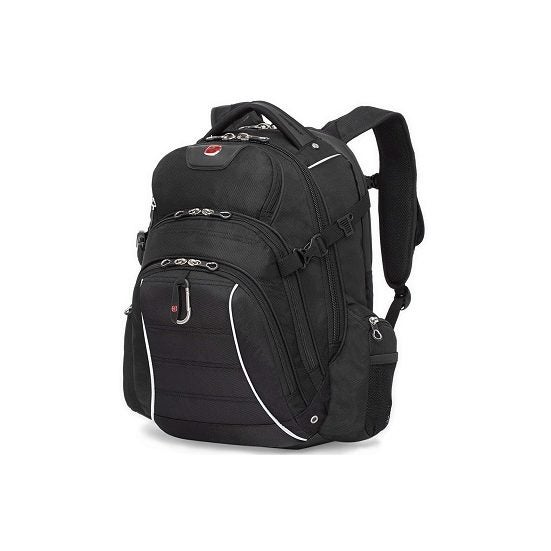 RFID blocking pocket
Carry-on dimensions approved by major Canadian airline companies
Water repellent
High-tensile lockable zippers
Reflective safety strips
Key Specs
| | |
| --- | --- |
| Material: | Polyester |
| Dimensions: | 11" x 7" x 20" |
| Weight: | 3.35 lbs. |
Frequent flyers will know how important it is to find a durable bag that doesn't exceed an airline's weight or size restrictions. If you're on the hunt for a high-quality backpack to bring with you on your travels, this SwissGear Carry-On backpack will make for a great travel companion. Its front RFID pocket will ensure thieves can't download or steal any of your personal information while it's rainproof padded back compartment works to keep your electronics safe.
6. Best Fashionable: WindTook Laptop Backpack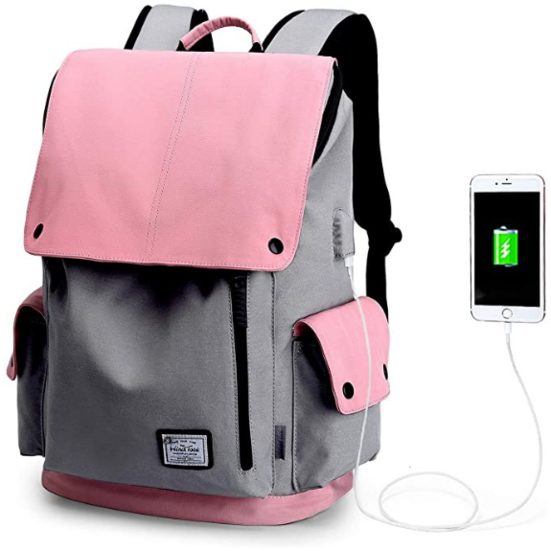 Fashionable design and colour combos
Water-resistant exterior
Fits up to a 15-inch laptop
RFID pocket
Only two interior compartments
Key Specs
| | |
| --- | --- |
| Material: | Nylon, polyester |
| Dimensions: | 11.8" x 6.7" x 17.7" |
| Weight: | 1.76lbs |
A good backpack that meets your needs doesn't have to look good or be fashionable, but if you can combine the two, then it's the best of both worlds, right? Wintook's laptop backpack is a decent size to fit what you need for a day at school, it has an interesting two-tone design, and is available in nine different colour combos and one floral to match the taste of most fashionistas. Aside from feeling tragically hip carrying this backpack, you will also know you've got it all together in this super lightweight bag, including your electronics up to a 15-inch laptop, papers, books, water bottle and other daily essentials. There is one main compartment, a front RFID pocket, a front zippered pocket and two mesh side pockets, plus there is a built-in USB port. The outside of the backpack is made of durable, water-resistant oxford nylon, and the inside is lined with soft polyester. With its unique colour combos, it will stand out in a crowd and you won't accidently pick up the wrong one.
7. Best Versatile: TAK Backpack Messenger Bag Casual Daypack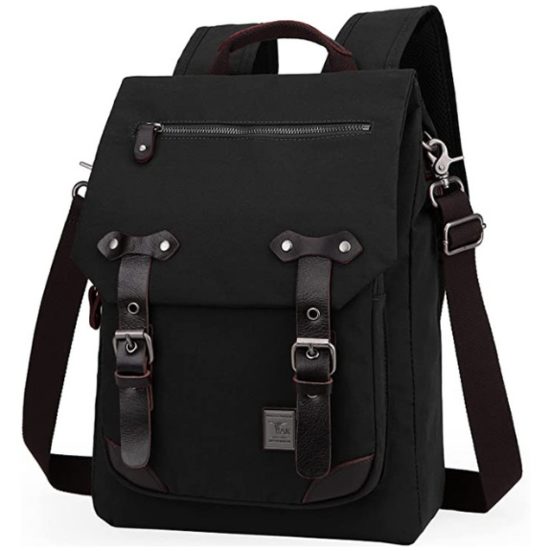 Versatile
Three ways to carry it
Large inner compartment
Available in five different colours
Space inside is not very large
Only two separate interior sections
No outside mesh pocket for water bottle
Key Specs
| | |
| --- | --- |
| Material: | Polyester, leather |
| Dimensions: | 15.6" x 11.2" x 4.1" |
| Weight: | 2.18lbs |
When is a backpack not only a backpack? When it can also be used as a messenger bag! This casual backpack from TAK has a unique, versatile design that lets you use it as a backpack or as a messenger bag.
The bag sports a minimalist, industrial-style look and is made of 100 percent polyester with genuine leather straps and accessorized with silver coloured hardware. Lightweight and durable, the backpack has a flap design that covers an internal zipper for added security. The flap has a pocket on top that makes it easy to access the items you use the most often, the main compartment is roomy enough to fit a 15-inch laptop, notebooks and papers, and there is a zippered pocket on the side to put other stuff.
Sturdy, padded shoulder straps allow you to carry it as a backpack, and it also comes with a removable shoulder strap that you can use for those times when you prefer the messenger bag look. Finally, there is a handle on top, giving you three ways to carry this stylish bag.
8. Also Consider: High Sierra Unisex-Adult Loop Backpack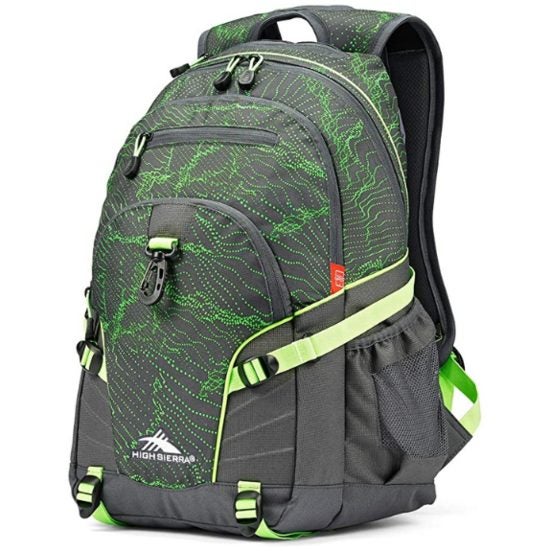 Ideal for hiking or for school or work
Multi-compartmental design
Adjustable side compression straps
May be too large for some needs
Key Specs
| | |
| --- | --- |
| Material: | 1680 Denier Ballistic Nylon |
| Dimensions: | 19" x 13.5" x 8.5" |
| Weight: | N/A |
The last pick on our list is a large backpack from High Sierra that has a ton of separate pockets, pouches and sections to organize all the stuff you want and need to carry around all day or on your next day-long hike.
For a long hike or even a weekend away, if you're carrying a heavy load and transporting a lot of gear, the backpack's strong suspension system will reduce the shock of weight transfer on your back and provide some relief from backaches. The side compression straps are adjustable to secure your items down and the adjustable bottom webbing straps on the backpack are perfect for carrying items like a sleeping bag or tent.
Meanwhile, whether for school, work or hiking, with the large main compartment, two secondary pockets to put a tablet, clothes and other necessities plus two accessory pockets, you will have enough space to fit it all in. This backpack is made of 1680 Denier Ballistic Nylon with a nylon lining and is available in six different colours.
What to Look for in a Backpack
Size
The key to finding the best backpack for you is making sure that the size of your backpack is proportional to your body — size actually does matter. Your backpack should fit nicely to the curve of your spine without poking your body in strange places or being too bulky. It's not a bad idea to measure the length of your torso to get an idea of which bags will fit your body best.
The size of your bag will also depend on what you plan to use it for. Someone looking for a casual work or school backpack won't need the same packing space or durability as someone preparing for a solo backpacking trip. At the end of the day, you need to find a bag that's big enough to store all of your clothes, gear or electronics, but is also small enough that you can carry it around without any back or balancing issues.
TIP: If you plan to use the bag while travelling internationally, make sure to look up the specific size and weight restrictions for carry-on bags.
Material & Durability
The material used in your backpack will have a direct effect on its durability. No one wants to buy a bag that's going to rip in a few short weeks, so it's worth investing in a product made from high quality materials that can withstand the demands of your day-to-day life and last you for years to come. Materials such as nylon, canvas, and leather will hold up well, but aren't the most breathable fabrics on the market. Some companies have started making the switch to recycled materials that can provide just as much, if not more, durability and protection than everyday materials.
Comfort
Your backpack is something that you might be using day in and day out, so choosing a backpack that's comfortable should be one of your top priorities. Look for backpacks equipped with padded straps, back panels, and hip belts if you're planning on using your bag when travelling or hiking. Make sure your straps are adjustable as well: this will allow you to make sure the weight of your bag is evenly distributed rather than digging into your shoulders or waist.
Extra Features
Backpacks come with all sorts of special features from waterproof designs, to lockable zippers and extra compartments. Depending on what you plan to use your backpack for, certain features can make a world of a difference when you put your bag to use. If you love to stay organized, everyday backpacks with extra compartments and a separate laptop sleeve will help protect your belongings and allow you to grab what you need quickly. For those of you prepping for a backpacking trip, bags that are both top-loading and front-loading will allow you to grab your things from either end of your bag so you don't have to dive into the depths of your bag just to grab a fresh pair of pants.
Leave a Comment
We're always looking for more feedback! If you own one of these backpacks and would like to share your experience with us and other readers, please leave a comment down below!
RedFlagDeals.com is reader-supported. We are a participant in the Amazon Services LLC Associates Program and other similar affiliate advertising programs. These programs are designed to provide a way for sites to earn advertising fees by linking to them. This means that RedFlagDeals.com will sometimes get a small commission if you make a purchase through our links.