The Best Ankle Weights
Table of Contents
The key to building your own personal at home gym, especially if you have limited space, is finding small, compact and inexpensive pieces of equipment like adjustable weights, yoga mats and jump ropes. For those of you who've gotten pretty comfortable working out and are looking for a new challenge, ankle weights are the way to go.
Ankle weights are a great space saving piece of equipment that adds an extra layer of resistance to your workouts and helps you burn more calories. Not to mention, you can use them virtually anywhere. When life and busy schedules get in the way of squeezing in a workout, throwing on a pair of ankle weights during everyday activities is an amazing way to build muscle, increase your endurance and tone your legs without even thinking about it.
Although ankle weights have lots of benefits, it's important to note that they're not always ideal for every exercise and/or person. If ankle weights are misused, they can cause stress on your joints and even impact the way you walk. This is especially important if you've experienced lower body injuries in the past. If so, check with a doctor or physiotherapist.
You can learn more about what steps you should take below but if you have no preexisting leg issues, you should be fine. Nevertheless, we've created a list of some of the best ankle weights on the market. Let's get started:
1. Editor's Pick: BalanceFrom GoFit Fully Adjustable Ankle Weights
Two-year warranty
One size fits all
Seven weight options
Comfortable material
Weights not removable
Slightly thicker than most
May slide around when using
Key Specs
| | |
| --- | --- |
| Material: | Neoprene |
| Available Weights: | 1, 1.5, 2, 2.5, 3, 4, 5 lbs. |
| Removable Weights: | No |
| Length: | 25.4 cm |
| Width: | 10.4 cm |
Perfect for beginners and advanced users alike, these ankle weights from BalanceFrom are available in a wide range of weights, making them an ideal choice for people of all fitness levels.
The BalanceFrom GoFit adjustable ankle weights are made from a moisture-absorbing, neoprene material to give you a soft, durable and breathable weight. No matter what workout you choose to do, these adjustable ankle weights have got you covered. With seven different weight levels to choose from, these inexpensive ankle weights are easy to put on and take off, while their oversized velcro pad ensures a good fit.
2. Runner Up: Cap Barbell Adjustable Ankle Weights
Comfortable
Removable weights
Adjustable velcro strap
Low flexibility
May fit loose when weights are removed
Key Specs
| | |
| --- | --- |
| Material: | N/A |
| Available Weights: | 20 lbs. |
| Removable Weights: | Yes |
| Length: | 19.3" |
| Width: | 7.9" |
If you've worn an ankle weight or two in your days and are ready to invest in a heavy-duty set, these ankle weights are for you.
Cap Barbell adjustable ankle weights include up to 20 lbs. of removable weight so you can adjust and cater the resistance to your needs. Built with a velcro closure system and a hook and loop strap to ensure a tight fit, these one-size-fits-all ankle weights can be worn anywhere to help tone and shape your muscles.
3. Also Consider: Ankle Weights Set by PINC Active
Soft material
Removable weights
Includes zipper closure to keep removable weights secure
Not ideal for people with larger ankles
Key Specs
| | |
| --- | --- |
| Material: | N/A |
| Available Weights: | 0.5, 1, 2, 1-5 lbs. |
| Removable Weights: | Yes |
| Length: | 30.9 cm |
| Width: | 14.3 cm |
Lightweight and comfortable, these adjustable ankle weights are the perfect introductory set to help you spice up your at-home workouts and reach your weight loss goals.
Whether it's a pilates or yoga session, strength training or a dance lesson, these adjustable weights by PINC Active add a layer of resistance to help you meet your fitness goals faster. Switch between 1 lbs. to 5 lbs. weight, using their removable weight bags that stay secured on your leg as you work out.
4. Best Budget Pick: Reehut Ankle Weights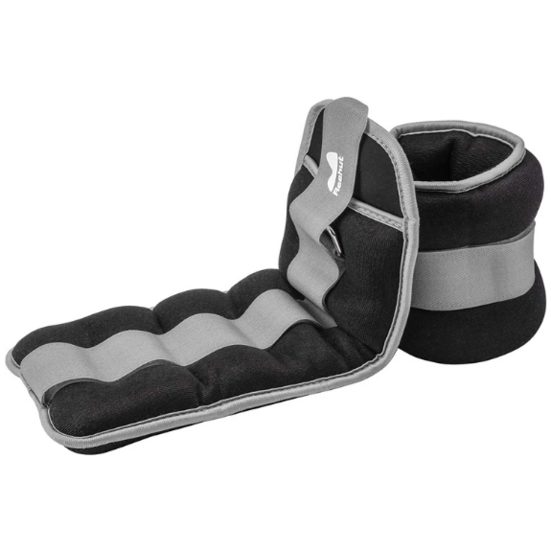 Moisture absorbing
One-year warranty
Seven different weight levels
Velcro wears overtime
Weights not removable
Key Specs
| | |
| --- | --- |
| Material: | Mercerized cotton |
| Available Weights: | 0.5, 1, 1.5, 2, 3, 4, 5 lbs. |
| Removable Weights: | No |
| Length: | 8.46" |
| Width: | 3.15" |
Want to max out your workout without maxing out your credit card? These inexpensive yet durable ankle weights add resistance to your daily workouts without breaking the bank.
By using mercerized cotton, these durable ankle weights provide a breathable and comfortable weight that works to absorb any moisture or sweat, and can be used by novice and experienced athletes alike. With an adjustable velcro strap to keep them snug to your ankles, these weights range from 1 lbs. to 10 lbs. to help strengthen your legs and offer resistance that the whole family can use.
5. Best Adjustable: ProsourceFit Ankle/Wrist and Arm/Leg Weights
Five removable iron pellet packets per leg
Soft neoprene material
Sturdy Velcro straps and ring closures for a good fit
Weight packets can be difficult to get into pockets once removed
Key Specs
| | |
| --- | --- |
| Material: | Neoprene |
| Available Weights: | 1.5 lbs. x 5 for up to 7.5 lbs. per ankle |
| Removable Weights: | Yes |
One feature many people look for in an ankle weight is the ability to adjust the level of weight. So, while some models remain the same weight, others allow you to add or remove individual weights to suit your need and fitness level.
There are brands that have adjustable weights made of sand or metal rods, but this pair from ProsourceFit uses removable iron pellet packets that allow you to adjust the weight as your fitness level increases.
There are five removable packets for each ankle that fit into individual pockets. Each packet weighs 1.5 pounds for a total of 7.5 pounds per leg; that's 15 pounds for both legs. The soft neoprene material feels comfortable on your skin and will prevent the ankle weight from slipping when you sweat. Strong Velcro straps help you adjust the fit for your ankle size, and the ring closures keep the weights securely in place so they are not moving around while you exercise.
This model is an ideal choice for beginners who want to build strength using the same pair of ankle weights throughout their fitness journey.
6. Best Versatile: Ankle Weights, Sportneer Adjustable 1-7 lbs. Wrist Weight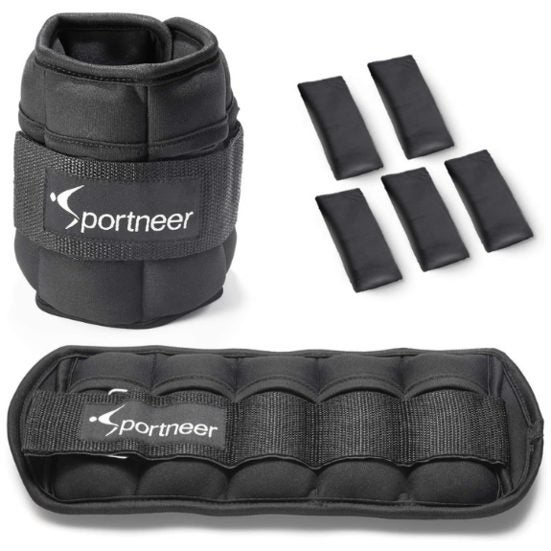 Removable weighted sandbags
Can be used on ankles or wrists
.5 lbs. increments on sandbags
Available in four colours
Not very comfortable on wrists
Sand can bunch up in the sandbags and feel heavy
Key Specs
| | |
| --- | --- |
| Material: | Neoprene |
| Available Weights: | 1.1 lbs., 1.7 lbs., 2.3 lbs., 2.9 lbs., 3.5 lbs. |
| Removable Weights: | Yes |
| Length: | 11.8" – 12.6" |
| Width: | 5.3" |
Ankle weights are a great way to up your fitness game, but how about getting more bang for your buck with a set that can also double as wrist weights? These ankle weights from Sportneer can be used on your ankles and on your wrists, making them a versatile option to cross train legs one day and arms the next. Or, you can purchase two sets and work your arms and legs at the same time.
The exterior of the weight is a soft neoprene material that has reinforced stitching and sturdy outer trim for durable, long-lasting use. There are pockets where you can stash up to five sand bags that each weight .67 of a pound. Remove or add the number of sandbags that you want, up to a total of 3.5 lbs. per leg.
The ankle weights are held firmly in place with an adjustable Velcro strap, with the smallest circumference measuring 2.5" for a wrist and up to 12.9" for large ankles.
7. Sleeper Pick: Roeam Adjustable Ankle Weights Set
Adjustable weights
Can be used on ankle or wrist
Made of silicone and stainless steel
Stretchable fabric
Maximum weight per bracelet is one pound
May be difficult to get over large feet
Key Specs
| | |
| --- | --- |
| Material: | Silicone, stainless steel |
| Available Weights: | 1 lbs. in increments of 60g |
| Removable Weights: | Yes |
Most ankles weights look pretty much the same: they are made from material such as neoprene, nylon or cotton and attach with Velcro straps, sometimes through a D-ring. These ankle weights from Roeam, however, look completely different from other models with a cool, sleek design that you can use on your ankles or wrists.
These one-pound weights are made of durable and soft silicone that are wrapped around eight individual stainless steel weights. The bracelets — and they actually do look like fashion bracelets — are comfortable, not bulky, are easy to put on and remove and are easy to clean, too. They also come in seven colours: pink, blue, white, green, gray, black and yellow.
Each band consists of eight pieces, each of which weighs 60g for total of 480g, just over a pound per bracelet, two pounds for both ankle weights. And the great part is, each section is removable so you can customize the amount of weight that you need.
8. Honourable Mention: LEKÄRO Adjustable Ankle Weights
Adjustable, removable steel weights
Large size adjusted by three Velcro straps
Weight capacity of 10 lbs. per leg
Breathable material
Go from ankle to just below knee
More expensive than other ankle weights
Key Specs
| | |
| --- | --- |
| Material: | PVE elastic, rubber, nylon |
| Available Weights: | Increments of 0.5 lbs. for a total of 10 lbs. each leg |
| Removable Weights: | Yes |
Most of the ankle weights we've recommended are pretty compact, fitting close to the ankle and rising perhaps five to seven inches high. These ankle weights from Lekäro rise up from ankle to almost your knee to offer up a variety of adjustable weight choices for a total of 10 lbs. on each leg.
There are 44 steel weights, each one weighing .5 of a pound. You can fit up to four steel plates into each of the five pockets, so you can add up to 10 weights per leg as you get into shape, or take some out on days where you're not feeling as strong.
The long adjustable Velcro straps are located on the top, middle and bottom to really secure the ankle weight comfortably to your leg, and keep the individual weights from slipping or moving around. While these ankle weights are suitable for everyone, they are especially good for large or overweight people.
The PVE elastic rubber and double-layer of nylon mesh material provides a soft, breathable fabric while also protecting against the impact of walking.
How to Get the Most Out of Your Ankle Weights
For some tips and tricks on when and how to use ankle weights, see below and check out a few things to keep in mind when buying.
Start Light
If you've never used an ankle weight before, we can't stress this enough — start light, start light, start light. Even if you consider yourself pretty well-versed in strength training exercises, it's important to give your body a chance to adjust to the new feeling of ankle weights to reduce the chance of injury.
One to three-pound ankle weights is the best range for beginners, but starting off with a one-pound weight on each ankle will help your body get used to the weight. Once you've become comfortable wearing ankle weights and your endurance and resistance in your workout routines has improved, you can consider upping the weights to four to five pounds. This weight range is ideal for strength-training exercises like donkey kicks, high knees, lunges, leg curls and so much more.
Heavy-duty weights can range from 10 lbs. all the way up to 20 lbs. You should only use this level of weights if you've started with lower weights and worked your way up through strength training exercises to make sure that your muscles and joints can handle the extra weight.
Choose Your Exercises Wisely
Ankle weights can be a great resource. If you want to wear your weights around the office or casually at home by all means, but try and limit the time spent in them to about an hour a day and work up from there. Strength training exercises that require you to lift your leg is the ideal use for ankle weights, and if you're looking to tonne your lower body, ankle weights can help a lot. That said, it's best to avoid running in them or doing extraneous workouts. Too much stress on your muscles and ligaments can cause injury.
Talk To A Doctor
As we briefly mentioned above, if you have any sort of lower-body ailments like hip, knee or ankle injuries, or even lower back pain, you should talk to a doctor before you use ankle weights to avoid any unnecessary strains or further injuries.
Leave a Comment
Do you own any of these ankle weights? Do you agree with our review, or did we miss your favourite? Comment below and let us know!
RedFlagDeals.com is reader-supported. We are a participant in the Amazon Services LLC Associates Program and other similar affiliate advertising programs. These programs are designed to provide a way for sites to earn advertising fees by linking to them. This means that RedFlagDeals.com will sometimes get a small commission if you make a purchase through our links.