The Best Android Phones
Table of Contents
Unlike the iPhone, which is only manufactured by Apple, Google's Android operating system is used by numerous phone manufacturers worldwide. That's a good thing for consumers since it means there is plenty of competition within the Android segment. The bad news is that it also means that there are dozens of options to choose from, with pricing and features ranging from one phone to another.
If you're in the market for a new smartphone and know you don't want an Apple iPhone, an Android device is your best alternative. If you aren't loyal to any certain brand, it could be overwhelming choosing the right Android phone. There's a long list of features and specifications that go into each device and it's perfectly understandable if the majority of them looks like technical jargon to you. The goal of this article is to take that information and deliver it in an understandable fashion so you can choose the best Android phone for you.
Below, we've included our picks of the best Android phones currently available but keep in mind the market is ever evolving and new devices are released all the time. We'll do our best to keep this article up to date with the latest devices.
1. Editor's Pick: Samsung Galaxy S22 Ultra 5G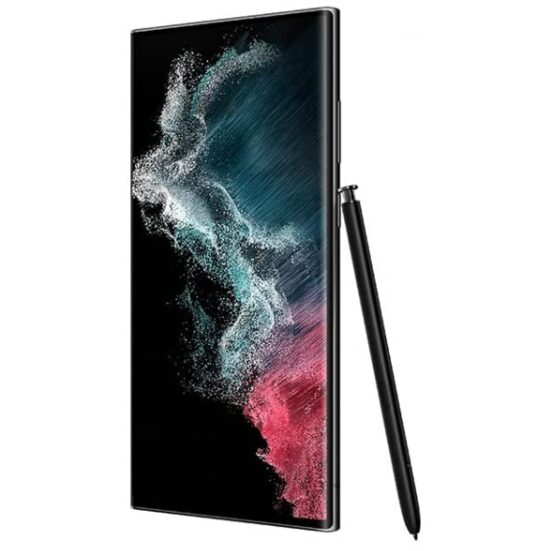 Long battery life
Large 6.8" screen
Comes in 5 colours
Records video in 8K resolution
Comes with 128GB, 256GB, or 512GB internal memory
Expensive
No microSD slot
Key Specs
| | |
| --- | --- |
| Storage: | 128GB, 256GB, 512GB |
| Display Resolution: | 3080 x 1440 pixels |
| Screen Size: | 6.8" |
| Front Camera Sensor: | 40MP |
| Rear Camera Sensor: | 108MP |
If you're in the market for one of the best smartphones around, and aren't scared off by a lofty price tag, consider the highly functional, beautiful, and high-tech smartphone.
This Samsung Galaxy S22 Ultra 5G smartphone has a whopping 108MP camera that can take clear and highly detailed photographs, from portraits to sweeping cityscapes, and it can record video in 8K resolution. This also comes with a stylus which you can use to accurately write, sketch, or edit photos. With advanced internal specs and a high 120Hz refresh rate, watching movies and playing games will be so much more beautiful and it also includes technology that manages blue light for easier viewing.
2. Runner Up: Google Pixel 6
IP68 protection
Comes in 3 colours
High level of security
Powerful Google Assistant
Good cameras and screen resolution
Pricey
Sides are hard to hold on to
Fingerprint reader isn't the best
Not as fast as some pricier models
Video calls aren't the greatest quality
Key Specs
| | |
| --- | --- |
| Storage: | 128GB |
| Display Resolution: | 2400 x 1080 pixels |
| Screen Size: | 6.4" |
| Front Camera Sensor: | 8MP |
| Rear Camera Sensor: | 50MP |
If you're looking for something a bit more affordable, this smartphone is a worthy choice to consider as it comes in three different colours and is fast, secure, and smartly designed.
The Google Pixel 6 was designed for daily life, so it's both beautiful and durable, and it has a variety of features to make daily use easier, like answering unknown numbers to figure out why they're calling. It's also made with a fast charging battery that adapts to how you use it and it can save battery life for the apps you use most. It's powered by the Google Tensor chip, which is the first processor designed by Google and custom-made for the Pixel, which makes it one of the fastest they've produced so far.
3. Best Flip Phone: Samsung Galaxy Z Flip3 5G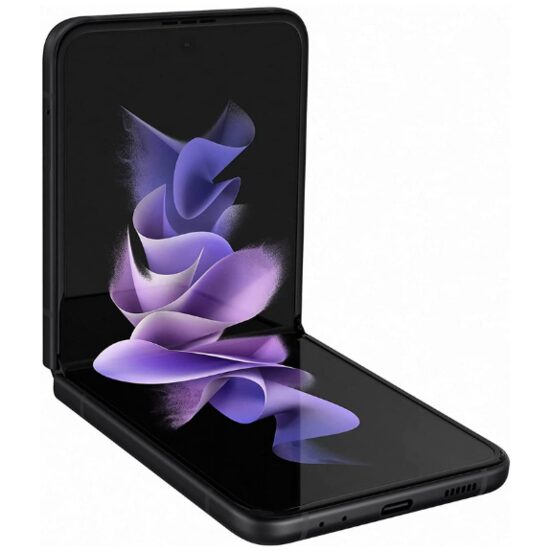 Comes in 4 colours
IPX8 water-resistant
Flex mode for hands-free video calls
Large screen with a small form factor
Comes with 128GB or 256GB internal memory
Expensive
Not durable
Poor battery life
Overheats easily
Key Specs
| | |
| --- | --- |
| Storage: | 128GB, 256GB |
| Display Resolution: | 2208 x 1768 pixels |
| Screen Size: | 6.7" |
| Front Camera Sensor: | 10MP |
| Rear Camera Sensor: | 12MP |
The future is now and you can get a smartphone with a touchscreen that has a folding display so you can have an extra-large screen that's still small enough to fit in your pocket.
When unfolded, the screen of this Samsung Galaxy Z Flip3 5G smartphone is a massive 6.7" but there's still a 4.1" informative cover screen you can use to view your notifications, check the weather, or send quick texts to your friends. It's built with decent cameras, too, and there's even a dual preview mode where you can use the back camera to film videos while still seeing what's being recorded. If your phone ever needs a repair, Samsung has a convenient door-to-door service (depending on where you live) that will come pick up your phone and repair it.
4. Best Budget Option: Samsung Galaxy A13 5G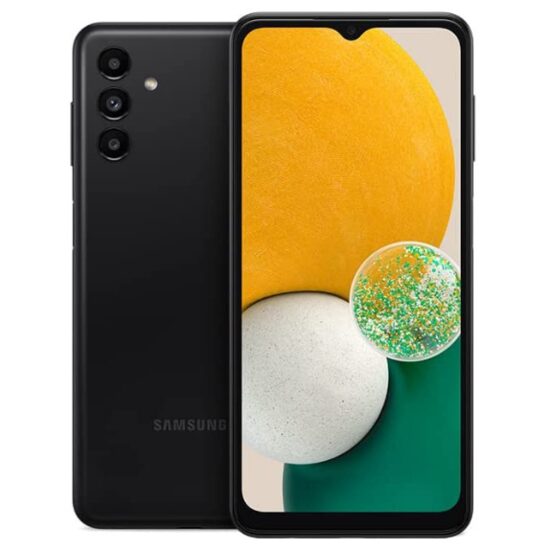 Expandable storage
Good performance and value
Decent cameras, and a big screen
Fast charging capabilities and long battery life
No wireless charging
Specs could be better
Doesn't come with a charger or headphones
Key Specs
| | |
| --- | --- |
| Storage: | 64GB |
| Display Resolution: | 1600 x 720 pixels |
| Screen Size: | 6.5" |
| Front Camera Sensor: | 5MP |
| Rear Camera Sensor: | 50MP |
For those just looking for an affordable smartphone and aren't fussed about the best features or design, this could be the right option for you that still works wonderfully.
The long-lasting battery is one of the key standouts with this Samsung Galaxy A13 5G smartphone, so you'll always be ready for impromptu photography shoots or video calls, and it's also equipped with fast charging capabilities when it needs more juice. If the 64GB of storage isn't enough, you can install a MicroSD card for some additional storage (up to 1TB). It doesn't have the best specs around, but the screen still boasts a nice edge-to-edge display that's hard to complain about.
5. Best Mid-Range Option: OnePlus 9 5G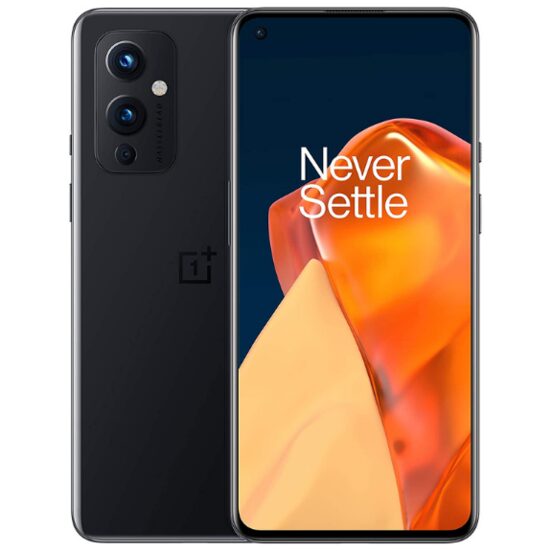 Charges quickly
Comes in 2 colours
Quick and responsive
Good cameras and internal storage
Pricey
Poor battery life
Poor touch response
Not the North American model
Known issues with software bugs and Bluetooth issues
Key Specs
| | |
| --- | --- |
| Storage: | 128G |
| Display Resolution: | 2400 x 1080 pixels |
| Screen Size: | 6.5" |
| Front Camera Sensor: | 16MP |
| Rear Camera Sensor: | 50MP |
This smartphone has good cameras for this mid-range price point and a ton of internal storage so you can save all your favourite photos.
You can pick this OnePlus 9 5G smartphone up in either the winter mist or astral black colour, and each will give you a smooth and fast performance across any app you use. It only takes 15 minutes to give you enough power for a full day of use, and it has a full HD display with a 120Hz refresh rate so videos will look as smooth as butter. It also has Amazon Alexa support for convenience, so you can control it using voice commands as long as you download the app.
6. Best High End: Samsung Galaxy Note 20 Ultra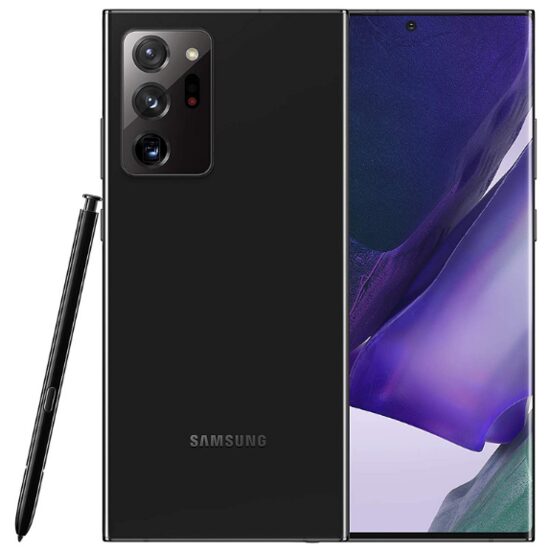 Large screen
Hyper fast processor
Comes with an S Pen
MicroSD card slot available
High quality front and rear cameras
Expensive
Not durable
Not the North American model; warranty won't apply
Key Specs
| | |
| --- | --- |
| Storage: | 128GB, 512GB |
| Display Resolution: | 3080 x 1440 pixels |
| Screen Size: | 6.9" |
| Front Camera Sensor: | 10MP |
| Rear Camera Sensor: | 12MP, 108MP, 12MP |
Even though this smartphone comes in at a whopping price point, it has so much power to do anything that you need. It also has a massive screen and comes with a pen.
This Samsung Galaxy Note 20 Ultra smartphone takes great photos, and it really is its own little entertainment station too; it has a powerful processor that optimizes your mobile gaming experiences, and it has an intelligent battery that can help manage your power needs throughout the day. You'll also enjoy using the stylus with this one that can help you out with so many things, like marking up your photos or taking notes. You can even connect an additional controller for your gaming, which can bring you countless hours of fun.
7. Best Older Model: Samsung Galaxy S21 FE 5G
High megapixel cameras
Can film video in 8k resolution
Intelligent battery that can last all day
30x space zoom, and stability with Zoom Lock
Fast processor speeds for sharing stories and editing videos
Expensive
No earphone jack
No charger included
Key Specs
| | |
| --- | --- |
| Storage: | 128GB, 256GB |
| Display Resolution: | 2400 x 1080 pixels |
| Screen Size: | 6.2" |
| Front Camera Sensor: | 32MP |
| Rear Camera Sensor: | 32MP |
This is one of the best older smartphones you can buy on the market right now; it's packed full of features, like a 30x zoom and the ability to capture videos in 8k, and is still a great value for this price point.
Any photo that you take with this Samsung Galaxy S21 FE 5G smartphone is going to look stunning; in total you'll get 64 megapixels across the three rear cameras, and with a 30x zoom capability you can even take photos of faraway subjects. It also comes in four colours so it'll be easy to find a version that you enjoy. Not only does this phone take excellent photos and videos, but it's equipped with an advanced processor that can help you share your story through routes like live streaming and video editing. It's also water and dust resistant, there's not much this phone can't do.
8. Honourable Mention: OnePlus Nord N100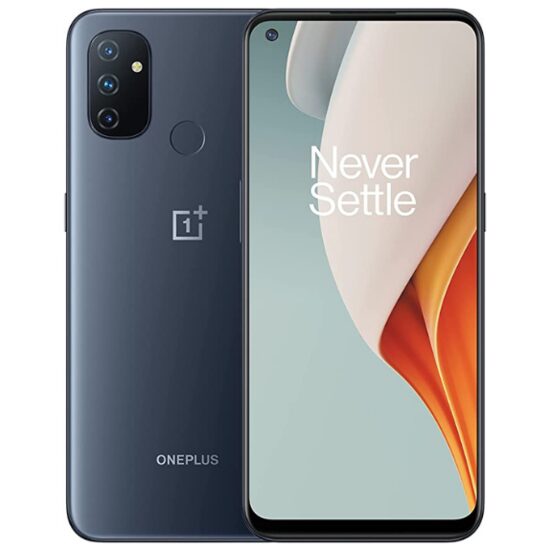 Long battery life
Decent enough specs
Good internal storage
Not durable
Low build quality
Some buyers received the wrong adapter
Key Specs
| | |
| --- | --- |
| Storage: | 64GB |
| Display Resolution: | 1600 x 720 pixels |
| Screen Size: | 6.5" |
| Front Camera Sensor: | 8MP |
| Rear Camera Sensor: | 17MP |
For those who didn't enjoy the previous budget pick, you might prefer this model instead — it has decent front and rear cameras, and is good enough for everyday use.
The screen is quite large on this OnePlus Nord N100 smartphone, which makes watching movies or playing games more enjoyable, and it has a good enough battery to keep you powered all day long. It's equipped with dual stereo speakers that create a clear and immersive sound, which is impressive at this price point, and it has a decent amount of RAM at 4GB and internal storage at 64GB. For all you wired headset lovers out there, it still has an audio jack.
What To Consider
With so many different brands offering Android devices, it's understandable if you're having a hard-time making a decision. Below are some factors you should consider in helping narrow down your choices.
Cellular Technology 5G phones are becoming increasingly mainstream, so many of the options you're likely looking at access a 5G network, but it can be helpful to know what that means. 5G networks can theoretically reach peak speeds that are up to 20 times faster than the older 4G LTE networks, which means that you can access data much more quickly, such as loading webpages or sending pictures to your friends.
Screen Size How big of a phone do you really want? If you're not planning to watch TV or movies on your mobile device, you may not necessarily need a large screen. In fact, some phone owners prefer going back to a smaller phone after owning a large one. Depending on the size of your hands, using a large device with a single hand may be uncomfortable. The last thing you want to do is purchase a device that's unwieldy for daily use.
Storage If you're the type of person who loves to load their phone with music and photos, or you tend to use a lot of apps, you should get a phone with a higher amount of storage to keep up with your needs. Keep in mind that in most cases the more storage you have, the more your new phone is going to cost.
Display Resolution How many pixels are in your screen directly affects how detailed and crisp images will be displayed. You'll see the resolution of your new camera phone listed as the number of horizontal versus the number of vertical pixels — for example, the Google Pixel 4a has a 2340 x 1080 resolution. The higher numbers you see here, the more detailed your phone can display pictures and videos.
Sensor Resolution It's a common misperception that a higher megapixel count will directly translate into better photos, and while it does help there are many other factors that are more important like aperture. If your camera has a wider aperture, it can let more light into the lens so you'll be able to take better photos when it's dark out.
Zoom Depending on how you want to use your new camera, its zoom can be a handy feature. If you want to take photos and videos of nature, for example, you wouldn't want to get too close and scare off your animal subject so having a good zoom capability can help you out immensely. It's also great if you want to take photographs of faraway objects, like a building in the distance. If this all sounds appealing to you, go for a camera phone that'll enable you to zoom across the highest distance.
Battery Life How long you can take your new camera phone out with you without needing to recharge can be a big deal, especially if you want to be able to take photos for extended periods of time away from a plug. If you know you'll be wandering far from a plug often, it might make the most sense for you to find a phone that has a high average battery life confirmed by both the phone's advertising and user reviews. Don't be fooled into thinking the battery size is all you need to consider, though. There are other aspects that affect battery life, such as the screen's size and refresh rate, how bright the display is, and more.
Frequently Asked Questions
As you can tell, there are plenty of options when it comes to Android smartphones. Choosing the right one largely depends on what you plan on using your device to do on a daily basis. Still unsure? Here are some more questions to ask yourself.
How Important is the Processor and RAM?
This largely depends on what you're primarily using your device for. Most Android phones won't allow you to multitask, like using two apps at the exact same time. There are exceptions of course, particularly with Samsung devices, but for the most part you'll be stuck using one app at a time which means processor and RAM isn't as important as you think. Still, you'll notice a difference in your phone's performance if your device has an older processor or only 4GB of RAM. If you plan on playing games, you'll definitely want to get yourself at least a mid-range device, otherwise it'll feel sluggish.
Are More Megapixels Better?
A divisive topic for many, don't be fooled into thinking a large megapixel number automatically makes the camera better. A great example is the Google Pixel 4a, which has a 12.2MP camera but is largely considered to have one of the best smartphone cameras around. The sensor being used for the camera plays a large role on how accurate colours are captured and how sharp images are. If you're planning to print your photos, having more pixels is important for print quality but it's a moot point if the image itself is poor quality.
Leave a Comment
We're always looking for more feedback! If you own any of these items and would like to share your experience, please comment below!
About the Author: Michael Pilon
Michael Pilon is a writer based in Toronto, who loves everything tech, gaming, and digital art. With two years of professional writing experience and a lifetime of learning about new gadgets, he aims to provide helpful, accurate stories. He received his Bachelor of Arts in English and media studies from the University of Toronto, and a Master of Arts in fashion from Ryerson University, exploring digital and technological applications throughout. When he isn't writing, you can find him playing the newest fantasy and horror games, or out discovering new coffee shops in the city.
RedFlagDeals.com is reader-supported. We are a participant in the Amazon Services LLC Associates Program and other similar affiliate advertising programs. These programs are designed to provide a way for sites to earn advertising fees by linking to them. This means that RedFlagDeals.com will sometimes get a small commission if you make a purchase through our links.