The Best All-in-One Printers
Table of Contents
From copying and scanning to printing full-colour photos and documents, you'll need a printer that can handle all your important projects. If printing, scanning, and copying are an essential part of working and learning from home for you and your family, take a look at our picks for the best all-in-one printers this year.
Given that a printer is a piece of equipment you'll likely have for years, you'll want to make sure this long-term relationship is a happy one. There are a number of things to consider when you're deciding how to choose the best all-in-one printer. We've taken those things into account, from functionality to connectivity, size, and more.
We've looked at several multi-functional printers (MFPs) that can get all of your jobs done. Across categories and price points, we've plucked out the best-in-show printers to suit your lifestyle and needs. From budget to high-end models and Mac-friendly machines, the right printer for you is somewhere on this list.
1. Editor's Pick: Epson EcoTank ET-2760
Compact
Great print quality
Two-sided printing
Low ongoing costs
SD card and USB support
Slow output
No ethernet connectivity
No automatic document feeder (ADF)
Key Specs
| | |
| --- | --- |
| Print Tech: | Inkjet |
| Dimensions: | 34.8 x 37.59 x 23.88 cm |
| Compatible OS: | Windows |
| Wi-Fi Connectivity: | Yes |
| Max Colour Print Speed: | 10.5 ppm (pages per minute) |
Best overall all-in-one printer goes to the Epson EcoTank ET-2760. This multi-functional printer offers great print quality for black and white as well as full-colour documents. It can also be set to complete your projects with double-sided printing automatically.
The Epson EcoTank ET-2760 all-in-one (AIO) printer is a low-cost, ink-replacement solution in addition to being compact, easy to use, and offering excellent print quality for documents and photos. The biggest selling feature of the EcoTank is the convenient ink solution it offers. While many printers still require ink cartridges that need to be replaced every so often, this compact model uses refillable ink reservoirs. This makes the ink replacement process easy and comparatively cheap.
Right out of the box, you'll have enough CMYK ink (cyan, magenta, yellow, and black) to print up to 6,000 full-colour pages, or up to 7,500 black and white pages. When the reservoirs are empty, the EcoTank ink refill bottles are value-priced and even come in convenient sets.
Where our overall favourite loses points is the lack of an automatic document feeder. It's typical to find comparable printers that have this feature, and if you're going to be copying or scanning a lot of documents, this may not be the printer for you. However, this small machine packs in a lot of other great walk-up features like a front-facing USB port and an SD card slot.
2. Runner Up: Brother MFC-J995DW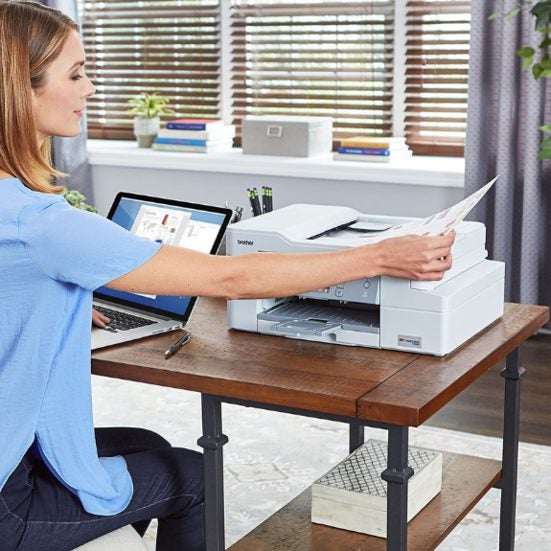 20-sheet ADF
Two-sided printing
Ethernet connectivity
SD card and USB support
User-friendly control panel
A bit slow
Subpar colour photo scanning
No automatic two-sided scanning/copying
Key Specs
| | |
| --- | --- |
| Print Tech: | Inkjet |
| Dimensions: | 19.56 x 34.04 x 43.43 cm |
| Compatible OS: | Windows, Mac |
| Wi-Fi Connectivity: | Yes |
| Max Colour Print Speed: | 12 ppm |
This is a great all-in-one printer that will perform well in small or home offices. It offers a range of connectivity options for all of your media devices in addition to a user-friendly control panel. You'll also enjoy walk-up USB and SD card support.
The Brother MFC-J995DW all-in-one (AIO) printer also gets an honourable mention for being great for moderate use in a home office setting. This printer offers a fairly good balance between productivity and convenience. You can print and scan from an SD card or USB thumb drive in addition to your tablet, laptop, or other device through Wi-Fi connectivity options.
There is also an automatic document feeder, but its maximum capacity is 20 pages. You should keep in mind that the MFC-J995DW model does not automatically perform two-sided scanning. This printer still uses conventional ink cartridges that you'll need to replace, something that put it slightly behind the Epson EcoTank. However you will enjoy the included page-count gauge that lets you know how many you'll be able to print before you run out of ink. The MFC-J995DW will also remind you when ink is running low so you can replace the cartridges in plenty of time.
3. Best Budget Pick: HP DeskJet 3755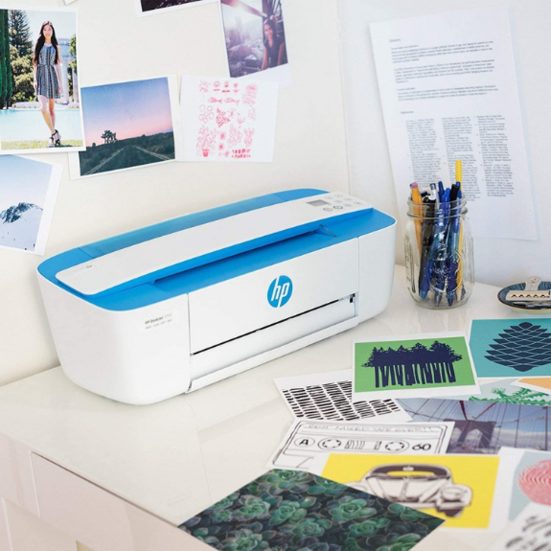 Portable
Decent quality photo printing
Excellent mobile connectivity
Can be slow
Average graphics quality
No automatic document feeder
Key Specs
| | |
| --- | --- |
| Print Tech: | Inkjet |
| Dimensions: | 17.7 x 40.28 x 14.1 cm |
| Compatible OS: | Windows, IOS, Mac, Android |
| Wi-Fi Connectivity: | Yes |
| Max Colour Print Speed: | 19 ppm |
This is the best budget all-in-one printer for your money. It offers easy mobile connectivity and impressive photo printing quality in addition to being conveniently compact, portable, and stylish.
The HP DeskJet 3755 is a compact printer that is easily portable, and its small footprint means it won't take up too much real estate in your workspace. Available in two colourways, you can opt for the grey accent that blends in with your space, or the blue accent, which will add a fun pop of colour. Photo printing is where the DeskJet truly shines. Considering it uses only a black ink tank and one combo CYM ink tank, the quality of printed photos is impressive.
This printer is pretty small, and there are a few omissions in terms of functionality that reflect that. You won't find SD card or USB support, but with mobile connectivity that may not be a concern. Be aware that there is no automatic document feeder with this model, and the printing speed can be slow compared to similar printers. However, if you're on a budget and looking for a printer for basic or occasional use, the HP DeskJet 3755 is a good choice.
4. Best Monochrome: Xerox B205/NI Wireless Monochrome Printer with Scanner & Copier
Print up to 2,500 pages monthly
Compact size
Front USB port
One-sided printing only
No colour printing
Key Specs
| | |
| --- | --- |
| Print Tech: | Laser |
| Dimensions: | 36.32 x 40.13 x 36.58 cm |
| Compatible OS: | Linux, Windows, Mac |
| Wi-Fi Connectivity: | Yes |
| Max Colour Print Speed: | N/A |
Not everyone who wants a printer needs colour copies, and that's why we added this monochrome laser printer from Xerox to our list. It is a great option because it offers up a lot of features that will appeal to a user who wants a machine that can scan, copy and print.
If you have a small office with a couple of employees or kids in school who need to print out their assignments, this printer can be used by up to five users. The output is pretty quick, with the first page out in around 8.5 seconds and a ppm of 31 letter-sized pages. The paper capacity is decent, too, at 250 sheets, with a 40-sheet automatic document feeder, which is helpful for school projects and reports. It also takes a variety of paper types including cardstock and labels.
There is an Ethernet connection as well as standard wireless connectivity so you can print from your mobile device, laptop or desktop. Colour scanning lets you create electronic files to save on your network or desktop, plus you can scan directly to USB, email, PC or network.
5. Best Mac-Friendly Printer: Canon PIXMA TR7520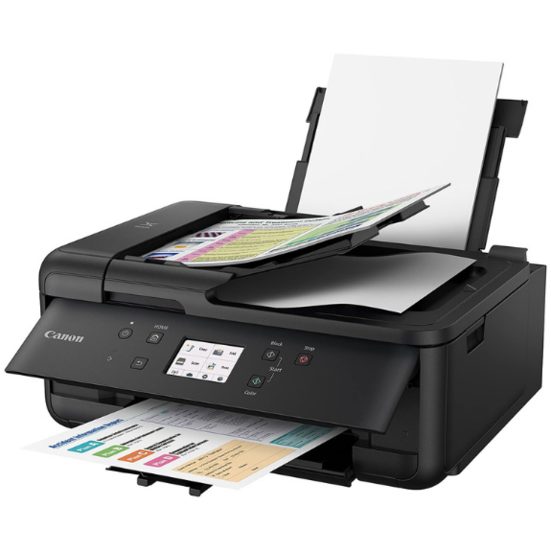 Excellent photo quality
Great text quality
Generous paper capacity
Excellent mobile connectivity
No SD card slot
No ethernet connectivity
Key Specs
| | |
| --- | --- |
| Print Tech: | Inkjet |
| Dimensions: | 36.58 x 43.94 x 19.05 cm |
| Compatible OS: | Mac, Windows |
| Wi-Fi Connectivity: | Yes |
| Max Colour Print Speed: | 40 ppm |
This is a great Mac-friendly printer featuring compact design, excellent print quality, and impressive print speeds. You'll also enjoy compatibility with your macOS and iOS devices via AirPrint.
The Canon PIXMA TR7520 boasts a compact design and a user-friendly interface as well as a range of wireless connectivity options. If you use your Mac for graphic design or other creative work, you'll appreciate this printer's great text quality and excellent photo quality. Printing speeds are 40 pages per minute for both colour and key (black and white), so your print jobs will be done in no time.
If you're looking for a printer with ethernet connectivity, you won't find it with this model. However this printer is AirPrint compatible, which means you'll be able to print easily from all your Apple devices. There is no SD card slot, but you can make use of the USB port to print your media.
6. Best Home Office Printer: HP OfficeJet Pro 9015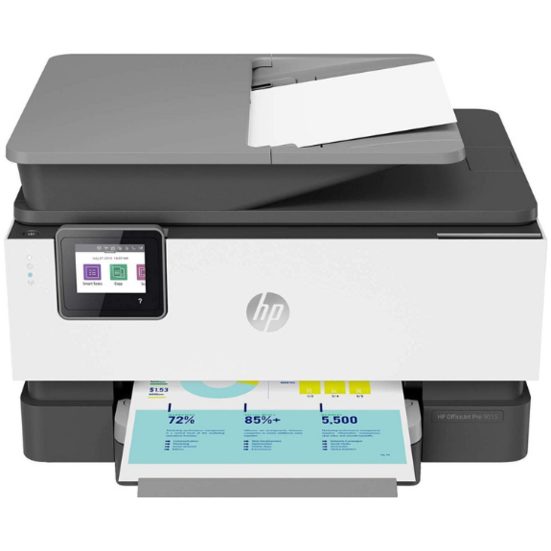 Fax
Great text quality
Touch-screen control manel
Two-sided print, scan, and copy
Key Specs
| | |
| --- | --- |
| Print Tech: | Inkjet |
| Dimensions: | 13.46 x 17.28 x 10.94 cm |
| Compatible OS: | Windows, Mac |
| Wi-Fi Connectivity: | Yes |
| Max Colour Print Speed: | 22 ppm |
This is a reliable all-in-one printer that is perfect for your home office. It offers wireless connectivity for devices on a range of platforms, as well as great printing speeds and output quality.
Looking for a reliable, capable printer with business-friendly features? The HP OfficeJet Pro 9015 is a powerful, well-rounded machine that offers two-sided printing, scanning, and copying, as well as fax capabilities, should you need them. At 22 pages per minute, it has a pretty good printing speed that should serve you well for moderate use.
This all-in-one is also a great printer for the whole family. Offering a range of connectivity options for printing from various platforms including iOS, macOS, Android, and of course, Windows. Output quality for this printer is impressive, and it performs well when printing text and graphics.
A con for some could be that this printer operates with a single paper input, but we feel for most people that won't be a deal breaker. This is a robust machine with great connectivity, and a suite of features perfect for home office use. Additionally, it's a bit smaller than other comparable models, so you'll have more space to get your work done.
What to Look for in an All-in-One Printer
It's a good idea not to purchase your brand-new printer based on looks alone. On top of the size and design of your printer and the functions you require, there are a few other things to look out for. Here's a round-up of some other important factors to consider before you buy your all-in-one:

Connectivity

Consider the devices you plan to use with your printer. Many all-in-one printers will offer Bluetooth connectivity in addition to Wi-Fi. For some, having the option for an ethernet connection is also critical. Check what your ideal printer offers against your current equipment to make the best choice.

Print Speed

Print speeds are easy to understand; the higher the ppm (pages per minute) number, the faster the print speed. Average ppm for most modern printers is about 20, however value-priced printers may have page-per-minute speeds that come in as low as 10. Whether or not a printer's slow output speed is a dealbreaker for you will ultimately depend on your budget.

Ongoing Ink Costs

Ink costs tend to be forgotten about when people begin their search for a new printer. However once that cartridge or reservoir runs dry, you'll quickly learn whether it's an ongoing cost you're willing to invest in. Before you commit to your new AIO, check the type of ink your chosen printer requires, how long it might last, and how much replacement cartridges or refill bottles will cost.
Leave a Comment
Do you own one of these? Do you agree with the review? Did we miss your favourite all-in-one printer? Comment below and let us know!
RedFlagDeals.com is reader-supported. We are a participant in the Amazon Services LLC Associates Program and other similar affiliate advertising programs. These programs are designed to provide a way for sites to earn advertising fees by linking to them. This means that RedFlagDeals.com will sometimes get a small commission if you make a purchase through our links.