The Best All-in-One Computers
Table of Contents
All-in-one desktop computers can be a great replacement for computer towers as they combine the monitor and desktop components into one minimalist design which can save you space and make your computer a bit more portable if you ever need to bring it around with you.
If you're in the market for a new computer, we've put together this list of some of the best all-in-one computers you can find on the market right now and we've kept a variety of different uses in mind for you to consider. Since all of the components are built into a single unit, you'll have a little bit less customizability when it comes to your setup so it's extra important to make the right choice.
If you're not sure about where to start, we've answered some frequently asked questions at the end of the article and we'll walk you through some of the pros and cons of buying one over your traditional tower and monitor setup. If you've decided that an all-in-one is right for you, you'll also find a little guide to help you choose both the right screen and right core components, like a processor and video card, which can make or break your experience. Here's a selection of our top choices.
1. Editor's Pick: Apple iMac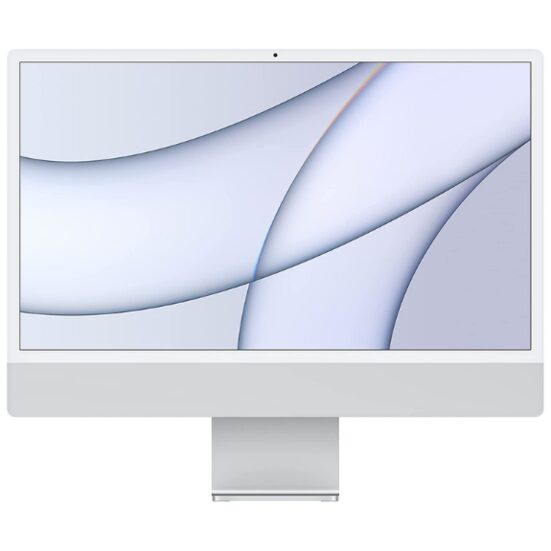 24" screen
Comes in 4 colours
4.5K Retina display
HD FaceTime camera
High number of processor cores for multitasking
Not durable
Mouse is poor quality
Volume doesn't go high enough for some
Key Specs
| | |
| --- | --- |
| CPU: | Apple M1 |
| Graphics Card: | Apple M1 (Integrated) |
| RAM: | 8GB |
| Resolution: | 4,480 x 2,520 pixels |
| Storage: | 256GB or 512GB |
This is one of the best examples of an all-in-one computer. It's effortlessly stylish, still has decent inner components, and isn't too expensive compared to some PC options out there.
Creatives will especially love the Apple ecosystem, since many of the most popular design and editing programs work best on Mac computers, and the processor of this Apple iMac has plenty of cores to handle intensive programs. It also has great accessories you'll be used to if you're an Apple fan, like the magic keyboard and an HD FaceTime camera built in. The graphics card isn't top of the line, so don't expect to play modern games on ultra graphics, but overall it's the perfect all-in-one for handling computing work.
2. Runner Up: HP 27" Pavilion All-in-One PC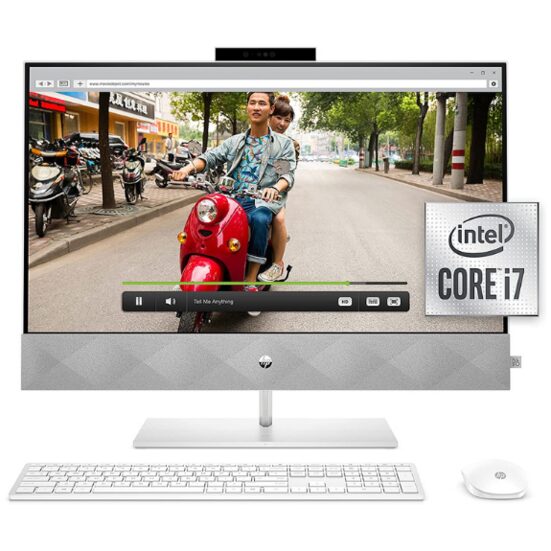 Integrated pop-up camera
Edge-to-edge 27" touchscreen
Durable aluminum construction
Good processor and graphics for an all-in-one
Expensive
Not durable
Peripherals are poor quality
Graphics won't be as good as a tower PC
Key Specs
| | |
| --- | --- |
| CPU: | 10th Generation Intel Core i7-10700T |
| Graphics Card: | Intel UHD Graphics 630 (Integrated) |
| RAM: | 16GB |
| Resolution: | 1920 x 1080 pixels |
| Storage: | 1TB |
If you'd prefer a PC, take a look at this model. It might be a bit pricey, but it's loaded with high quality components and has a large 27" display.
For just a few hundred dollars more than the base model iMac, you can get this HP 27 Pavilion All-in-One PC with the same amount of processor cores, a bigger screen, double the RAM, and a whopping 1TB of storage. The display resolution isn't as high, so your picture won't be as beautiful, but that's not going to matter to everyone. The whole screen on this one is touchscreen, too, so there are ways to navigate your computer besides just a keyboard and mouse.
3. Best with a Touchscreen: HP 24" All-in-One Touchscreen Desktop Computer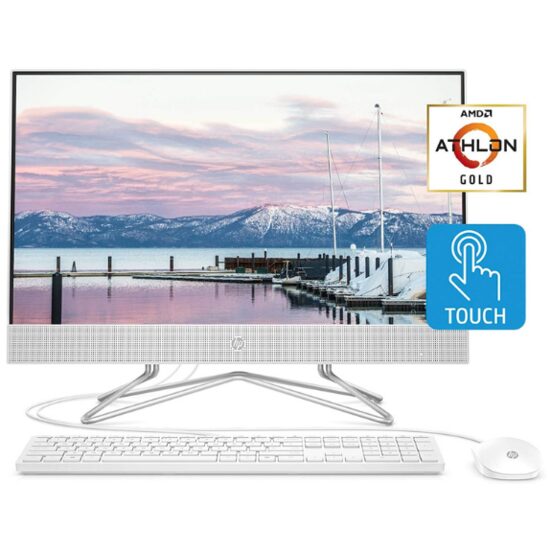 Easy to set up
24" touchscreen
Popup webcam and internal speakers
Great enough specs for daily computing, light working, or simple gaming
Pricey
Loud fan
May arrive damaged
Not the best for heavy duty tasks
Key Specs
| | |
| --- | --- |
| CPU: | AMD Athlon Gold 3150U Processor |
| Graphics Card: | Integrated |
| RAM: | 8GB |
| Resolution: | 1920 x 1080 pixels |
| Storage: | 512GB |
For those who don't need that big of a screen or such beastly internal components, take a look at this model which comes in at much lower of a price.
This HP 24" All-in-One Touchscreen Desktop Computer has both a decent RAM at 8GB and internal storage at 512GB. It also comes with built-in stereo speakers and a popup webcam that hides away when you're not using it. If you're using heavy duty programs like Photoshop and Illustrator, or want to play modern video games, you might want to look elsewhere as the two processor cores and integrated graphics aren't up to snuff. For everyday computing, though, this could be a great machine for you.
4. Best Budget Pick: Acer Aspire C24-420 AIO Desktop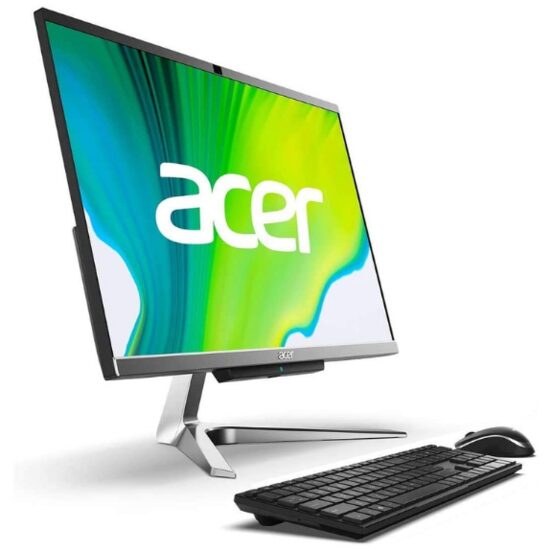 23.8" screen
Edge-to-edge LED screen
Great for everyday tasks and light editing
Renewed model which saves an electronic from going to a landfill
Specs could be better
Pricey for a refurbished model
Key Specs
| | |
| --- | --- |
| CPU: | AMD Ryzen 3 3250U CPU |
| Graphics Card: | Radeon Graphics (Integrated) |
| RAM: | 8GB |
| Resolution: | 1920 x 1080 pixels |
| Storage: | 256GB |
If you're shopping on a budget, and you don't necessarily need the best specs around, this model could be the right one for you — and it's a renewed model so you're helping the planet.
This Acer Aspire C24-420 AIO Desktop features an edge-to-edge LED display and is equipped with Radeon integrated graphics, so although you might not be able to jump into modern games without any lag, you'll be able to multitask and edit photos easily. The screen itself can be tilted forwards and backwards to find your optimal angle and is also designed with a blue light shield that can reduce the amount of blue light you see to prevent eye fatigue.
5. Best Older Model: HP 27" All-in-One Desktop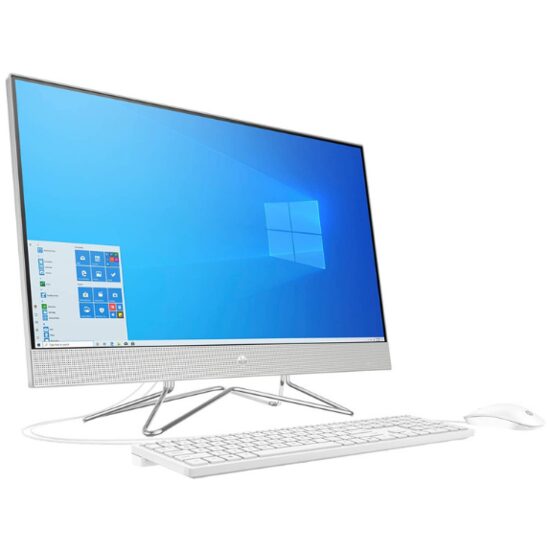 Popup webcam
Large 27" anti-glare screen
One year limited warranty
12GB RAM that's expandable to 16GB
Pricey
No peripherals are included
Lower specs than some other models here
Key Specs
| | |
| --- | --- |
| CPU: | AMD Ryzen 5 3500U Mobile Processor |
| Graphics Card: | Radeon Vega (Integrated) |
| RAM: | 12GB |
| Resolution: | 1920 x 1080 pixels |
| Storage: | 256GB |
Here's another popular HP all-in-one computer to consider — it's a slightly older model, so the specs aren't top of the line, but it's affordably priced and will get most tasks done well.
This HP 27" All-in-One Desktop doesn't have a touchscreen, which might be a downside, but if you don't plan on using it anyway you can shave off some of the price by going with a model like this instead. It has a decent enough processor core and integrated graphics card for everyday tasks (don't expect to play modern games well, though) as well as a good amount of RAM. The internal storage could be better, but if you don't have a ton of large files and photos you might not need more than this.
6. Best Value: ASUS M3400 All-in-One Desktop PC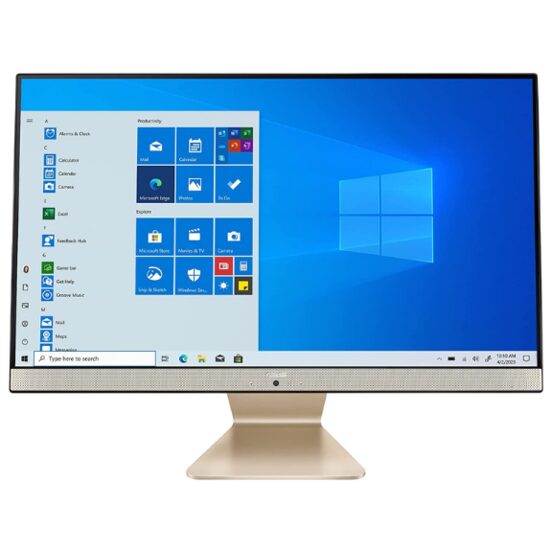 23.8" anti-glare display
Slim design and lightweight
Good RAM and internal storage
Ideal for video calls and Zoom meetings
Pricey
Specs likely aren't good enough for most modern games
Key Specs
| | |
| --- | --- |
| CPU: | AMD Ryzen 3 5300U Processor |
| Graphics Card: | Integrated |
| RAM: | 8GB |
| Resolution: | 1920 x 1080 pixels |
| Storage: | 512GB |
This model might not have the best internal components, but it isn't expensive and still includes a keyboard and mouse.
This ASUS M3400 All-in-One Desktop PC has a remarkably slim design and comes with an edge-to-edge display that makes your content look more beautiful. Plus, there are two stereo speakers built in that are designed to deliver powerful bass, so listening to music can be more enjoyable. This was also designed with video chats in mind as there's AI noise-canceling audio technology used which filters out the noise around you, and around whoever is at the end of the call, for clearer communication.
7. Honourable Mention: Acer Aspire All-in-One Desktop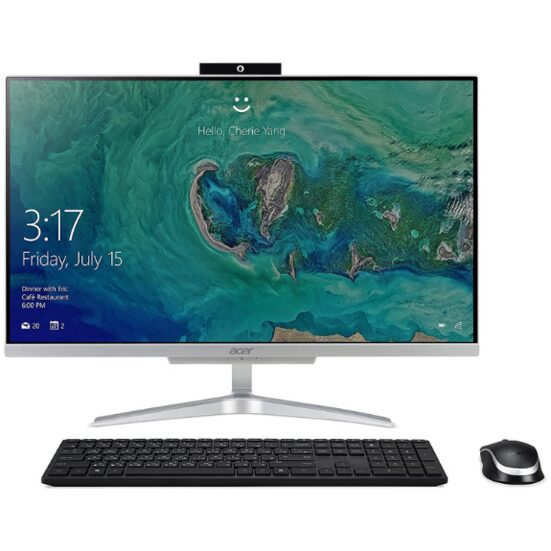 Very thin bezels
23.8" tiltable screen
Decent graphics card for an all-in-one
Pricey
Loud fan
Overheats easily
No touch screen
Not the best for gaming but still passable
Key Specs
| | |
| --- | --- |
| CPU: | Intel Core i5-1035G1 |
| Graphics Card: | NVIDIA GeForce MX130 |
| RAM: | 12GB |
| Resolution: | 1920 x 1080 pixels |
| Storage: | 512GB SSD |
This computer has good performance for the price and is easy to use.
Although this Acer Aspire All-in-One Desktop doesn't have a touch screen, you'll still get great performance with this all-in-one. We're also loving the ultra thin bezels on this design because you'll be able to see more of your beautiful content without the bezels getting in the way — not everyone is going to care about this of course, but if you do this is a wonderful choice.
What's an All-in-One Computer, and Should I Get One?
With all-in-one computers, the CPU, RAM, and video card are built into the monitor itself, so essentially there's no traditional tower that houses the parts. While PC towers are designed large so that they can hold a bunch of parts of your choosing, an all-in-one computer instead usually houses specially designed components which allows for a more streamlined build.
Some of the benefits of all-in-one computers is that they can save a bunch of space since there's no traditional tower holding the PC components, and they're easy to pick up and bring around if you ever need to move it to another office or take it to get it fixed. Many of them also have a touchscreen which can be super convenient depending on what you're using your computer for.
They come with some cons, though. You generally won't be able to go in and upgrade the components, since they're specifically built to fit within the monitor, and that can be a bummer because the parts within, like the CPU and video graphics card, generally aren't top of the line. These computers aren't the best for using intensive programs, like most modern video games, but if you're someone who wants to save space and uses a computer for more basic tasks, or you're giddy at the thought of a touch screen computer monitor, you'll love an all-in-one.
What To Consider
Screen Size and Quality
Since you'll be looking at the screen primarily and likely are using a computer for entertainment or office work, the screen is probably the most important feature you should consider. You'll need to think about the size you want — some people love looking at a larger screen and some need to look at a smaller screen for their eyes, so think about the size you want and go from there. You'll also need to consider the display resolution which tells you how many horizontal and vertical pixels your monitor has. The higher the pixel count, the more detail you'll see on the screen, which means you'll have a more crisp and higher quality image.
Internal Components
Something you'll need to watch for is that all-in-one computers will sometimes have parts that are intended for mobile devices, like the CPU, so if you need your computer to be able to handle intensive programs like Photoshop or some lighter gaming make sure you double check that the computer isn't using a mobile processor so that you'll get the best experience possible. Your graphics card with a new processor likely will be a mobile version, however, which saves room in the build. As previously mentioned, by no means will these all-in-one computers be great at gaming, but you should still be able to play some older games with them and some newer ones with the graphics settings on medium or low.
Leave a Comment
We're always looking for more feedback! If you own any of these items and would like to share your experience, please comment below!
About the Author: Michael Pilon
Michael Pilon is a writer based in Toronto, who loves everything tech, gaming, and digital art. With two years of professional writing experience and a lifetime of learning about new gadgets, he aims to provide helpful, accurate stories. He received his Bachelor of Arts in English and media studies from the University of Toronto, and a Master of Arts in fashion from Ryerson University, exploring digital and technological applications throughout. When he isn't writing, you can find him playing the newest fantasy and horror games, or out discovering new coffee shops in the city.
RedFlagDeals.com is reader-supported. We are a participant in the Amazon Services LLC Associates Program and other similar affiliate advertising programs. These programs are designed to provide a way for sites to earn advertising fees by linking to them. This means that RedFlagDeals.com will sometimes get a small commission if you make a purchase through our links.