The Best Air Mattresses
Table of Contents
Purchasing an air mattress for a guest or finding the best air mattress for a camping trip can be trying, but it doesn't have to be. With a variety of self-inflating air mattress options available in the marketplace today, you may not know which product is the right one for you but the important thing is to get the best bang for your buck. Price, available space, purpose, durability and portability are all factors to consider but ultimately, deciding on the right air mattress comes down to ease of use and size. Always consider who you need it for, how often you'll use it and where you'll be using it, as there are various types and various specs to consider.
Purchasing an air mattress should never be a spontaneous choice; it should be one where you invest serious thought. The only way to determine what is best for you is to do the research, make comparisons and do what's best for your situation. Check out some of the best portable air mattresses to buy below.
1. Editor's Pick: EZ INFLATE Luxury Double High Queen Air Mattress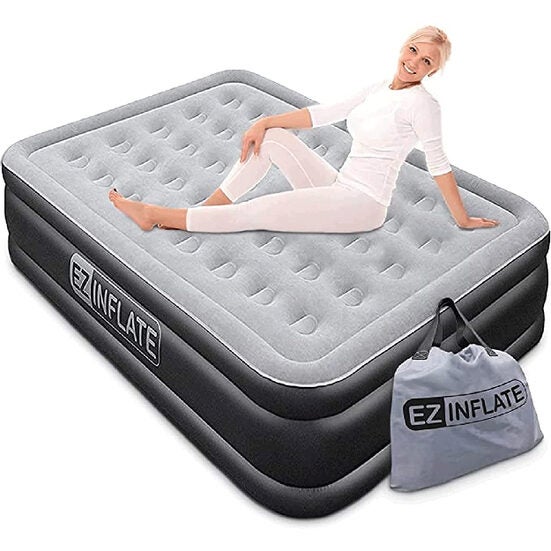 Built-in pump
Coil beam technology
Soft flocked non-slip top
Can lose air over time
Not a great weight capacity
Key Specs
| | |
| --- | --- |
| Weight Capacity: | 300 lbs |
| Built-in pump: | Yes |
| Size: | 76" x 38" x 22" |
| Thickness: | 16" |
For the occasional sleep-over or for your next visit to the family, you're going to want a reliable and comfortable queen-size air mattress.
An air mattress is not really a suitable permanent replacement for a memory foam or coil spring mattress. However, it is a great alternative to pull out of the closet when guests sleep over, or when you take a road trip to a friend who doesn't have an extra bed. And when that air mattress is a queen size and inflates in a couple of minutes, then it's a win-win situation all the way round.
This air mattress from EZ Inflate lives up to its name, with a built-in pump that will easily inflate the queen-size mattress in two minutes or less. No fuss, no muss and more importantly, no waiting. The mattress – which is a great choice for travel and camping -- is waterproof, puncture resistant, made from triple-layered PVC and can support up to 300 pounds. It's also 16-inches high when fully blown up so it doesn't feel like you're on the ground, will fit your regular sheets and comes with a handy travel bag.
2. Runner Up: Etekcity Upgraded Camping Air Mattress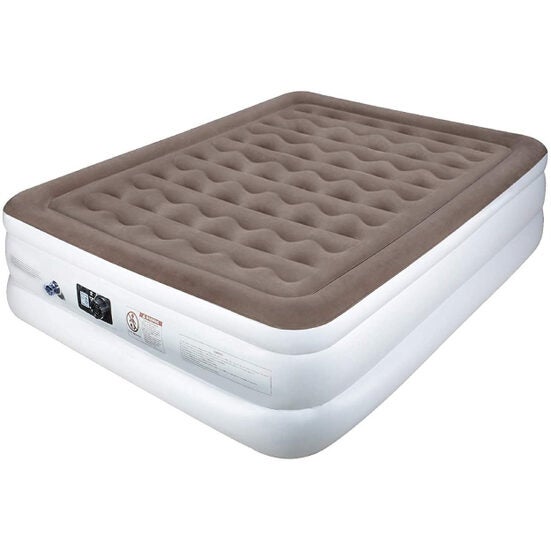 Comes with a carry bag
US California prop 65 certified
Non-slip bottom
Need to top off the air in the morning
Key Specs
| | |
| --- | --- |
| Weight Capacity: | 650 lbs |
| Built-in pump: | Yes |
| Size: | 80" x 60" x 22" |
| Thickness: | 22" |
You can inflate this air mattress using the built-in pump or when there is no electricity, with a hand pump.
An air mattress with a built-in electric pump is so convenient. The mattress inflates quickly in a matter of minutes. But what if you need to use the mattress and there is a power failure or you're out in the woods camping? Our runner-up choice, which is a bit more expensive than our top choice, is equipped with a built-in electric-powered pump and also has a two-in-one port to support a manual pump. No power? No problem. You'll still be able to get a good night's sleep.
This upgraded air mattress from Etekcity has fourth generation technology with the latest wave beam inner support, making it more durable than previous iterations. In fact, this queen size air mattress can withstand up to 650 pounds and still remain flat and firm on the ground with no sinking or leaking.
The mattress is constructed of safe materials that have passed the official US California prop 65 test for lead, cadmium and phthalates, so you know it's non-toxic and safe for the whole family. The multi-layer flocked top is puncture-resistant, waterproof and when inflated, the bed raises to 22 inches off the ground.
3. Best Head and Neck Support: Active Era Premium Double Air Mattress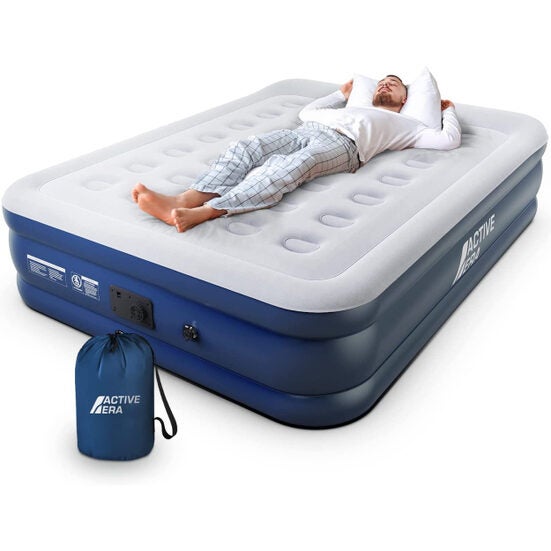 Comes with raised pillow
Easy to inflate and deflate
Includes puncture repair patches and carry bag
Needs to be inflated a few times to get full inflation
Key Specs
| | |
| --- | --- |
| Weight Capacity: | 550 lbs |
| Built-in pump: | Yes |
| Size: | 80" x 60" x 20" |
| Thickness: | 20" |
A built-in raised pillow on this air mattress provides extra head and neck support for the times when you remembered to bring everything except a pillow.
An air mattress is super convenient to take with you when camping or visiting friends who don't have an extra bed. Oftentimes, they also don't have an extra pillow, which can mean an uncomfortable sleeping experience if you are used to having your head elevated.
Say hello to Active Era's queen-size air mattress that will solve the problem of head and neck discomfort with its built-in raised pillow. But it's not only the addition of a pillow that makes this a good option. Structurally, the mattress is fitted with 35 air coils to support your body during the night. An extra thick, waterproof flocked top layer has been designed with a multilayer, 15-gauge puncture-resistant material for longer-lasting durability. Finally, the integrated electric pump inflates the mattress in less than three minutes, although you may have to fill it a few times to fully inflate.
4. Best Budget Pick: Intex Dura-Beam Standard Single-High Airbed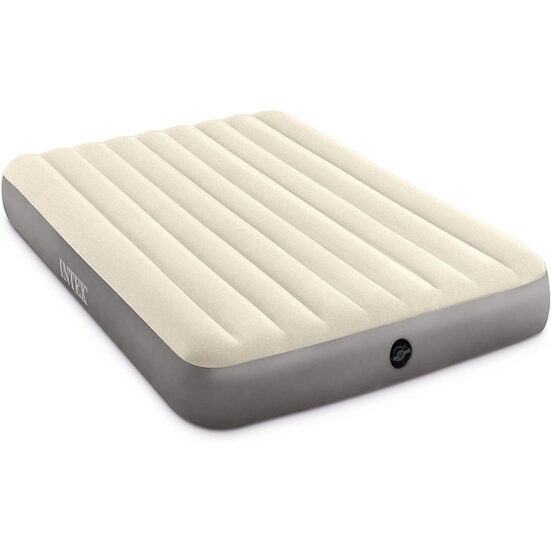 Affordable
Patented technology
Contoured support system
Pump not included
Low to the ground
No carry bag
Key Specs
| | |
| --- | --- |
| Weight Capacity: | 600 lbs |
| Built-in pump: | No |
| Size: | 80" x 60" x 10" |
| Thickness: | 10" |
This affordable air mattress is an ideal choice for anyone on a budget.
You won't have to spend a lot to get a reliable air mattress for the times a guest sleeps over or you're on a camping trip – but you will need a pump. This air mattress from Intex is super affordable and for the price, offers up a decent night's sleep. It is low to the ground, with a rise of only 10 inches, but the fibre-tech construction provides a decent level of firmness and support with a maximum weight capacity of up to 600 pounds.
For this price, however, you do not get a built-in pump, so you have to factor in the purchase of one, but the mattress features a two-in-one valve with extra wide openings for a reasonably quick inflation and deflation if you have an electric pump. You can also use a manual pump, which comes in handy if there is a power failure.
5. Best Twin Size: iDOO Twin Size Air Mattress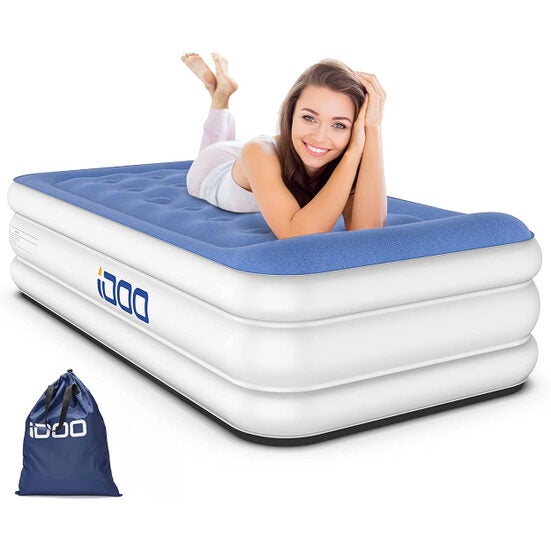 Integrated raised pillow
Waterproof top
21 internal air coils
Single size may be too small for some needs
Tends to lose air after a few days
Key Specs
| | |
| --- | --- |
| Weight Capacity: | 550 lbs |
| Built-in pump: | Yes |
| Size: | 75" x 39" x 18" |
| Height: | 18" |
Sometimes you need a twin-sized air mattress for one person or when space is limited.
A queen size air mattress is great to accommodate two people or when you want a larger area to move around and stretch out – as long as you have enough floor space. Sometimes, however, space is limited, whether it's because you live in a small studio apartment or you're in a tent camping. That's when you'll need a twin size air mattress.
This air mattress from iDOO comes with a built-in pump so a quick inflation is not a problem – in fact, it takes only three minutes. It is made from a PVC material that is flexible. This means that after being inflated for a few days, it will lose its initial firmness, which is not an indication of a leak. It only means you'll have to add air for between 10 and 15 seconds to get it back to your desired firmness.
The mattress is constructed with 21 internal air coils for a decent level of support, and it also has an integrated 3.5-inch raised pillow to support your head and neck.
6. Best for Camping: Coleman SupportRest Double High Airbed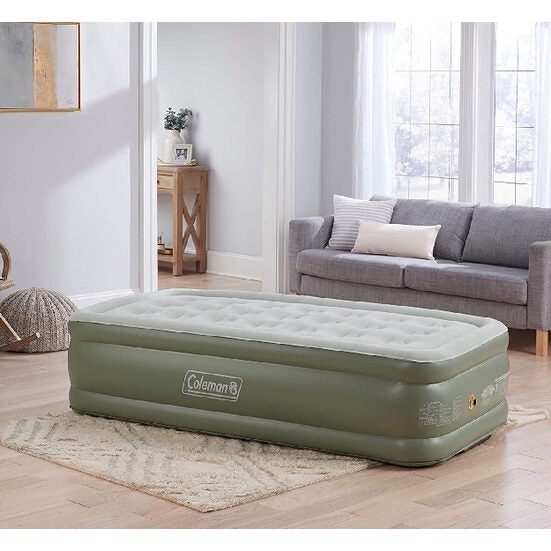 Fits most cots
Ideal for outdoor use camping
27-coil construction
Does not come with a pump
Key Specs
| | |
| --- | --- |
| Weight Capacity: | 650 lbs |
| Built-in pump: | No |
| Size: | 78" x 60" x 18" |
| Thickness: | 18" |
If you're going camping and need an air mattress, you can't go wrong with a Coleman brand.
Anyone familiar with the camping life knows the Coleman brand, a company that has been around for over a century. Founded in the US in 1900 selling gasoline pressure lamps, it has become a popular choice for outdoor living equipment and accessories.
The Coleman air mattress has a slim, space-saving design, which is ideal for a tent or an RV. It is also specially designed to fit on most cots, if that's your preferred style of sleeping. It has a soft top and is constructed with 27 coils for comfort and support. While it does not come with a pump, it does have a dual lock valve for a quick inflation and once you have found your perfect level of firmness, the mattress's air-tight system guarantees that it will not leak, retaining that firmness all night long.
When it's time to break camp and leave, the mattress has a built-in patented Wrap 'N' Roll storage system: fold it, roll it and store it.
7. Best High End: King Koil Luxury Raised Airbed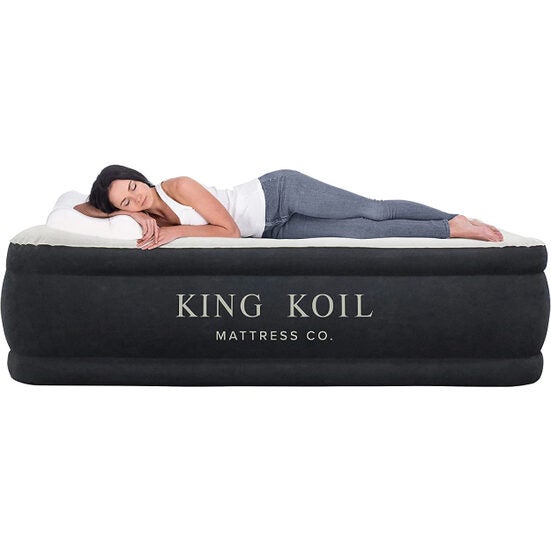 Quilted top
Built-in pillow
Three sizes to choose from
Expensive
Not a great weigh capacity
Key Specs
| | |
| --- | --- |
| Weight Capacity: | 350 lbs |
| Built-in pump: | Yes |
| Size: | 84" x 72" x 20" |
| Thickness: | 20" |
It looks and acts like an air mattress, but you'll soon discover that this luxury model feels like a traditional bed.
If you're not on a budget and you're looking for a premium air mattress that feels like a traditional mattress, then you may want to consider this model from King Koil that is available in twin, queen and California king sizes.
This air mattress is built with an enhanced coil technology with air-filled coils and internal layering that provides superior support to keep your spine aligned. The firm mattress has an extra-thick waterproof quilt-sueded top that will keep your sheets in place – no more finding half the sheets on the floor.
The built-in pump inflates or deflates the mattress in under five minutes and while it's suitable for home use, the external valve also makes it a good choice for on-the-go use. And if you happen to accidently puncture or tear the mattress, this model includes a patch kit.
8. Best for an SUV: Berocia SUV Air Mattress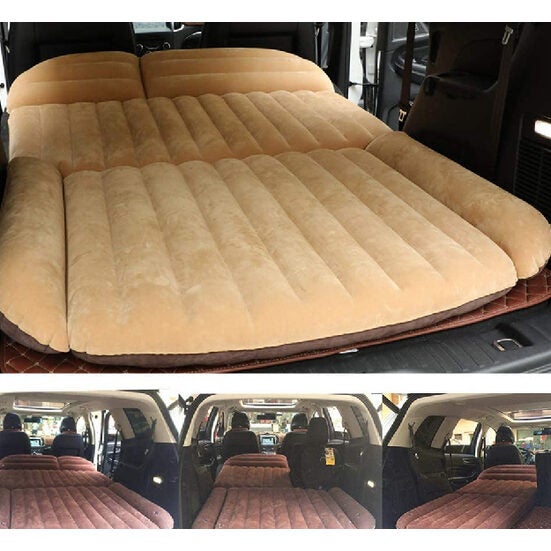 Foldable, flexible design
Versatile use
Includes car charger and AC charger
Key Specs
| | |
| --- | --- |
| Weight Capacity: | 440 lbs |
| Built-in pump: | Yes |
| Size: | 70" x 86" x 4.7" |
| Thickness: | 4.7" |
If you end up sleeping in your SUV, you're going to need a suitable air mattress that fits. Driving cross country in your SUV and don't want to spend money on motels? Consider an air mattress specifically designed for an SUV so you can sleep in your car to save time and money. What we like about this car air mattress is that it is foldable, which makes it super versatile. You can use it as a single or a double bed, a car back seat mattress, or take it out and put it on the ground to sleep in a tent. Suitable for most cars, the mattress comes with an air pump, car charger and AC charger, so you can inflate it using an electrical outlet or your car battery in as little as 90 seconds, depending on your desired level of firmness. The mattress has double-sided flocking on the surface, with a cozy, sofa-like feel and if you do decide to use it outside, it is cold-resistant to -25 degrees Celsius.
What to Consider
Beyond the comfort factor, one of the most important points to consider when buying an air mattress is durability. How you take care of an air bed will ultimately decide the product's value. Always remember to inflate and deflate the mattress a few times before you use it. This will allow you to get the plastic fibers used to expansion before you rest on it so that it's more comfortable for first-time usage. Also remember that too much air can lead to rips so be careful not to over-inflate an air mattress. Another thing you should do is to consistently check for leaks, especially if you have pets. Dogs and cats with claws can pierce an air mattress of any kind so be mindful with that. If you find a leak, just be prepared to fix it with patches or adhesive. While fun, try to limit horseplay on an air mattress. Better safe than sorry!
Leave a Comment
Do you own one of these? Do you agree with the review? Did we miss your favourite air mattress? Comment below and let us know!
About the Author: Marlene Eisner
Marlene Eisner has spent years working as a writer, editor, content producer, and product reviewer for home décor and renovation magazines and home and garden websites. She loves all things associated with indoor and outdoor spaces and enjoys sharing the newest trends, devices and products with readers.
RedFlagDeals.com is reader-supported. We are a participant in the Amazon Services LLC Associates Program and other similar affiliate advertising programs. These programs are designed to provide a way for sites to earn advertising fees by linking to them. This means that RedFlagDeals.com will sometimes get a small commission if you make a purchase through our links.