The Best Air Fryers
Table of Contents
If you've been thinking about eating healthier lately, chances are you're putting some serious thought into some diet options. There are a variety of diets and lifestyle changes you can make, but when it comes down to giving up your favourite foods the transition can be difficult.
Enter the air fryer: a miniature convection oven that will help you cook up a variety of yummy foods that are healthier for you. If you enjoy eating fried foods but you don't like the fat and calorie content that goes along with them, an air fryer might be just what you need because it doesn't fry your food with oil. Instead, by circulating hot air around your ingredients, it can quickly and easily cook up crispy food without any oil.
Foods are that deep fried in oil can increase your risk of health problems such as diabetes, heart disease, and obesity, and it can also lead to everyday issues such as high blood pressure and clogged arteries. Having an air fryer allows you to get the texture and flavour of your favourite fried foods without all the calories. If you've started a new diet and exercise regime and are looking for ways to stay on track, make sure your meals stay healthy and delicious with this amazing gadget.
We've put together a guide outlining some of the best air fryers you can buy for your kitchen, so scroll down to check out our selection to kickstart your journey into a healthier, more flavourful life.
1. Editor's Pick: Chefman 6.3 Quart Digital Air Fryer+ Rotisserie, Dehydrator, Convection Oven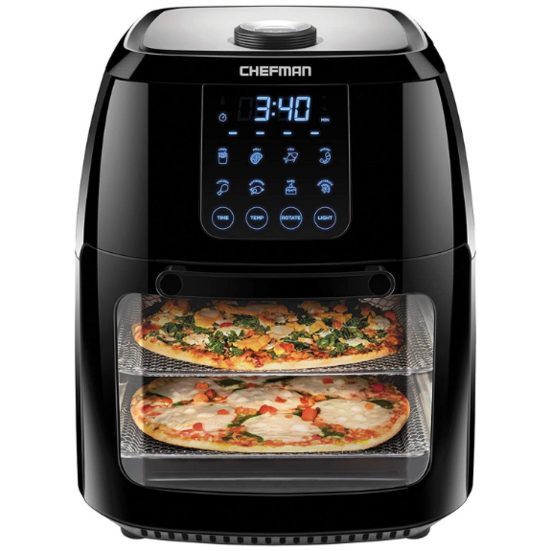 Eight preset functions
Two rotisserie functions
Small drip tray
Difficult to clean
The Chefman Air Fryer is a great choice if you're looking for an air fryer that can do more than the basics. With this one product you can bake, dehydrate, roast, and more. Its 6.3 quart capacity means there's plenty of space to cook enough food for the whole family, and with the highly efficient rapid air technology and high-speed convection system, you can get even, crispy fried texture using little to no oil. Not only will you be able to free up some counter space with this model, but its 3-in-1 design can help you minimize your clutter. Plus, it has a capacitive touchscreen, interior lighting, and eight presets.
2. Runner Up: Ninja Foodi 8-Quart 9-in-1 Deluxe XL Pressure Cooker & Air Fryer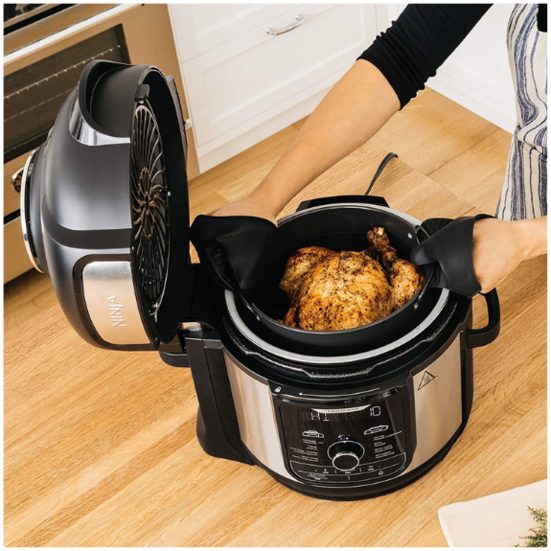 Five stovetop temperature setting,
Non-stick inner cooking pot
Ceramic bottom can peel if metal utensils used
This is yet another versatile appliance that does more than air fry; you can use this product as a dehydrator and pressure cooker too. Plus, it can do things like slow cook, broil, bake, steam, and sauté your favorite ingredients, allowing you to make delicious meals at home. But what makes this product stand out from the rest is its TenderCrisp™ Technology, which combines pressure cooking and air frying. The Ninja Foodi Cooker allows you to go from Frozen to crispy in as little as 20 minutes.
3. Best Large Capacity: ChefWave Air Fryer Oven and Dehydrator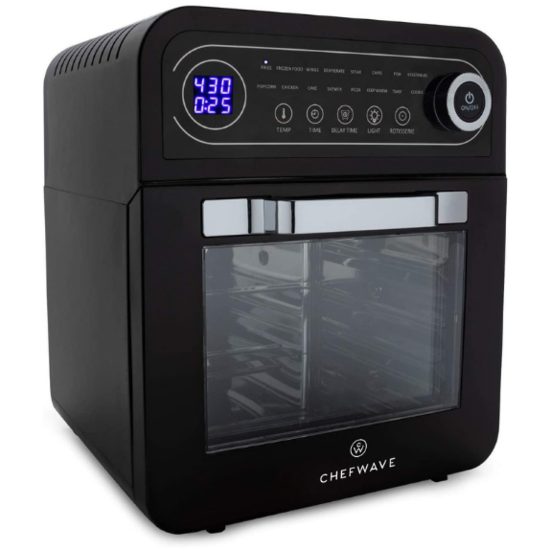 12.6-quart oven; holds up to 5 lbs.
Hoping to get your hands on a professional, chef quality air fryer? This one product will air fry, stir-fry, dehydrate, defrost, barbecue, roast, bake, grill, broil, rotisserie and more. Plus, with 12.6 quarts, you can make large meals without a problem. Most models come equipped with a rotisserie fork, wire rack, mesh basket, frying basket, drip pan, skewer rack, baking cage and a handle tool to handle many of the tools. With triple cooking power and infrared heat, turbo air and a 360° rotating system, this 1600-watt machine cooks well and cooks fast.
4. Best Small Capacity: Utopia Kitchen 3.2 Quart Air Fryer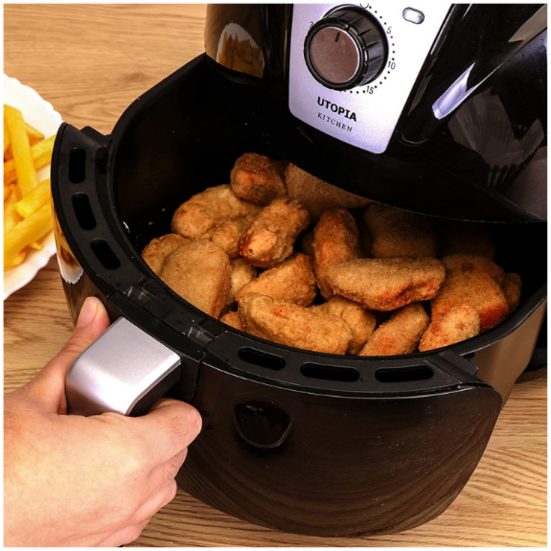 Lightweight
Comes with 50 recipes
Hard to clean
Smaller than most
Though it's a smaller model than some of the other that we've highlighted above, this Utopia Kitchen 3.2 Quart Air Fryer model, there's a lot of advantages. Not only does it come with a cookbook but it has an accurate timer to make your cooking easier. The air fryer has a pair of convection fans embedded which helps in heating the air which helps in frying your food quickly and evenly. The frying basket has a capacity of three litres which makes it quite easy to fry things up for the entire family. It's a great model to start with if you're just beginning to use pressure cooking devices.
5. Best Budget Pick: Cosori 5.8-Quart Electric Air Fryer Oven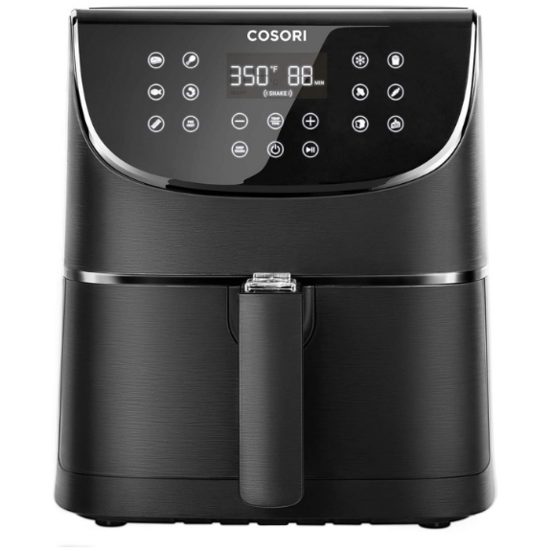 With 11 presets for your convenience, you can make just about anything with this Cosori air fryer. Whether it's chicken, shrimp, bread, French fries or vegetables, you can produce quality food with 85 percent less fat than a traditional deep fryer. What's more, it has a one-touch LED panel that lets you know where to shake or keep the food warm, and it has a pre-heating option that can improve food texture. It can cook almost anything in 60 minutes or less.
6. Also Consider: Instant Pot Duo Crisp 11-in-1 Air Fryer & Electric Pressure Cooker
10 built-in safety features
11 smart programs
The Instant Pot 11-in-1 air fryer and pressure cooker is one of the best the market has to offer. It has a wide variety of preset functions including six wet cooking features. You can use it to quickly pressure cook, sauté, steam, slow cook, sous vide and warm. The air fryer lid offers five dry cooking functions: use it to quickly air fry, roast, bake, broil and dehydrate.
The Instant Pot Smart programs make it fun and easy for anyone — from novice to chef — to prepare great healthy meals fast. You can also customize the time and temperature selects for total control and save your presets so your favorite meals can be made the way you like them. The delay start function  ensures dinner is ready when you want it to be, and not before.
7. Sleeper Pick: Kalorik 26 QT Digital Maxx Air Fryer Oven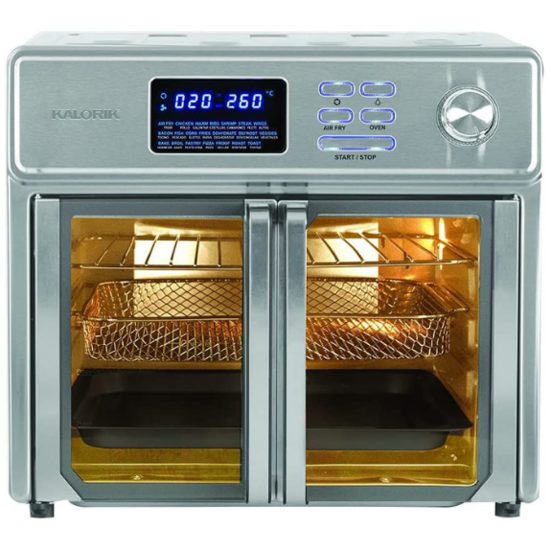 Includes a cookbook with 40 recipes
Glass doors to monitor food progress
Includes lot of accessories you may not need or want
This air fryer from Kalorik is more expensive than other models, but it does offer up a set of features that are perfect for a large family and anyone who appreciates the versatility of a multi-use appliance.
It starts with the air fryer's easy-to-use digital LED display that offers up 21 preset cooking options that include the typical selections of shrimp, chicken, fries and bacon, but also has bake, broil, roast and warm choices as well as dehydration to make dried food. In fact, this machine offers up a temperature not seen in many other models: up to 500℉. The extra-large sized 24.61 litre (26-quart) cavity can handle some large items like a whole chicken or a 12-inch pizza, or it can toast nine slices of bread at one time.
With large glass doors, it's easy to monitor the progress of the food at just a glance. This air fryer also comes with a host of accessories such as an air-frying basket; bacon tray; baking pan; crumb tray; rack handle; rotisserie handle; rotisserie spit; and a steak tray. You really have everything you need, right out of the box.
8. Honourable Mention: Secura Air Fryer XL 5.3 Quart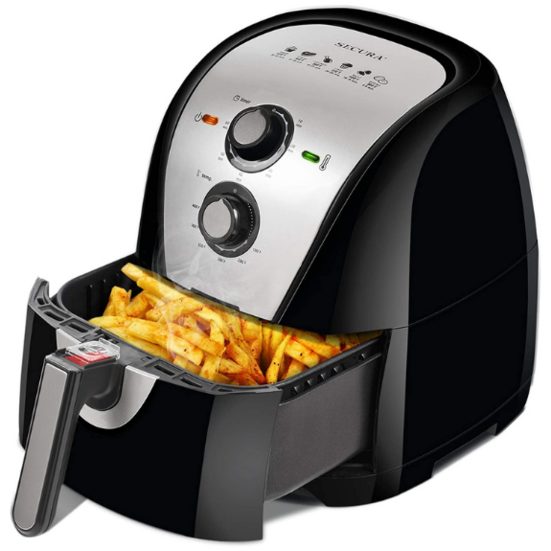 Power and heat indicator lights
Includes barbecue rack and skewers
The average air fryer can be costly, especially if it boasts a lot of features. If you're looking to try an air fryer, don't need a lot of bells and whistles and don't want to spend a lot, you can get what you need with this basic this model from Secura.
While this air fryer does not have a digital LED readout control panel, it does have two easy to use control dials. One allows you to adjust the temperature within a range of 140℉ to 400℉ and the other dial controls a 60-minute timer that has an auto-shut off that alerts you to when food is done.
With its small price, this model still manages to come up large in power, with 1700 watts, and it's still a respectable size, with an air fryer basket that holds up to five litres of food (5.3 quarts). And with this model, you can also roast, bake, reheat and grill your favourite recipes. When all the cooking is done, you can remove the pan and metal basket and clean them in the dishwasher.
Things to Consider When Shopping for an Air Fryer
When you're ready to start shopping for an air fryer, there are a couple things that you'll realize in terms of options. After all, this is one of the most popular modern appliances. So how can you decide which one is best for you?
Size — One of the most important things to look for when buying a model is the capacity and size. You not only have to make sure that you have enough room for it on your countertop but you also need to measure how much food you'd like it to hold at any given time. You might see that some are only two quarts, while others are much larger at 12 quarts.
Presets — Another important thing to consider is the preset options you'd like to have. There are many things that you can make with an air fryer and there are many things that you can make with it. A pre-programmed setting for cooking up specific foods, such as French fries, can come in really handy because it takes the guesswork out.
Versatility — If you want your air fryer to be able to do more than just fry food, look for additional features. Some models will even work as rotisserie cookers, dehydrators, and toaster ovens, giving you loads more freedom when it comes to preparing meals whenever you're short on time.
Air Fryer FAQs
Whether you are looking to cut down on your costs, explore new ways of food preparation, or simply wishing to live healthier, an air fryer can help you achieve all of these goals. To make things even more exciting, the latest batch of air fryers include a built in dehydrator at no added cost! Now, with the added bonus of a dehydrator, customers will have a whole range of added options. The best part? Every singe one of these options will lead users towards healthier, quicker and unique meals. Still have questions? Check out some of the most common questions we get from our readers.
How Much Money Can I Save With an Air Fryer?
Many of today's top air fryer products are capable of doing more than frying, as they can also roast, bake, and grill your food. With an air fryer that's energy efficient and can cook up food surprisingly quickly, you might be able to save money by no longer needing to use your stove or oven as often.
Is an Air Fryer Safer Than a Microwave?
Most air fryers do not use, produce or emit electromagnetic radiation to cook food like microwave ovens. Air fryers use radiated heat, which is quickly circulated around the food to cook it. This unique process causes the outside of the food to dry out extremely quick and creates a crispy coating.
Can You Make Frozen Food in an Air Fryer?
Yes. Ideally, you want to cook with items that can be easily deep-fried. Foods like French fries, frozen chicken fingers or fish sticks.
Can You Reheat Food with an Air Fryer?
Air fryers are especially great at keeping your food crispy when you're reheating them. It's recommended that you turn your air fryer to 350-400 degrees F for about 3-4 minutes.
Should You Use Aluminum Foil in an Air Fryer?
Using aluminum foil or baking paper in the basket technically can be done as long as it's weighed down by the food however it's not recommended because an air fryer works by providing a constant air flow around the cooking cavity and if you have it blocked by something like aluminium foil, or baking paper, the foods might not cook properly.
Why Do Air Fryers Smoke So Much?
Foods or ingredients that contain high-fat percentages can cause white smoke to arise from the appliance. This happens when a glut of oil is caught in the air fryer pan and once heated, it will produce a white smoke.
Leave a Comment
Air frying has become a popular way of preparing healthier meals, but you won't know how great an air fryer can be until you give it a try. We hope the tips and recommendations above will help you quickly find the right air fryer so you can start taking advantage of this fast and easy cooking method. There are also other articles and information available in our forums on RedFlagDeals.com.
Leave a Comment
Do you own one of these? Did we miss your favourite air fryer? Comment below and let us know!
RedFlagDeals.com is reader-supported. We are a participant in the Amazon Services LLC Associates Program and other similar affiliate advertising programs. These programs are designed to provide a way for sites to earn advertising fees by linking to them. This means that RedFlagDeals.com will sometimes get a small commission if you make a purchase through our links.