The Best Adjustable Dumbbells for Your Home Gym
Table of Contents
If you're going to add any piece of home gym equipment to your gym, adjustable dumbbells are a good place to start.
You may think dumbbells are just a tool for bodybuilders, but the strength and resistance training they provide has proven to help adults and seniors with weight loss, increasing bone density, and building muscle. Their versatility gives you plenty of flexibility in your workouts, as well. Aside from its obvious space-saving design, adjustable dumbbells are also an inexpensive piece of equipment that can range in weight sizes from 5 to 100 lbs. We'll walk you through our top picks for the best adjustable dumbbells to make the best home gym for you. For more tips and tricks on what you should look for when buying a good set of dumbbells, scroll down to the bottom of the article.
1. Editor's Pick: Power Block Adjustable SpeedBlock Dumbbells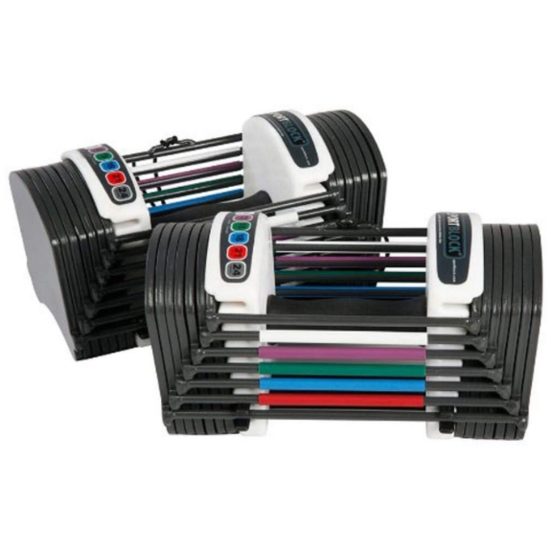 10-year warranty
Colour-coded system
Ergonomic padded handle
Easy select pin to change weights
Pin may be flimsy
Limited knuckle space
Key Specs
| | |
| --- | --- |
| Weight Range: | 3 to 24 lbs. |
| Weight Settings: | 3, 6, 9, 12, 15, 18, 21, 24 lbs. |
| Total Weight: | 11.79kg |
| Weight Change System: | Manual locking pin |
This compact yet powerful set of adjustable dumbbells will make a great addition to your home gym.
Ranging from 3 to 24 lbs, at 3lb weight increments, these Power Block Adjustable SpeedBlock Dumbbells can be used by both beginners and experienced athletes. Its design makes it fairly easy to change weights since it's colour-coded guide and also has a select pin that allows you to simply pull it out and slide it between the weights to select your desired size. Designed with rubberized handles, it's a comfortable set for your hands that could lead you towards your overall health goals.
2. Runner Up: Bowflex SelectTech 552 Adjustable Dumbbells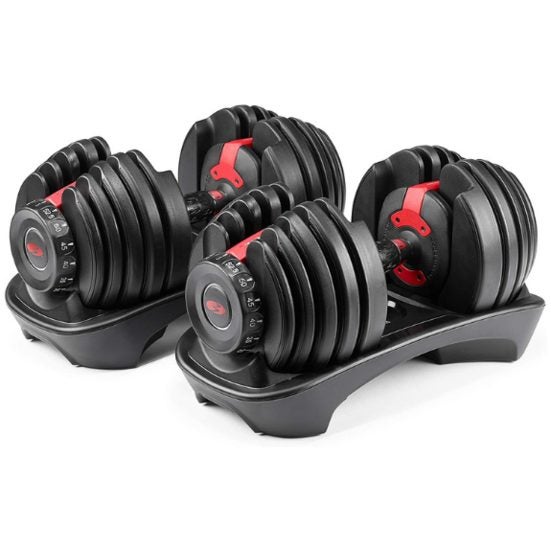 Easy to adjust
Two-year warranty
More ergonomic handle
Can be bulky with full set on
Key Specs
| | |
| --- | --- |
| Weight Range: | 5 to 52.5 lbs. |
| Weight Settings: | 5, 7.5, 10, 12.5, 15, 17.5, 20, 22.5, 25, 30, 35, 40, 45, 50, 52.5 lbs. |
| Total Weight: | 55.79kg |
| Weight Change System: | Automatic spinlock dial system |
Known for their high-quality gym equipment, this adjustable dumbbells is one that is sure to deliver.
This set of Bowflex SelectTech 552 Adjustable Dumbbells has no shortage of benefits to help whip you into shape. You can choose from 15 different sets of weights, ranging from 5 to 52.5 lbs, at 2.5-pound increments. Built with durable moulding on each plate to allow for a smooth and quiet workout, simply turn the dial to choose the desired weight for your reps.
3. Best Lightweight Dumbbells: Nice C Adjustable 5-in-1 Dumbbell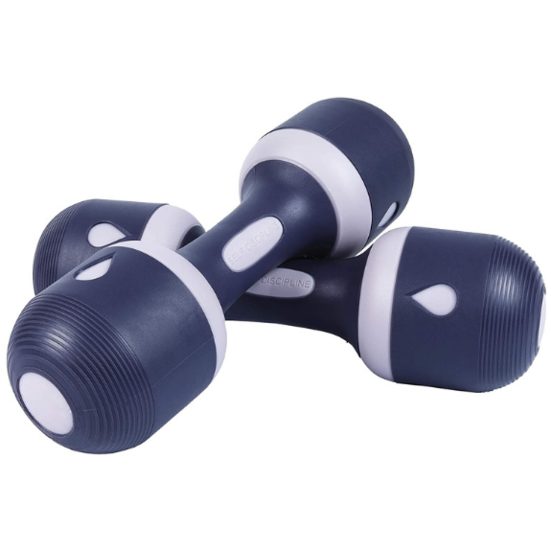 Easy to change weights
Ideal for people with smaller hands
Slip-resistant neoprene rubber grip
Can be noisy
Max. 11 lbs. in total, not in each weight
Key Specs
| | |
| --- | --- |
| Weight Range: | 2.3 to 11 lbs. |
| Weight Settings: | 16 small bars weighing 0.4 lbs, two large bars weighing 1.25 lbs |
| Total Weight | 11 lbs. |
| Weight Change System: | Manual weight replacement |
This small pair of adjustable dumbbells is a great choice for people just starting to experiment with weights.
The Nice C Adjustable 5-in-1 Dumbbell set is made with a 5" long slip-resistant neoprene rubber grip and cover. Unlike other adjustable weights, this models adjustment mechanism involves adjusting by unscrewing a cap and adding or removing small weight bars to give you your desired weight in a small, compact product.
4. Best Convertible Barbells: Soges Adjustable Dumbbells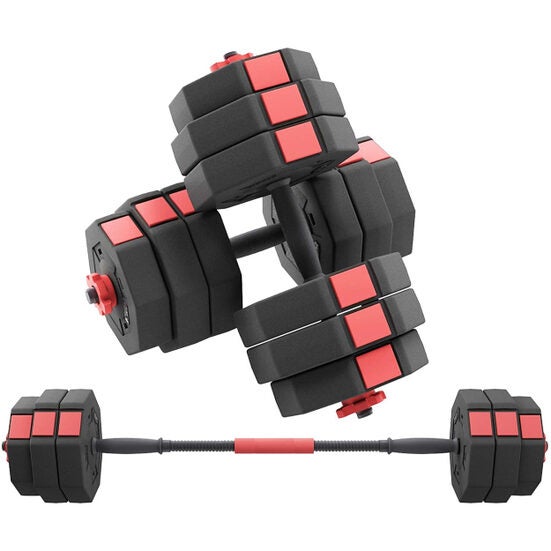 Non-slip grips
Weight is easy to adjust
More ergonomic handles
Can be used as dumbbells or a barbell
Octagonal-shaped discs to prevent them from rolling
The barbell rod might feel short to some people
Key Specs
| | |
| --- | --- |
| Weight Range: | 5 to 66 lbs. |
| Weight Settings: | Four 4.4lbs plates, eight 5.5lbs plates |
| Total Weight: | 15 kg |
| Weight Change System: | Manual weight replacement |
This affordable total body workout dumbbell weight set can help you work out both lower and upper body regions with varying degrees of intensity that will suit both beginners and pros.
The maximum weight of these Soges Adjustable Dumbbells is 33lbs per dumbbell or 66lbs overall, and with four 4.4lbs plates and eight 5.5lbs plates included, you can make smaller weight increments until you reach your weightlifting goal. The main rod is hollow steel and the octagonal anti-rolling plates are an iron sand mixture – both are coated with PE material to prevent slipping. You can use this set as two separate dumbbells (17.3" rods) or connect with the included red connector rod (4.3") to convert them into a barbell.
5. Best Traditional Dumbbells: Cap Barbell Adjustable Dumbbell Set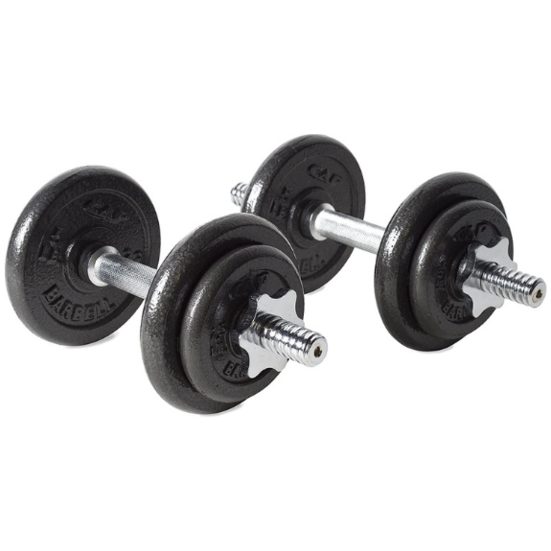 Very durable
Includes storage case
Simple, dependable adjustment system
Rough handle; gloves may be required
Key Specs
| | |
| --- | --- |
| Weight Range: | 5 to 40 lbs. |
| Weight Settings: | Four 2.5lbs plates, four 5lbs plates |
| Total Weight: | 20kg |
| Weight Change System: | Manual weight replacement |
Made out of cast-iron plates with comfortable handles coated with a knurled grip, this set promises rust- and maintenance-free equipment.
This Cap Barbell 40-Pound Adjustable Dumbbell Set includes four 2.5lbs plates, four 5lbs plates, four collars, and a plastic case for easy and convenient storage. Great for beginners and advanced athletes, this 40lbs dumbbell set is sure to please the old-school lifters.
6. Best Heavyweight: Gym Army Nuobell Adjustable Dumbbells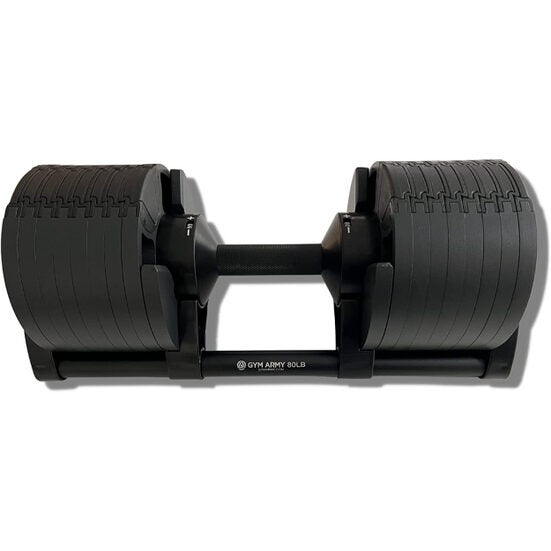 Sturdy and well-made
Anti-scratch rubberized moulding
Can be bought as a single dumbbell or in pairs
Wide range of adjustable weights to suit different fitness levels
Key Specs
| | |
| --- | --- |
| Weight range: | 5 to 50 lbs. |
| Weight settings: | 5, 10, 15, 20, 25, 30, 35, 40, 45, 50, 55, 60, 65, 70, 75, 80 lbs |
| Total Weight: | 32 kg |
| Weight Change System: | Automatic spinlock dial system |
This adjustable dumbbell can help replace almost an entire rack of gym dumbbells with a pair of their innovative dumbbells and give you an intense powerlifting session from the comfort of your home.
Easy to use and with a wide weight range of 5 to 80 lbs per dumbbell, at 5lbs increments, these Gym Army Nuobell Adjustable Dumbbells can be used by lifters of all fitness levels. It only takes a twist of the handle to change the weight to your liking so you won't be wasting precious time switching between custom dumbbell weights, and with machined steel weight plates and durable rubberized moulds you'll get a quieter workout without compromising on the quality and protect your floors from scratches.
7. Best Smart Option: Nordictrack iSelect Adjustable Dumbbells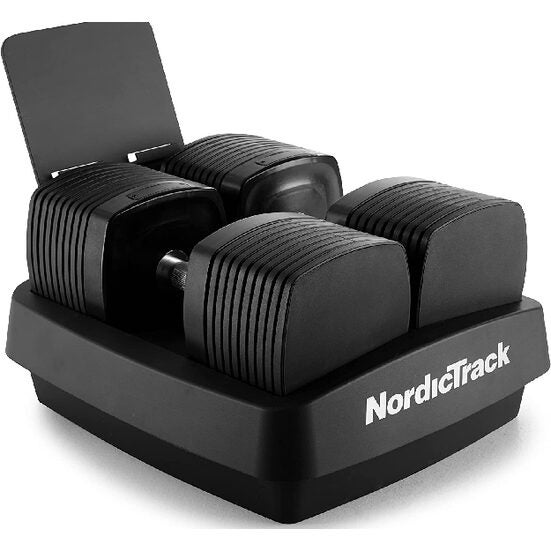 Custom-fitted storage tray
Voice-controlled weight settings
Storage tray has an integrated tablet holder
Comes with a 1-month membership for trainer-led video workouts
Voice control function works only with 2.4GHz WIFI
Key Specs
| | |
| --- | --- |
| Weight range: | 5 to 50 lbs. |
| Weight settings: | Powered by Alexa, voice controlled settings in increments of 5lbs |
| Total Weight: | 22.7 kg |
| Weight Change System: | Automatic voice-activated and selection dial system |
Built-in smart features makes these ideal for tech-savvy fitness enthusiasts: you can use vocal prompts for hands-free adjustment and the iFIT app for on-demand strength training workouts.
These Nordictrack iSelect Adjustable Dumbbells have sleek square-shaped interlocking weight plates weigh 5lbs each, allowing you to fully customize the weight of each dumbbell up to 50lbs and put down the weights mid-workout without worrying about them rolling away or scratching your floors. The weight can be adjusted manually or even ocally through Alexa if you want to stay laser-focused on your workout. Designed to provide a complete and intensive workout at home, these dumbbells come with a free 1-month iFIT membership for thousands of trainer-led programs to motivate and guide you through your fitness journey.
8. Best Budget Option: FLYBIRD Adjustable Dumbbell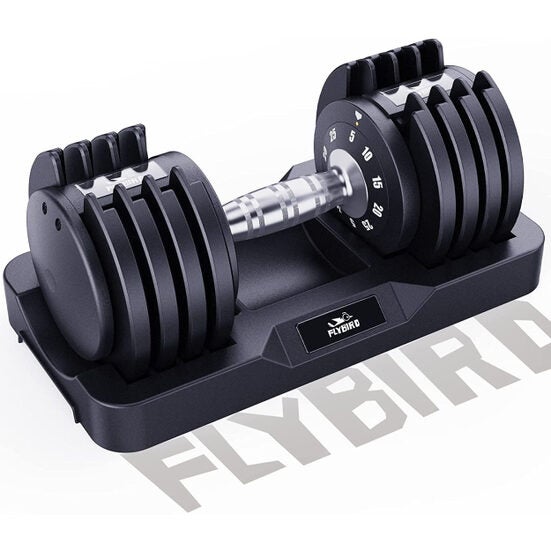 Affordable price
Well-made and durable
Easy to change weight plates
One-handed operation design
Suitable for beginners and mid-level athletes
Only 1 dumbbell is included
Weights can slip out if not properly locked
Key Specs
| | |
| --- | --- |
| Weight range: | 5 to 25 lbs. |
| Weight settings: | 5, 10, 15, 20, 25 lbs |
| Total Weight: | 11.3 kg |
| Weight Change System: | Automatic spinlock dial system |
You don't have to break the bank to get quality adjustable dumbbells for your home gym – in addition to an affordable price tag, these dumbbells boast a one-handed operation design, and 5 weight settings for varying fitness levels.
Easy to adjust and versatile, this FLYBIRD Adjustable Dumbbell can be set from 5 to 25 lbs, at 5-pound increments, with a single twist of the handle for a smooth and fast process that doesn't interrupt your flow. The plates stay safely in place thanks to the 8-locks structure design, but be sure to lock them in to prevent them from falling out mid-workout. The metal weights are protected with frosted powder coating which prevents rusting and scratches, and the aluminum alloy handle has an anti-slip texture for a firm and comfortable grip during exercise.
What To Look For
Ease of Storage
Depending on the size of the set and the weight range in which the product comes, you should be able to store them easily in your closet or under your bed. If you have limited space and live in a small apartment or condo, this should be top of mind when buying. It might not be the best idea to buy adjustable dumbbells that feature a barbell option, although that will largely depend on the frequency of use and your level of comfort.
Weight Range
Not all adjustable dumbbells are sold with the same levels of weights. Some come in lighter sets starting at 5 pounds while others can reach up to 100 pounds. A few things to consider when buying adjustable dumbbells is what range of weights you need to fit with your workout programs. It may also help to think ahead about how quickly you might outgrow the maximum weight.
You don't want to purchase a pair to shortly outgrow them and have to buy a new set. Depending on how invested you are in your home gym equipment, you may even want to consider buying 2 very different sets. With 2 sets it would give you a wide range of weights for almost any routine.
Lastly, take a look at the weight increments. Think about if you want the weights to increase by a half pound or more and what exercises you'll be using them for. Toning? Strength gains? Heavy lifting? These will affect what range of weights you buy.
Properly Secured Weights
When buying adjustable dumbbells, make sure that the set includes a securing mechanism and something that acts as a buffer between the weights and what secures them. This will help to stop the weights from sliding side to side and making loud noises every time you use it and reduce the (slight) chance that your skin gets caught. Read reviews on the products to get a better sense of the weights durability, size, length, handle thickness, and such to make sure the weight will work for your desired workout.
Ease of Use
Depending on your experience level with different weights, you will want to select an adjustable dumbbell set that you feel comfortable adjusting.
Some sets are much more manual then others, such as the Cap Barbell set. A more manual set will require you to handle the individual weights when adjusting. This can be dangerous without the right setup as you could drop weights which would cause damage to the weight, your home and potentially yourself.
For the safest experience, consider a very secure and automatic set, like the Nordictrack iSelect set, or one of the better quality sets with a spinlock dial system, like the Bowflex SelectTech. Since the last thing you would want is to have your home workouts become a source of concern and danger.
Best Ways to use Dumbbells
Dumbbells are what is referred to as a free weight. It is a versatile piece of equipment and can be used by complete newbies and seasoned pros – that's the beauty of adjustable weight settings. They allow you to move around while still putting the focus on weight training, combining the best of both worlds into a single workout.
To engage and tone your whole body, try overhead presses, squatting with punches, or Russian twist exercises, gradually increasing the weight of the dumbbells through time, starting with lower weights if you are a beginner. Avoid heavier weights if you are new to weightlifting, as the effect of heavy weights can damage you muscles. Additionally, you want to start slow and add on to avoid injury.
Powerlifters looking to improve their upper body muscle mass should go for bicep curls with heavier dumbbells, or bench and shoulder presses, lateral raises, and triceps kickbacks. For those that are already in form, dumbbells that weigh over 50 lbs would be the best match, as well as dumbbells that convert to a barbell, for moments when you're in the mood for more "traditional" weightlifting exercises, like deadlifts.
And, of course, if you are working on your glutes, you'll get great results by using dumbbells when you're doing sumo squats, lateral lunges, weighted donkey kicks, or reverse lunges – just to name a few. Adding weight, even as little as 5 lbs for newbies, while performing exercises that target your gluteal region muscles can help you grow and sculpt your glutes much more efficiently.
If you are looking at turn weightlifting into a cardio excercise, then simply lower your weight levels and speed up your pace. Most of the exercises described here and more can be done safely at lower weight levels, and at a faster pace. You might be surprised how much you will begin to sweat once you shave a few seconds off each rep.
Leave a Comment
We're always looking for more feedback! If you own any of these items and would like to share your experience, please comment below!
About the Author: Angela Vuckovic
Angela Vuckovic is A proud mama to seven dogs and ten cats, Angela spends her days writing for her fellow pet parents and pampering her furballs, all of whom are rescues. When she's not gushing over her adorable cats or playing with her dogs, she can be found curled up with a good fantasy book.
RedFlagDeals.com is reader-supported. We are a participant in the Amazon Services LLC Associates Program and other similar affiliate advertising programs. These programs are designed to provide a way for sites to earn advertising fees by linking to them. This means that RedFlagDeals.com will sometimes get a small commission if you make a purchase through our links.