The Best Adjustable Dumbbells for Your Home Gym
Table of Contents
If you're going to add any piece of equipment to your home gym, adjustable dumbbells are a good place to start. You may think dumbbells are just a tool for bodybuilders, but the strength and resistance training they provide has proven to help adults and seniors with weight loss, increasing bone density, and building muscle.
Their versatility gives you plenty of flexibility in your workouts, as well. Aside from its obvious space-saving design, adjustable dumbbells are also an inexpensive piece of equipment that can range in weight sizes from five to 100 lbs. We'll walk you through some of the best adjustable dumbbells to buy for your home gym. For more tips and tricks on what you should look for when buying a good set, scroll down to the bottom of the article.
1. Editor's Pick: Power Block Adjustable SpeedBlock Dumbbell Set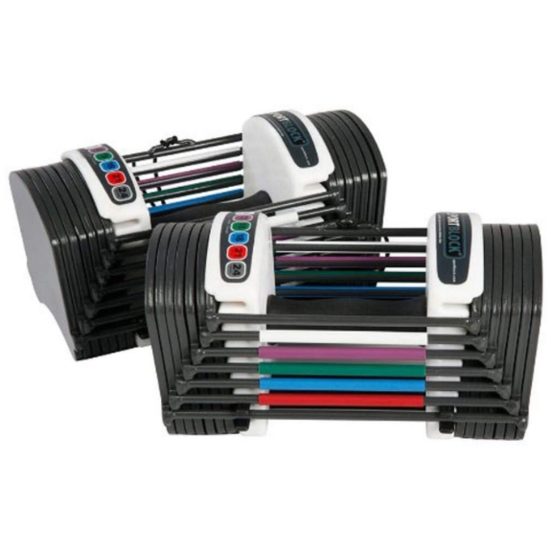 Colour-coded system
10-year warranty
Easy select pin to change weights
Pin may be flimsy
Limited knuckle space
Key Specs
| | |
| --- | --- |
| Weight Range: | 3 - 24 lbs. |
| Weight Settings: | 3, 6, 9, 12, 15, 18, 21, 24 lbs. |
| Length: | 13" |
| Height: | 8" |
| Total Weight: | 11.79kg |
This compact yet powerful set of adjustable dumbbells will make a great addition to your home gym.
Ranging from 3 to 24 lbs, this Power Block Adjustable SpeedBlock Dumbbell Set can be used by both beginners and experienced athletes. Its design makes it fairly easy to change weights since it's colour-coded guide and also has a select pin that allows you to simply pull it out and slide it between the weights to select your desired size. Designed with rubberized handles, it's a comfortable set for your hands that could lead you towards your overall health goals.
2. Runner Up: Bowflex SelectTech 552 Adjustable Dumbbells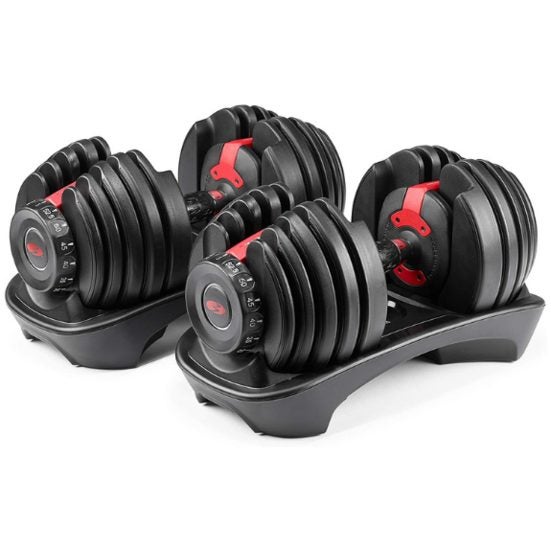 Easy to adjust
Two-year warranty
Long in length
Can be bulky with full set on
Key Specs
| | |
| --- | --- |
| Weight Range: | 5 - 52.5 lbs. |
| Weight Settings: | 5, 7.5, 10, 12.5, 15, 17.5, 20, 22.5, 25, 30, 35, 40, 45, 50, 52.5 lbs. |
| Length: | 24" |
| Height: | 14" |
| Total Weight: | 55.79kg |
Known for their high-quality gym equipment, these Bowflex adjustable dumbbells are another product that is sure to deliver.
This set of Bowflex SelectTech 552 Adjustable Dumbbells has no shortage of benefits to help whip you into shape. You can choose from 15 different sets of weights, ranging from 5 to 52.5 lbs. Built with durable moulding on each plate to allow for a smooth and quiet workout, simply turn the dial to choose the desired weight for your reps.
3. Best Dumbbells for Beginners: Nice C Adjustable 5-in-1 Dumbbell Set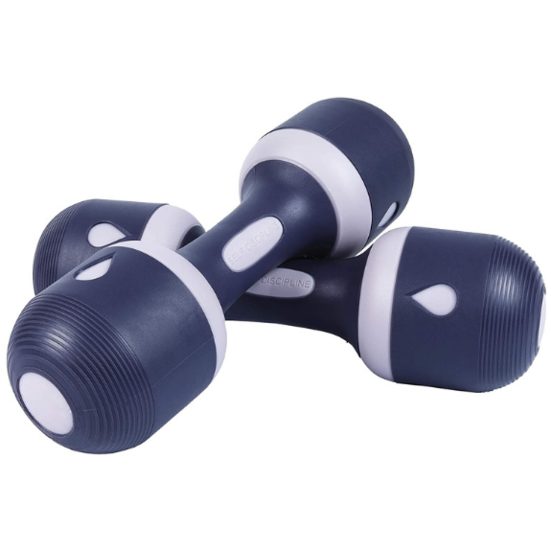 Easy to change weights
Ideal for people with smaller hands
Key Specs
| | |
| --- | --- |
| Weight Range: | 2.3 - 11 lbs. |
| Weight Settings: | 16 small bars weighing 0.4 lbs, two large bars weighing 1.25 lbs |
| Length: | 17" |
| Height: | 13.4" |
| Total Weight | 11lbs |
This small adjustable dumbbell set is a great choice for people just starting to experiment with weights.
This Nice C Adjustable 5-in-1 Dumbbell Set is made with a slip-resistant neoprene cover and has a grip of approximately 5" in length; it's an ideal size for those with smaller hands. Unlike other adjustable weights, this model is adjusted by unscrewing a cap and adding or removing small weight bars into the handle to give you your desired weight in a small, compact product.
4. Sleeper Pick: Soges Adjustable Dumbbells
Great for beginners
Multiple uses (dumbbells and barbell)
Bar in between may be too small
Key Specs
| | |
| --- | --- |
| Weight Range: | 4.4 - 66 lbs. |
| Weight Settings: | Includes four 4.4-pound plates, eight 5.5-pound plates |
| Length: | 17.3" and 4.3" |
| Height: | 9.5" |
| Total Weight: | 32kg |
These adjustable dumbbells will help you get the most out of your workout by using a unique design that allows the weights to be transformed and used as a barbell as well.
Ideal for a total body workout, these Soges Adjustable Dumbbells include four 4.4-pound plates and eight 5.5-pound plates made of an iron-sand mixture formed in an octagonal shape to prevent rolling, as well as short and long rods to adjust the barbell to your desired length.
5. Best Classic: Cap Barbell 40-Pound Adjustable Dumbbell Set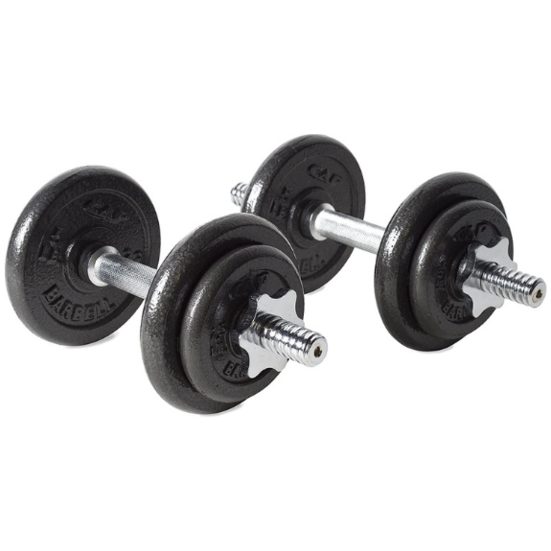 Rough handle; gloves may be required
Key Specs
| | |
| --- | --- |
| Weight Range: | 5 to 40 lbs. |
| Weight Settings: | Four 2.5-pound plates, four 5-pound plates |
| Height: | 8" |
| Length: | 20" |
| Total Weight: | 20kg |
Great for beginners and advanced athletes, this 40-pound dumbbell set is sure to please the old-school lifters.
Made out of cast-iron plates with comfortable handles coated with a knurled grip, this Cap Barbell 40-Pound Adjustable Dumbbell Set promises rust- and maintenance-free equipment that includes four 2.5-pound plates, four 5-pound plates, four collars, and a plastic case for easy and convenient storage.
6. Best Converts to Barbells: Dumbellsgym Set 88 LBS. Free Weights Adjustable Dumbbell Set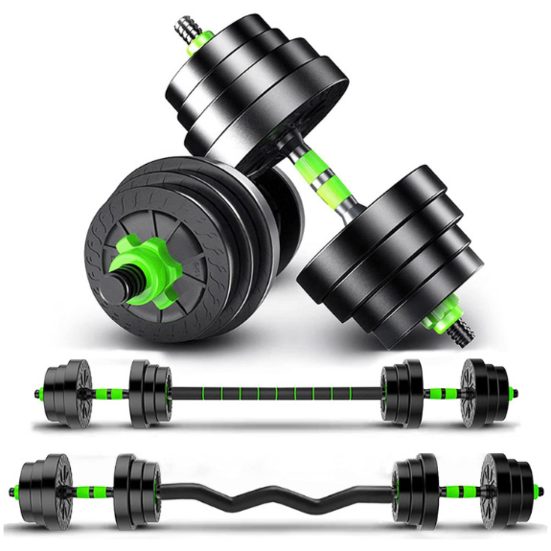 Converts from dumbbells to barbells
Connector bars included
Key Specs
| | |
| --- | --- |
| Weight range: | 3.3 – 88 lbs. |
| Weight settings: | Includes four 3.3-pound weights; four 5.5-pound weights; and eight 6.6-pound weights |
| Total Weight: | 40kg |
For a great in-home gym experience, this dual-function dumbbell set gives you lots of options to personalize your weight training experience. And one of the key advantages of this set is that it comes with connector bars so you can choose to use them as dumbbells or easily convert it all to barbells.
The set comes with a large variety of weights, 16 weighted plates in all ranging from 3.3 pounds to 6.6 pounds each. With a total weight of 87 pounds, you have a full range of options and combinations so you can adjust the load as you get stronger.
The comfy PVC grips prevents slipping, even when your hands get sweaty, and the counterweight is covered with rubber so there is no damage to your floor if they are dropped. Strong, double reinforced nuts hold the weights securely onto a hollow steel main rod that is rust and corrosion-resistant and built to last.
This is a great set that can also be used by many members of your family, no matter what their fitness level is.
7. Best Smart Option: Move It Smart Weights, Adjustable Barbells Dumbbells
Smart barbells connect to fitness app and tracker
Includes a barbell expander
Requires Bluetooth Wi-Fi connection to access app
Key Specs
| | |
| --- | --- |
| Weight range: | 2 – 45 lbs. |
| Weight settings: | Includes four, 5-pound weights; four 3.5-pound weights; and four 2-pound weights |
| Total Weight: | 40kg |
This Move It adjustable dumbbell set goes over and above providing you with a great set of variable weights to work with, although that in itself makes it a good addition to your home gym. This dumbbell set also connects you to your smartphone so you can track your workout reps, the number of calories burned, and your exercise form so you can compare analytics and improve.
And it's not just about analytics. If you become stuck, bored with your routine, or need some help starting out and developing a regime that works for you, the smart dumbbells will connect you to a free fitness app where you can access workout routines, games, health trackers, and even custom-tailored workout plans in real time.
But let's talk about the adjustable barbells, which have everything you need to build strength and muscle in the comfort of your home. With variable weight increments, you can adjust each barbell to your level up to 45 pounds when it's converted into a full barbell so you can do squats, curls, and bench press without buying extra equipment.
8. Best 4-in-1-Set: Adjustable Dumbbells Set 77 LBS. Free Weight Dumbbell Set 4-in-1 Fitness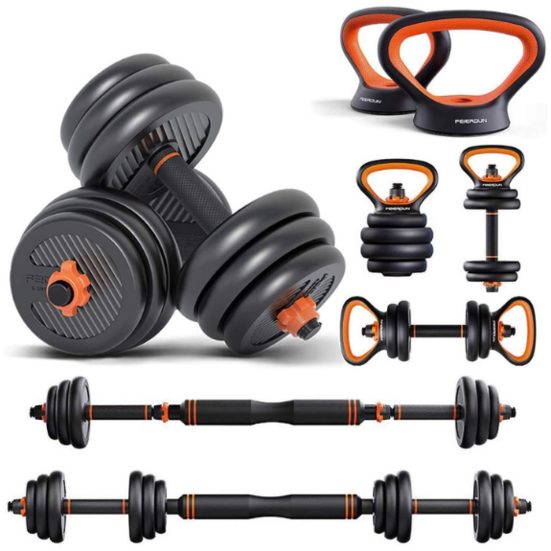 Four options in one set
Includes a non-slip push-up stand
Non-slip texture may irritate hands
Key Specs
| | |
| --- | --- |
| Weight range: | 5.5 – 77 lbs. |
| Weight settings: | Includes four, 3.3-pound weights; four 4.4-pound weights; and eight 5.5-pound weights |
| Total Weight: | 35kg |
For one of the best all-body workouts you can get, this highly versatile adjustable dumbbell set gives you four options to choose from in one sweet package. Regardless of your preferred workout style, this set allows you to change it up and easily transform the weights into dumbbells, push-up stand bars, barbells or kettlebells.
The maximum weight of the dumbbells set is 77 pounds and with 16 weighted plates, you can really customize the settings to meet your needs. You can even attach kettlebell grips to the weights to add more variety to your workout.
The dumbbell set is made of high-quality non-toxic material that is odourless and durable, with a comfortable PVC textured grip to prevent slipping. Plus, the connecting rods are covered in 20mm-thick foam for added comfort and to relieve shoulder pain. With so much flexibility, it's perfect for members of the whole family to use, regardless of their level of fitness.
What To Look For When Buying Adjustable Dumbbells
Can they be easily stored?
Depending on the size of the set and the weight range in which the product comes, you should be able to store them easily in your closet or under your bed. If you have limited space and live in a small apartment or condo, this should be top of mind when buying. It might not be the best idea to buy adjustable dumbbells that feature a barbell option, although that will largely depend on the frequency of use and your level of comfort.
Find a minimum and maximum weight that's in your wheelhouse
Not all adjustable dumbbells are sold with the same levels of weights. Some come in lighter sets starting at 5 pounds while others can reach up to 100 pounds. A few things to consider when buying adjustable dumbbells is what range of weights you'll need that fit into your workout programs. It may also help to think ahead about how quickly you might outgrow the maximum weight. You don't want to purchase a pair to shortly outgrow them and have to buy a new set.
Lastly, take a look at the weight increments. Think about if you want the weights to increase by a half pound or more and what exercises you'll be using them for. Toning? Strength gains? Heavy lifting? These will affect what range of weights you buy.
Make sure the plates don't slide
When buying adjustable dumbbells, make sure that the set includes a securing mechanism and something that acts as a buffer between the weights and what secures them. This will help to stop the weights from sliding side to side and making loud noises every time you use it and reduce the (slight) chance that your skin gets caught. Read reviews on the products to get a better sense of the weights durability, size, length, handle thickness, and such to make sure the weight will work for your desired workout.
Leave a Comment
Do you have any of these adjustable dumbbells in your home gym? Please share your experience with us in the comments!
About the Author
Carlen Oliveira is a graduate from Ryerson University's RTA Sport Media program and is currently working as a writer based out of Toronto. She has an avid interest in all things sports and finding engaging new ways to workout. With limited access to gyms and friends during the pandemic, she discovered her love of individual activities like yoga and skipping, which push her both mentally and physically. When she's not writing or working out, you can find her exploring the outdoors and travelling, come rain or shine… and especially snow!
RedFlagDeals.com is reader-supported. We are a participant in the Amazon Services LLC Associates Program and other similar affiliate advertising programs. These programs are designed to provide a way for sites to earn advertising fees by linking to them. This means that RedFlagDeals.com will sometimes get a small commission if you make a purchase through our links.