Zellers is Bringing Back Their Restaurant as a Food Truck
By
Simon Hung
January 27, 2023
After Zellers announced the inaugural locations for their revival last week, one of the most frequent questions among fans was the status of the Zellers Family Restaurant – the diner-style eatery found inside some original Zellers stores.
There is good news and bad news for restaurant fans – the Zellers Restaurant will be part of the revival experience, but Zellers will be operating a fleet of food trucks instead of sit-down restaurants.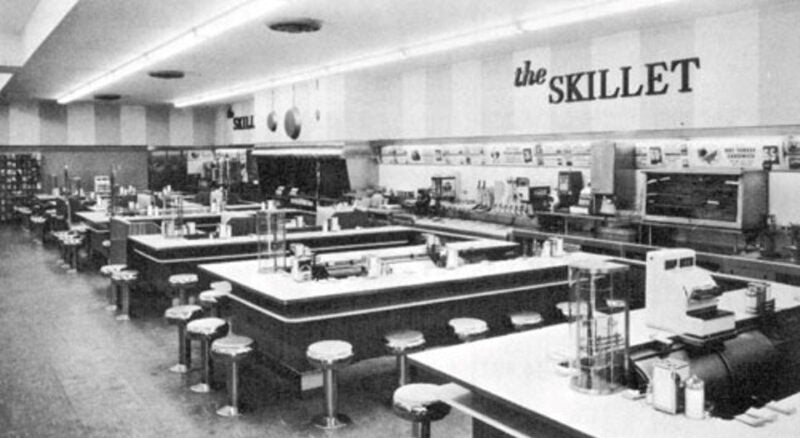 The Zellers Family Restaurant originally launched in 1960 as The Skillet. (HBC Corporate Collection)
Hudson's Bay Company officially announced the news on January 27, noting that opening an in-store restaurant is not feasible with the new Zellers 2.0 store format. Instead, food trucks will be deployed and serve a selection of classic menu items from the original Zellers Family Restaurant.
From January 27 to February 2, fans can visit @zellersofficial on Instagram to vote on the new menu – 10 menu items will battle head-to-head and the five winning picks will be served in the Zellers Diner on Wheels.
Big Z Burger vs. Hot Dog
Hot Chicken Sandwich vs. Poutine
Fries and Gravy vs. Quesadilla
Veggie Burger vs. Grilled Cheese Sandwich
Chicken Fingers vs. Onion Rings
The Zellers Diner on Wheels will launch alongside their 25 new locations this spring (a date has not been finalized). In addition, the food truck will tour across Canada at a later date for fans looking to taste a piece of Canadian retail nostalgia.
____________________
Source: Hudson's Bay Company