Holiday

What are Hatchimals and Where Can You Get One?
By
Simon Hung
November 18, 2016
If you're still searching for this elusive toy, we're giving a Hatchimal away and it will be delivered before Christmas!
This article was originally published September 26, 2016 but has since been updated with stock information.
They're expected to be one of the most popular toys this holiday season yet nobody has a clue what they look like. They're called Hatchimals -- interactive eggs that require nurturing and patience before they "hatch" into a magical surprise creature. Once hatched, the walking, talking Hatchimal will continue to evolve and remain interactive with its owner.
This Hatchimals teaser doesn't reveal much about the mysterious toy.
Aimed at children age five and up, the toy was previewed earlier this year by Toronto-based company Spin Master to industry insiders and has since landed on must-have lists from both Toys R Us and Walmart. The toy has been shrouded in more secrecy than the contents of Area 51, but all will be revealed when Spin Master officially releases the toy on October 7, a day that they've dubbed Hatch Day.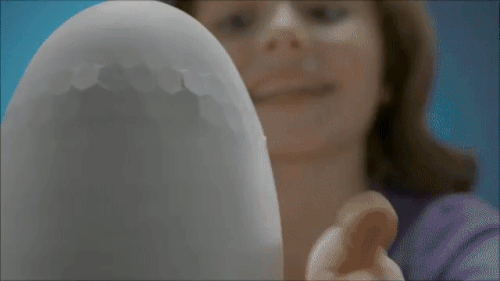 The eggs "hatch" to reveal their unique design.
Only the speckled egg exterior has been shown thus far, while creature designs remain unknown. Children can choose a colour and one of four species when purchasing, but the Hatchimal inside is a mystery until it's hatched. Those familiar with Pokémon GO can think of the toy like incubating eggs, as part of the thrill involves not knowing what's inside until it's hatched. Hatchimal designs will vary by species, so you've "gotta hatch 'em all" to discover all of the unique designs.
If you're wondering where you can get one, they're currently available from Indigo, Mastermind Toys, Toys R Us and Walmart starting at $59.97. Right now they're sold out at all stores, but intermittent stock does pop up from time to time, so be sure to check back frequently if you're interested in getting one. We've listed the stores and prices below.
While you wait for Hatch Day, visit the Hatchimals website to interact with a virtual egg and be sure to visit on October 7 for the full reveal!
Fad or flop? How do you think these mysterious toys will fare during the holiday season? Do you plan on buying one (or several) for your child? Let us know what you think in the comments!