Tim Hortons' New App is Available Now and Supports Mobile Ordering!
By
Simon Hung
July 27, 2017
Tim Hortons' brand new app with support for mobile ordering is finally here and you can download it now on Android or iOS!
The app looks impressive and seems to be a massive improvement over the previous TimmyMe app, so we sent RFD forums wunderkind and Tim Hortons enthusiast Tom to test it and provide some first impressions.
Setup
Initial setup is simple and you can connect via Facebook, Google or email. When setting up with Facebook or Google, you simply need to enter your account credentials. If setting up with email, you'll receive a PIN number via email for verification in the app.
Ordering
The main screen in the app is a scrollable list of individual menu items, categorized by popular items, hot drinks, cold drinks, desserts and entrées. One oddity we noticed was that prices are not visible until the final payment stage, but app pricing is identical to restaurant pricing.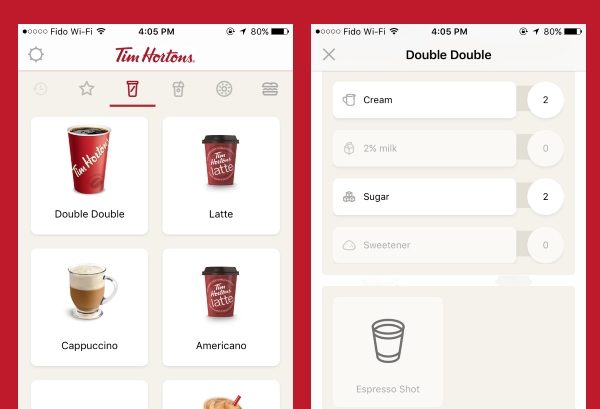 The app displays a grid of menu items (left), most with additional customization options (right).
To order, simply tap an item, customize it and add it to an order. You can add up to 24 items to a single order and customization is thorough, with options to select different sweeteners for drinks, add sauces to sandwiches and more.
Payment
Next, you'll see a summary of your order and be prompted to choose your pickup restaurant, with images of the restaurant exterior for easy identification. Once a restaurant is confirmed, you can choose to pickup your order for Take Out, Dine In or Drive Thru (if available) and proceed to payment.
Payment is made through a digital Tim Hortons account balance, which you can load using a credit card, Apple Pay or Android Pay -- the minimum load amount is $10.00 and you must pay for mobile orders using a Tim Hortons balance.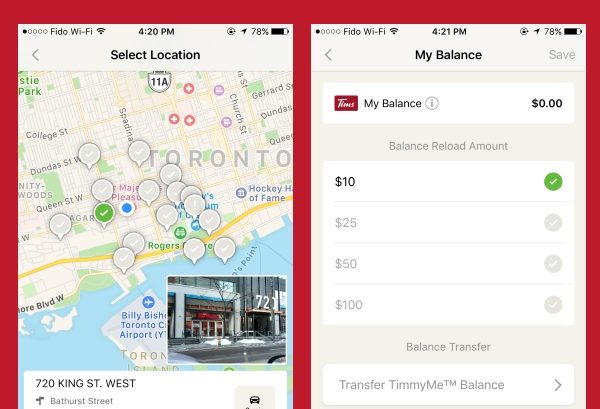 Pickup locations are displayed on a map (left) and you can load up to $100 to your balance (right).
You can also transfer an existing TimmyMe or TimCard balance from within the settings menu and have the option to pay with your balance from the app when ordering in a restaurant.
Pickup
Participating restaurants will have signage to display the pickup area and our order was ready within five minutes. The app does not provide a time estimate, but according to Tim Hortons, staff can prioritize orders based on location and the goal is to have your order ready by the time you walk in.
In our case, we were able to skip a line with over 10 people and pickup our order as soon as we entered the restaurant.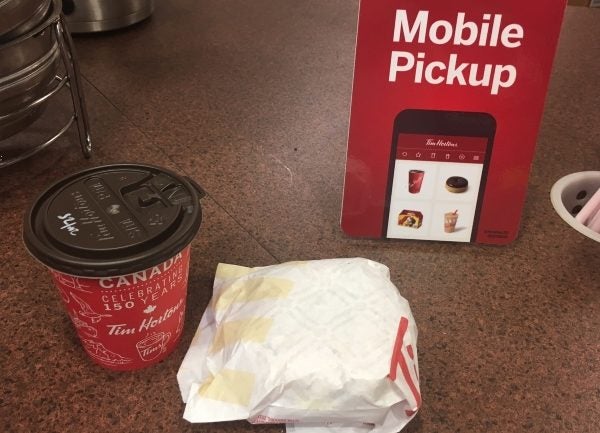 You can pickup orders at a designated Mobile Pickup area.
Thoughts
Overall, first impressions are positive -- the app looks great and performs well, the added convenience is wonderful for those who want to avoid waiting and the user experience feels polished. The app also promises to offer exclusive discounts to help you save on coffee, donuts and other Tim Hortons essentials, so be sure to enable notifications for Local Offers and Special Offers in the Communication Preferences menu!
We did have some minor gripes, including the lack of pricing on products and noticed that some customization options were missing, including Swiss cheese for bagels and raspberry flavouring for frozen lemonade, but nothing that we'd consider deal-breaking.
The new Tim Hortons app is available now and a must-have for frequent Tim Hortons visitors -- click here to visit the app website and learn more about how it works.