The Best Laser Hair Removal Products
By
Lisa Selvaggio
March 12, 2020
Everyone can agree that hair removal is a chore, whether you shave, wax, thread, tweeze, or use a depilatory cream. If you're tired of the hassle, you might be able to get rid of unwanted hair permanently with a high-quality laser hair removal product.
With the right at-home device, you can enjoy the perks of laser hair removal without needing to go to a pricey salon. Check out the information below to learn more about these products, and to gain access to a few of our top recommendations.
How Do Laser Hair Removal Devices Work?
Put simply, a laser hair removal product will create a beam of highly concentrated light that can penetrate a hair follicle. The pigment within the follicle ends up absorbing the light, which creates heat that then damages the follicle and prevents the hair from growing back.
You can use a laser hair removal product on the body and face. The laser only targets the hair, not the skin. But it does take multiple laser treatments to target all of the hair you want to remove, as the laser only works when it hits hair in the growth phase, rather than the shedding or dormant phases. The good news, though, is that the process is surprisingly fast, and you can hit multiple hairs at once. After several sessions, a lot of people are able to achieve permanent results.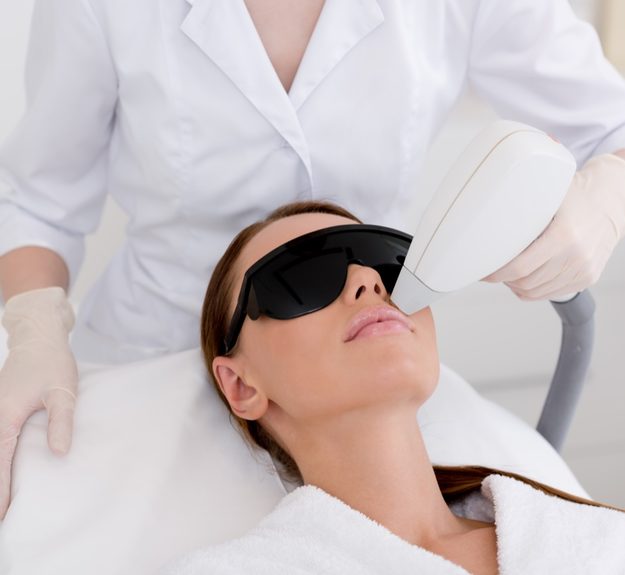 Want to Take Advantage of Laser Treatments at Home?
If you're ready to purchase a laser hair removal product that you can use in the comfort of your own home, you'll quickly realize that there are a lot of options to choose from. To help you select the one that will be best for you, we've compiled a short list of some of our top picks.
No matter which product you select, take the time to read the directions carefully to be sure you'll use it correctly and safely. And make it a point to properly care for your skin before and after every laser treatment session.
1.
Braun Gillette Venus Silk
— Your skin tone will vary from one part of your body to another, so that's why this product has a skin tone sensor to help ensure safe and effective results. Its SensoAdapt sensor can read your skin's tone continuously so the product will automatically adjust the intensity of the light. Plus, this device has been clinically tested and FDA cleared. 2.
Sensica SensiLight Mini100
— This compact and easy-to-use product has been FDA cleared, it's clinically proven and doctor recommended, and it comes with a warranty. It uses RPL (Reactive Pulsed Light) technology, and it has a skin tone sensor and contact sensor for safety. This means the product will evaluate your skin's condition and tone continuously, and it will only flash if there's full contact between the skin and the device. 3.
Remington iLIGHT Ultra
— This FDA cleared and clinically proven product can be used on the face and body. Because of its powerful technology, you can get better results in fewer sessions, compared to other products. In fact, the manufacturer claims you can achieve up to 94% permanent hair reduction in three treatments. 4.
Tria Beauty Hair Removal Laser 4X
— This laser hair removal product has been FDA cleared and clinically proven. It can deliver more than three times the amount of energy of other at-home devices, which means you can get even better results. Plus, it's cordless, so it's easier to use. And because of its controlled precision on a treatment area, it's capable of targeting follicles at deeper levels.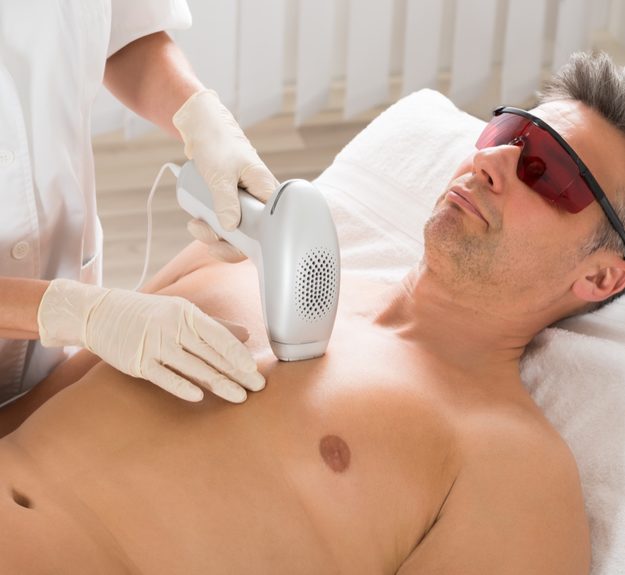 A Few Things to Think About Before You Give Laser Hair Removal a Try
Before you head off to purchase an at-home laser hair removal product, there are some important things to keep in mind:
First off, these products won't work on everyone. They're ideal for individuals with a light to medium skin tone and dark hair. Those with a skin tone that's darker than medium likely won't benefit from laser hair removal devices, and the same goes for those with blonde hair. Be sure to read a device's description to determine if it will work on your skin and hair before buying it.
Shave the day before you plan on doing a laser treatment session because you want to get rid of the hair above the skin while keeping the shaft in place under the surface of the skin. For the same reason, you should avoid waxing and plucking for at least a month before your session.
Even though many people can achieve permanent results, you might need to do some touchup treatments every now and then if you notice that some hairs are growing in again.
If you think you can benefit from laser hair removal, do your research to find the highest quality product that you can use at home. Before long, you should find that there's less hair to contend with, your skin is smoother, and you're more confident.