Subway to Bring New Restaurant Design and Self-Serve Kiosks to Canada
By
Simon Hung
July 17, 2017
Subway wants to put a fresh spin on their dated restaurants, because they've unveiled a radical new restaurant design and modern customer experience initiatives slated to come to select restaurants later this year in Canada, the United Kingdom and United States.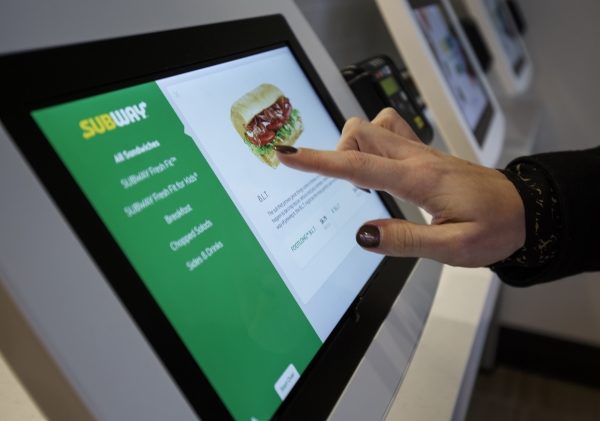 Subway's new Fresh Forward initiative includes placing self-serve kiosks in restaurants.
The new initiative, called Fresh Forward, is highlighted by three main pillars -- digital, food and dine-in experience.
Digital -- digital signage will be used and self-serve kiosks will be implemented, letting you skip line-ups and design a sandwich your way. In addition, Apple Pay and Samsung Pay will be accepted payment options and customers will be able to place orders for pick-up or delivery using their app
Food -- fresh fruits, vegetables and bread will be displayed to emphasis the fresh initiative. In addition, Fresh Forward restaurants will have new menu options including pico de gallo, new sauce options, house-made pickles and gluten-free bread
Dine-in experience -- restaurant design and décor will be brighter and more welcoming, utilizing a colour palette inspired by fresh produce that matches their updated logo. Free Wi-Fi will be provided and seating will include USB charging ports for convenience
This announcement comes after the popular sandwich giant updated their logo last year and incorporated a new colour scheme into many restaurant elements to modernize their brand -- this design evolution is expected to be completed by the end of 2017.
The Fresh Forward concept will debut with 12 pilot locations worldwide -- two of these pilot locations will be in Canada, located in Beauport, QC and Granby, QC (exact store locations are to be determined). If successful, some Fresh Forward elements may be implemented into more restaurants across the country, but an exact timetable is currently unknown.