Black Friday

Starbucks Unwraps New 2019 Holiday Cups, Menu Items and Merchandise
By
Simon Hung
November 6, 2019
Starbucks is already getting into the holiday spirit, as the coffee giant has unveiled their 2019 lineup of new holiday cup designs, seasonal menu items and in-store merchandise for this year's holiday season.
Sip your favourite drinks in one of four new holiday cups at Starbucks.
The full slate of holiday items officially launches across Canada on Thursday, November 7 -- one week later than last year's launch, but still too early according to a few vocal coffee lovers on social media. Nonetheless, here's a short rundown of the festive products you'll find at Starbucks for the 2019 holiday season.
Cups
There are four new holiday cups this year at Starbucks, each featuring a unique pattern inspired by gift wrap and the joy of unwrapping presents.
A limited-edition red reusable cup will also be available for free to anyone who orders a holiday beverage on November 7 -- the cup is red with "Merry Coffee" playfully adorned along the side (Quebec's cup is white with "Joyeux Café" instead). Reusable cups are limited and will be distributed on a first-come, first-serve basis.
Food and Drink
The Starbucks Christmas Blend makes its annual return and will be served at all locations throughout the holiday season -- this year, the blend includes rare Sumatran beans (aged three to five years), mixed with coffees from Colombia, Indonesia and Papua New Guinea.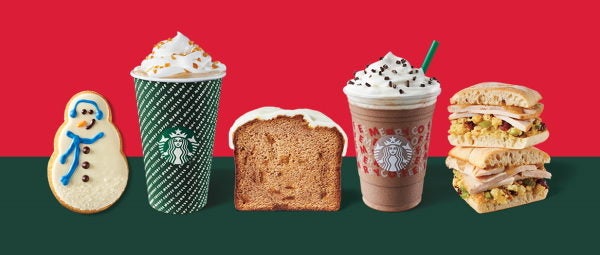 This year's holiday menu includes five handcrafted drinks, along with six new food and bakery items.
Several handcrafted holiday favourites make their return to the Starbucks menu, including the Caramel Brûlé Latte, Chestnut Praline Latte, Eggnog Latte, Gingerbread Latte and Peppermint Mocha. Six food items will also make their debut this year, including a new Holiday Turkey & Stuffing Panini, Cranberry Bliss Bar, Snowman Cookie, Gingerbread Loaf, Peppermint Brownie Cake Pop and Snowman Cake Pop.
Merchandise
Finally, you'll find some new Starbucks merch on the shelves at locations from coast-to-coast -- all 2019 holiday merchandise is priced at under $35.00 (specific prices were not disclosed), making perfect gifts for the Starbucks lover in your life.
____________________
Source: Starbucks Canada