Starbucks to Open First App-Only Pickup Store in Toronto
By
Simon Hung
January 14, 2020
A new but familiar Starbucks experience is coming to Toronto, as the coffee chain will open its first Starbucks Pickup Store in Canada on February 4.
Designed for on-the-go customers or coffee lovers who want minimal human interaction, the new Starbucks Pickup Store will be located in the Commerce Court complex in Toronto's Financial District -- specifically at 25 King Street West, Unit C250.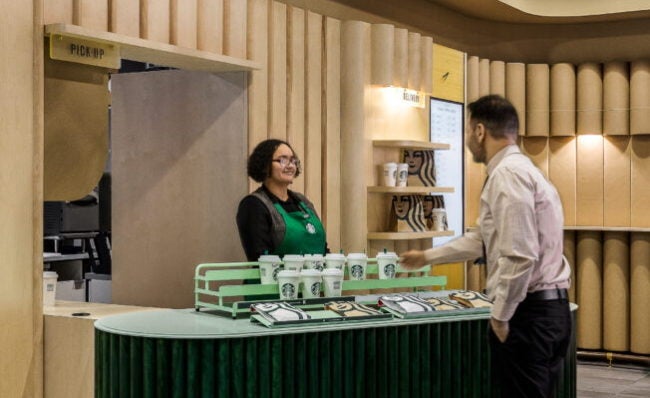 Starbucks Pickup Stores are fully dedicated to mobile pickup orders (New York location pictured).
This unique store will be unlike any Starbucks café in Canada, as it's completely dedicated to mobile orders placed through the Starbucks app -- this isn't necessarily a bad thing, as Starbucks has one of the better app-ordering experiences in Canada. The location will offer the complete food and beverage menu of a conventional Starbucks, but you cannot place orders in-person and the space will not have any seating available.
To order, customers must use the Starbucks app (Android, iOS) and choose "Starbucks Pickup – Commerce Court" as the pickup location. Once an order is placed, the app will provide a time estimate (usually within minutes) and you'll be able to walk in, pickup your order and leave.
While this Starbucks Pickup Store is the first-of-its-kind in Canada, it'll be the second for Starbucks, as they opened their first Pickup Store with the same app-only concept in New York City last November.
Starbucks lovers in Toronto can visit the Starbucks Pickup Store starting Tuesday, February 4 and the store will operate Monday to Friday between 6:00 AM and 6:00 PM.
____________________
Source: Starbucks Canada