Royal Canadian Mint Issues New Black-Ring Toonie to Honour Queen Elizabeth II
By
Simon Hung
December 7, 2022
The Royal Canadian Mint is issuing a new $2.00 coin to honour Her Late Majesty Queen Elizabeth II and her service to Canada during her 70-year reign.
Scheduled to enter circulation this month, the new $2.00 coin is visually unique and features a black outer ring to symbolize a mourning armband, along with a gold inlay with the familiar polar bear image and Queen Elizabeth II effigy found on standard toonies.
Approximately five million coins will go into circulation across Canada and you can get one by visiting your local bank or simply waiting until they appear in your change whenever you pay with cash.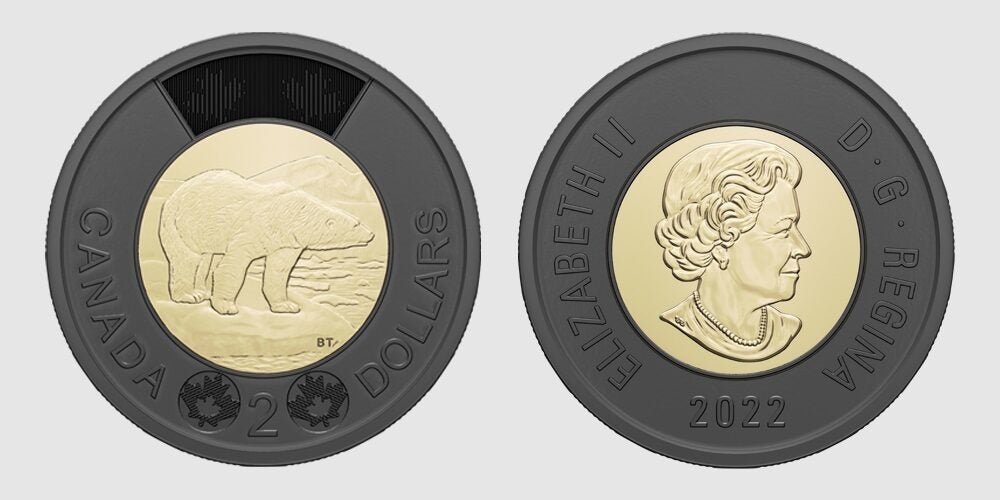 The commemorative toonie features the traditional polar bear design and Queen Elizabeth II effigy.
"Queen Elizabeth II served as Canada's head of state for seven decades and for millions of Canadians, she was the only monarch they had ever known," said Royal Canadian Mint President and CEO Marie Lemay. "Our special $2.00 circulation coin offers Canadians a way to remember her."
Aside from the unique design, the commemorative toonie is otherwise identical to standard silver-and-gold toonies, as both coins are made with the same metal composition and valued at $2.00. While initial circulation is limited to five million, The Mint has noted that more may be produced if there is additional market demand.
____________________
Source: The Royal Canadian Mint