McDonald's Just Unveiled a Line of Clothing to Celebrate McDelivery
By
Simon Hung
July 21, 2017
July 26 update: contrary to the information originally specified on the Canadian McDelivery website, you must find a McDelivery Bench located at a physical McDonald's restaurant in order to have a chance to get the items for free. Check the McDonald's Twitter page for more details and clues on where to find it in your city.
---
McDelivery, McDonald's new delivery service with UberEATS, has officially launched in Canada and the fast food giant is celebrating with the McDelivery Collection -- an exclusive line of limited-edition clothing and décor.
The McDelivery Collection features five exquisite items including a Big Mac onesie, a Big Mac pillowcase set, a burger and fries picnic blanket, World Famous Fries slide sandals and a World Famous Fries sweat suit.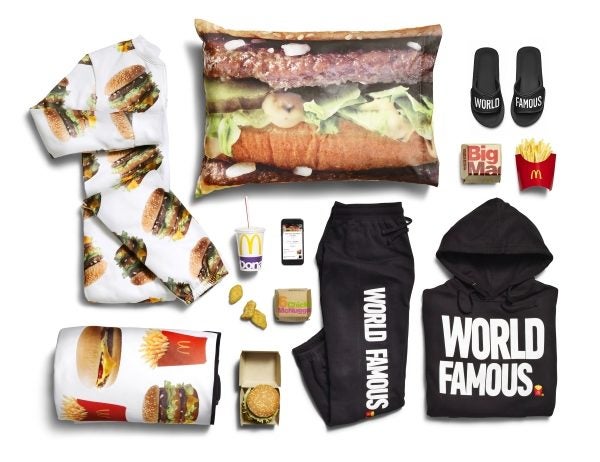 The McDelivery Collection includes a onesie, pillowcases, sandals, picnic blanket and sweat suit.
The items will be randomly given away for free at pop-up activations on Wednesday, July 26 in markets which offer the service through UberEATS. This event is part of Global McDelivery Day and items from the McDelivery Collection will be available on a limited time basis. They will not be sold after this event.
There are currently 187 restaurants eligible for McDelivery in Edmonton, Montreal, Ottawa and Toronto, with Calgary joining by the end of the summer. McDelivery prices are identical to restaurant pricing, but there is a $4.99 delivery fee and coupons are not accepted. To get started, download the UberEATS app for Android or iOS and the restaurants near you eligible for McDelivery will appear in the app.
McDonald's will also be surprising customers with special deliveries and fun McDonald's moments throughout Global McDelivery Day, but the main attraction is undoubtedly the McDelivery Collection. The products will likely go quickly, especially the onesie, so make sure to keep tabs on McDonald's Canada social media feeds throughout the day.