McDonald's Canada is Launching New MyMcDonald's Rewards Program on November 16th
By
Thomas Kenzaki
November 12, 2021
McDonald's Canada is launching a brand new customer rewards program on November 16th called MyMcDonald's Rewards. It provides Canadians more options than ever before to both earn points and redeem them for rewards.
Their current rewards program, which is limited to just coffee and french fries, is being discontinued and the new points based MyMcDonald's Rewards program is set to replace it across Canada.
MyMcDonald's Rewards was introduced earlier this year in the US, and the similarly named Canadian version is scheduled to debut next week. Both are based around earning points for purchases which can then be redeemed towards various tiers of rewards, however in Canada there's more tiers, and more rewards available.
According to McDonald's Canada Chief Marketing Officer, Alyssa Buetikofer, one of the main reasons for the change was to attract more customers by expanding the rewards program to include more menu items,
How to Earn and Redeem Points
To start, you'll need to download the McDonald's app to your mobile device, register for an account, and then activate your MyMcDonald's Rewards account. If you already have the latest version of their mobile app, you're good to go.
With MyMcDonald's Rewards, you'll earn 100 points for every $1 spent (excluding taxes, fees, gift cards, delivery orders and select other items).
All mobile orders made through the McDonald's app will automatically receive points, but to receive points for orders placed at the restaurant, you'll need to provide your rewards code from the app when you place your order.
Now that you know how to earn points, you need to learn what you can use your points on. There are five different tiers of rewards categories, with the first starting at just 2,000 points.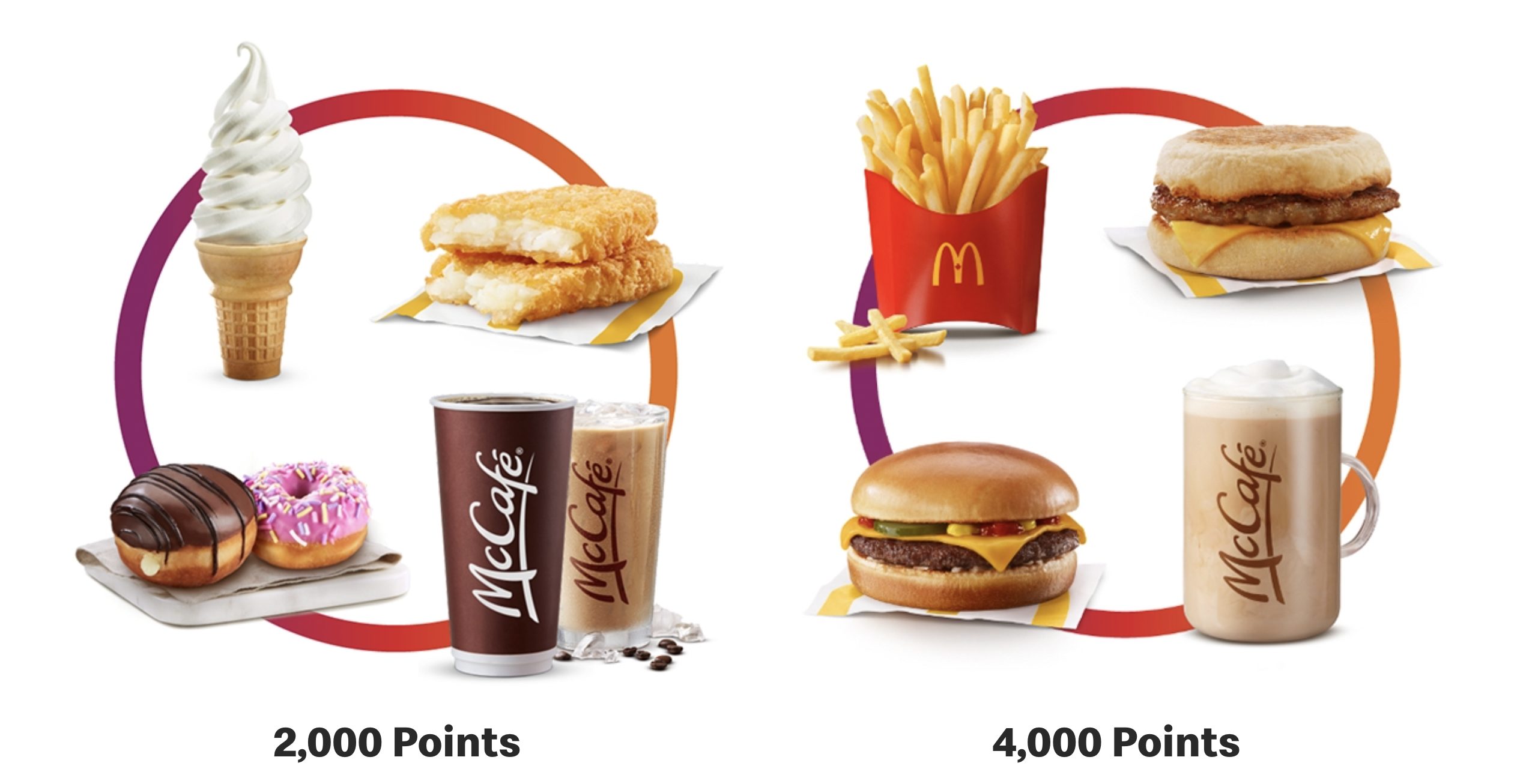 Here's a breakdown of the different levels and the menu items within each:
2,000 Points
Premium Roast Coffee/Tea/Iced Coffee (any size)
Hash brown
Vanilla Cone
2 Li'L Donuts
4,000 Points
Fries (any size)
Sausage McMuffin
Cheeseburger
Latte (any size)
6,000 Points
McDouble
McMuffin Breakfast Sandwich (choose from Egg McMuffin, Bacon 'N Egg McMuffin or Sausage 'N Egg McMuffin)
Junior Chicken
Snack Size McFlurry
10,000 Points
Big Mac
McMuffin Extra Value Meal (choose from Egg McMuffin, Bacon 'N Egg McMuffin or Sausage 'N Egg McMuffin Extra Value Meal)
6-pc Chicken McNuggets
Happy Meal (any)
14,000 Points
Quarter Pounder with Cheese Extra Value Meal
Big Mac Extra Value Meal
McChicken Extra Value Meal
10-pc Chicken McNuggets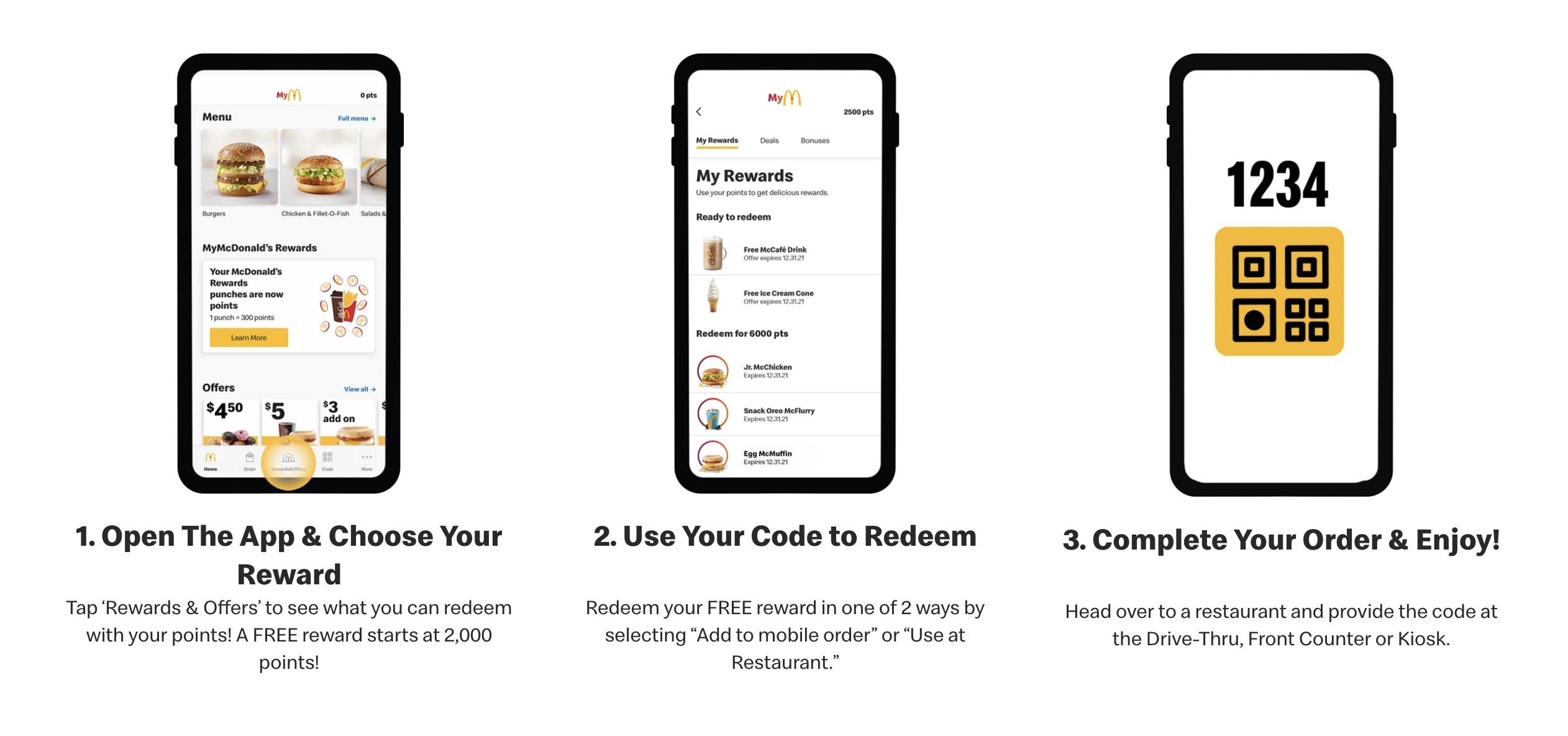 Your points will continue to accumulate within the app until redeemed, or until they expire which happens 6 months after they were earned. This should give most customers plenty of time to redeem them as you'll only need to spend $20 within a 6 month span to earn a tier 1 rewards item.
What Happens to Existing McDonald's Rewards and McCafé Rewards Stickers?
Your previously accumulated McDonald's Rewards punches in the app will be automatically transitioned to points at a rate of 300 points for every punch, and any free rewards you have will be redeemable until February 28, 2022.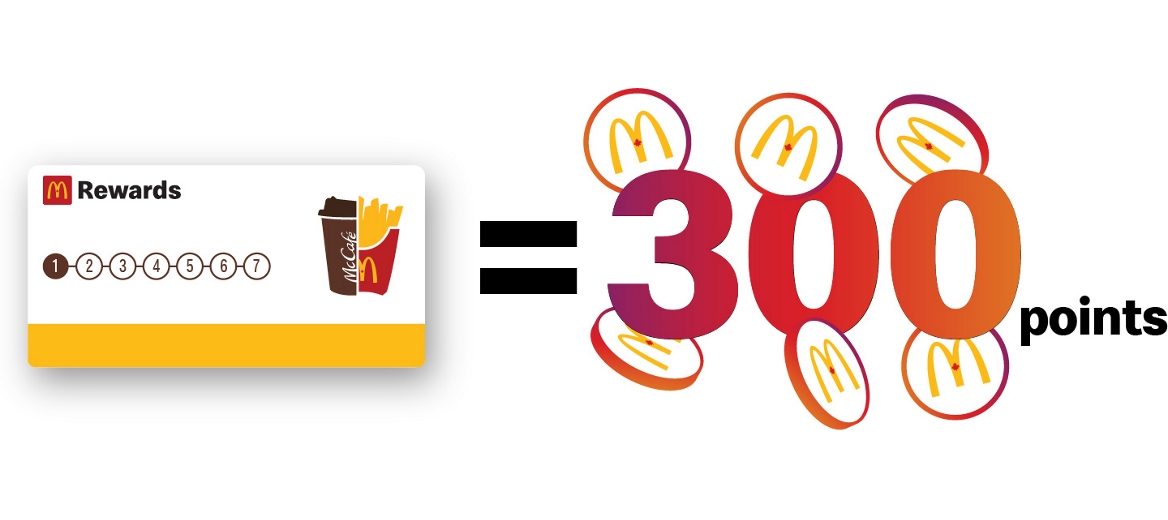 For those of you wondering about the McCafé Rewards stickers and cards, they're going to be sticking around (no pun intended) for the time being except in Manitoba and Kenora, Dryden and Fort Frances, ON where the program is being sunset as part of a test.
With the absence of a physical rewards card (like with Tim Horton's rewards program), it's good to know that the popular coffee sticker program will not immediately come to an end (except for in the previously mentioned regions) and will still provide some rewards to customers without a mobile device and those less technologically inclined.
To assist with the roll out of MyMcDonald's Rewards, guest experience leaders will be available at restaurants to help customers with issues like connecting to McDonald's WiFi, and answering any questions they might have about the new program.
Special Bonus Offers
As a special introductory offer, customers making their first purchase will receive 5,000 bonus points on their first MyMcDonald's Rewards order of $1 or more (enough for free fries, a sausage McMuffin, cheeseburger, or latte).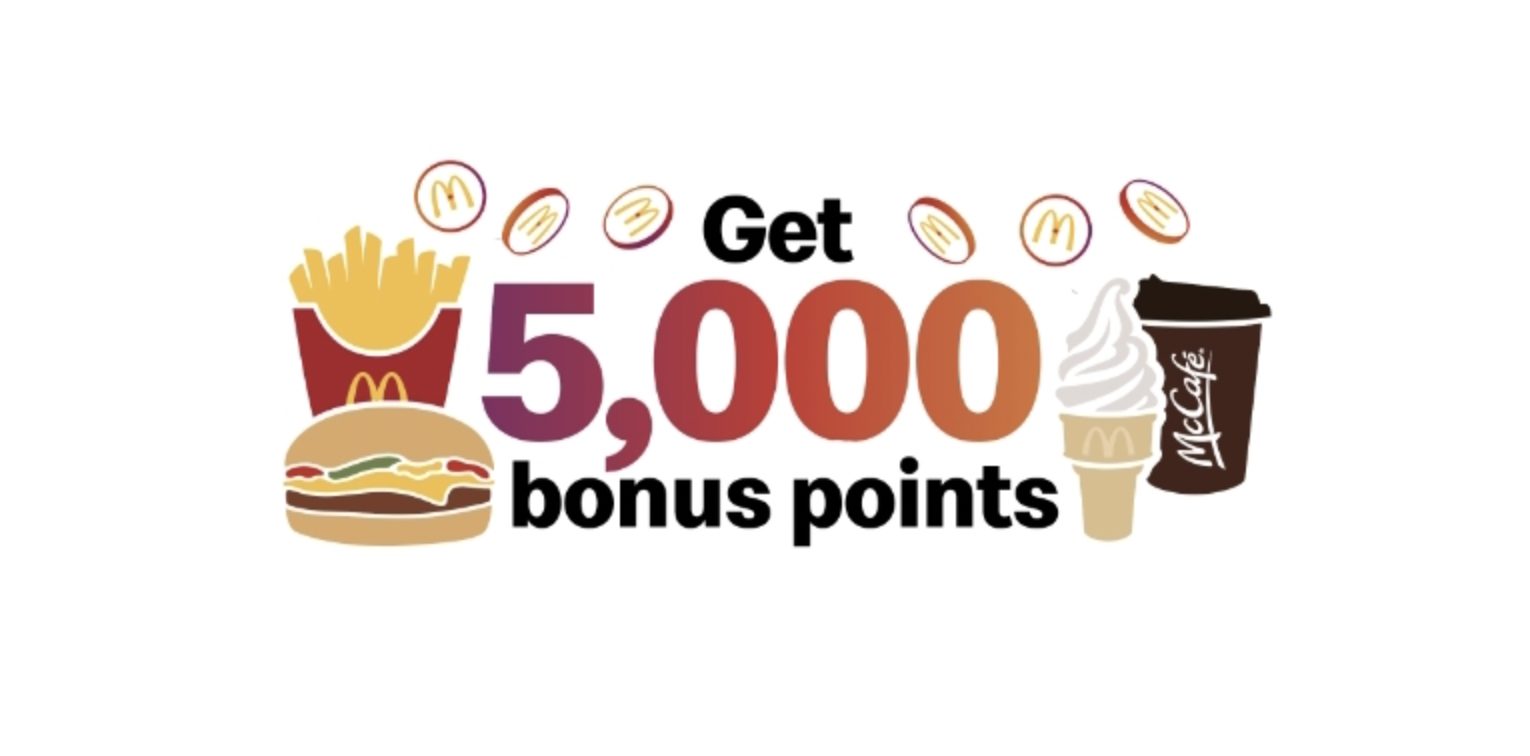 While the above bonus points offer is only available on your first purchase, McDonald's will continue to offer MyMcDonald's Rewards bonus offers in the app, allowing you to earn extra points for making select purchases from time to time.
Final Thoughts
The transition from McDonald's Rewards to MyMcDonald's Rewards is an improvement for customers who aren't big fans of coffee or fries, as it opens up the ability to earn rewards points for almost every purchase, and can also be redeemed towards select items across the entire menu range.
Now that you know all about MyMcDonald's Rewards, what do you think about the new rewards program? Let us know in the comments if you're a fan of the change or not.