LEGO's Back to the Future DeLorean Set Comes to Canada on April 1
By
Simon Hung
March 17, 2022
Great Scott! LEGO's latest announcement is packed with nostalgia and 1.21 Gigawatts, as the company has officially unveiled the LEGO Back to the Future Time Machine – a brick-built DeLorean inspired by the Back to the Future franchise.
Scheduled for release on April 1 (not an April Fool's joke) and priced at $219.99 in Canada, this 1872-piece set is part of the LEGO Creator Expert collection and pays homage to the 1981 DeLorean DMC-12 car seen in all three Back to the Future movies, which was originally modified by Doc Brown to enable time travel.
The LEGO Back to the Future Time Machine comes with several neat details that any Back to the Future fan would appreciate, including gull-wing doors, a light-up flux capacitor, destination dates on the dashboard, an OUTATIME license plate and minifigures of Marty McFly (with a hoverboard) and Doc Brown.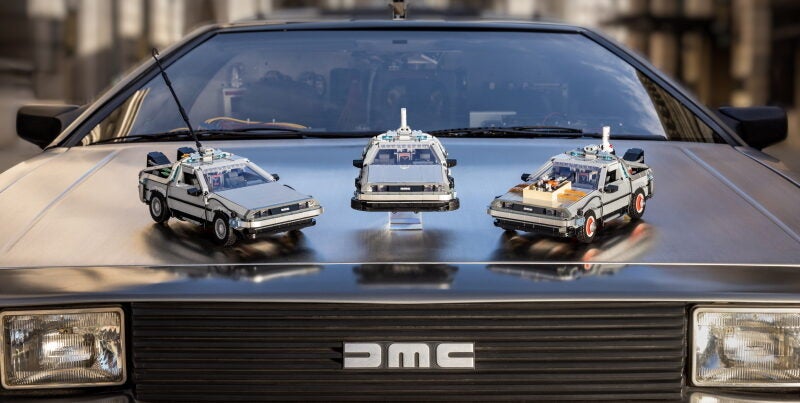 The LEGO Back to the Future Time Machine comes with three separate build options.
In addition, the set includes three different building options so you can choose which version of the DeLorean Time Machine you want to build – the original DeLorean as seen in Back to the Future, the flying DeLorean as seen in Back to the Future Part II or old western DeLorean as seen in Back to the Future Part III.
Each variant comes with movie-accurate accessories to differentiate the three, including a lightning rod and plutonium chamber for the original version; a Mr. Fusion energy reactor and horizontal tires for the flying version; and a hood-mounted circuit board and whitewall tires for the old western version.
The fully-built DeLorean measures in at approximately 35 cm long, 19 cm wide and 12 cm tall.
The LEGO team worked closely with Universal Pictures and Amblin Entertainment to faithfully re-create the iconic car and Back to the Future co-writer Bob Gale was delighted with the result, noting "In the movie, Doc Brown spent almost 30 years and his entire family fortune to build his Time Machine. Fortunately, you'll be able to build this LEGO model in significantly less time and with far less expense – although your completed version will be unable to travel through time!"
The LEGO Back to the Future Time Machine speeds into the LEGO Shop at 88 MPH starting April 1. At launch, the set will be available exclusively from the LEGO Shop in Canada, with a wider release expected at other retailers at a later date.
____________________
Source: LEGO Canada