Introducing the Toilet Paper Cost Calculator
By
Simon Hung
July 20, 2017
Toilet paper is a very contentious topic -- over vs. under, fold vs. scrunch, kittens vs. cubs, two-ply vs. three-ply (but never one-ply). Debate is fierce among those looking for toilet paper deals, but all deal-hunters share one common goal -- to get the best value possible.
With that in mind, we created the Toilet Paper Cost Calculator, a new RFD tool to help shoppers find out if they're getting a deal when buying toilet paper. You can find it under the Tools menu along the top navigation bar on desktop browsers or in the left navigation drawer on mobile browsers. Here's how to use it.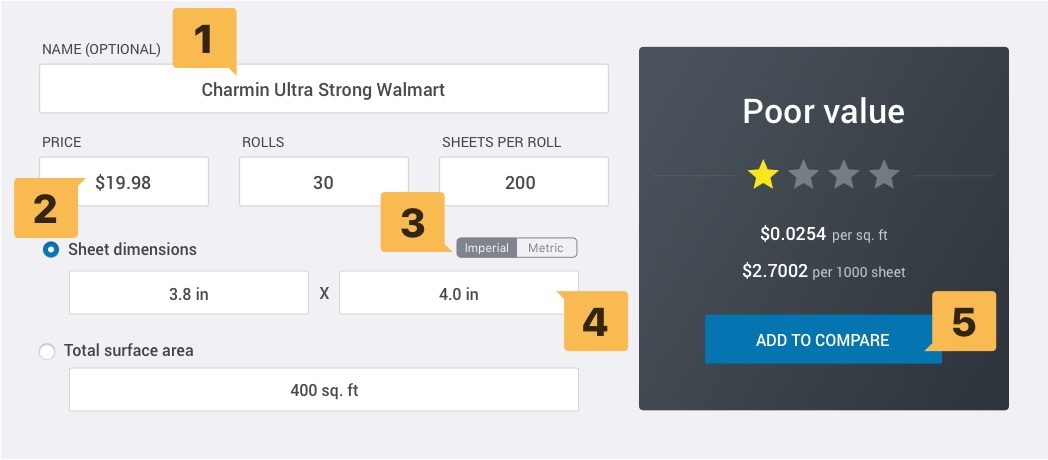 1. Enter the product name; 2. Enter the price, number of rolls and sheets per roll; 3. Choose Imperial or Metric units; 4. Enter the sheet dimensions or total surface area; 5. View the results and add to a comparison list.
The tool calculates two values -- surface area cost (per square metre or square foot) and cost per 1000 sheets -- along with a rating on a scale of one to four stars, with a four-star rating representing a great value. You can also add up to six results to a list to compare multiple products at a glance.
We found surface area to be the most consistent measurement of value, as sheet size can vary depending on the brand, which affects the overall value of sheets in a package (more on this later), but a cost per 1000 sheets metric is available for those interested in a sheet measurement.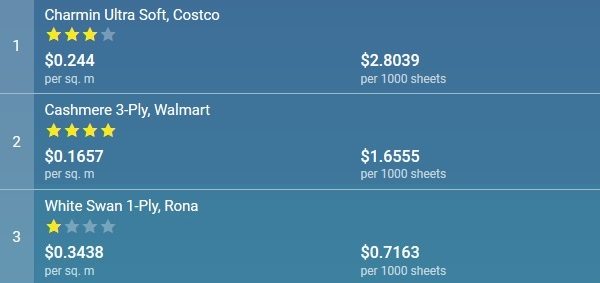 Up to six results can be added to a list for comparison -- great for comparing multiple products.
We have plans for an in-depth analysis coming soon using a more precise determiner of value for the savviest shoppers, as there are some factors that can impact value. For example, the most common sheet size is 10.1 cm x 9.9 cm, but there are sheets as small as 9.9 cm x 9.8 cm and as large as 11.4 cm x 10.1 cm. When factored into 1000 sheets, the surface area can range from 9.702 m2 to 11.514 m2 -- a variance of almost 2 m2 for an equal number of sheets, depending on the brand.
In the meantime, we encourage you to test the Toilet Paper Cost Calculator and use it whenever you're shopping for toilet paper to find out if you're getting a good deal. Feedback is welcome and we're always looking to make improvements based on your suggestions.
Special thanks to porksoda and others in the Toilet Paper Calculation Thread, which served as a catalyst for the creation of this tool.