IKEA's Swedish House Mafia Collaboration Comes to Canada in October
By
Simon Hung
September 16, 2022
IKEA is bringing music to the forefront this fall and teaming up with EDM artists Swedish House Mafia to design an all-new line of furniture – the OBEGRÄNSAD Collection.
Scheduled to launch on October 1 in Canada, the OBEGRÄNSAD Collection – Swedish for "unlimited" – is a new line of products inspired by music lovers and designed for both music creators and fans alike.
"We wanted to simplify the process for people to create music," said Swedish House Mafia. "Hopefully, our collection inspires and enables more people to be more creative within their home, and it does not have to be restricted to only music making. It can be so much more."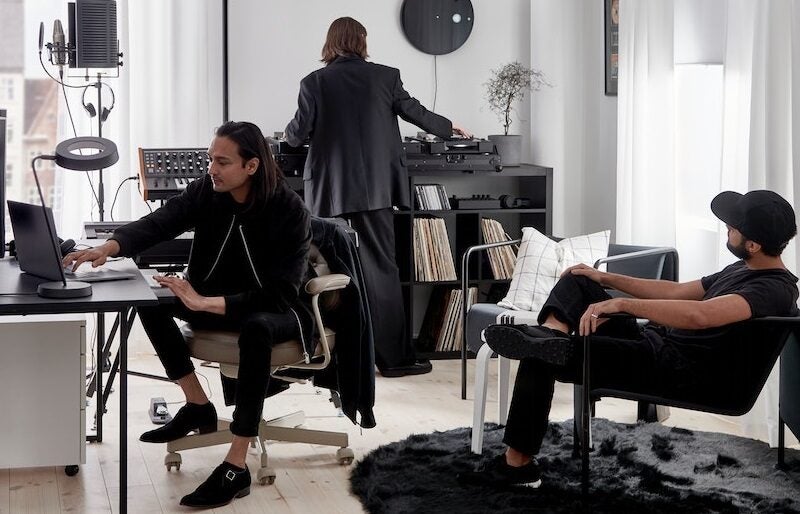 The OBEGRÄNSAD Collection was designed in collaboration with Swedish House Mafia.
The OBEGRÄNSAD Collection will feature more than 20 products, including a record player, LED work lamps, a laptop stand, a desk, several shelving units, an armchair, a rug and more. Each product was designed by IKEA with input from Swedish House Mafia, who wanted to create a collection that blends form and function to help ordinary people create and enjoy music.
Almost all OBEGRÄNSAD products have a sleek all-black aesthetic to fit in anywhere, while some furniture in the collection are "remixed" versions of existing IKEA products – for instance, the OBEGRÄNSAD shelving unit is a modified KALLAX with extra space for DJ equipment, while the OBEGRÄNSAD desk is similar to the BESTÅ BURS but with integrated speaker stands and a pull-out keyboard tray (so it doesn't interfere with your music equipment).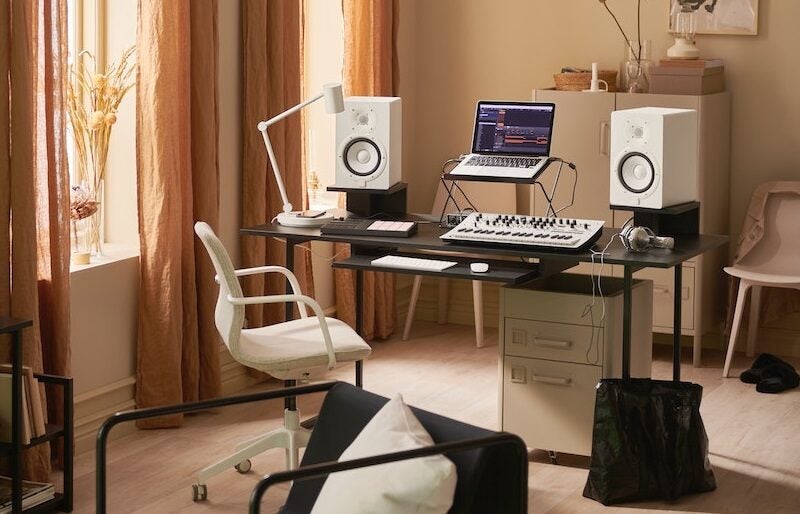 The OBEGRÄNSAD Desk features speaker stands and ample room for music equipment.
Canadian pricing has not been revealed, but the collection was made to be affordable, partially inspired by Swedish House Mafia's extensive use of IKEA furniture during their rise to success in the early-2000s.
"Since we were kids, we have valued the IKEA approach of making things affordable and available for a lot of people," said Swedish House Mafia's Axwell. "We used to find a creative way to make IKEA furniture to accommodate our teenage lives as creatives, so the collaboration's purpose was formed around our own personal journey in life."
The IKEA x Swedish House Mafia OBEGRÄNSAD Collection hits Canadian showrooms this October and will be available to purchase online or in IKEA stores across Canada.
____________________
Source: IKEA Canada