Home Audio System Buying Guide
By
Lisa Selvaggio
February 20, 2020
A home audio system can make you feel like you're a part of the movie that you're watching, it can play music when you're entertaining guests, and it can create a relaxing atmosphere when you're enjoying a quiet evening at home. But if you want the best sound quality possible, you need to invest in the right speakers.
If you're new to the world of home audio, this can start off as a confusing shopping experience. That's why we've compiled a short home audio system buying guide to help you learn about what you should look for.
Where Will Your Home Audio System Go?
To get started, think about the room(s) in which you'll install your home audio system. The dimensions of a room can give you insight into what types of speakers would work best in that space.
For example, if your room is big and open, you could go with floor-standing speakers, which can provide an immersive experience when watching movies. But if the room is quite small, you might be better off with in-wall, on-wall, or stand-mounted speakers. Compact speakers are also great if you want to hide them amidst the rest of your décor.
Want to take your sound system outside onto your deck or patio so you can enjoy music while you're relaxing or entertaining? There are even home audio system speakers designed for outdoor use, capable of withstanding the elements so you never have to go without your favorite songs when you're in the backyard.
Choose Between Stereo and Surround Sound
Next, consider whether you want to go with a stereo or surround system. For a lot of people, stereo works just fine for both music and movies, but if you want to create a home theater experience, a surround sound system will satisfy your expectations.
With a stereo sound system, you'd have two speakers and a 2-channel system, compared to five or more speakers and a multi-channel system for surround sound. And surround sound does what the name implies—it surrounds you in sound that comes at you from several directions.
Again, if you're planning on primarily using your home audio system for listening to music, stereo is a good way to go. But if you're planning on using it mostly for watching movies and playing video games, surround is a great choice.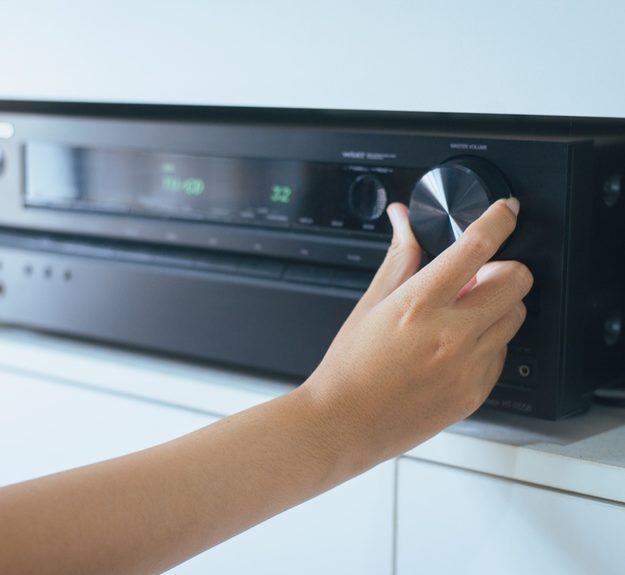 Here Are Some of Our Top Home Audio System Picks
Are you ready to start looking at your options in the world of home audio systems? Here's a list of some of our recommendations:
This is a wireless system that includes four speakers. The speakers can sense where they are placed in a room using RoomAdapt, and that allows them to optimize their performance. And NoiseAdapt will also be able to adjust the volume and tone of the speakers based on the noise in the room. Plus, you can use the Dynaudio Music app to control this modern system easily.
This is another wireless speaker that you can connect to using Wi-Fi, Bluetooth, or Airplay, and you can control it with your smartphone or tablet. It can be used on its own or you can pair it up with other speakers to create a whole house audio system. It lets you play your favorite music from your mobile devices, computers, and the cloud. And the presets optimize output for speaker location and room type, as well as user preferences.
Minimalist and modern Sonos speakers are easy to set up, they can run wirelessly, and you can find speakers for both indoor and outdoor use from this brand. You can also find sets of speakers that include the brand's high-quality PlayBar when you want to create a surround sound system in your home. And Sonos sells in-ceiling and in-wall speakers, too, for those who want to make their speakers less obvious or who don't have a lot of room to work with.
Transform the Way You Listen to Music and Watch Movies at Home
With the right home audio system, every note from your favorite songs and every action-packed scene from your favorite movies can sound better than ever. There are individual speakers and complete sound systems for every budget, as well as convenient wireless systems, so definitely look into what your options are, as you might be pleasantly surprised by what you can achieve with a minimal investment.