H&M Has Launched a New Customer Loyalty Program
By
Ambia Staley
May 16, 2019
If you're a frequent H&M shopper, you'll be happy to hear that the retailer is going to offer exclusive perks and rewards through their brand new loyalty program!
This new digital loyalty program allows shoppers to collect points, get bonus vouchers, exclusive deals, and more! The program is free for anyone to join. All you have to do is create an account through H&M's website or mobile app and select "join now". If you've already got an H&M account, then all you have to do is log-in to your existing account and select "join now".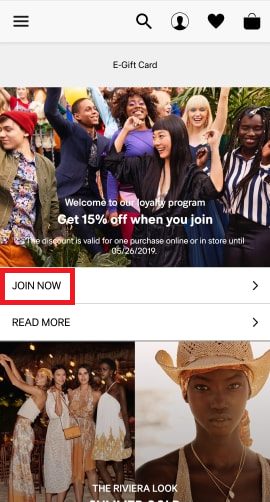 Select "join now" once logged in to join the program.
Once you join, each purchase you make online or in-store will collect points (each point equals $1.00), which in turn will provide you with even more perks. You can also earn points just by updating your profile, and soon, you can earn them by rating and reviewing your purchases. There are 2 levels to the loyalty program, and we've listed both of them and a summary of their benefits below:
Member (all customers start at this level upon joining)
15% off your next online or in-store purchase (one-time welcome offer)
$5.00 bonus voucher for every 150 points earned (maximum of 20 vouchers per year)
Exclusive offers and discounts
Digital receipts to keep track of your purchases
Free standard shipping for online orders of $50.00 or more
Free returns
Plus Member (earned once a Member collects 600 points and is valid for 1 year after earning the status)
All benefits included in the Member level
Free standard shipping (no minimum)
Exclusive experiences
Unique Access to special collections
Surprise Plus offers
Pre-access to selected sales
Pre-access to events
The H&M Loyalty Program is live now. You can join for free online, or through the H&M app.