Dyson is Launching New Air-Purifying Headphones
By
Simon Hung
March 30, 2022
After tackling vacuums, fans, hair care and lighting, Dyson's next innovation will take on the headphone industry, as the company has officially unveiled the Dyson Zone – a new set of noise-cancelling headphones with a built-in air purifier.
Scheduled to launch this fall in Canada*, the Dyson Zone aims to combat two types of environmental pollution most people face on an everyday basis – noise and air pollution. To do so, the Dyson Zone features an unusual design with a set of over-ear headphones with noise-cancellation to remove unwanted noise, combined with a front-mounted visor over your mouth to provide a constant flow of purified air.
Compressors and particulate filters are built into each earcup, which filters gases, allergens and dust out of the surrounding air before delivering purified air through miniaturized air pumps in the visor for the user to breathe.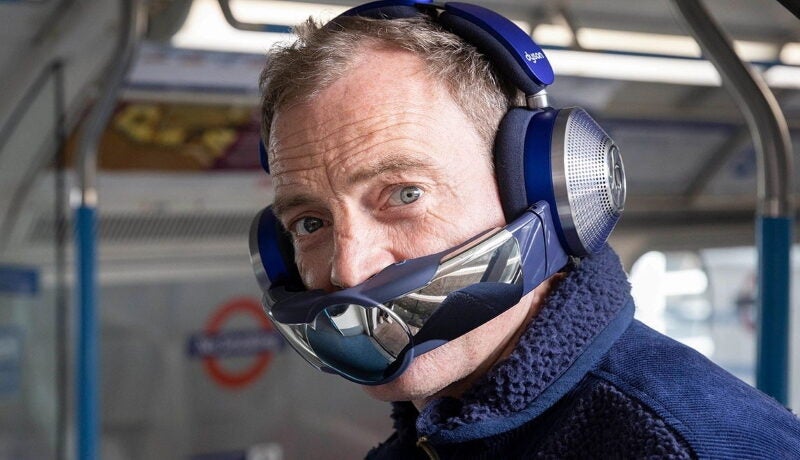 The Dyson Zone filters air through the earcups before delivering purified air through the visor.
"Air pollution is a global problem – it affects us everywhere we go. In our homes, at school, at work and as we travel, whether on foot, on a bike or by public or private transport," said Dyson Chief Engineer Jake Dyson in a statement. "The Dyson Zone purifies the air you breathe on the move. And unlike face masks, it delivers a plume of fresh air without touching your face, using high-performance filters and two miniaturized air pumps. After six years in development, we're excited to deliver pure air and pure audio, anywhere."
According to Dyson, the Zone has been in development for over six years, with over 500 prototypes during that time – the original design featured a snorkel-like mouthpiece paired with a backpack for filtration, before Dyson engineers gradually refined the design to its current state.
While Dyson has decades of experience with air filtration technology, this will be the company's first foray into the consumer audio industry. Dyson claims the Zone provides high-fidelity audio with advanced noise cancellation – even with spinning compressors in both earcups – but it won't be known until the official launch how the audio compares to well-established products from competitors like Apple, Bose or Sony.
The Dyson Zone Air-Purifying Headphones will be available in Canada and other markets worldwide this fall. Final pricing has not been disclosed and will be revealed at a later date.
____________________
Source: Dyson Canada *Editor's note: despite the dubious timing of this announcement, we've been informed by a Dyson spokesperson that this is not an April Fool's joke. We will update this article if it turns out we were bamboozled.