Coca-Cola is Releasing a Limited-Edition Space-Flavoured Soda in Canada
By
Simon Hung
February 17, 2022
Coca-Cola wants to take you to space with their next beverage, as the soda giant is releasing a new space-themed flavour of Coca-Cola called Starlight.
Scheduled to launch on February 21 in Canada, Starlight is a new limited-edition flavour of Coca-Cola, inspired by space exploration and the mysteries of the universe. Coca-Cola Starlight will be available at most Canadian grocery stores where Coca-Cola is sold, in both Regular and Zero Sugar varieties.
The most striking characteristic of Coca‑Cola Starlight is its unique red hue, but the biggest mystery surrounding the new flavour is the taste – the packaging simply states "Space Flavoured," while the company describes it as "great Coca-Cola taste with a dash of the unexpected…and a cooling sensation that tastes like magic".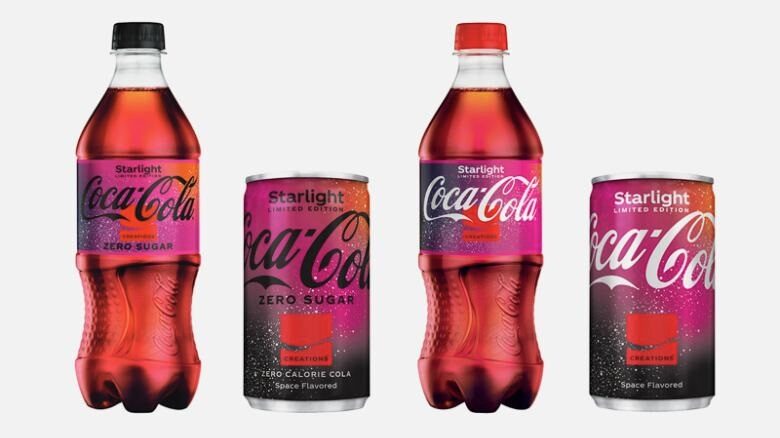 Coca-Cola Starlight will be available in Canada starting February 21.
What does space taste like? Milo Pantone, a luchador-masked YouTuber who managed to get an early bottle, described the flavour as "Coca-Cola with an after-taste of chocolate and graham crackers," leading some soda fans to speculate that Coca-Cola's version of space will taste like s'mores.
Starlight will be the first product launched under the new Coca-Cola Creations label – an innovation hub that will be used to promote new Coca-Cola products and future limited-edition flavours. For Starlight's launch, Coca-Cola will be hosting an augmented reality concert with American singer-songwriter Ava Max and plans to release a Starlight apparel collection at a later date.
Coca‑Cola Starlight will be available in Canada starting February 21 – Coca-Cola notes that the limited-edition flavour will only be sold for a brief period, so you won't have long to find out what space tastes like after its launch.
____________________
Source: Coca-Cola Canada