Cineplex Quietly Adds $1.50 Online Booking Fee for Movie Tickets
By
Simon Hung
June 21, 2022
Cineplex movies will be slightly more expensive if you're used to buying tickets online, as the company has introduced a new online booking fee when purchasing through their website or mobile app.
The fee was first introduced as early as last week, after RedFlagDeals user Saturate noticed the additional charge when booking movie tickets on June 15. Cineplex has since acknowledged the fee publicly, telling The Canadian Press that the change was made "to further invest and evolve our digital infrastructure."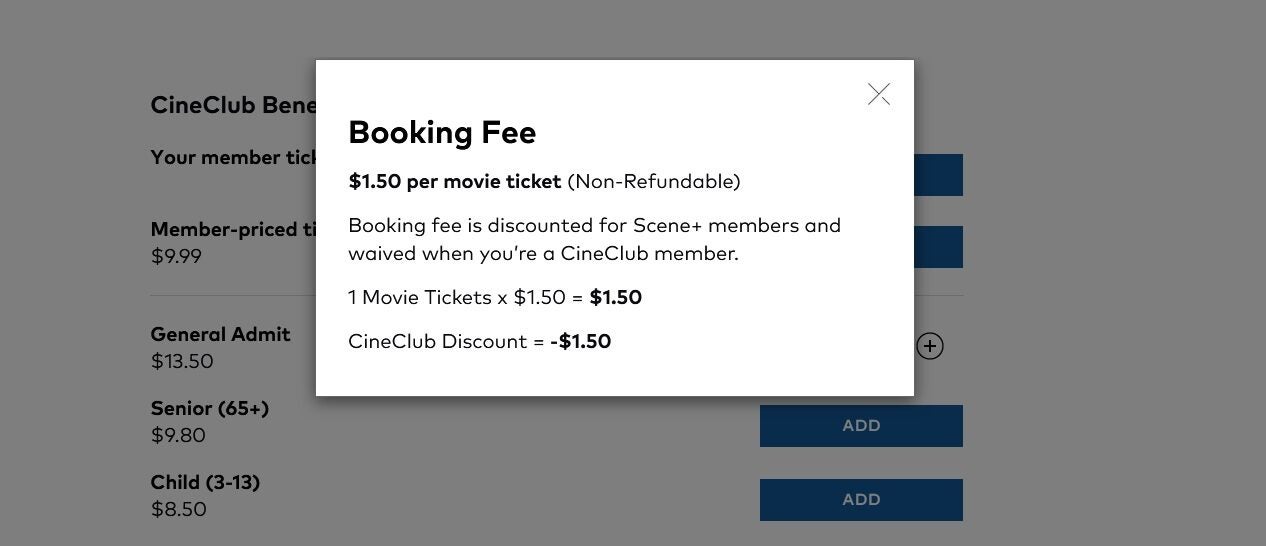 Cineplex's new online booking fee is upwards of $1.50 per ticket.
When ordering Cineplex tickets online, moviegoers will notice a new "Booking Fee" section at the bottom of the page that automatically charges a $1.50 non-refundable fee per ticket, while members of Cineplex's Scene+ loyalty program will be charged a reduced fee of $1.00 per ticket. The fee is mandatory for all tickets booked online, regardless of format or date.
The new practice is similar to Ticketmaster's wildly unpopular "convenience charge" that tacks on additional fees if you opt to order tickets online. However, Cineplex's approach is far less egregious and luckily, there are two ways to avoid the fees altogether.
Buy tickets in-person – Cineplex will not charge booking fees when purchasing tickets in-person at Cineplex box offices or self-serve kiosks
Get a CineClub membership – the fee will be waived entirely for members of Cineplex's CineClub movie subscription program, which costs $9.99 per month
This isn't the first time Cineplex has dabbled with ticket surcharges in recent years. Back in 2017, the company implemented a $1.00 reserved seating fee for highly-anticipated movies like Star Wars: The Last Jedi in order to capitalize on its enormous hype, but the fees were ultimately scrapped after backlash from Canadian moviegoers.
____________________
Source: Cineplex, with reports from The Canadian Press